7 Best
Cavachon Pet

Insurance Plans Compared in 2022

Updated on by Matthew H. Nash – Licensed Insurance Agent

Cavachon dogs are a mix of two toy breeds – the Cavalier King Charles Spaniel and the Bichon Frise. A relatively new breed developed in 1996, they are sometimes known as a Cavalier-Bichon or a Bichon-King Charles. If you are worried about veterinary bills piling up as you care for your Cavachon dog, you might be interested in pet insurance. Finding a good dog insurance plan can help you cover some of the out-of-pocket costs you might incur at your veterinarian's office. There are many different pet insurance providers on the market today. They offer a range of coverage options and plans for all dog breeds, including Cavachon dogs. In the article below, I've compiled some general information about pet insurance and some breed-specific tips to help you care for your Cavachon dog. I hope you find some of the information helpful as you begin your research into pet insurance. Read more about our unbiased ranking methodology and advertiser disclosure.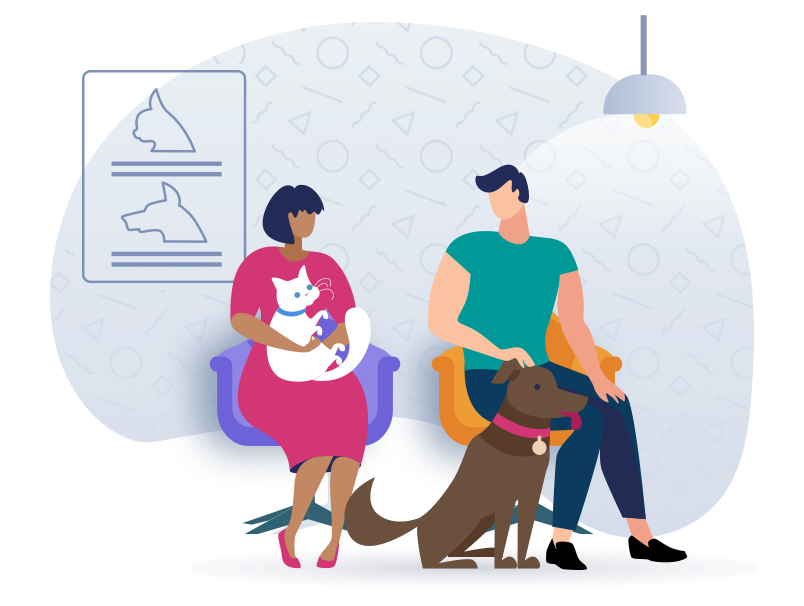 Top Cavachon Pet Insurance Scored, Ranked & With Cost
Use our below table to quickly compare the best Cavachon pet insurance providers. The average monthly specific prices shown are based on a healthy 2-year-old Cavachon with a $500 deductible and 90% reimbursement amount who is located in California with a 90210 zip code. Costs may vary based on age, location, and the coverage amount. Prices are accurate as of January 2022 and are subject to change. For the most up-to-date information, please visit the provider website.
---
Cavachon Pet Insurance FAQs
What is dog insurance? Do I need it for my Cavachon dog?
In simple terms, dog insurance helps dog owners pay for medical expenses for their pet in the same way that your health insurance covers part of your medical bills. Even if your Cavachon dog is young and healthy, you could still benefit from enrolling in dog insurance. Many insurance plans cover preventative care, like dental cleanings, which is especially helpful with small dog breeds and veterinary treatment for unexpected illnesses or injuries that can affect any dog. As noted previously, Cavachon dogs have some breed-specific health concerns, so having a good, basic dog insurance plan in place could save you thousands of dollars.
When should I start coverage for my Cavachon dog?
Most breeders and veterinarians recommend that your puppy be at least eight to ten weeks old before you bring him home. Many dog insurance providers will not offer coverage for puppies younger than eight weeks, but you should always check with your chosen insurance provider about specific age requirements. Enrolling your Cavachon dog in a good insurance plan as soon as possible is a great idea to make sure the coverage is there before you actually need to use it for any unexpected illnesses or injuries.
Are there common issues with Cavachon dogs that I might need coverage for?
As mentioned previously, Cavachon dogs can sometimes be prone to mitral valve disease, which also affects Cavalier King Charles Spaniels. With mitral valve disease, the valve between the atrium and the ventricle on the left side of the heart fails to close completely, which allows some blood to leak back into the atrium. This abnormal flow of blood results in a heart murmur. Left untreated, the disease can eventually cause congestive heart failure. Your veterinarian will check your Cavachon dog annually for a heart murmur. If detected, he will likely use an ultrasound for further diagnosis. In addition to mitral valve disease, many small dog breeds tend to suffer from obesity, patellar luxation, which is knee caps slipping out of position, and dental issues. For your Cavachon dog, it might be a good idea to get insurance coverage for diagnostic procedures like x-rays and ultrasounds, preventative procedures like dental cleanings, physical therapy, and prescription medicine.
How can I make sure my veterinarian's office will accept my insurance for my Cavachon dog?
Fortunately, you can benefit from dog insurance for your Cavachon regardless of what veterinarian's office you use because dog insurance works on a reimbursement model. A reimbursement model means that you pay your veterinarian directly for medical services up front, and then your insurance provider reimburses you for some of those costs. Simply take your Cavachon dog to the vet for his annual check-up or if he's sick or injured. Pay your bill, and then submit a reimbursement request to your insurance provider. Once they have reviewed your request, they will send you the appropriate amount of money back based on the rates and coverage of your chosen plan.
What types of deductibles are available for dog insurance plans? Which should I choose?
As with other types of insurance, dog insurance can come with various choices when it comes to your deductible, including high, low, or sometimes even no deductible. Although any of these options can be the right one, depending on your preferences and situation, you might consider your dog's health when making your decision. If your Cavachon dog is older or prone to health problems, you might want to choose a lower deductible even though it will also mean you'll be paying a higher monthly premium. On the other hand, if your finances are currently tight, you might choose a plan with a higher deductible and lower monthly payment.
5 Useful Strategies for Keeping Your Cavachon Dog Safe & Healthy
Compact, spunky, and full of fun, the Cavachon dog is a very popular breed that generally lives 10-12 years, but has been known to live as long as 20 years. To make the most of your years with your Cavachon dog, the following tips may help you give your pet the longest, healthiest, happiest life possible:
1. Grooming
Cavachon dogs usually have medium length coats that are fairly easy to groom. Brushing three to four times a week will keep the coat clean and free of mats and will help minimize shedding, but don't bathe your dog too often because it will strip the natural oils from the skin. It's a good idea to take your Cavachon dog to a professional groomer every two to three months for a trim.

Aside from the coat, Cavachon dogs require a bit of attention to the ears and the eyes. Because hair grows into their floppy ears, Cavachon dogs are prone to ear infections. To address this issue, just be sure to clean weekly with a dog ear cleaning solution and a warm cloth. Gently cleaning underneath the eyes with a warm washcloth or tear-stain wipes is also recommended to prevent sticky discolorations around the eyes.
2. Nutritious Diet
In general, this small breed only needs about a cup of food per day, but because they have a faster metabolism than bigger dogs the food should be higher in fat and protein. Ranging in size from around 15 to 30 pounds, Cavachon dogs are prone to obesity if overfed. One way to check if your Cavachon is overweight is the eye and hands-on test. You should see a discernible waist as you look down at your dog from above. Putting your hands on their back and running your thumbs down their spine with your fingers spread downward, you should be able to feel but not see their ribs without pressing hard. If you can't feel the ribs, you should decrease the amount of food and increase the amount of exercise for your dog. Always check with your veterinarian about recommended types and quantities of food and any changes to your dog's diet.
3. Love and Affection
Extremely popular with families, the Cavachon dog breed loves children and thrives on lots of attention. In fact, the Cavachon dog loves everyone and is very social, making them excellent therapy dogs but less than optimal guard dogs. If you travel for work or are away from home often, your Cavachon dog might suffer from separation anxiety, resulting in destructive behavior. You might consider having more than one dog so they can keep each other company.
4. Exercise
Most Cavachon dog owners report that the breed has medium energy levels and is satisfied with daily walks ranging from half an hour to an hour. Since Cavachon dogs make friends with everyone they meet, your walks might take a little longer than expected. Given their small size and moderate energy, Cavachon dogs are well-suited to apartment life but also enjoy houses with small or large yards.
5. Hit the Road
The adaptable and easygoing nature of Cavachon dogs makes them excellent travel companions. Unlike some other small dog breeds, Cavachon dogs are not yappy, so you don't have to worry about them annoying neighbors in hotel rooms or RV parks. It's a good idea to bring a kennel or enclosure with you for times you cannot leash your Cavachon dog since they are prone to run off to greet new friends.
Conclusion
You give your canine companion shelter, food, love, attention, and regular annual check-ups with a veterinarian. Sometimes your Cavachon dog might also need medicine or treatments when they are sick or injured, which can end up being expensive, but dog insurance can help ease your mind about covering the costs. The first step is researching the options available to you regarding insurance providers and coverage.
After extensive research, we conclude that Lemonade pet insurance offers your Cavachon the best dog insurance policy at the lowest monthly price. They offer great coverage options and reasonable rates for all dog breeds, including Cavachon dogs. Reading through their plan descriptions, decide on what coverage you think you'll need, and then enroll your pet. Simply paying your monthly premium keeps your coverage active, so it's there when you need it. Enrolling in dog insurance means you can rest easy, knowing you'll be able to care for your furry friend for years to come.
SwiftScore Ranking Methodology for Cavachons
We ranked the best pet insurance policies for Cavachons based on a variety of important factors including the following:
Average monthly price for a 2-year-old Cavachon with a $500 deductible located in the 90210 zip code
Coverage and benefits
Key policy details including accidents and illnesses, surgeries, annual check-ups, cancer treatment, lab tests, and more
AM Best rating of the underwriter
Reimbursement percentage
Annual benefit amount
Technology and user experience

Ease of sign up

Policy language clarity
User reviews
Other state dog insurance resources
Alabama | Alaska | Arizona | Arkansas | California | Colorado | Connecticut | Delaware | Florida | Georgia | Hawaii | Idaho | Illinois | Indiana | Iowa | Kansas | Kentucky | Louisiana | Maine | Maryland |
Massachusetts | Michigan | Minnesota | Mississippi | Missouri | Montana | Nebraska | Nevada | New Hampshire | New Jersey | New Mexico | New York | North Carolina | North Dakota | Ohio | Oklahoma | Oregon | Pennsylvania | Rhode Island | South Carolina | South Dakota | Tennessee | Texas | Utah | Vermont | Virginia | Washington | West Virginia | Wisconsin | Wyoming