7 Best
Bull Terrier

Pet Insurance Plans Compared in 2022

Updated on October 05, 2022 by Matthew H. Nash – Licensed Insurance Agent

Most well-known for his time as Spuds Mackenzie in the '80s, the Bull Terrier is a breed that dates back to around 1835. It is thought that a bulldog and a white English Terrier mixed to create this breed. Bull Terriers typically range in size from 35 to 75 pounds, with males on the high end of that range. They are highly energetic and rambunctious dogs. Bull Terriers have been referred to as "the dog in a clown's suit" with their silly antics and goofy dispositions. Bull Terriers may be susceptible to certain breed-specific health conditions, which require treatment and disease management and can become financially overwhelming. Pet insurance is one great way to help reduce these unforeseen costs while treating your dog for accidents and conditions that are unavoidable. As a licensed insurance agent and pet owner, I understand the complexities of pet ownership and can help you navigate the pet insurance landscape. Read more about our unbiased ranking methodology and advertiser disclosure.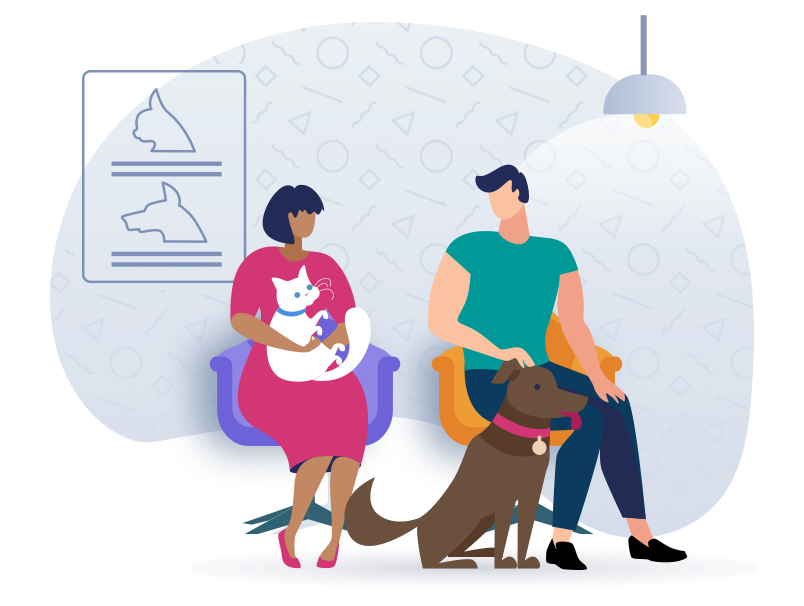 Top Bull Terrier Pet Insurance Scored, Ranked & With Cost
Use our below table to quickly compare the best Bull Terrier pet insurance providers. The average monthly specific prices shown are based on a healthy 2-year-old Bull Terrier with a $500 deductible and 90% reimbursement amount who is located in California with a 90210 zip code. Costs may vary based on age, location, and the coverage amount. Prices are accurate as of January 2022 and are subject to change. For the most up-to-date information, please visit the provider website.
---
Bull Terrier Pet Insurance FAQs
What is pet insurance, and is it worth the investment for my Bull Terrier?
Many consider pet insurance unnecessary or "just another expense." They look at their healthy pup and do not consider the possibility of accidents, injuries, or other conditions that require medical treatment. One trip to the emergency room can cost upwards of $1500. With a money-saving pet insurance plan, you would only pay your deductible, while the rest is covered, depending upon your reimbursement rate. A small monthly premium can save you hundreds or thousands in vet bills every year. In addition to accidents and injuries, we know that certain breeds are prone to certain genetic conditions that require medical management, which is also costly. Economic euthanasia is becoming more prevalent in pet ownership, as some simply cannot afford the costs tethered to such care. Allow pet insurance to offer peace of mind and the medical treatment your beloved pet deserves.
What is the proper age to insure my Bull Terrier?
It is recommended to enroll your new puppy by eight weeks old. Some adopt a furry friend from the pound, so enroll your new companion within the first six months of bringing them home. For more mature dogs, there is likely a waiting period before coverage becomes available. There may also be an age limit on coverage, so verify these important details when selecting a plan!
What are a few common insurance claims for the Bull Terrier?
Hereditary nephritis, as the name suggests, is an inherited autosomal dominant kidney disease. That means a single copy of the gene from the parent pup is enough to cause this disease. Working with a reputable breeder is very important to help mitigate the likelihood of this disease. Nephritis results from undeveloped kidneys that cannot filter properly, causing very high protein levels in your dog's urine. Diagnostics and treatment of this disease can be expensive. The disease progression is variable and has no known cure, but lifestyle and diet changes, along with supplements, can help manage symptoms. Deafness is a common condition found in Bull Terriers; some studies have reported incidence as high as 11%. It is a hereditary disease found in this breed, with no known cure, causing irreversible damage. Having a dog that is deaf can be challenging, as they will encounter many dangerous situations, putting them at risk for injury. Bull Terriers may be predisposed to heart conditions which include structural defects, and oftentimes, heart murmurs. These conditions can be diagnosed through echocardiograms. While the possibility of outgrowing these conditions exists, proper diagnosis and treatment will be important for the management of these diseases. Patellar Luxation, as studies indicate, is a hereditary condition resulting in a shallow groove in the knee joint. This condition causes the kneecap to "luxate" or slip out of place. Surgery may be beneficial to help stabilize the kneecap by deepening that groove. Bull Terriers are also very susceptible to skin allergies caused by different environmental allergens. These allergies can sometimes lead to secondary infections that need steroid or antibiotic treatment to help keep the condition under control.
What services are typically covered by insurance? What services are excluded from coverage?
Coverage typically includes emergency visits, diagnostics, treatment for illness, injury, infection, chronic or acute conditions, medication, and hospitalizations. Some plans may offer routine care as an add-on to your basic plan. A majority of the plans on the market will not cover pre-existing conditions, so it is very important to enroll your dog early.
Does pet insurance cover dental work?
Routine dental is not typically covered on a basic plan, however, some plans offer dental as an option for an additional monthly fee. Review each plan thoroughly to decide what coverage makes sense for you and your dog.
Can I use a veterinarian of choice, or are there insurance-approved options?
Pet insurance differs slightly from the human insurance you are familiar with. Because you will pay upfront for veterinary services, there are no stipulations with in-network and out-of-network providers. Most plans are accepted at any licensed emergency service clinic, specialty clinic and primary veterinarian office.
Are there discounts for insuring multiple pets?
Most plans offer some type of multiple-pet discount. Check with the plans that you're researching to see what their offerings are. Some may offer a set discount per additional pet, or a discount that increases per added pet.
Who pays for services at the time of veterinary care?
You will pay for veterinary services upfront, submit a claim to your insurance company and receive reimbursement usually within the same week. Your payment is based upon your deductible and the reimbursement rate that you've selected during enrollment.
How should we choose from a high or low-deductible plan?
Pet insurance is easy to customize with the option to choose a low or high-deductible plan. If you are looking for a basic catastrophic plan that will cover emergencies, a high-deductible may be the way to go. Your monthly premiums will be slightly lower with this plan. A lower deductible creates a slightly higher monthly premium but might be better for those with smaller savings or they have a pet that has a chronic condition that needs frequent care. Whichever deductible you select, the care remains the same.
5 Tips for Keeping Your Bull Terrier Safe and Healthy
There are many things you can do to create a perfectly balanced and healthy pup. Below are just a few!
1. Daily Exercise
Bull Terriers are highly energetic and require daily exercise. Consistent exercise will help stave off boredom, leading to destructive and undesireable behavior.
2. Proper Nutrition and Food Intake
Bull Terriers are prone to weight gain, so selecting high-quality food is important. To help keep your pup at their ideal weight, it is also important to feed based upon their weight, size and activity level.
3. Early Socialization
Early socialization is extremely important in this breed as Bull Terriers tend to be distrustful and suspicious of other people, including children, and other animals. If raised from a young age together, and properly trained, they make wonderful companions!
4. Training
Positive reinforcement training works best for Bull Terriers, as does consistency. Starting when they are young yields the best results. They are extremely intelligent dogs and eager to please.
5. Regular Grooming
The Bull Terrier has a short and flat coat that requires some maintenance. Light brushing will help keep shedding down. Keep your pal's nails trimmed, about every 3-4 weeks, to help prevent snags, tears, and injuries to their feet.
Conclusion
Bull Terriers are amazing companions with high energy and spunk. However, like many dog breeds, they are susceptible to treatable medical conditions, but those treatments can be an overwhelming financial commitment. Pet insurance is a great way to protect your pet and your wallet. A great company that I recommend is Lemonade pet insurance. They provide competitive pricing and coverage, quick quotes online, and fast reimbursements! A little bit of planning for your future goes a long way. Bull Terriers are lovable, quirky, and protective companions that deserve the best!
SwiftScore Ranking Methodology for Bull Terriers
We ranked the best pet insurance policies for Bull Terriers based on a variety of important factors including the following:
Average monthly price for a 2-year-old Bull Terrier with a $500 deductible located in the 90210 zip code
Coverage and benefits
Key policy details including accidents and illnesses, surgeries, annual check-ups, cancer treatment, lab tests, and more
AM Best rating of the underwriter
Reimbursement percentage
Annual benefit amount
Technology and user experience

Ease of sign up

Policy language clarity
User reviews
Other state dog insurance resources
Alabama | Alaska | Arizona | Arkansas | California | Colorado | Connecticut | Delaware | Florida | Georgia | Hawaii | Idaho | Illinois | Indiana | Iowa | Kansas | Kentucky | Louisiana | Maine | Maryland |
Massachusetts | Michigan | Minnesota | Mississippi | Missouri | Montana | Nebraska | Nevada | New Hampshire | New Jersey | New Mexico | New York | North Carolina | North Dakota | Ohio | Oklahoma | Oregon | Pennsylvania | Rhode Island | South Carolina | South Dakota | Tennessee | Texas | Utah | Vermont | Virginia | Washington | West Virginia | Wisconsin | Wyoming