7 Best
Bordoodle

Pet Insurance Plans Compared in 2023

Updated on by Matthew H. Nash – Licensed Insurance Agent

If you're secure in the knowledge that you're a smart person and are willing to stake that self-worth up against the brains of a dog, then the Bordoodle is likely the best dog for you. If you were wondering what this all means, the Bordoodle is very smart; we're talking intelligent, okay, maybe not Einstein smart, or challenging you at Wordle smart, but you get the idea. The combination of Border Collie and Poodle makes this designer dog breed so intelligent. Also called Borderdoodles, Borpoos or even Borderpoos, whatever designer label name you decide works best for your four-legged friend; the challenge is, this is such a new breed, it's tough to know just how smart he is at this point. It's also difficult to understand any historical genetic traits as there's still a lot to learn. We know that this medium-sized pup, with a life span of 11-16 years, can also face health issues such as Hip Dysplasia. Because the Bordoodle is very active, knee injuries are very common, which can impact both your dog's physical and mental health. Being a longtime dog person myself, I know the smartest way to keep your pup safe and healthy is to include pet insurance as part of his overall care. I'm here to help you determine what pet insurance options are the best choice for you and your Bordoodle. Read more about our unbiased ranking methodology and advertiser disclosure.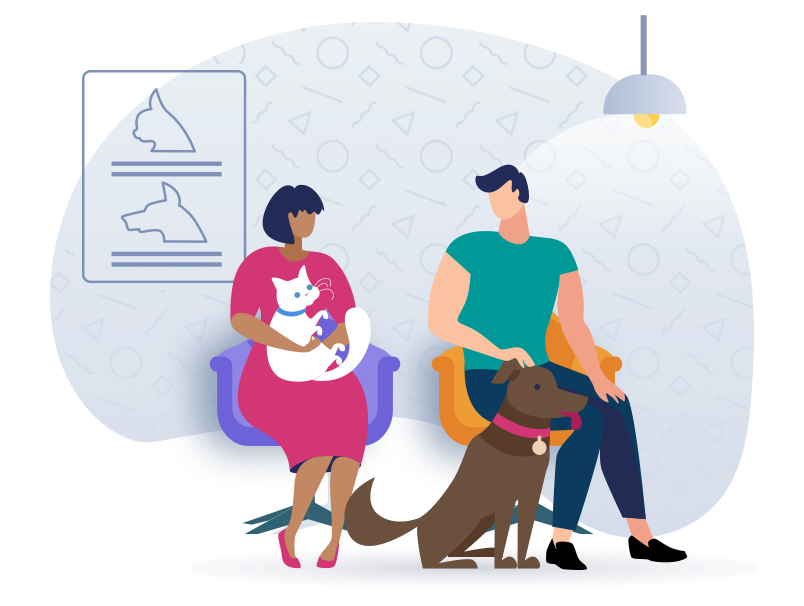 Top Bordoodle Pet Insurance Scored, Ranked & With Cost
Use our below table to quickly compare the best Bordoodle pet insurance providers. The average monthly specific prices shown are based on a healthy 2-year-old Bordoodle with a $500 deductible and 90% reimbursement amount who is located in California with a 90210 zip code. Costs may vary based on age, location, and the coverage amount. Prices are accurate as of January 2023 and are subject to change. For the most up-to-date information, please visit the provider website.
---
Bordoodle Pet Insurance FAQs
What is dog insurance and why is it useful for Bordoodles?
Pet insurance is that extra step to securing a long future with your fur baby. There's a lot of medical issues that can pop up along this journey of being responsible for a pet. Dog insurance is an added layer of protection to keep your Bordoodle safe and healthy by assisting with some of those expensive vet bills you may face along the way. Purchasing and utilizing dog insurance is easy, all you need to do is select a plan, make the required monthly payments to keep the policy active, and that's it… Simple and one of the smartest things you can do to protect your pooch.

Dog insurance is what prepares you for the unexpected. Your Bordoodle is, in most cases, a healthy dog, that's the good news. Being smart about your pup means you know that it's important to be prepared for what lies ahead. In the case of a Bordoodle what may lie ahead is Hip Dysplasia or keeping this active cutie in check may lead to knee or joint issues. All of this means your dog will need to visit someone who is also really smart, a veterinarian. Dog insurance will help to keep him around and part of the family for as long as possible.
How old does my Bordoodle need to be insured?
It's common for dog insurance providers to want puppies to be at least eight weeks old before starting a pet insurance policy coverage, but you should think about starting the process of a policy for your Bordoodle as soon as possible. Pet insurance carriers are definitely no dummies when it comes to calculating a premium, those premiums are based on age, so the younger you can enroll your Bordoodle, the better.
What are common insurance claims for Bordoodles?
As mentioned previously, the good news here is that your Bordoodle is not known to have a lot of genetic issues, at least not that we know of yet. The Bordoodle is not an officially registered breed, so we still have a lot to learn, plus your particular pup's health also depends on just how much of each of his parent's traits he inherited. You may face issues such as Hip Dysplasia, but most likely your active pup will face physical issues, instead of genetic problems, such as knee or joint injuries. While be prepared is the Boy Scout's motto, it's also just good planning as any of these injuries will need help from a good vet.
What services for my Bordoodle are covered by dog insurance? What services are excluded from coverage?
There's so many options for pet insurance that your plan can vary, it all depends on what policy you end up choosing for you and your pet. Your policy can take care of a long list of issues such as surprise injuries or accidents. Pet insurance policies can also include surgery, medication, medical tests, emergency care and exam fees. Some dog insurance plans also cover hospitalizations and preventative care for your Bordoodle.

There are also issues that may be excluded in your plan. The trick is that most dog insurance policies will not cover the cost of care for pre-existing conditions, which is why it's so important to enroll your Bordoodle in a policy as soon as possible.
How does reimbursement work?
The dog's person is responsible to pay the pet's medical bill upfront. You'll then submit the vet bill for reimbursement to the insurance provider and they will pay you back a certain percentage of that bill. Based on your deductible and reimbursement rate, your insurance company will determine how much money you'll receive back.
Should I enroll in a high-deductible or low-deductible plan?
There really are a lot of options for pet insurance, something to fit any budget. You can choose from a high deductible plan, low deductible plans, or in some cases, even a plan with no deductible at all. Once you calculate your budget, it's just a matter of picking what works best for you and your Bordoodle. In general, the way it all works is, the higher the deductible, then the lower the monthly payment, but that means you'll pay a higher cost during any unexpected emergencies. The lower deductible means less financial stress during a very stressful time, just know you'll pay a higher monthly payment as a result.
5 Tips for Keeping Your Bordoodle Safe & Healthy
It's an exciting time, bringing a pet home, especially one as full of life and energy as a Bordoodle. Here's a few tips to help make sure your Bordoodle is around for years to come.
1. Regular Exercise
As we've talked about, Bordoodles are very smart. They're also considered to be high on the activity needs scale. They're perfect for families, especially families who want to incorporate their dog into their daily active lives. From car rides, to hiking or biking trips, swimming, or really, any dog friendly activity. It's important to note that living in an apartment is probably not the best situation for your Bordoodle, unless you're committed to a routine of regular exercise. That means something active every day, from walks, running, swimming, and playing games like fetch and other mental stimulation. Also, positive reinforcement training will go a long way with this cute pup, who really wants nothing more than to please you.
2. Training and Socialization
The Bordoodle, when trained properly, will be great with kids and even other pets, including cats. Early socialization will help ensure the happy-go-lucky nature of your Bordoodle continues throughout his lifetime. Again, positive reinforcement training is key to a successful training routine. Most dogs, including the Bordoodle, do not do well with negative training tactics. If you have the time and the means, obedience school is always a good place to start as you can work on training and building interactive play time with other pups. This mixed breed is friendly, relatively low maintenance, is tolerant of most people and loves companionship. As has been stated a few times, the Bordoodle is very smart, so his intelligence, also known as his stubborn steak, will start to show if that socialization and training isn't completed early in his lifetime.
3. Nutritious Diet
Your Bordoodle can weigh anywhere from 26-60 pounds and doesn't require any special diet, he really just needs you, and some food too of course. He will do well with high-quality dog food, whether that's bought in a store or homemade. The food you serve your Bordoodle should be appropriate for your pup's age with puppy food formulated for your little one and senior food for your older dog. Be sure to work with your vet on a healthy weight range for your dog and always have clean, fresh water available.
4. Love and Affection
Like all dogs, the Bordoodle just wants to be with you. He'll become very protective of his family, especially one that provides endless time of love and affection. These loving dogs are great with kids and seniors alike, as well as other pets in the home. Be mindful of leaving your Bordoodle alone for any length of time as you may discover his boredom can equal trouble and easily forget all of the hard work and training you've put in.
5. Regular Grooming
Grooming for your Bordoodle can vary from dog to dog as it all depends on how much of each parent trait makes up his DNA. Your Bordoodle's coat can be furry like a Border Collie's or closer to a Poodle's curly fur. Either way, it's safe to assume he'll need his coat brushed at least a couple of times per week. On the Border Collie side, he'll need brushing and a bath from time to time, but you'll see some shedding. If you have more Poodle in your Bordoodle, then shedding may be minimal, but you may need to spend some time with a professional groomer to ensure that fur does not start to mat up. In general, be sure to keep an ear out for his nails, when you start hearing them tap tapping on the floor, it's time for a pedicure. Those very cute and floppy ears may also need some help to stay clean, so you should be sure to check those regularly too. A good brush every week on the coat will also help. Plus, don't forget to brush those teeth too.
Conclusion
Your Bordoodle is the best of two very active and friendly breeds. He has a lot to offer a family as a loving and caring addition. Adding pet insurance to your dog's overall health plan is a great way to ensure your pup continues as the four-legged part of your happy family. There are a lot of insurance options available and the enrollment processes can be confusing. All you have to do is select the best plan for you and your dog, pay the monthly premium, and then your Bordoodle is covered. Unfortunately, there are many reasons that your Bordoodle may need veterinary care. Having coverage means your pup can receive the necessary treatment without the stress of figuring out how you'll pay for it all.
After extensive research, we conclude that Lemonade pet insurance offers the best dog insurance policy at the lowest monthly cost for a Bordoodle.
SwiftScore Ranking Methodology for Bordoodles
We ranked the best pet insurance policies for Bordoodles based on a variety of important factors including the following:
Average monthly price for a 2-year-old Bordoodle with a $500 deductible located in the 90210 zip code
Coverage and benefits
Key policy details including accidents and illnesses, surgeries, annual check-ups, cancer treatment, lab tests, and more
AM Best rating of the underwriter
Reimbursement percentage
Annual benefit amount
Technology and user experience

Ease of sign up

Policy language clarity
User reviews
Other state dog insurance resources
Alabama | Alaska | Arizona | Arkansas | California | Colorado | Connecticut | Delaware | Florida | Georgia | Hawaii | Idaho | Illinois | Indiana | Iowa | Kansas | Kentucky | Louisiana | Maine | Maryland |
Massachusetts | Michigan | Minnesota | Mississippi | Missouri | Montana | Nebraska | Nevada | New Hampshire | New Jersey | New Mexico | New York | North Carolina | North Dakota | Ohio | Oklahoma | Oregon | Pennsylvania | Rhode Island | South Carolina | South Dakota | Tennessee | Texas | Utah | Vermont | Virginia | Washington | West Virginia | Wisconsin | Wyoming