7 Best
Border Collie

Pet Insurance Plans Compared in 2023

Updated on by Matthew H. Nash – Licensed Insurance Agent

Purchasing pet insurance for your Border Collie can feel like an overwhelming task. As a nationally licensed insurance agent and lifelong dog owner, I know people's challenges in finding the perfect dog insurance plan. The process can be confusing between deciphering policy jargon and determining the best dog insurance company for Border Collies. I have done extensive research on this so that irrespective of where you live in the country or your furry friend's age, this article has all the information you need to get started with dog insurance. Read more about our unbiased ranking methodology and advertiser disclosure.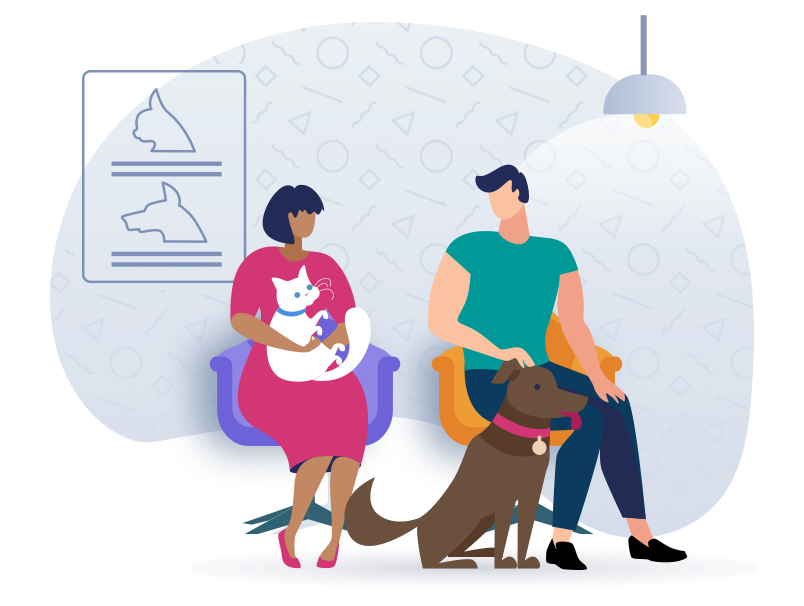 Top Border Collie Pet Insurance Scored, Ranked & With Cost
Use our below table to quickly compare the best Border Collie pet insurance providers. The average monthly specific prices shown are based on a healthy 2-year-old Border Collie with a $500 deductible and 90% reimbursement amount who is located in California with a 90210 zip code. Costs may vary based on age, location, and the coverage amount. Prices are accurate as of January 2023 and are subject to change. For the most up-to-date information, please visit the provider website.
---
Border Collie Pet Insurance FAQs
What is dog insurance? How is dog insurance helpful for Border Collies?
Protecting your dog with insurance is relatively easy. Apply for coverage with your preferred pet insurance company, and then pay the monthly premiums to keep your policy active. Should your dog become sick or have an accident, you will be responsible for covering all the costs upfront. Once that is done, you will need to submit a claim to your insurance provider for reimbursement. Remember that insurance companies tend to exclude pre-existing conditions, which is why we encourage people to get their dogs insured while they are still puppies (1 year or younger).

Dog insurance is helpful for Border Collies, especially in emergencies when vet bills skyrocket. For example, cancer treatments can exceed $10,000–a price tag far too high for most. Uninsured pet owners often have to confront the heartbreak of putting their dogs down since they cannot afford the necessary procedures and care. Pet insurance removes this unfortunate possibility from dog owners' lives.
How old does my Border Collie pup need to be to get insured?
The minimum age requirement tends to be just over 8-weeks-old. The upshot is that most pet insurance companies do not place limits on how old your dog can be to get a policy put in place. Be aware that younger dogs tend to be significantly cheaper to insure, which is why we recommend getting insurance for your dog before they turn 1-year-old.

An exception to the traditional dog insurance model is Pawp, which protects up to 6 pets of any age under one "Emergency Fund" for a mere $19/month. This plan with Pawp only applies to emergencies as determined by their virtual vet team and only covers a single pet from each household for one vet bill up to $3,000 each year. They also offer telehealth and pet expert consultation services as part of the package.
Is it worth getting Border Collie dog insurance? What are the most common reasons for claims?
Border Collies, like all dogs, experience medical emergencies at some point in their lives, so it is always prudent to be prepared.

Cataracts are a common affliction for Border Collies. In such circumstances, the dog loses transparency in the eye lens. This blocks light from entering the eye and results in the degradation or total loss of vision if not treated quickly. If you make sure your dog has regular eye exams, your veterinarian will be able to detect cataracts early on. The only treatment is surgery, which can run as high as $4,000.

Another condition that is hereditary for Border Collies is hip dysplasia, resulting from the ball and socket joint not developing correctly. Over time, this creates a grinding down of the bone and cartilage and progressively worsens. Hip dysplasia can be very painful for Border Collies, so while many are helped by acupuncture and anti-inflammatory medications, there are many that end up with such severe pain that they must undergo hip replacement surgery. Such operations can exceed $7,000.

Your Border Collie may be in great shape right now, but there may come a time when they need expensive emergency veterinary treatment. With the right dog insurance, you can guarantee your canine friend gets the care it needs and deserves to live a long and healthy life.
What does dog insurance include and exclude?
Dog insurance coverage differs between providers. A good rule of thumb is that accidents or ailments deemed "sudden and catastrophic" will be covered. Some qualifying events include, but are not limited to, allergies, lacerations, skin irritations, broken bones, and urinary tract issues. That said, if your dog has an ailment or condition when (or before) you apply for dog insurance, it will be labeled as a pre-existing condition and not qualify for coverage in the future. Pet insurance is worth looking into "wellness packages" that many companies now offer. You can add such packages to your basic policy to cover preventative measures such as physical exams, heartworm detection and prevention, vaccinations, and much more.
How does the reimbursement process work?
Suppose your dog needs an emergency surgery that costs $9,000, and you have an insurance plan with a $20,000 annual maximum benefit, a 90% reimbursement rate, and a $250 deductible. In this case, you could expect your provider to reimburse you $8,100 minus your deductible. Therefore, your out-of-pocket costs would be only $1150 instead of the original $9,000. If the idea of covering a $9,000 vet bill upfront and waiting for reimbursement feels stressful, or even impossible, you may want to consider Trupanion. They pay vets within their network directly, so you don't have to come up with large sums of money in the event of an emergency.
Is it better to have a higher or a lower deductible?
There is no fixed answer when it comes to deductibles. The deductible you choose depends on your financial circumstances and personal preference. If you choose a lower deductible, you will have higher monthly premium payments but lower out-of-pocket expenses in emergencies. However, with a higher deductible, you will have lower monthly payments with higher out-of-pocket costs in the case of catastrophic events. Be sure to run the numbers and see what fits your circumstances best. Many insurance companies have calculators on their websites you can use when requesting a quote. We have noticed that most dog owners prefer either a $250 or $500 deductible with that in mind.
5 Useful Strategies for Keeping Your Border Collie Safe & Healthy
Border Collies are active, intelligent, high-energy dogs that require a great deal of attention and care. Below are some tips and valuable information to keep your Border Collie mentally stimulated, happy, and healthy.
1. Be sure to address noise sensitivities
This breed can be highly sensitive to sudden, loud noises, which often leads to destructive behavior. The best thing you can do for your Border Collie is create positive associations with any noises that seem to startle them. You can do this by rewarding them with treats or playing with them in the moment. This will prevent anxiety and any negative associations from building up. It will also keep excessive barking and aggression at bay.
2. Train your Border Collie from an early age
Border Collies are high-energy herding dogs that take well to training. The key to training your Border Collie is to stick with the same tone of voice and hand gestures when giving commands. This consistency, along with the use of treats and praise, will ensure your dog learns quickly. Once they have learned the appropriate behaviors, only reward them from time to time.

On the other hand, it is necessary to correct all undesired behaviors immediately. Such behaviors may include pulling at their leash or chasing cars and other animals. Training your Border Collie gives them a sense of purpose and involvement, both of which they crave.
3. Ensure your Border Collie gets plenty of exercise
Border Collies are impressive creatures, but they are not for everyone. They demand a minimum of two hours of vigorous exercise and a lot of attention. They are not dogs to be left at home for hours on end. They like to feel involved in even the most mundane aspects of day-to-day life, so be sure to give them tasks and keep them active.

When it comes to exercise, the more your Border Collie gets, the better. By spreading out their exercise sessions over the day and giving them time to roam free within an enclosed yard or park, your dog will have more balanced energy levels and fewer undesired behaviors such as barking, chewing, or anxiety.
4. Handle your Border Collie as a pup
Border Collies are not, by nature, fans of being handled. This can cause several problems down the road, especially when it comes to grooming and their interactions with humans. The good news is that handling your Border Collie regularly while still a puppy will make them more amenable to cuddles and brushing in the long run.
5. Groom your Border Collie regularly
It is essential to brush your Border Collie multiple times each week since they have a long outer coat and a thick undercoat. Before brushing, always check your dog for any mats, including behind their ears. You can gently unwind any tangles with your fingers before using a slicker brush. Such a brush will help to remove as much dead fur as possible.

Start around your dog's face and work your way to their hindquarters using short, quick brushstrokes when brushing. You can remove mats by using a mat rake at the mat's ends and working your way closer to the skin. Finish off the brushing session with a fine-tooth comb to remove excess stray hairs and settle the coat. Never cut or shave your Border Collie's hair. (A small amount of trimming around their hindquarters or between their paw-pads is about as far as one should go.) Their double coat helps them regulate their body temperature in both hot and cold weather, and cutting it can interfere with this ability.

Grooming does not stop at brushing, though. Trimming your Border Collie's nails and ensuring they stay an appropriate length are equally crucial to their health and wellbeing. You will know if their nails are too long because you will hear them clicking on the floor as your dog walks. You may also notice that your dog leans on their heels as they walk. Such tendencies can lead to joint issues, so trimming your dog's nails is vital. It is a good idea to get your Border Collie used to having their paws handled. Practice going through the nail-trimming motions with them a couple of times each week–not necessarily cutting their nails–but just get them used to the process. This will make it easier when you actually need to put the clippers to use!

Lastly, bathing your Border Collie at appropriate intervals is important when it comes to grooming. Unless they play in the mud or get extra dirty on a given occasion, you will only need to bathe your dog once every three months or so. Frequent bathing can strip their skin of its natural oils and dry it out. Be sure to give your Border Collie a good brushing before each bath, make sure the water is warm or lukewarm –never hot or cold–and only use dog-specific shampoos and conditions. Human products are toxic for dogs.
Conclusion
Ultimately, selecting the best dog insurance for your pup or fully-grown Border Collie is much more straightforward than it may have seemed initially. We recommend applying for dog insurance when your puppy is older than 8 weeks. Applying for insurance early in your dog's life will get you the best premiums and the fewest restrictions on pre-existing conditions. That said, getting a policy in place for your dog at any age will be helpful for veterinary emergencies and preventative care.
Ready to get started? After countless hours of research, we've found that Lemonade pet insurance consistently performs the best with the lowest monthly premiums.
SwiftScore Ranking Methodology for Border Collies
We ranked the best pet insurance policies for Border Collies based on a variety of important factors including the following:
Average monthly price for a 2-year-old Border Collie with a $500 deductible located in the 90210 zip code (Please note: prices will vary greatly based on your location)
Coverage and benefits
Key policy details including accidents and illnesses, surgeries, annual check-ups, cancer treatment, lab tests, and more
AM Best rating of the underwriter
Reimbursement percentage
Annual benefit amount
Technology and user experience

Ease of sign up

Policy language clarity
User reviews
See dog insurance prices in your state
Alabama | Alaska | Arizona | Arkansas | California | Colorado | Connecticut | Delaware | Florida | Georgia | Hawaii | Idaho | Illinois | Indiana | Iowa | Kansas | Kentucky | Louisiana | Maine | Maryland | Massachusetts | Michigan | Minnesota | Mississippi | Missouri | Montana | Nebraska | Nevada | New Hampshire | New Jersey | New Mexico | New York | North Carolina | North Dakota | Ohio | Oklahoma | Oregon | Pennsylvania | Rhode Island | South Carolina | South Dakota | Tennessee | Texas | Utah | Vermont | Virginia | Washington | West Virginia | Wisconsin | Wyoming