7 Best
Bernese Mountain Dog

Insurance Plans Compared in 2023

Updated on by Matthew H. Nash – Licensed Insurance Agent

Buying pet insurance for your Bernese Mountain Dog can seem overwhelming. As a dog lover and a nationally licensed insurance agent, I understand the stress dog owners go through when trying to understand complicated policy language and determine which dog insurance company is the best for Bernese Mountain Dogs. I have compiled extensive research that can help you through this process, regardless of your state or the age of your best pal. This article has everything you need to know. Read more about our unbiased ranking methodology and advertiser disclosure.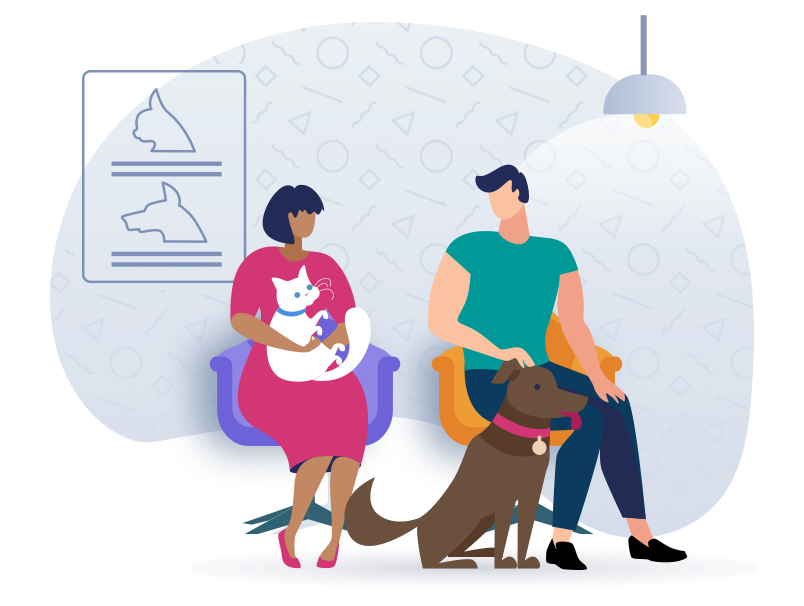 Top Bernese Mountain Pet Insurance Scored, Ranked & With Cost
Use our below table to quickly compare the best Bernese Mountain pet insurance providers. The average monthly specific prices shown are based on a healthy 2-year-old Bernese Mountain with a $500 deductible and 90% reimbursement amount who is located in California with a 90210 zip code. Costs may vary based on age, location, and the coverage amount. Prices are accurate as of January 2023 and are subject to change. For the most up-to-date information, please visit the provider website.
---
Bernese Mountain Dog Insurance FAQs
What is dog insurance? Why is it beneficial for Bernese Mountain Dogs?
To protect your dog with pet insurance, you need to apply for coverage from an insurance company and pay the monthly premiums to maintain an active policy. Should your dog get sick or become involved in an accident, you will first pay the veterinary bill upfront. Then, you can submit a claim to be reimbursed by your insurer. Insurance companies usually exclude pre-existing conditions from coverage, which is why we encourage you to get your dog insurance while they are still a puppy (8 weeks or older).

Dog insurance can benefit Bernese Mountain Dogs, especially in emergencies when vet bills tend to pile high. Treatments of serious diseases such as cancer can run upwards of $10,000. Uninsured dog owners often face the heartbreaking decision to put their best friend down because they can't afford life-saving treatments or procedures. Insurance prevents this from ever being your reality.
At what age can I get my puppy insured?
Most dog insurance providers request your dog be at least 8 weeks of age to apply for coverage. However, the upshot is that they usually do not have an age limit for getting dog insurance. Keep in mind that it is cheaper to insure younger dogs, which is why we recommend doing so before your best buddy's first birthday.

One company offering a different sort of coverage is Pawp. Pawp offers an "Emergency Fund" that protects up to 6 pets in your household for $19/month. That said, Pawp only covers true veterinary emergencies, which need to be qualified by their virtual team. It is also important to mention that their plan will only cover one pet and one vet bill per year that is less than $3,000.
Is it worth it to get Bernese Mountain Dogs pet insurance? What are this breed's most common reasons for claims?
Like most breeds, Bernese Mountain Dogs can be plagued by various health conditions that require expensive and sometimes prolonged veterinary treatment. One such condition is aseptic meningitis, which is usually noticed in Berners between the ages of 3 and 12 months and manifests off and on in the form of fever, neck pain, and stilted gait. The standard treatment for this is high doses of corticosteroids. Some dogs are fortunate enough to be free of pain within 6 months, but others live on low doses for most of their lives.

Another common insurance claim for Bernese Mountain Dogs is dysplasia of both the elbow and the hip. Dysplasia occurs when the ball and joint socket do not develop properly, thus grinding down the bone and cartilage over time. This can become extremely painful and often results in hip replacement surgery, running upwards of $6,000.

While there are other health issues that Bernese Mountain Dogs may encounter throughout their lives, including cancer, these are two of the most common–and costly. As a result, my team and I believe that pet insurance benefits Bernese Mountain Dogs because it can offset the potentially high costs of keeping them healthy, strong, and active.
What does dog insurance include and exclude?
Coverage will differ between providers. A general rule is that insurance coverage extends to any medical emergency considered "sudden and catastrophic." Examples of such events include infections, lacerations, broken bones, allergies, and many more. Should your dog have a medical condition prior to applying for dog insurance, it will be deemed a pre-existing condition and not eligible for reimbursement. Another thing worth mentioning regarding coverage is that many dog insurance companies now offer "wellness packages" that you can add to your primary policy. Such packages cover preventative care, including physical exams, heartworm prevention, vaccinations, etc.
How does the reimbursement process work?
For our purposes, let's imagine a hypothetical situation in which your dog needs a $9,000 emergency surgery and your pet insurance policy has a $250 deductible, a 90% reimbursement amount, and a $20,000 annual maximum benefit. In this instance, your insurance provider would reimburse you $8,100 minus your $250 deductible. As a result, your final expense would only be $1,150 instead of the original $9,000. Should the idea of paying large vet bills up front and waiting for reimbursement seem financially impossible, Trupanion is an exception to this traditional reimbursement model. They pay veterinarians in their network directly, so you don't have to.
Which is better: a higher or a lower deductible?
Which deductible you choose will depend on your financial circumstances and your personal preference. A lower deductible means you will have to pay higher monthly premiums but lower out-of-pocket costs in an emergency. A higher deductible results in the opposite: lower monthly payments but higher out-of-pocket expenses in a catastrophe. Many providers have calculators on their websites you can use when requesting a quote. It is worth noting that most dog owners prefer either a $250 or $500 deductible.
5 Useful Strategies for Keeping Your Bernese Mountain Dog Safe & Healthy
Bernese Mountain Dogs are some of the most affectionate, gentle-natured dogs out there. For those of you lucky enough to have the companionship of these wonderful creatures, here are some tips to help you keep your Berner safe and healthy.
1. Groom your Berner regularly
Bernese Mountain Dogs have glorious, thick black, brown, and white fur coats. It is essential to brush them daily during shedding season and, at the very least, every other day throughout the year. They often develop tangles just below their ears, so keep an eye out for those and gently brush them out. If you don't, they will quickly mat.

Start by brushing your Berner with a long-tooth comb to get down into the undercoat, and then brush them again with a slicker brush to help smooth their outer coat. Always brush them from front to back and top to bottom. Never cut or shave your Berner's coat, as their fur is what allows them to regulate their body temperature properly, even in the heat. Cutting your Berner's fur could have adverse effects for the rest of their life.

You will also need to bathe your Berner from time to time, but be sure to use shampoo and conditioner specifically made for dogs as their skin is very different from that of humans. Human shampoo and conditioner can burn or cause severe irritation to your dog's skin. When in doubt, take your Bernese Mountain Dog to a groomer that has experience with double-coated breeds.
2. Train your Bernese Mountain Dog
Berners are some of the most easily trainable dogs out there. Bernese Mountain Dogs take to training quite easily with their good nature and desire to be with their human companions. They enjoy being busy and doing tasks, so this will strengthen your bond and help keep them away from destructive tendencies such as excessive barking and chewing of furniture and other items not intended as dog toys.
3. Keep your Berner adequately hydrated and well-fed
Bernese Mountain Dogs love staying active and are rather high-energy by nature, which means it is extra important to ensure they stay hydrated and nourished. They need a diet relatively low in protein (18-25%) and with a moderate amount of fat (approximately 15%). Too much fat in a Berner's diet can lead to diarrhea, and too much protein often results in hotspots (skin lesions that often ooze and have pus) or sudden weight gain.

As for keeping your Berner hydrated, two techniques are best implemented in tandem. The first is to keep a fresh bowl of water out at all times and refill it regularly. The second is to add some water to their meals. You can do this regardless of whether you feed your dog kibble, canned, homemade, or raw food. Be sure only to mix in as much as naturally blends with the food. Making it too soupy may lead your dog to turn their nose up at it! If you feed your dog kibble, you only need a couple of spoonfuls. Be sure to give the kibble 5-10 minutes to absorb it. Doing so will bring out your Berner's food flavors and add extra moisture to their diet.
4. Make sure your Bernese Mountain Dog gets daily exercise
While Berners prefer to be at home with their humans, a minimum half-hour of vigorous exercise each day is necessary to keep them happy and healthy. For your Berner to achieve the best physical condition, 90 minutes of daily exercise is needed. They love to join their human family on long walks and hikes. Ensuring they get plenty of exercises can help stave off undesirable behaviors such as loud barking and excessive chewing–things Berners are known for doing if they become bored or are left alone for too long.

These dogs are meant for cooler conditions, so keeping your Bernese Mountain Dog indoors during the hotter months is vital. Restrict time outdoors as needed based on the climate you live in. Early mornings and late evenings will likely be the best times (in most places) to exercise your Berner during the summer.
5. Take your Berner to the vet regularly
By keeping with a regular veterinary visit schedule, you will be able to monitor successfully for any potential genetic health problems. As noted above, some of these conditions include hip and elbow dysplasia, cancer, and blood diseases. It is vital to observe for any sudden changes in your Berner's physical movements, habits, temperament. Should you notice anything unusual, be sure to schedule an appointment with your vet as soon as possible.
Conclusion
Ultimately, choosing the right dog insurance for your Bernese Mountain Dog is much more straightforward than you may have thought. My team and I suggest getting dog insurance as soon as your puppy is older than 8 weeks. The earlier you do so in your dog's life, the better the insurance prices you will get and the fewer the restrictions on pre-existing conditions. Nevertheless, getting your dog insured at any point in their life will prove helpful in any urgent medical event and help support preventative care.
Ready to get started? After countless hours of research, we've found that Lemonade pet insurance consistently performs the best with the lowest monthly premiums.
SwiftScore Ranking Methodology for Bernese Mountains
We ranked the best pet insurance policies for Bernese Mountains based on a variety of important factors including the following:
Average monthly price for a 2-year-old Bernese Mountain with a $500 deductible located in the 90210 zip code (Please note: prices will vary greatly based on your location)
Coverage and benefits
Key policy details including accidents and illnesses, surgeries, annual check-ups, cancer treatment, lab tests, and more
AM Best rating of the underwriter
Reimbursement percentage
Annual benefit amount
Technology and user experience

Ease of sign up

Policy language clarity
User reviews
See dog insurance prices in your state
Alabama | Alaska | Arizona | Arkansas | California | Colorado | Connecticut | Delaware | Florida | Georgia | Hawaii | Idaho | Illinois | Indiana | Iowa | Kansas | Kentucky | Louisiana | Maine | Maryland | Massachusetts | Michigan | Minnesota | Mississippi | Missouri | Montana | Nebraska | Nevada | New Hampshire | New Jersey | New Mexico | New York | North Carolina | North Dakota | Ohio | Oklahoma | Oregon | Pennsylvania | Rhode Island | South Carolina | South Dakota | Tennessee | Texas | Utah | Vermont | Virginia | Washington | West Virginia | Wisconsin | Wyoming