7 Best
Bedlington Terrier

Pet Insurance Plans Compared in 2022

Updated on by Matthew H. Nash – Licensed Insurance Agent

This hypoallergenic breed has some impressive lineage with ancestors that can be traced back to the late 18th century. While the Bedlington Terrier is generally a healthy breed, the advantage of having such a long history means a lot of health tracing is available. The most common health issues include heart murmur and eye problems such as epiphora, retinal dysplasia, and cataracts. It's also not uncommon for Bedlingtons to face kidney problems and Copper Toxicosis (an autosomal recessive disease resulting in an accumulation of copper in the liver). But don't panic. All those genetic health issues aside, owning a Bedlington Terrier and purchasing pet insurance can make ongoing veterinary treatment more affordable for dog owners. As a licensed insurance agent and long-time dog person, I am here to help make sense of all the pet insurance options that are available to you and your Bedlington Terrier. Read more about our unbiased ranking methodology and advertiser disclosure.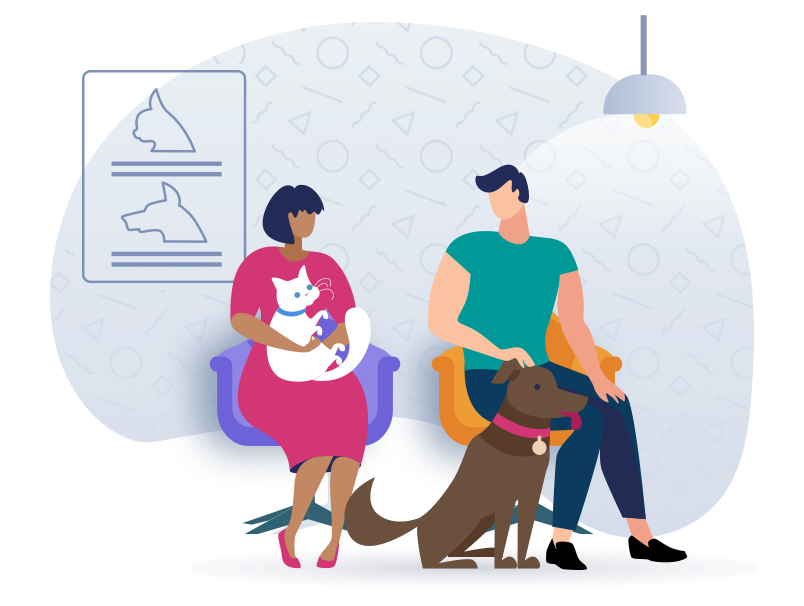 Top Bedlington Terrier Pet Insurance Scored, Ranked & With Cost
Use our below table to quickly compare the best Bedlington Terrier pet insurance providers. The average monthly specific prices shown are based on a healthy 2-year-old Bedlington Terrier with a $500 deductible and 90% reimbursement amount who is located in California with a 90210 zip code. Costs may vary based on age, location, and the coverage amount. Prices are accurate as of January 2022 and are subject to change. For the most up-to-date information, please visit the provider website.
---
Bedlington Terrier Pet Insurance FAQs
What is dog insurance and why is it useful for Bedlington Terriers?
Dog insurance is pet medical insurance you can purchase to help protect your investment and your Bedlington's overall health. Just like medical insurance coverage for humans, dog insurance helps take care of medical expenses for your pup. Pet insurance is important because it supports dog owners with the financial costs of the veterinary care that's required to help your dog maintain his health throughout his lifetime. Remember that dog insurance may not cover the entire cost of owning your dog, but it will save owners money by covering a significant portion of veterinary bills. Purchasing and utilizing dog insurance is easy, all you need to do is select a plan, make the required monthly payments to keep the policy active, and that's it. Then, when the need arises, you must submit receipts for reimbursement from your insurance provider.

Dog insurance is helpful if you own a Bedlington Terrier, as it means you're ready for anything that may unexpectedly pop up. Despite the long list of potential health issues we've already mentioned, the Bedlington Terrier is generally healthy. With the long history, we happen to know about a lot of the potential issues this breed may face in his lifetime, including heart murmur, multiple eye problems, kidney issues and Copper Toxicosis. All of these challenges will require ongoing veterinary treatment that certainly will total up. Having dog insurance means your little lamb will receive any necessary treatment without fleecing your wallet (sheep reference pun intended!).
How old does my Bedlington Terrier need to be insured?
The short answer is as soon as possible. Dog insurance providers typically want puppies to be at least eight weeks old in order to start insurance coverage. You should work on enrolling your Bedlington Terrier in a dog insurance plan the moment you bring him home for the first time. Something to note is that most pet insurance premiums are based on age, so the younger you can enroll your little lamb, the better.
What are common insurance claims for Bedlington Terriers?
While we've talked about a number of issues that can face the Bedlington Terrier, working with a reputable breeder means that breeder will screen their stock for health conditions such as hip and elbow dysplasia, hypothyroidism and the above-mentioned eye issues. As much as we hope that nothing will happen, there's still the chance of these genetic issues and others like von Willebrand's Disease, a bleeding disorder, as well as a heart murmur, kidney issues and Copper Toxicosis. Let's not even get into if your pup actually gets physically hurt with a broken bone or torn muscle. Yes, it sounds like a lot can go wrong, but believe it or not, the Bedlington Terrier is generally known as a healthy breed. It just never hurts to be prepared. All of these conditions will need ongoing medical treatment and monitoring by a veterinarian, so pet insurance is a must.
What services for my Bedlington Terrier are covered by dog insurance? What services are excluded from coverage?
Depending on what insurance plan you choose for your Bedlington Terrier, insurance coverage can take on many forms such as your policy will likely cover surprise injuries or accidents. Your policy can also include surgery, medication, medical tests, emergency care and exam fees. Some pet insurance plans also cover hospitalizations and preventative care. Almost anything your Bedlington Terrier might come across during his lifetime can be covered.

Similarly, some issues may be excluded in your plan, but that varies. You should know that most dog insurance policies will not cover the cost of care for pre-existing conditions, which is why it's so important to enroll your Bedlington Terrier in a policy as soon as possible.
How does reimbursement work?
Just like nearly all insurance plans, the dog person is responsible to pay the pet's medical bill upfront and then submit the vet bill for reimbursement to the insurance provider. Your Bedlington Terrier insurance provider will then pay you back a certain percentage of that bill. Your insurance company will determine how much money you'll receive back based on your deductible and reimbursement rate.
Should I enroll in a high-deductible or low-deductible plan?
The advantage of pet insurance policies is that there's something out there to fit every budget. Choose from high-deductible plans, low-deductible plans, and even plans with no deductible at all. It really just depends on how you want to manage your finances for your Bedlington Terrier. It can be confusing, but the higher the deductible, the lower the monthly payment, which means you'll pay a higher cost during those unplanned, unexpected emergencies. The last thing on your mind during a pet emergency visit should be how I will pay for this expensive vet bill. The lower deductible plan may be for you, which means a higher monthly payment, but that will equal less of a financial surprise during a stressful medical emergency.
5 Tips for Keeping Your Bedlington Terrier Safe & Healthy
You've brought your Bedlington Terrier home, enrolled in dog insurance, now there's a few more ways to make sure that your little lamb will follow you everywhere you go during his lifetime.
1. Regular Exercise
With a lifespan of 12-14 years and weighing in at less than 20 pounds, the Bedlington Terrier is considered a small dog, making it an ideal pet for apartment living. But, it's still important for your pup to have a place to exercise. Like any dog, if the Bedlington Terrier gets bored, he'll likely get destructive as well. Since the Bedlington Terrier is in fact a Terrier, he has a fair amount of energy and will need regular exercise to stay fit and happy. The Bedlington Terrier will love to play fetch, swim or go on a long walk or run. He loves the snow and is adept on ice or in deep powder, using their powerful nose as a plow when needed. Of course, he's just as happy to curl up and snuggle on a warm couch with the family. Despite their innocent little lamb looks, Bedlingtons were bred to chase small animals, so be sure you have a secured fence area for him to play and he's on a leash for the walk. Bedlington Terriers also enjoy agility, obedience and tracking training exercises.
2. Training and Socialization
Bedlington Terriers can be stubborn, so early socialization is key to integrating them within a family with other animals. They're also good watchdogs and are known to protect their "hoomans." The good news is he's very intelligent and eager to please, so training should be a snap. Like many dogs, Bedlington Terriers do not respond well to harsh training, you may end up with a stubborn battle of wills instead of a happily trained pup. Positive reinforcement with extra praise or treats is the best way to ensure this little lamb learns all the ins and outs of becoming part of your family. Just be aware, Bedlington Terriers can become jealous of other animals, so a slow integration will be key to keeping everyone involved happy.
3. Nutritious Diet
The Bedlington Terrier doesn't require any special diet and will do well with high-quality dog food, whether that's bought in a store or homemade. Always remember that food should be appropriate for your pup's age, with puppy food formulated for your little one and senior food for your older dog. Some Bedlington Terriers are prone to weight gain, so keep an eye on too much positive treatment training. Be sure to work with your vet on a healthy weight range for your dog, and always have clean, fresh water available.
4. Love and Affection
Bedlington Terriers are very playful and have lots of energy. They're also family-friendly. Both the AKC and ASPCA list the breed as "mild" and "gentle" and both recommend that the Bedlington Terrier is good for a home with children. Let them curl up with you on the couch and they will be your friend forever.
5. Regular Grooming
The coat of the Bedlington Terrier may look wiry, but it's actually a mix of soft and harsh hair. This hypoallergenic pup doesn't shed much at all, but that coat grows quickly, so he'll need a good clipping every two months or so. You can clip your Bedlington Terrier's coat with electric clippers and scissors, but sometimes it's easier to find a good groomer. Your Bedlington Terrier will need to be brushed and/or combed 1-2 times per week and his nails should be trimmed regularly because overgrown nails can cause pain for your pup as well as issues walking or running. Don't forget other basic care like regular ear cleaning and teeth brushing.
Conclusion
The Bedlington Terrier is known for many traits, such as being good-tempered, intelligent, affectionate, and spirited. Signing up and purchasing a pet insurance plan for your Bedlington Terrier is the best way to keep your lamb lookalike healthy. The sheer volume of insurance options available and the enrollment processes can be confusing. You must select the best plan for you and your dog, pay the monthly premium, and then your Bedlington Terrier is covered. There are many reasons that your Bedlington Terrier may need veterinary care. Having coverage means your pup can receive the necessary treatment without facing a financial downfall.
After extensive research, we conclude that Lemonade pet insurance offers the best dog insurance policy at the lowest monthly price for the Bedlington Terrier.
SwiftScore Ranking Methodology for Bedlington Terriers
We ranked the best pet insurance policies for Bedlington Terriers based on a variety of important factors including the following:
Average monthly price for a 2-year-old Bedlington Terrier with a $500 deductible located in the 90210 zip code
Coverage and benefits
Key policy details including accidents and illnesses, surgeries, annual check-ups, cancer treatment, lab tests, and more
AM Best rating of the underwriter
Reimbursement percentage
Annual benefit amount
Technology and user experience

Ease of sign up

Policy language clarity
User reviews
Other state dog insurance resources
Alabama | Alaska | Arizona | Arkansas | California | Colorado | Connecticut | Delaware | Florida | Georgia | Hawaii | Idaho | Illinois | Indiana | Iowa | Kansas | Kentucky | Louisiana | Maine | Maryland |
Massachusetts | Michigan | Minnesota | Mississippi | Missouri | Montana | Nebraska | Nevada | New Hampshire | New Jersey | New Mexico | New York | North Carolina | North Dakota | Ohio | Oklahoma | Oregon | Pennsylvania | Rhode Island | South Carolina | South Dakota | Tennessee | Texas | Utah | Vermont | Virginia | Washington | West Virginia | Wisconsin | Wyoming