7 Best
Bearded Collie

Pet Insurance Plans Compared in 2023

Updated on by Matthew H. Nash – Licensed Insurance Agent

The Bearded Collie is a medium-sized breed with a lifespan of 12-15 years. The Beardie is a working dog bred to herd sheep and cattle. While the Bearded Collie is considered a hearty breed, it faces issues including cancer, kidney failure, cerebrovascular disease, hypoadrenocorticism (Addison's disease), and epilepsy. Yes, that may look like a scary expensive list, but in many cases, with the help of a veterinarian, these conditions can be treatable. Don't panic, I'm here to help… pet insurance makes veterinary treatment more affordable for dogs and, more importantly, for you, the owner. As a licensed insurance agent and big-time dog fan, I am here to help make sense of the pet insurance options for you and your dog. Read more about our unbiased ranking methodology and advertiser disclosure.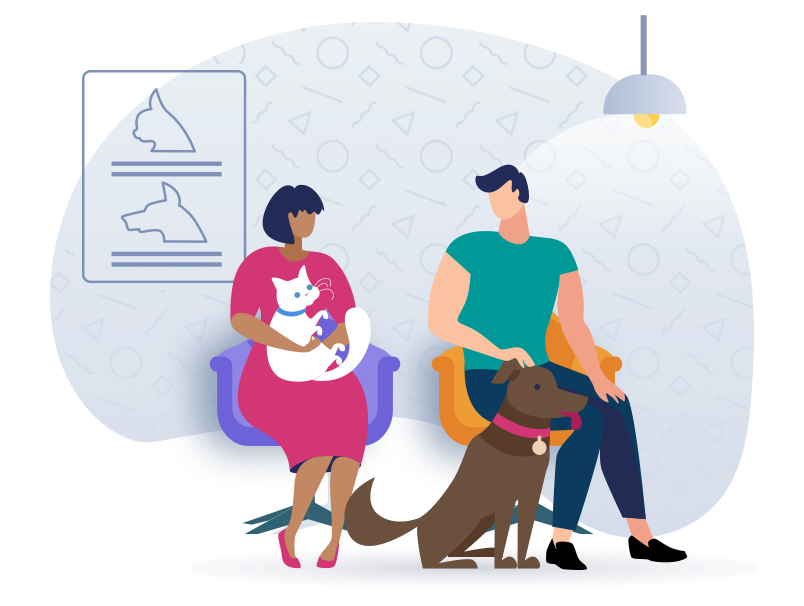 Top Bearded Collie Pet Insurance Scored, Ranked & With Cost
Use our below table to quickly compare the best Bearded Collie pet insurance providers. The average monthly specific prices shown are based on a healthy 2-year-old Bearded Collie with a $500 deductible and 90% reimbursement amount who is located in California with a 90210 zip code. Costs may vary based on age, location, and the coverage amount. Prices are accurate as of January 2023 and are subject to change. For the most up-to-date information, please visit the provider website.
---
Bearded Collie Pet Insurance FAQs
What is dog insurance and why is it useful for Bearded Collies?
Dog insurance is just like medical insurance coverage for humans, but in this case, it's for dogs. Pet insurance is important because it supports dog "hoomans" during the financial costs of veterinary care, especially those surprise visits. While dog insurance may not cover the entire cost of care, in many cases, it will save dog owners a significant amount of money by covering some of the vet bills. Taking advantage of dog insurance benefits is easy, you just need to select a plan, make the required monthly payments to keep the policy active, and then when needed, submit receipts for reimbursement from your insurance provider.

Dog insurance is key to keeping your Bearded Collie safe and healthy because it prepares you for the unexpected. Yes, the good news is that the Bearded Collie is considered a hearty breed, but it's not immune to disorders such as those mentioned above (that cancer word is always the scariest). All of those ailments will need ongoing veterinary care, which, let's face it, adds up quickly. Having dog insurance means your cuddly canine will receive any necessary treatment without taking a bite out of your finances.
What's the best age to insure my Bearded Collie?
Dog insurance providers typically want dogs to still be in the puppy phase of their life and be at least eight weeks old before coverage begins. Ideally, you want to enroll your Bearded Collie in a dog insurance plan the moment you bring them home for the first time. Just remember, most pet insurance premiums are based on age, so the younger you can get started, the better.
What are common insurance claims for Bearded Collies?
Beardies have been around for a long time. Early on, they were primarily owned by Scottish shepherds, but now they're more common as a family companion rather than just a working dog. Since they've been a registered breed for a while, the common genetic issues are well known, such as kidney failure, cerebrovascular disease, hypoadrenocorticism (Addison's disease) and epilepsy. Other issues include hip dysplasia, hypothyroidism, autoimmune diseases, allergies and eye problems. These conditions will certainly require regular medical treatment and continued visits to a veterinarian. Bearded Collies are also very active, with their herding pedigree, they have the ability to make sharp turns, quick starts and sudden stops, so a broken bone or strained muscle is also not out of the question. Don't panic, this is why dog insurance is here to help!
What services for my Bearded Collie are covered by dog insurance? What services are excluded from coverage?
Just like human medical insurance, coverage for dog insurance can vary by plan. Your Beardie policy will cover surprise injuries or accidents as well as unexpected illness. Coverage will also usually include surgery, medication, medical tests, emergency care and exam fees. Some dog insurance plans also cover hospitalizations and preventative care. In general, nearly every condition or scrape that your Bearded Collie may develop in their lifetime, including viral infections and broken bones, is covered.

On the other hand, excluded services also vary by plan. Don't be surprised that most dog insurance policies will not cover the cost of care for pre-existing conditions, which is why enrolling in a policy as soon as possible is important.
How does reimbursement work?
Similar to most out-of-network human medical plans, dog insurance is no different in that the pet owner is responsible to pay the dog's medical bill upfront and then submit the vet bill for reimbursement to the insurance provider. Your insurance provider will then pay you back a certain amount of that bill. Your insurance company will determine how much you will be reimbursed based on your deductible and reimbursement rate.
Should I enroll in a high deductible or low deductible plan?
There are a lot of dog insurance plans out there to fit every budget, everything from high deductible plans, low deductible plans, and plans with no deductible at all. It's really up to you and how you want to manage your finances for your Bearded Collie. It's all about the math, the higher the deductible, then the lower the monthly payment, but that means you'll pay a higher cost during those unexpected emergencies. Many dog "hoomans" don't want to have to worry about last minute high costs when dealing with an emergency. In those cases, a lower deductible would be the solution, which means a higher monthly payment, but less of a financial surprise during a stressful medical emergency.
5 Tips for Keeping Your Bearded Collie Safe & Healthy
In addition to enrolling your Beardie, at this point, let's just call her Nana… I mean really, sounds like if you have a Bearded Collie, you need to name her (or him) Nana. Anyway, enrolling in dog insurance is the best way to keep your furry family member safe and happy, there are also many other ways to make sure that your Bearded Collie lives a long and healthy life.
1. Regular Exercise
According to the American Kennel Club, since the Bearded Collie was bred to herd livestock, that means the breed is an energetic and boisterous dog that requires a fair amount of outdoor exercise. Unlike some humans, Beardies are more than happy to run and play outside, no matter the weather (that's partly due to their amazing fur coat – more on that later.) Basically, Nana needs some kind of physical activity every day, which could be playing ball, a long walk, run or hike, or just running around in a large yard with the kids. Beardies also love athletic events, think herding competitions and agility tests. A Beardie that's kept busy is a happy Beardie.
2. Training and Socialization
Really, all dogs can benefit from early socialization and puppy training classes. Gently exposing your new pup to a wide variety of people, places and situations is key to a happy upbringing. The best time to start is between the age of seven weeks to four months and of course, after you've seen a vet and started all of the proper vaccinations. Puppy training classes for the whole family are also important for the "hoomans" to recognize and stop undesired behaviors from developing early. Just remember, in case it hasn't been said enough, Bearded Collies are herding dogs, so they may try to herd small children. Also, keep in mind, the dog was bred to work out in the fields on its own, without any direction… translation, a stubborn streak in Nana can make training a challenge, so it's important to start early and reward with lots of positive reinforcement.
3. Nutritious Diet
The Bearded Collie will thrive with high quality dog food, whether that's from a retail store, home-made or recommended by your vet. Be sure to choose food that is appropriate for your dog's age (puppy, adult or senior for example). Some Beardies are prone to pack on the pounds, so keep an eye on the calorie consumption (all those extra treats can add up too) and weight level. Work with your vet to know what is a healthy weight for your Beardie. Always be sure clean, fresh water is available at all times too!
4. Love and Affection
As previously mentioned, Bearded Collies are family-friendly dogs. They are boisterous, smart, obedient, lively and energetic and love to be part of the action, whether that's in the kitchen vacuuming up all the crumbs dropped on the floor from the chef, playing in the yard or curled up on the couch watching Peter Pan (I had to get one more mention in there).
5. Regular Grooming
Your Bearded Collie will not be low-maintenance when it comes to grooming. Think of Nana's grooming in two parts; first your Beardie will need daily brushing because that long, beautiful coat can mat and tangle easily. Part two is a weekly session with a pin rake, brush, comb and even possibly some anti-tangle spray to remove any dead fur to help keep the coat in tip-top shape.

Shedding is average but can be heavy in the Spring when the weather is heating up. The coat can be trimmed every few months. Don't forget to keep an eye on the paws and ears, to prevent a build-up of wax. They should be checked anytime your Beardie comes back inside. Nails need to be trimmed regularly because long nails may look pretty on people, but long nails on your Beardie can cause pain while walking and running. Oh, and those teeth need brushing too!
Conclusion
Adding your Bearded Collie to a dog insurance plan as soon as possible is the best way to ensure your furry family member's health. While the many insurance policies and the enrollment process can be confusing, you must select the best plan for you and your dog, pay the monthly premium, and then cover your Bearded Collie. As much as we love and cherish our furry family members, there are several unexpected reasons that your pup may need veterinary care. While we can't keep our pups young forever like Peter Pan, having coverage means your dog can receive the necessary care without the financial burden, helping Nana to live a long and happy life.
After extensive research, we conclude that Lemonade pet insurance offers the best dog insurance policy at the lowest monthly for Bearded Collie.
SwiftScore Ranking Methodology for Bearded Collies
We ranked the best pet insurance policies for Bearded Collies based on a variety of important factors, including the following:
The average monthly price for a 2-year-old Bearded Collie with a $500 deductible located in the 90210 zip code
Coverage and benefits
Key policy details including accidents and illnesses, surgeries, annual check-ups, cancer treatment, lab tests, and more
AM Best rating of the underwriter
Reimbursement percentage
Annual benefit amount
Technology and user experience

Ease of sign up

Policy language clarity
User reviews
Other state dog insurance resources
Alabama | Alaska | Arizona | Arkansas | California | Colorado | Connecticut | Delaware | Florida | Georgia | Hawaii | Idaho | Illinois | Indiana | Iowa | Kansas | Kentucky | Louisiana | Maine | Maryland |
Massachusetts | Michigan | Minnesota | Mississippi | Missouri | Montana | Nebraska | Nevada | New Hampshire | New Jersey | New Mexico | New York | North Carolina | North Dakota | Ohio | Oklahoma | Oregon | Pennsylvania | Rhode Island | South Carolina | South Dakota | Tennessee | Texas | Utah | Vermont | Virginia | Washington | West Virginia | Wisconsin | Wyoming