6 Best
Beagle

Pet Insurance Plans Compared in 2023

Updated on by Matthew H. Nash – Licensed Insurance Agent

Buying pet insurance for your Beagle can be confusing. As a dog owner and a nationally licensed insurance agent, I am familiar with the tricky technical language you'll find in insurance policies. I also understand how frustrating looking for the pet insurance that's precisely best for Beagles can be. To help you make a decision, I've done all the research to ensure you choose what's best for your Beagle. Whatever state you live in and however old your pup is, you'll find the facts you need in this article. Read more about our unbiased ranking methodology and advertiser disclosure.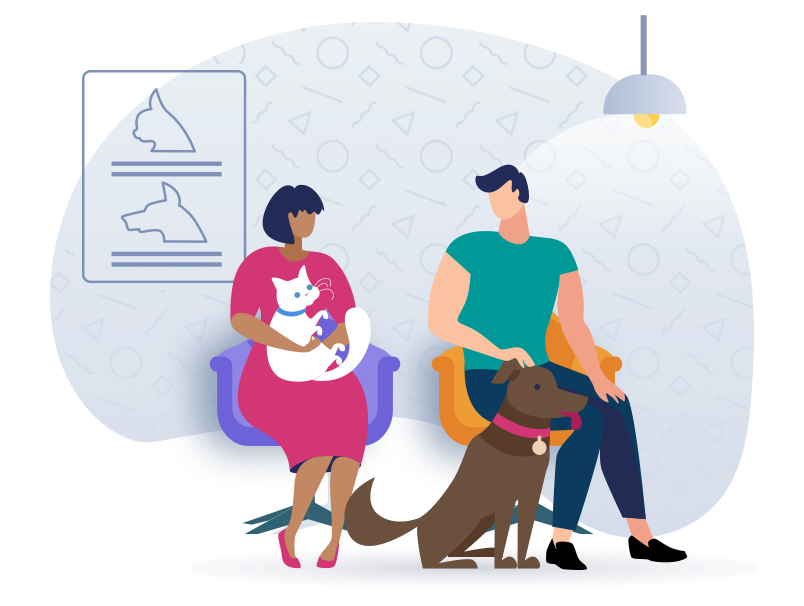 Top Beagle Pet Insurance Scored, Ranked & With Cost
Use our below table to quickly compare the best Beagle pet insurance providers. The average monthly specific prices shown are based on a healthy 2-year-old Beagle with a $500 deductible and 90% reimbursement amount who is located in California with a 90210 zip code. Costs may vary based on age, location, and the coverage amount. Prices are accurate as of January 2023 and are subject to change. For the most up-to-date information, please visit the provider website.
---
Beagle Pet Insurance FAQs
Beagle owners looking for the best pet insurance for their pup often ask me these questions.
What is dog insurance and why is it useful for Beagles?
If you want to keep your dog fully protected, you'll need to sign up for a good pet insurance plan and keep paying the monthly amount. If a health emergency happened to your Beagle unexpectedly, you would need to pay the veterinary bill out of pocket, then submit a claim with your pet insurance provider for reimbursement. It's essential to be aware that most pet insurance companies do not cover vet bills related to a pre-existing condition. Because of this, I always recommend getting your pup signed up as a puppy (after it's 8 weeks of age).

Vet bills can get staggeringly expensive, fast. That's why dog insurance is a crucial thing to have in place. Therapies such as cancer treatment can add up to more than $10,000. It's a sad reality that many pet owners get faced with the worst decision ever – to euthanize their dog because they can't afford the vet bill. Having pet insurance keeps you from ever being in that awful position.
How old does my puppy need to be to get insured?
Your puppy will need to be at least 8 weeks old to get signed up with most pet insurance companies. If your dog is older, there isn't usually a limit to how old your dog can be eligible for coverage. If you can, it's wise to get your pup signed up before it's a year old, because it's often cheaper to insure younger pets.

Pawp is one provider that does things differently. They will cover up to 6 pets on one "emergency fund", no matter how old the pets are, for a flat $19. Pawp will only cover true emergencies, as verified by their virtual vet team. They will also only cover 1 of your pets, for 1 bill of up to $3,000.
How worth it is it to get Beagle dog insurance, and what are common reasons for claims?
You may not like to think about it, but at some point your dog will have an illness or injury unexpectedly. Vet bills can get unbelievably high – if you need a trip to the emergency clinic it will often cost more than $3,000.

When it comes down to it, the choice is yours. Is it smarter to pay a small monthly amount, or be at risk of being faced with an out-of-pocket vet bill beyond your budget somewhere along the line.

Some common reasons why Beagles might visit a vet clinic are:
Hyperthyroidism
Epilepsy
Central progressive retinal atrophy (CPRA)
Cherry eye
Keratoconjunctivitis sicca (KCS)
What is covered and what's excluded with dog insurance?
The covered health conditions will vary from provider to provider, but most pet insurance companies will cover any accident or illness that isn't specifically excluded. As a rule, emergencies that could be deemed "sudden and catastrophic" will be covered. Broken bones, eye infections, and allergies are a few examples. Now, if your dog has cancer before you signed them up for a pet insurance plan, their treatments would not be covered because of it being a pre-existing condition. Many pet insurance providers now have a "wellness" plan, where you can get reimbursed for the costs of routine wellness measures like vaccinations, heartworm prevention, and more.
How do I get reimbursed?
If you had a dog insurance plan for your Beagle that had a 90% reimbursement amount, a $250 deductible, and $20,000 max annual benefit, then your pup has an emergency vet visit that results in a $10,000 bill, here's how reimbursement would work. In this example, your pet insurance company would reimburse you for $9,000 of the cost, minus the $250 deductible amount. That means instead of paying $10,000 out of pocket, you'll only have to pay $1,250. One pet insurance provider that's different is Trupanion, which completely covers the bills of their in-network veterinarians – meaning you pay nothing out of pocket.
Is it better to have a lower deductible? What's the sweet spot?
Lower deductibles normally mean having to make higher monthly payments. You'll be paying a higher amount each month, but you'll pay less out of pocket if your Beagle has a health emergency.

The best idea is to do the calculations yourself, as only you know your unique financial situation. The majority of pet owners choose a $250 or $500 deductible.
5 Useful Strategies for Keeping Your Beagle Safe and Healthy
These preventative measures will help ensure your Beagle has a long and happy life.
1. Provide Lots of Exercise
Beagles are one of the dog breeds that are considered to be quite naughty. This is largely because they were originally bred to hunt rabbits, which requires them to have a lot of energy. You can get out your pup's pent-up energy by taking it for a good walk at least once a day. If you can't leave the house, try throwing a ball for your dog in the backyard.
2. Go To Obedience Training
Beagles are cunning by nature. You have to be to catch a rabbit! However, their quick thinking can make them pretty disobedient sometimes, ignoring commands or rules you set in place. Take your pup to obedience training classes from a young age, and you'll instill good listening habits and recognize you as pack leader.
3. Watch Your Dog's Weight
While Beagles are often relatively healthy dogs, they do tend to suffer from hip dysplasia, especially at an older age. You can help prevent this from happening to your pup by making sure to feed it a great diet of healthy, high-quality food, and making sure it stays a healthy weight.
4. Provide Chew Toys
Does your Beagle have a destructive side? You're not the only one. Chewing up everything in the house is just another sign of super-smart beagles not having enough stimulation. To keep your pup from chewing things, it shouldn't provide lots of chew toys for it to play with, especially when you're not home.
5. Nurture Your Dog's Superpower
Beagles are all about one of their senses: the smell of course. They are experts at sniffing things out, and because of this, they might run away from home to follow a fascinating scent they've picked up. Give your pup lots of opportunities to use their heightened sense of smell. Allow them to stop and sniff things as you walk them, or create "treasure hunts" of treats for them around your home.
Conclusion
Finding the best pet insurance plan for your Beagle doesn't need to be a pain in the neck. I recommend signing up your pup for a good insurance policy right when it reaches 8 weeks of age. Doing this will get you the best pricing and prevent your dog from developing pre-existing conditions that would be excluded from coverage. But no matter how old your Beagle is, don't hesitate to get them protected by dog insurance – it's valuable to have in case of accidents or illnesses.
Ready to get started? After countless hours of research, we've found that Lemonade pet insurance consistently performs the best with the lowest monthly premiums.
SwiftScore Ranking Methodology for Beagles
We ranked the best pet insurance policies for Beagles based on a variety of important factors including the following:
Average monthly price for a 2-year-old Beagle with a $500 deductible located in the 90210 zip code (Please note: prices will vary greatly based on your location)
Coverage and benefits
Key policy details including accidents and illnesses, surgeries, annual check-ups, cancer treatment, lab tests, and more
AM Best rating of the underwriter
Reimbursement percentage
Annual benefit amount
Technology and user experience

Ease of sign up

Policy language clarity
User reviews
See dog insurance prices in your state
Alabama | Alaska | Arizona | Arkansas | California | Colorado | Connecticut | Delaware | Florida | Georgia | Hawaii | Idaho | Illinois | Indiana | Iowa | Kansas | Kentucky | Louisiana | Maine | Maryland | Massachusetts | Michigan | Minnesota | Mississippi | Missouri | Montana | Nebraska | Nevada | New Hampshire | New Jersey | New Mexico | New York | North Carolina | North Dakota | Ohio | Oklahoma | Oregon | Pennsylvania | Rhode Island | South Carolina | South Dakota | Tennessee | Texas | Utah | Vermont | Virginia | Washington | West Virginia | Wisconsin | Wyoming