7 Best
Australian Cattle Dog

Pet Insurance Plans Compared in 2023

Updated on by Matthew H. Nash – Licensed Insurance Agent

The thought of obtaining pet insurance can be intimidating for the first-time buyer. From the confusing policy language to the terminology and diverse options, it is normal to be overwhelmed initially. I am a lifetime dog owner and a nationally licensed insurance agent, and I have written this article to help simplify the process and help you make an informed decision. Whether your Australian Cattle Dog is an older dog or still a young pup, this article will tell you everything you need to know about dog insurance. Read more about our unbiased ranking methodology and advertiser disclosure.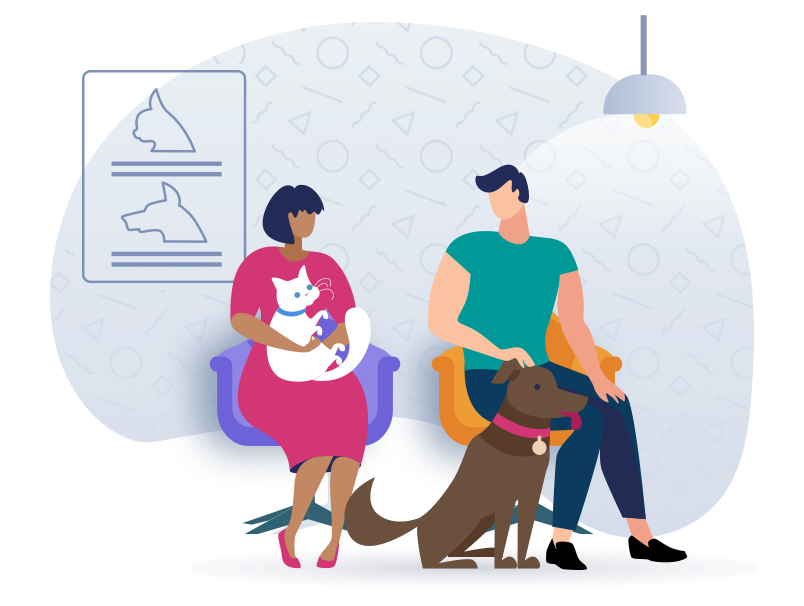 Top Australian Cattle Dog Pet Insurance Scored, Ranked & With Cost
Use our below table to quickly compare the best Australian Cattle Dog pet insurance providers. The average monthly specific prices shown are based on a healthy 2-year-old Australian Cattle Dog with a $500 deductible and 90% reimbursement amount who is located in California with a 90210 zip code. Costs may vary based on age, location, and the coverage amount. Prices are accurate as of January 2023 and are subject to change. For the most up-to-date information, please visit the provider website.
---
Australian Cattle Dog Pet Insurance FAQs
What is dog insurance, and why is it beneficial for Australian Cattle Dogs?
Dog insurance is health care coverage for canines. Just like with human medical insurance, dog insurance assists with paying medical bills. Dog insurance is highly recommended regardless of the breed of pup you own. You never know what type of tragedy may occur or how expensive the vet bills will be. In addition, Australian Cattle Dogs are an active breed and are thus more prone to injury, especially if used for herding, which will further increase your need for good dog insurance.

Like other breeds, Australian Cattle Dogs have their fair share of known health issues. For these particular dogs, there are risks for vision, hearing, joint, and liver problems. Depending on the environment in which your pup lives, there can be other risk factors that may call for a vet visit one day. Dog insurance allows you to relax knowing that you and your pup are prepared for the worst.
How do I sign up for dog insurance?
Signing up for dog insurance is something that requires minimal effort but yields great rewards. Before signing up, it is essential to do your research. Each insurance company has different policies and coverages than the next. Your best bet is to identify a few types of coverages that you absolutely must have and then begin comparing providers that offer them.

Once you have decided on an insurance company, it is time to contact them. Be sure to ask any remaining questions you have. If satisfied, most providers will allow you to start making premium payments immediately.
How old does my puppy need to be to get insured?
Most insurance providers will require your pup to be at least eight weeks old before it is eligible for puppy insurance. On the plus side, there generally is not an age limit for dog insurance. However, younger animals are cheaper to insure, so we recommend getting dog insurance before their first birthday.

One exception to the rule is Pawp, who protects up to 6 pets, regardless of age, on one "Emergency Fund" for a flat fee of $19/ month. However, keep in mind, Pawp only covers true veterinary emergencies. These coverages have to be approved first by their virtual vet team. Also, their plan only covers one of your pets for one vet bill per year and only up to $3,000.
What are some of the most common dog insurance claims for Australian Cattle Dogs?
1. Progressive Retinal Atrophy (PRA)
Progressive Retinal Atrophy is classified as a group of degenerative diseases that affect the photoreceptor cells in a dog's eyes. PRA is common in Australian Cattle Dogs and causes the cells to deteriorate over time, resulting in worsening vision and eventual blindness in the canine.
2. Deafness
While deafness is pretty self-explanatory, it is crucial to be aware that Australian Cattle Dogs carry a considerable risk of becoming deaf, although the cause remains unclear. Like humans, all animals suffer some amount of hearing loss as they age. However, with proper care, you can reduce your pup's exposure to noises that exceed allowed decibel ratings.
3. Hip and Elbow Dysplasia
While Elbow and Hip Dysplasia are common with larger breeds, Australian Cattle Dogs also carry this risk, likely due to their high activity levels. "Dysplasia" refers to a gradual misalignment of the joints that occur either through genetics, day-to-day activities, or both. Over time, this condition leads to even the most common joint movements becoming painful for canines, especially as they age.
4. Osteochondrosis Dissecans (OCD)
Osteochondrosis Dissecans is a condition that regularly affects Australian Cattle Dogs. On a basic level, it is an inflammatory condition that causes pain of movement that occurs when cartilage begins separating from the bone.
What is covered, and what's excluded with dog insurance?
Insurance providers are constantly competing for new customers. One way that they do this is by offering different coverages that may not be available from another insurance company. However, most of the primary coverages remain the same. For example, you can expect that the majority of providers will cover anything considered "sudden and catastrophic." This includes things like infections, allergies, broken bones, and more. Additionally, some providers offer "wellness packages," which can help pay for routine visits, like periodic examinations, vaccinations, heartworm medicine, and more.

One easy way to learn what is not covered by a particular provider is by reading their policy agreement and looking for specific coverage exclusions. Also, keep in mind that most insurance companies will not cover pre-existing conditions. This is anything that your pup was diagnosed with before you signed up with them that requires ongoing treatment. For example, if your canine has already been diagnosed with allergies, you can expect that your insurance provider will not pay out for related vet appointments. This is another reason why it is important to insure your furry friend as soon as possible!
How does reimbursement work?
Here is a basic example of insurance reimbursement: let's say you have dog insurance with a 90% reimbursement amount, a $250 deductible, and a $20,000 annual max benefit. Your dog is unfortunately injured in an accident, and you responsibly seek immediate veterinary care. Upon doing this, you learn that your pup requires a $10,000 emergency vet surgery. In this scenario, your insurance company reimburses you $9,000 minus your $250 deductible. This means that you pay only $1,250 out of pocket instead of $10,000. We bet you are glad you had up-to-date insurance!

One company that offers an exception to this rule is Trupanion which offers payment directly to veterinarians in their network. This way, you won't have to pay out of pocket.
Is it better to have a lower deductible – what's the sweet spot?
Generally speaking, a lower deductible will result in higher monthly payments. However, in exchange for this higher monthly premium, you will owe less money out of pocket in the event of an emergency. All in all, this is your choice to make, as it depends entirely on your financial situation. Many providers offer an easy-to-use calculator to compare different deductibles when getting a quote. In our experience, most people choose a $250 or $500 deductible.
5 Useful Strategies for Keeping Your Australian Cattle Dog Safe & Healthy
1. Add Title
Australian Cattle Dogs are known to be very active and energetic animals. While they may love to spend time outdoors, it is important to be mindful of the temperatures. On hotter days, we advise checking on your pup regularly to make sure they are not overheating. Your canine must have access to a well-shaded area so that they can adequately cool off from time to time. If you notice a change in behavior or excessive panting, consider immediately taking your dog to see a vet, as these are early signs of heat-related illness.
2. Add Title
An easily accessible drinking source is essential for dogs. Australian Cattle Dogs spend a lot of time running and playing, which may cause them to drink more water than other breeds. Many canines will begin to whine in order to alert their owner when they are out of drinking water, but not all do. A good practice is to check your dog's water every time you feed them to ensure that they never run out. Property hydration is very important for keeping your pup in optimal health!
3. Add Title
Whether you own an Australian Cattle Dog or a Chihuahua, we cannot stress regular vet appointments enough. It may seem like a hassle, but periodic examinations can save you money in the long run and even potentially save your pup's life. A skilled veterinarian can detect health issues early on and begin treatment before they spin out of control. Furthermore, canines accustomed to going to the vet may even start to look forward to the visit!
4. Add Title
Australian Cattle Dogs are more intelligent than many other dog breeds. For many owners, this brings a desire for more in-depth training that might be wasted on other types of canine. While treats are an excellent training tool, keep in mind that you shouldn't feed your dog just anything. Many human foods are toxic to dogs, and consuming them can result in severe health issues or even the death of your pup. For this reason, we recommend doing your research and determining what types of food are safe to use as treats.
5. Add Title
Dog breeding throughout the years has allowed for many wonderful and intriguing canines to emerge, with a wide variety of purposes. Australian Cattle Dogs were, as the name suggests, bred to herd cattle. Unfortunately, due to their tendency to wander a large territory, they often fall victim to passing vehicles. For this reason, you must keep your pup in an enclosure until it is properly trained to stay in designated areas.
Conclusion
We love dogs of all shapes and sizes, and we believe that all canines should be adequately insured. However, this is especially important for Australian Cattle Dogs due to their active nature and genetic predisposition to health issues. Dog insurance plays a significant role in giving your loyal companion the happy and healthy life it earns every day. Remember, it is never too late to sign up, but the sooner, the better!
Ready to get started? After countless hours of research, we've found that Lemonade pet insurance consistently performs the best with the lowest monthly premiums.
SwiftScore Ranking Methodology for Australian Cattle Dogs
We ranked the best pet insurance policies for Australian Cattle Dogs based on a variety of important factors including the following:
Average monthly price for a 2-year-old Australian Cattle Dog with a $500 deductible located in the 90210 zip code (Please note: prices will vary greatly based on your location)
Coverage and benefits
Key policy details including accidents and illnesses, surgeries, annual check-ups, cancer treatment, lab tests, and more
AM Best rating of the underwriter
Reimbursement percentage
Annual benefit amount
Technology and user experience

Ease of sign up

Policy language clarity
User reviews
See dog insurance prices in your state
Alabama | Alaska | Arizona | Arkansas | California | Colorado | Connecticut | Delaware | Florida | Georgia | Hawaii | Idaho | Illinois | Indiana | Iowa | Kansas | Kentucky | Louisiana | Maine | Maryland | Massachusetts | Michigan | Minnesota | Mississippi | Missouri | Montana | Nebraska | Nevada | New Hampshire | New Jersey | New Mexico | New York | North Carolina | North Dakota | Ohio | Oklahoma | Oregon | Pennsylvania | Rhode Island | South Carolina | South Dakota | Tennessee | Texas | Utah | Vermont | Virginia | Washington | West Virginia | Wisconsin | Wyoming