6 Best
Australian Shepherd

Pet Insurance Plans Compared in 2023

Updated on by Matthew H. Nash – Licensed Insurance Agent

Having an intelligent, athletic dog like the Australian Shepherd will keep you on the go, and the more you're out and about, the greater the chance that injuries can occur. Protecting your pup as you would any family member should mean looking into pet insurance. There are quite a few options for dog insurance, and the terms can be confusing. As a dog lover and nationally licensed insurance agent, I've done all the research for you so it doesn't matter if you live in North Dakota or Virginia; this article has you covered. Read more about our unbiased ranking methodology and advertiser disclosure.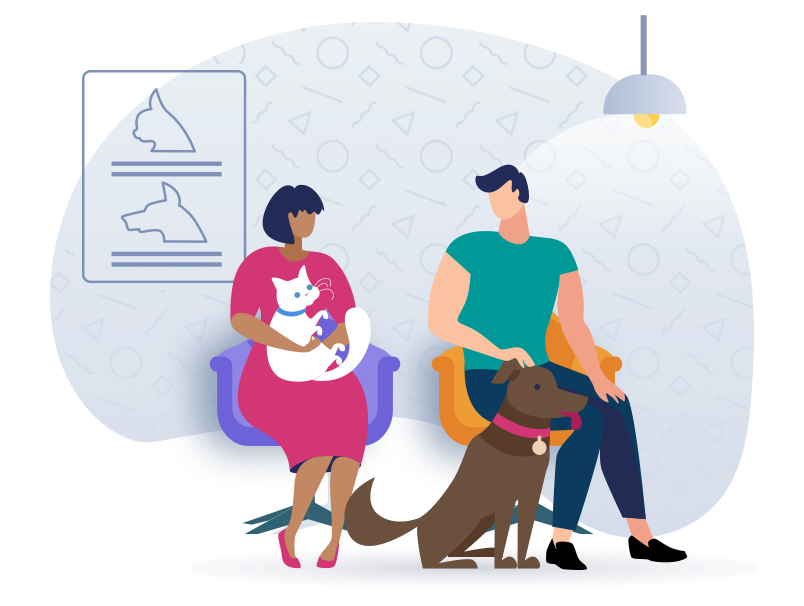 Top Australian Shepherd Pet Insurance Scored, Ranked & With Cost
Use our below table to quickly compare the best Australian Shepherd pet insurance providers. The average monthly specific prices shown are based on a healthy 2-year-old Australian Shepherd with a $500 deductible and 90% reimbursement amount who is located in California with a 90210 zip code. Costs may vary based on age, location, and the coverage amount. Prices are accurate as of January 2023 and are subject to change. For the most up-to-date information, please visit the provider website.
---
Australian Shepherd Pet Insurance FAQs
What is dog insurance? How is it helpful for Australian Shepherds?
To protect your dog to the fullest with insurance, sign up with the insurance company of your choice and pay the monthly premiums to maintain an active policy. If your dog becomes sick or gets in an accident, you will need to pay the vet bill at the time of service and then submit a claim to your provider for reimbursement. Remember that insurance companies tend to exclude pre-existing conditions from coverage, which is why we encourage dog owners to get their little pal insured while they are still a puppy (before 1-year-old).

Dog insurance is beneficial for Australian Shepherds. Most dogs experience at least one health emergency in their lives, and vet bills go through the roof. Therapies for conditions such as cancer can exceed $10,000. Uninsured pet owners are often confronted with the heart-wrenching decision of putting their dog down because they cannot afford the necessary treatments or procedures. Pet insurance eliminates the possibility of such a tragedy.
At what age can I get my puppy insured?
Eight weeks tends to be the minimum age dog insurance companies require for coverage. The upshot is that most providers do not have an age limit when it comes to getting your dog insured. Keep in mind, though, that the younger your pet, the cheaper they will be to insure. This is the biggest reason we recommend getting your dog insured before their first birthday.

On the other hand, Pawp is an exception to the rule. Pawp protects up to 6 pets under one "Emergency Fund," irrespective of age, for a $24 monthly flat fee. This only covers emergencies qualified by their virtual veterinary team. It is worth mentioning that their plan covers only one of your pets up to $3,000 for one veterinary bill. Pawp also offers unlimited telehealth with veterinarians and pet experts in addition to the "Emergency Fund" service.
Is it worth it to get Australian Shepherd dog insurance? What are the most common reasons for insurance claims?
Health emergencies and hereditary conditions are common occurrences in all dogs' lives, and Australian Shepherds are no exception. Two of the most common disorders this breed faces are hip dysplasia and various eye problems, including cataracts, retinal dysplasia, and progressive retinal atrophy.

Hip dysplasia is when the ball and joint socket do not develop appropriately. This causes the bone and cartilage to grind down over time, resulting in severe arthritic pain. If the pain is not manageable through traditional veterinary practices, hip replacement surgery will be necessary to eliminate the pain and can cost you more than $6,000.

As for Australian Shepherd's ocular health, you may find that cataracts are the most common ailment. Cataracts are resolved via surgery, which has a high success rate. Most dogs regain their vision as soon as they recover from the operation. Such a procedure will cost you on average $3,500.

As you can see, dog insurance can be very helpful to you if you own an Australian Shepherd. It will save you a tremendous amount of money in emergencies and will help ensure your best friend gets the care it needs and deserves.
What does dog insurance include and exclude?
Insurance coverage will differ from one company to another. However, most providers cover any illnesses or accidents deemed "sudden and catastrophic." Some examples of covered medical events include ear infections, urinary issues, broken bones, and lacerations. Suppose your dog has (or has had) a medical condition prior to applying for insurance. It will be listed as a pre-existing condition in your policy and not eligible for coverage in such an instance. It is also good to note that most insurance providers now offer "wellness packages" that you can add to your policy. These packages cover routine care such as physical exams, heartworm prevention, vaccinations, and more.
How does the claim reimbursement process work?
Let's imagine your dog needs a $10,000 surgery, and you have an insurance policy with a $250 deductible, a 90% reimbursement amount, and a $20,000 annual maximum benefit. First, you would pay the vet bill up front and then submit a claim for reimbursement. In this scenario, your provider would reimburse you $9,000 minus your $250 deductible. This means your total financial responsibility would only be $1,250 as opposed to the original $10,000. Uninsured dog owners all too often have to face the heartbreak of putting their beloved friend down because they cannot afford the needed procedures or treatment. Pet insurance prevents this from becoming a reality.
Which is best: a lower or higher deductible?
There is no clear-cut answer when it comes to deductibles. What you choose depends upon your financial circumstances and personal preferences. A lower deductible will result in higher monthly premiums but lower out-of-pocket costs in an emergency. Whereas a higher deductible will get you to lower monthly premiums but higher out-of-pocket costs in a catastrophic event. You will need to run the numbers and determine what best suits your situation. Many providers feature customer-friendly calculators on their websites that you can use when requesting a quote. We have noticed that most dog owners prefer to have either a $250 or $500 deductible.
5 Useful Strategies for Keeping Your Australian Shepherd Safe & Healthy
With their active, easy-going, and fun-loving dispositions, Australian Shepherds are some of the best family pets around. Below are some helpful tips and strategies for keeping your Aussie happy, healthy, and safe.
1. Train your Aussie and give it plenty of stimulation
Australian Shepherds are raised as herding dogs and thrive in a "work-like" setting. They love having a sense of duty and aim to please, so training can help give them that feeling. Aussies excel with reward-based training, which means you positively reinforce desired behaviors and ignore undesired ones. Praise and rewards go a long way with this brilliant breed. Training gives these beautiful canines the mental stimulation they need. It also gives them plenty of quality time with you, their human companion, which they crave intensely. If your Aussie gets bored, you may find that they will descend into fits of barking and destructive chewing.
2. Ensure your Australian Shepherd gets ample exercise
Your Australian Shepherd is one of the highest-energy breeds out there. Of course, individual dogs within the breed will be a bit more mellow, but this is indeed the exception, not the rule. Aussies need and enjoy rigorous physical exercise every day and thrive with various physical activities, including swimming, hiking, running, and doing obstacle courses. Be sure to give them plenty of fresh air and time out in nature to maintain a healthy mental state and happy disposition.
3. Groom your Australian Shepherd daily
Brushing your Aussie pup regularly–once per day during shedding season, and at least once every couple of days otherwise–will help keep their coat smooth and healthy. It will also reduce the amount of fur you find around your house!

Start brushing your Aussie with a long-toothed rake to ensure the undercoat is not matted. Be firm yet gentle to stimulate (not aggravate!) your dog's skin. After you have brushed your dog with the long-toothed rake for 5-7 minutes, you can use a slicker brush on the outer layer of fur. This will keep your Aussie's coat smooth, silky, and healthy.

Never shave an Australian Shepherd. Your Aussie's undercoat helps hold temperate air close to its body at all times, keeping your best pal warm during the winter and cool during the summer. Shaving it could potentially destroy your dog's ability to regulate its body temperature since the coat may not grow back correctly. Also, keep in mind that regularly bathing your dog is unnecessary as it will strip the natural oils from their coat. Once every three to four months is adequate. Last but never least, trim your Aussie's nails once per month. Letting them get too long can cause your dog pain and discomfort whenever they are up and about.
4. Brush your Aussie's teeth
Brushing your Aussie's teeth is essential in preventing periodontal disease. Teeth not well-cared for can result in gum decay, infections, heart, kidney, and liver damage. Treatment for periodontal disease requires multiple excruciating surgeries.

The key to caring for your Australian Shepherd's teeth at home is to use a soft-bristled brush and brush them multiple times per week. Be sure to consult your veterinarian for instructions on appropriately brushing your dog's teeth without irritating their gums but still preventing plaque build-up.

Schedule annual dental exams for your dog, too, so they get a thorough cleaning to remove any yellow or brown tartar that home brushing cannot.
5. Feed your Aussie a high-quality diet
Feeding your Australian Shepherd a diet high in whole foods, including animal protein, fruits, and vegetables, is essential to a healthy, long life. Any grains you give them should be whole grains and somewhat limited. Remember, dogs have no nutritional need for grains. Consult your vet regarding how much protein and fat your Aussie needs to consume each day as the dietary requirements for puppies, adult, and senior dogs are very different. This will help prevent your best pal from becoming overweight or undernourished.
Conclusion
Ultimately, selecting the best dog insurance for your Australian Shepherd is much easier than you may have thought initially. We always suggest applying for dog insurance as soon as your puppy is older than 8 weeks. The earlier in your best pal's life you do so, the better the insurance rates you will get and the fewer the restrictions when it comes to pre-existing conditions. That said, getting dog insurance at any point in your dog's life is better than never, as it will help in the case of medical emergencies and promote wellness.
Ready to get started? After countless hours of research, we've found that Lemonade pet insurance consistently performs the best with the lowest monthly premiums.
SwiftScore Ranking Methodology for Australian Shepherd
We ranked the best pet insurance policies for Australian Shepherd based on a variety of important factors including the following:
Average monthly price for a 2-year-old Australian Shepherd with a $500 deductible located in the 90210 zip code (Please note: prices will vary greatly based on your location)
Coverage and benefits
Key policy details including accidents and illnesses, surgeries, annual check-ups, cancer treatment, lab tests, and more
AM Best rating of the underwriter
Reimbursement percentage
Annual benefit amount
Technology and user experience

Ease of sign up

Policy language clarity
User reviews
See dog insurance prices in your state
Alabama | Alaska | Arizona | Arkansas | California | Colorado | Connecticut | Delaware | Florida | Georgia | Hawaii | Idaho | Illinois | Indiana | Iowa | Kansas | Kentucky | Louisiana | Maine | Maryland | Massachusetts | Michigan | Minnesota | Mississippi | Missouri | Montana | Nebraska | Nevada | New Hampshire | New Jersey | New Mexico | New York | North Carolina | North Dakota | Ohio | Oklahoma | Oregon | Pennsylvania | Rhode Island | South Carolina | South Dakota | Tennessee | Texas | Utah | Vermont | Virginia | Washington | West Virginia | Wisconsin | Wyoming