Top
Aussiedoodle

Dog Insurance Plans Priced & Ranked in 2023

Updated on by Matthew H. Nash – Licensed Insurance Agent

The Aussiedoodle is not an official breed, the name is more about the crossing of the two breeds with the hope that the result will take on the best traits of both parents – the non-shedding coat of the Poodle and the intelligence of the Australian Shepherd. This medium to large-sized dog has a lifespan of 10-13 years, and while they are considered generally healthy, they could have some concerning health conditions. These issues include hip dysplasia, progressive retinal atrophy, and Ivermectin sensitivity, which can result in a bad reaction to flea and tick medication. These conditions are treatable, but those costs will increase over time. Pet insurance can make veterinary treatment more affordable for dogs and, more importantly, their owners. As a licensed insurance agent and pro-dog person, I am here to help make sense of all the pet insurance options that are available to you. Read more about our unbiased ranking methodology and advertiser disclosure.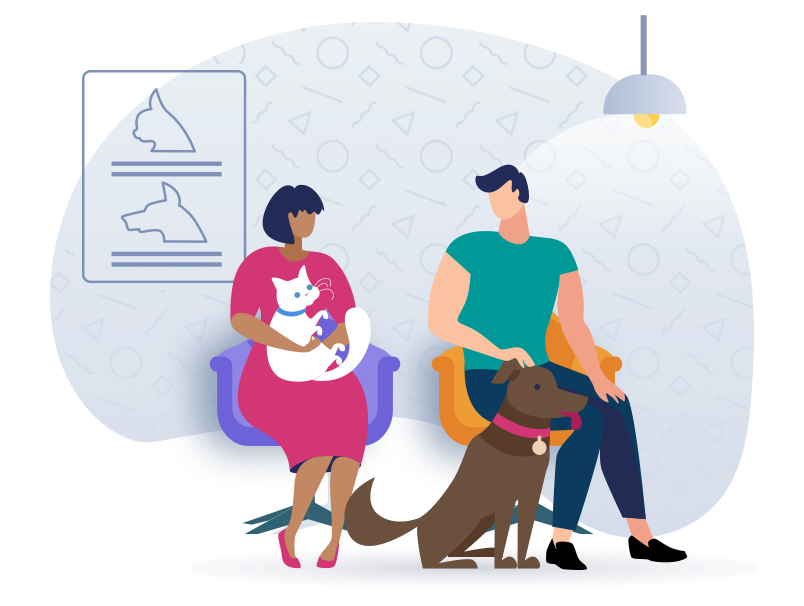 Top Aussiedoodle Pet Insurance Scored, Ranked & With Cost
Use our below table to quickly compare the best Aussiedoodle pet insurance providers. The average monthly specific prices shown are based on a healthy 2-year-old Aussiedoodle with a $500 deductible and 90% reimbursement amount who is located in California with a 90210 zip code. Costs may vary based on age, location, and the coverage amount. Prices are accurate as of January 2023 and are subject to change. For the most up-to-date information, please visit the provider website.
---
Aussiedoodle Pet Insurance FAQs
What is dog insurance and why is it useful for Aussiedoodles?
Dog insurance is pet medical insurance you can purchase to help protect your pet's overall health. In cases where you've made a large payment and purchased your pup from a reputable breeder, pet insurance can also help protect your investment. Similar to medical insurance coverage for us, dog insurance helps take care of medical expenses for your canine. Pet insurance is important because it supports dog owners with the financial costs of the veterinary care that's required to keep your dog happy and healthy. It's important to note that dog insurance may not cover the entire vet bill, but it will save dog owners thousands of dollars by covering a significant portion of veterinary bills. The good news is that purchasing and utilizing dog insurance is easy, simply select a plan, make the required monthly payments to keep the policy active, and that's it. When needed, all you have to do is submit receipts for reimbursement from your insurance provider.

Dog insurance is helpful to have if you own an Aussiedoodle as it prepares you as a loving dog owner for the unexpected. While the Aussiedoodle is not known to have many health issues, the Aussiedoodle is not immune to certain disorders, including hip dysplasia, progressive retinal atrophy, and Ivermectin sensitivity, all of which will require ongoing veterinary treatment that can add up quickly. Having dog insurance means your fur baby family member will receive any necessary treatment without burying your bank account like an old dog bone.
How old does my Aussiedoodle need to be insured?
The answer is the sooner the better. Pet insurance providers usually want puppies to be at least eight weeks old in order to begin insurance coverage. You should plan to enroll your Aussiedoodle in a dog insurance plan the moment you bring her home for the first time. Keep in mind, most pet insurance premiums are based on age, so the younger you can enroll your pup in a plan, the better.
What are common insurance claims for Aussiedoodle?
Aussiedoodles are a newer breed that generally do not face many genetic health issues. That's the good news, but as much as we wish our pets to be completely healthy throughout their lifetime, it's just not realistic. It's not uncommon for Aussiedoodles to face challenges with hip dysplasia, cataracts, progressive retinal atrophy, epilepsy, autoimmune thyroiditis and a skin disease called sebaceous adenitis. These conditions will certainly require ongoing medical treatment and monitoring by a veterinarian.
What services for my Aussiedoodle are covered by dog insurance? What services are excluded from coverage?
Coverage for Aussiedoodle dog insurance can have many options. In general you can expect your Aussiedoodle policy to cover surprise injuries or accidents. You can plan on coverage to include surgery, medication, medical tests, emergency care and exam fees. Some dog insurance plans also cover hospitalizations and preventative care. Almost any issue or scrape that your Aussiedoodle may develop throughout her life, including viral infections and broken bones.

Excluded services also vary by plan, but in general, most dog insurance policies will not cover the cost of care for pre-existing conditions, which is why it's so important to enroll your Aussiedoodle in a policy as soon as possible.
How does reimbursement work?
As with most insurance plans, the dog person is responsible to pay the pet's medical bill upfront and then submit the vet bill for reimbursement to the insurance provider. Your Aussiedoodle insurance provider will then pay you back a certain percentage of that bill. Your insurance company will determine how much money you'll receive back based on your deductible and reimbursement rate.
Should I enroll in a high-deductible or low-deductible plan?
There are many pet insurance plans to choose from, everything from high deductible plans, low deductible plans, and even plans with no deductible. It really just depends on how you want to manage your finances for your Aussiedoodle. It can be confusing, but the higher the deductible, the lower the monthly payment, which means you'll pay a higher cost during those unexpected emergencies. You personally may not want to have to worry about costs when dealing with an emergency, I know I wouldn't. If that's the case, a lower deductible plan may be for you, which means a higher monthly payment but less of a financial surprise during a stressful medical emergency.
5 Tips for Keeping Your Aussiedoodle Safe & Healthy
In addition to enrolling your Aussiedoodle in dog insurance, there are many other ways to make sure that your pup lives a long and healthy life.
1. Regular Exercise
If you're planning to take on the responsibility of any dog, it's important to know that all dogs need exercise. In particular, Aussiedoodles are both hyper and very active, they love to run and play. They're family friendly dogs, so the whole crew can get involved with keeping your Aussiedoodle active. Note, while they are family friendly, keep in mind that small children may have some issues. See more details below with Training & Socialization. It's important that you do keep your Aussiedoodle active beecause when Aussiedoodles get bored, they can become destructive, in fact, investing in some chewable dental toys may be a good idea with also having the added bonus of keeping her teeth clean. For exercise, you're going to want to focus on long walks, on a leash, and since Aussiedoodles are super smart, you'll want to get creative with interactive games.
2. Training and Socialization
Aussiedoodles are brilliant dogs, sometimes called the Einstein of breeds… okay, they're not discovering the theory of relativity, but you get the idea. All this means is that training them is easy, but you need to be careful as you can also unintentionally train them in bad behaviors too such as using anger, which will just lead your Aussiedoodle to think humans can't be trusted. When it comes to the Aussiedoodle, they want to be near humans so much that they also make good therapy dogs because they tend to bond to one or two humans at a time. Remember, positive reinforcement training is the key to successfully integrating your Aussiedoodle into your family. Since the Aussiedoodle is a mix of Poodle and Australian Shepherd, it's key to keep in mind that the Australian Shepherd side is a herding dog, so the chances that your Aussiedoodle may want to try and herd small children or other animals in your household is certainly a possibility. Be sure to train with this potential behavior in mind early on in her lifetime. In general, Aussiedoodles are very outgoing and have a very sweet temperament, so training them to do the right thing should be smooth sailing.
3. Nutritious Diet
The Aussiedoodle can weigh anywhere from 25-70 pounds, which is why it can fall into either the medium or large dog category. Working with your vet on the proper weight for your pup is important. There are a lot of options for canine nutrition these days such as raw food, cooking homemade meals for your dog and/or high quality dry dog food. Since this hybrid breed is active and athletic, dry food for active dogs is a good option. Choose food that is appropriate for your Aussiedoodle's age, such as puppy food for your new pup and senior food for your older baby. Either way you should keep an eye on the amount of food your Aussiedoodle eats as weight gain can lead to serious health issues such as diabetes, joint issues, or heart problems in your four-legged friend. Work with your vet on the proper amount of food to feed your dog and also be sure to check the manufacturer recommendations for serving sizes. It's a good idea to split your dog's meals into two meals during the day to avoid any overfeeding issues.
4. Love and Affection
Aussiedoodles are very playful and loving and want to make you happy by bringing you gifts. The funny thing is, they're so smart, they also like to be a tease by showing a fellow dog a toy for example, but then run away with it – little stinkers. Playing chase and tug-of-war are some of their favorite games. Aussiedoodles do not like to be left alone, so keep this in mind if you won't be around to spend time with your pup as the Aussiedoodle may not be the right breed choice for you. It's not uncommon for this breed to have separation anxiety. Just look at the Aussiedoodle, they look like a cuddly teddy bear and that's all they want from you, lots of time and cuddles.
5. Regular Grooming
Aussiedoodles are very low shredding and, in many cases are hypoallergenic, they have low dander and don't drool much. Their fur can vary from wavy to tight curls, shorter coats and those coats often come with a single layer including a low-shedding undercoat that sheds a lot less than the Australian Shepherd side of their genetic makeup. (Of course, it's important to remember that this all depends on what percentage your Aussiedoodle takes after the Australian Shepherd or the Poodle side.) This pup does not need to be bathed often and in fact some owners only bathe their Aussiedoodles a few times a year. It really depends on how often your Aussiedoodle goes outside and how dirty she gets in the process. Professional grooming may be needed every two to three months. Don't forget other basic care like regular nail trimming, ear cleaning and teeth brushing.
Conclusion
Finding a pet insurance plan for your Aussiedoodle is the best way to keep your pup healthy. The sheer volume of insurance options available and the enrollment processes can be confusing, but don't fret, I'm here to help you understand it all. Select the best plan for you and your dog, pay the monthly premium, and then your Aussiedoodle is covered. There's many reasons that your Aussiedoodle may need veterinary care. Having coverage means your pup can receive the necessary treatment without the stress of facing a financial downfall.
After extensive research, we conclude that Lemonade pet insurance offers the best dog insurance policy at the lowest monthly price for Aussiedoodles.
SwiftScore Ranking Methodology for Aussiedoodles
We ranked the best pet insurance policies for Aussiedoodles based on a variety of important factors including the following:
Average monthly price for a 2-year-old Aussiedoodle with a $500 deductible located in the 90210 zip code
Coverage and benefits
Key policy details including accidents and illnesses, surgeries, annual check-ups, cancer treatment, lab tests, and more
AM Best rating of the underwriter
Reimbursement percentage
Annual benefit amount
Technology and user experience

Ease of sign up

Policy language clarity
User reviews
Other state dog insurance resources
Alabama | Alaska | Arizona | Arkansas | California | Colorado | Connecticut | Delaware | Florida | Georgia | Hawaii | Idaho | Illinois | Indiana | Iowa | Kansas | Kentucky | Louisiana | Maine | Maryland |
Massachusetts | Michigan | Minnesota | Mississippi | Missouri | Montana | Nebraska | Nevada | New Hampshire | New Jersey | New Mexico | New York | North Carolina | North Dakota | Ohio | Oklahoma | Oregon | Pennsylvania | Rhode Island | South Carolina | South Dakota | Tennessee | Texas | Utah | Vermont | Virginia | Washington | West Virginia | Wisconsin | Wyoming