7 Best
American Foxhound

Pet Insurance Plans Compared in 2023

Updated on by Matthew H. Nash – Licensed Insurance Agent

The American Foxhound, also known as the Foxhound, is a large breed of dog with a beautiful disposition around other animals, kids, and their owners. They are known as smooth hunters with high endurance and the agility to run at high speeds. The Foxhound has a great work ethic at home and in the field. However, their agility creates the need for regular exercise to avoid boredom, which can sometimes lead to destructive behaviors. When researching a Foxhound, consider their exercise needs, ensuring this aligns with your schedule. A Foxhound is an excellent pet for an active family; however, like many dog breeds, they are prone to certain medical conditions. These conditions are often treatable but can become a financial burden. Pet insurance is a great way to reduce some of the out-of-pocket expenses while providing the best care possible for your dog. As a lifelong dog owner and licensed insurance agent, I can help you through the process. Read more about our unbiased ranking methodology and advertiser disclosure.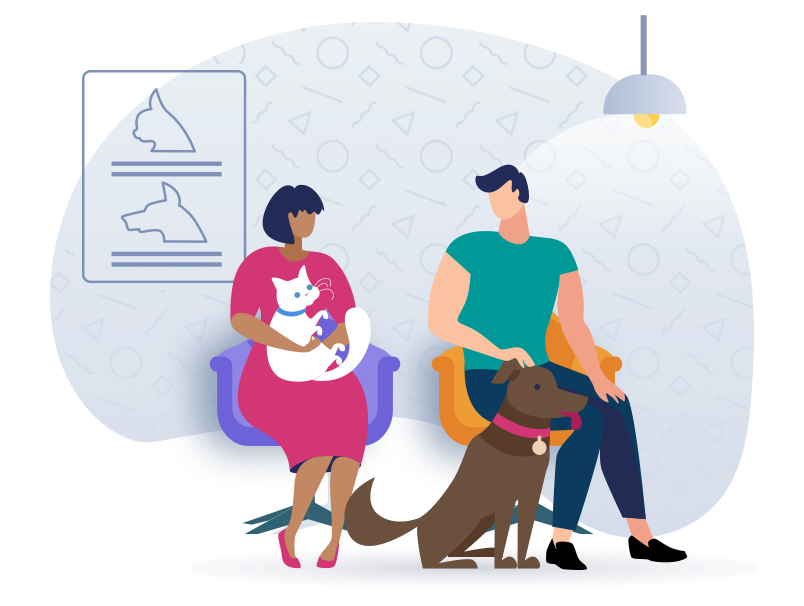 Top American Foxhound Pet Insurance Scored, Ranked & With Cost
Use our below table to quickly compare the best American Foxhound pet insurance providers. The average monthly specific prices shown are based on a healthy 2-year-old American Foxhound with a $500 deductible and 90% reimbursement amount who is located in California with a 90210 zip code. Costs may vary based on age, location, and the coverage amount. Prices are accurate as of January 2023 and are subject to change. For the most up-to-date information, please visit the provider website.
---
American Foxhound Pet Insurance FAQs
What is pet insurance, and is it worth the investment for our American Foxhound?
Pet insurance is a healthcare policy for your pet that provides a financial safeguard while providing the best possible medical care for your beloved pet. By paying a small monthly fee towards your policy, you can more effectively budget the costs associated with medical treatment. A portion, which can vary by plan, is reimbursed back to you, reducing your overall out-of-pocket expenses. No one should have to decide on their pet's medical treatment based on personal finances. A pet insurance plan could save you hundreds or even thousands in unplanned veterinary bills. We do not anticipate these medical issues, but we know that certain larger breeds, like the American Foxhound, can suffer from health issues that are out of our control.
What is the proper age to insure my American Foxhound?
Most insurance plans recommend insuring your pet as soon as possible. You should have your pup enrolled in a program by eight weeks old. Some insurance carriers will deny claims deemed pre-existing, making early enrollment imperative. Doing your research ahead of time, when your new puppy is weaning and in the breeder's care, will ensure you have the right plan in place when they arrive at their forever home!
What are a few common insurance claims for the American Foxhound?
American Foxhounds tend to be a reasonably healthy breed. However, like many large dog breeds, they can be prone to hip dysplasia. The treatment for hip dysplasia can be costly and requires consistent care. Because of their long ears, they are also susceptible to ear infections, which can be painful and necessitate treatment. Though rare, they can suffer from a genetic blood clotting disorder that needs to be treated, with more severe cases needing blood transfusions. With any acute or chronic condition, including illness, broken bones, or injury, veterinary care is necessary and can become costly to manage. Pet insurance is a great way to reduce out-of-pocket expenses while providing the best care possible for your pet.
What services are typically covered by insurance? What services are excluded from coverage?
Pet insurance policies can vary greatly, but they typically cover care that is associated with illnesses or injuries that are unforeseen. Some of these services that may be covered include, but are not limited to, infection, broken bones, acute illnesses, chronic conditions not deemed pre-existing, preventative care, medications, and hospitalizations. Some services may be excluded, but that varies by plan. Most plans will not cover pre-existing conditions, making early enrollment very important.
Does pet insurance cover dental work?
Dental disease may affect your American Foxhound. Some insurance plans cover dental wellness and treatment for dental illness and injury. Review your plan to see what coverage works best for you.
Can I use a veterinarian of choice, or are there insurance-approved options?
Each plan may vary so it is important to do your research ahead of time. Typical plans are accepted at most licensed veterinary clinics, which may include specialty clinics or emergency service clinics.
Are there discounts for insuring multiple pets?
It is worth researching multiple-pet discounts if you know that you may need to insure multiple pets. Some plans may offer a discount, but this varies by plan.
Who pays for services at the time of veterinary care?
Most pet insurance plans utilize a reimbursement method for payment. You would pay for services upfront and submit a claim to the insurance company after services were rendered. Payment will then be made to you, dependent upon your reimbursement rate and deductible.
How should we choose from a high or low-deductible plan?
With many dog insurance plans to choose from, it is important to understand your financial situation. Enrolling in a high-deductible plan equates to lower monthly premiums. A low-deductible plan means you pay more in monthly premiums with a lower deductible at the time of service. There is no right or wrong choice. It is dependent upon your financial situation. In the end, a healthy pet and a healthy wallet are what matter most.
5 Tips for Keeping Your American Foxhound Safe and Healthy
Pet insurance is an excellent financial safeguard for you and your family. However, there are many things that you can do daily to ensure your American Foxhound lives a long and happy life! Below are a few tips.
1. Daily Exercise
Exercise is beneficial for all dogs, especially your high-energy American Foxhound. Daily exercise helps combat boredom which leads to destructive behavior, keeps them at a proper weight, and keeps their muscles and joints healthy and strong. Your American Foxhound will need two hours of exercise per day.
2. Dietary Needs
American Foxhounds are sleek dogs bred to sniff and run. A nutritious diet that includes high-quality food in appropriate portions is another excellent tool to help maintain their proper weight. Weight management is key to helping prevent hip dysplasia. Overweight dogs put unnecessary strain on their joints, causing this condition to occur or even worsen.
3. Enclosed Yard
Your Foxhound is smart! Their keen sense of smell and curiosity can sometimes cause them to focus on a scent and wander out of the yard. Their relentless attempt to hunt can lead to searching for Fido in the dark with a flashlight. A fenced area will allow them to roam freely while staying within the confines of your yard.
4. Love and Affection
Foxhounds are affectionate dogs, gentle and tolerant. They are loyal to a fault. Giving them love and affection reaffirms your love for them and helps build and maintain a strong relationship.
5. Regular Grooming
Though the American Foxhound has short hair, it is essential to brush them regularly with a rubber mitt or other grooming tool. Your Foxhound will inevitably shed or molt. Keeping them brushed will help keep shedding on your furniture more manageable. Nail care is also essential. You will be able to identify when it is time to clip their nails, as you will hear clicking on your floors. Ear care is important. Foreign objects and debris can become trapped beneath their adorably floppy ears. Keeping those areas clean and dry is vital to avoid infection and odor.
Conclusion
Enrolling your American Foxhound into a pet insurance plan may seem like a lot of work. The benefits of having a money-saving plan outweigh the small upfront effort. Lemonade pet insurance is a company I recommend, offering competitive pricing and coverage. American Foxhounds make excellent companions. They are high-energy and loving. With some planning, they can live a long life with you and your family!
SwiftScore Ranking Methodology for American Foxhounds
We ranked the best pet insurance policies for American Foxhounds based on a variety of important factors including the following:
The average monthly price for a 2-year-old American Foxhound with a $500 deductible located in the 90210 zip code
Coverage and benefits
Key policy details include accidents and illnesses, surgeries, annual check-ups, cancer treatment, lab tests, and more
AM Best rating of the underwriter
Reimbursement percentage
Annual benefit amount
Technology and user experience

Ease of sign up

Policy language clarity
User reviews
Other state dog insurance resources
Alabama | Alaska | Arizona | Arkansas | California | Colorado | Connecticut | Delaware | Florida | Georgia | Hawaii | Idaho | Illinois | Indiana | Iowa | Kansas | Kentucky | Louisiana | Maine | Maryland |
Massachusetts | Michigan | Minnesota | Mississippi | Missouri | Montana | Nebraska | Nevada | New Hampshire | New Jersey | New Mexico | New York | North Carolina | North Dakota | Ohio | Oklahoma | Oregon | Pennsylvania | Rhode Island | South Carolina | South Dakota | Tennessee | Texas | Utah | Vermont | Virginia | Washington | West Virginia | Wisconsin | Wyoming