7 Best
American Bobtail Cat Insurance

Plans Compared in 2023

Updated on by Matthew H. Nash – Licensed Insurance Agent

With its full, broad chest; prominent shoulder blades; tufted ears and toes; substantial, rectangular body; and distinctive short tail, the American Bobtail cat resembles a bobtail wildcat. That wild-looking exterior is where the resemblance ends, however. American Bobtail cats are known to be extremely calm and sweet-tempered cats who love attention and affection from their families. No recognized breeds of pedigreed cats have been used in the development of this breed; instead, natural selection helped give rise to a generally very strong, healthy breed. The shortened tail of the American Bobtail cat, which results from a natural genetic mutation, sometimes leads to spinal or bowel issues, though, especially for cats born without any tail at all, which usually comes with a shortened spine. Hip dysplasia, where the ball and socket are misaligned and loose, and polycystic kidney disease have also been reported in some American Bobtail cats.

Given these health concerns, which can generally be treated with anti-inflammatory medication, physical therapy, or surgery, you might be worrying about covering the costs of veterinary care for your American Bobtail cat in the future. Fortunately, there are several reputable pet insurance providers on the market that offer good coverage options for American Bobtail cats. I've put together some information that I hope you find helpful as you consider enrolling in cat insurance. Read more about our unbiased ranking methodology and advertiser disclosure.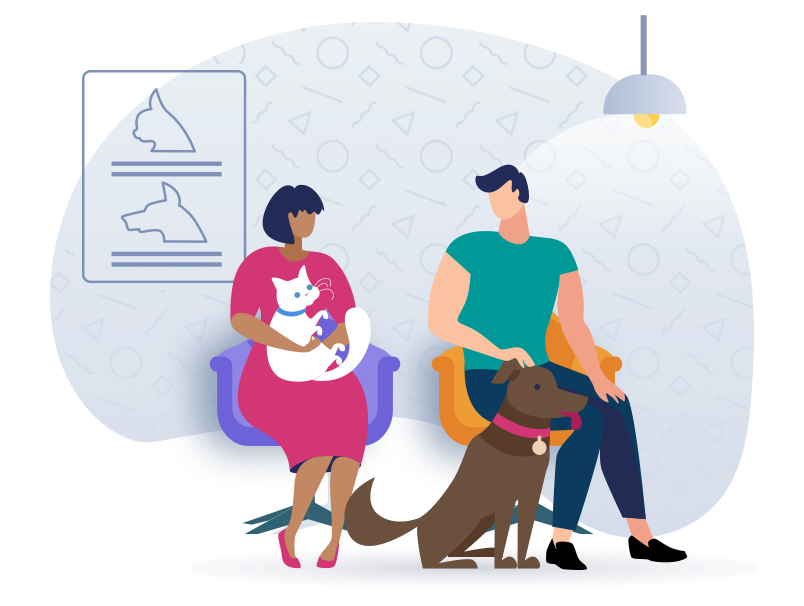 Top American Bobtail Cat Insurance Scored, Ranked & With Cost
Use our below table to quickly compare the best American Bobtail Cat insurance providers. The average monthly specific prices shown are based on a healthy 2-year-old American Bobtail Cat with a $500 deductible and 90% reimbursement amount who is located in California with a 90210 zip code. Costs may vary based on age, location, and the coverage amount. Prices are accurate as of January 2023 and are subject to change. For the most up-to-date information, please visit the provider website.
---
American Bobtail Cat Insurance FAQs
Do I really need cat insurance?
Pet insurance is a good idea for any pet owner. In the same way that you have health insurance to help you pay for medical care when you have unexpected illnesses or injuries, cat insurance can help you with the financial burden of expensive veterinary care for your American Bobtail cat. As mentioned previously, American Bobtail cats sometimes deal with spine or nerve issues, polycystic kidney disease, or hip dysplasia, which can lead to arthritis. Treatment for these issues can run the gamut of anti-inflammatory medicine, physical therapy, diagnostic procedures like x-rays, or even surgery. In addition, all cats can face common health issues like respiratory viruses or feline urinary tract disease, ranging from mild to serious. Veterinary care can become expensive, but cat insurance can help cover some of those costs. Doing plenty of research before you pick your plan will help you feel comfortable that you've made the right choice. After you've picked an insurance provider and a coverage plan, simply enroll your pet and then pay the monthly premium to keep your coverage active.
Are there age limits for my American Bobtail cat to be insured?
Generally speaking, the sooner you can enroll your American Bobtail cat in an insurance plan, the better. Having coverage in place before you actually need it is a great idea. Most insurance providers begin coverage around the age of eight weeks for kittens. Since this is the age that most kittens are weaned and adopted out, it's a good time to think about getting a cat insurance policy. Always check with your chosen insurance provider about any specific age requirements, though, before signing up.
What type of coverage should I get for my American Bobtail cat? Is any type of care that I might need excluded from coverage?
Since you know that American Bobtail cats sometimes suffer from hip dysplasia, it might be a good idea to get a coverage plan that covers diagnostic procedures like x-rays, physical therapy, surgery, and anti-inflammatory medication. Some plans also cover preventative veterinary care like dental cleanings, which are a great idea for all cat owners. Generally speaking, though, most insurance providers have several good, basic coverage options that would work for most healthy American Bobtail cats. Although coverage varies with different plans, most insurance providers do not provide coverage for care for pre-existing conditions.
What if my veterinarian doesn't take my cat insurance?
Fortunately, you can benefit from cat insurance coverage no matter what veterinarian you use. Cat insurance works on a reimbursement model, which means you are responsible to pay for care for your American Bobtail cat up front but then can be eligible to be reimbursed for some of the care afterward. When your pet is sick, injured, or requires an annual physical exam and vaccines, take it to the vet to get whatever care it needs. Most veterinarian's offices require payment on the same day as service. Pay the veterinarian, and then submit a reimbursement request to your insurance provider. Based on the coverage and rates in the plan you've chosen, your insurance provider will review the request, compare it to your coverage, and then send you a check in the appropriate amount.
What type of deductible should I get? High or low?
Coverage plans that have a high deductible usually balance that out with offering a lower monthly premium, which can be helpful if money is tight, and you're not expecting to need a lot of care for your healthy American Bobtail cat. Low or no-deductible plans generally have higher monthly premiums, but you may be interested in these types of plans if you anticipate needing a lot of veterinary care for your cat.
5 Useful Strategies for Keeping Your American Bobtail Cat Safe & Healthy
The American Bobtail cat's lifespan is generally between 11 and 15 years. To make sure both you and your pet can enjoy these years to the fullest, the following are some strategies to keep them happy and healthy:
1. Love and Affection
This sweet-natured, affectionate, gentle breed loves to be doted on and cuddled. In fact, due to their loving, empathetic, and intuitive nature, American Bobtail cats are sometimes used as therapy cats. American Bobtail cats try to make friends with everyone, often greeting strangers at the door with a wag of their short tail. Because they are very social, they make great family pets, although sometimes they do better with slightly older children who match their calm demeanor. Their need for lots of love and constant affection make the American Bobtail cat best suited for families that spend a lot of time at home or for families who have other pets. They do not thrive if left alone for long periods of time.
2. Nutritious Diet
Because the American Bobtail cat is a laid-back breed who wants to be on your lap all the time, they can sometimes tend toward becoming couch potatoes. It is important to talk to your veterinarian about what type and brand of high-quality cat food you should feed your American Bobtail cat to prevent excessive weight gain or obesity. Obesity leads to health problems in all cats, but American Bobtails can sometimes suffer from hip dysplasia, and excess weight makes this condition even more painful. Look for cat food that is high in protein, with the first, listed ingredient being meat, if possible, to help keep your American Bobtail lean and healthy.
3. Hit the Road
This breed's laid-back and adaptive nature makes them well-suited to a variety of lifestyles. In fact, many American Bobtail cats seem to enjoy traveling with their beloved owners. Long-distance truckers and families who like to travel in RVs could benefit greatly from having an American Bobtail cat as a companion on the road.
4. Interactive Play
American Bobtail cats love to play and interact with their families. They will often initiate a game of fetch by bringing you a toy in their mouth like prey and dropping it at your feet to throw. Some have even been known to play hide and seek. Since they are very intelligent, investing in some mentally stimulating toys like puzzle boxes or mazes will help keep them entertained. Also, they are easily leash-trained, so you might enjoy taking them for walks around the neighborhood. Training them to be comfortable on a leash is especially important if you're going to be traveling with your cat.
5. Grooming
Although the American Bobtail Cat looks wild with either a dense shorthair or medium longhair coat, they do not require extensive grooming. Usually, a light brushing once or twice a week will be enough to keep shedding under control. Some of the lighter-colored cats might also need an occasional bath to keep their coats clean. As with all cats, trimming their nails and getting their teeth cleaned regularly will go a long way toward keeping them happy and healthy for many years.
Conclusion
You want the best for your American Bobtail cat. Providing proper veterinary care is an important part of being a cat owner and ensuring your feline companion lives a long, healthy, happy life. Cat insurance can help give you peace of mind that you will be able to provide the best possible care for your pet, regardless of your bank account. There are many reputable cat insurance providers on the market today, offering a wide range of coverage rates and plans.
After extensive research, we conclude that Lemonade pet insurance offers the best cat insurance policy at the lowest monthly for American Bobtail cats.
SwiftScore Ranking Methodology for American Bobtail Cats
We ranked the best pet insurance policies for American Bobtail Cats based on a variety of important factors including the following:
Average monthly price for a 2-year-old American Bobtail Cat with a $500 deductible located in the 90210 zip code
Coverage and benefits
Key policy details including accidents and illnesses, surgeries, annual check-ups, cancer treatment, lab tests, and more
AM Best rating of the underwriter
Reimbursement percentage
Annual benefit amount
Technology and user experience

Ease of sign up

Policy language clarity
User reviews
Other state dog insurance resources
Alabama | Alaska | Arizona | Arkansas | California | Colorado | Connecticut | Delaware | Florida | Georgia | Hawaii | Idaho | Illinois | Indiana | Iowa | Kansas | Kentucky | Louisiana | Maine | Maryland |
Massachusetts | Michigan | Minnesota | Mississippi | Missouri | Montana | Nebraska | Nevada | New Hampshire | New Jersey | New Mexico | New York | North Carolina | North Dakota | Ohio | Oklahoma | Oregon | Pennsylvania | Rhode Island | South Carolina | South Dakota | Tennessee | Texas | Utah | Vermont | Virginia | Washington | West Virginia | Wisconsin | Wyoming