6 Best
Alaskan Malamute Pet

Insurance Plans Compared in 2023

Updated on by Matthew H. Nash – Licensed Insurance Agent

The Alaskan Malamutes are easily recognizable with their wolf-like appearance, complete with a strong build and large, furling tail. While Mals naturally conjure images of Iditarod races and sled-pulling, even the strongest dogs bred for work are susceptible to natural diseases and medical conditions. Accidents we can't plan for as pet parents always happen. However, staying informed about the breeds we own and having pet insurance that can help alleviate the cost of preventative care protects our pups from what they are predisposed to already (as well as our wallets). As a licensed insurance agent and lifelong dog owner, I wrote this article to inform owners of the perks of pet insurance for Malamutes. Read more about our unbiased ranking methodology and advertiser disclosure.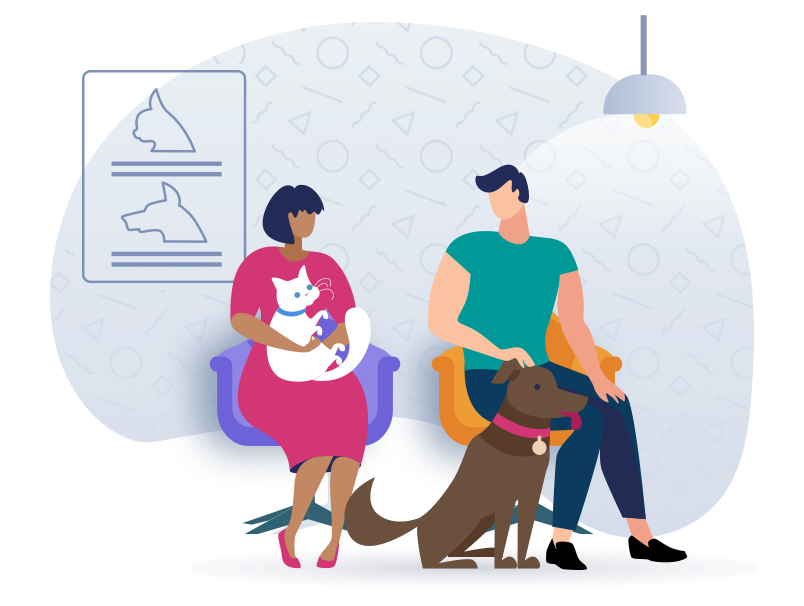 Top Alaskan Malamute Pet Insurance Scored, Ranked & With Cost
Use our below table to quickly compare the best Alaskan Malamute pet insurance providers. The average monthly specific prices shown are based on a healthy 2-year-old Alaskan Malamute with a $500 deductible and 90% reimbursement amount who is located in California with a 90210 zip code. Costs may vary based on age, location, and the coverage amount. Prices are accurate as of May 2023 and are subject to change. For the most up-to-date information, please visit the provider website.
---
Alaskan Malamute Pet Insurance FAQs
What is dog insurance and why is it useful for Alaskan Malamutes?
Just like human health insurance, pet insurance is meant to take some of the burdens of the cost off of pet owners in regard to veterinary care. There are many different plans to choose from when you look into pet insurance; in general, an owner chooses and customizes based on the deductible they want to pay each term, the reimbursement percentage, and any add-on coverage, such as prescriptions, vaccines, and wellness exams. To enroll, it is a simple call to register your pup's information, and the monthly payment will ignite invaluable assistance with veterinary bills, prescriptions, exams, surgeries, and much more.

Alaskan Malamutes are at high risk for several degenerative conditions and genetic conditions that can be bank-breaking. Canine insurance provides a safety net that lets you know you can provide your dog with the care they need based on its breed and individual circumstances.
How old does my Alaskan Malamute need to be in order to be insured?
Pet insurance companies usually allow puppies coverage starting at about 8 weeks old. For the most part, you should be able to enroll your Alaskan Malamute for coverage when you bring them home from the breeder.
What are common insurance claims for Alaskan Malamute?
Alaskan Malamutes are larger dogs and therefore are susceptible to hip dysplasia and arthritis. In addition, Malamutes are known to suffer from polyneuropathy or epilepsy, eye problems such as cataracts and degeneration diseases, and a special type of Alopecia which may cause them to lose their hair. Consistent veterinary care and monitoring can treat and monitor these diseases and conditions.
What services are covered by dog insurance? What services are excluded from coverage?
The services available to you and your pup vary depending on the plan you select, just like health insurance for humans. In general, plans will cover unforeseen injuries and illnesses. Insurance will cover that treatment if your Malamute develops a condition, gets an infection, or breaks a bone.

Add-ons provide coverage for medications, medicated foods, hospitalizations, preventative care, and some new therapies.

All insurances have exclusions that apply. Most plans are firm that pre-existing conditions are not covered, so enrolling your pup sooner rather than later is crucial.
How does reimbursement work?
The majority of dog insurance plans run under a reimbursement model. After a veterinary visit, the dog owner is responsible for paying the bill. Afterward, the vet bill is sent to the insurance company and based on the deductible and reimbursement rate, a determination is made on the amount of repayment.
Should I enroll in a high-deductible or low-deductible plan?
Deductible choices are up to the individual owner and depend on financial preferences as well as coverage preferences. If you know your pup will have upcoming veterinary visits that are in your insurance coverage or you prefer frequent check-ups, a lower deductible will make it so that you will be reimbursed for more much sooner, but your monthly premium will be higher. If you are aiming to have emergency coverage, a higher deductible in exchange for a lower monthly premium might be ideal.
5 Useful Strategies for Keeping Your Alaskan Malamute Safe & Healthy
In addition to enrolling your pup in dog insurance, there are numerous other ways to ensure that your Alaskan Malamute lives a long and healthy life.
1. Regular Exercise
Although known for racing, Alaskan Malamutes were bred for working. These pups are full of energy and muscle–regular exercise is necessary to keep these dogs in shape and their zeal positively focused. Goal-focused activities are favorites for these pups, as well as heavy and frequent walks, runs, and hikes. Regular outings are a must-have to prevent in-home rowdiness if a large yard is unavailable.
2. Consistent Grooming
Alaskan Malamutes were made for the cold and wet weather from their namesake, and are equipped with waterproof, heavy coats. They require daily brushing and regular grooming to prevent matting and infections. In warmer climates, it is especially important to ensure undercoats are shed to promote hygiene and comfort for these snow-acclimated pups. Wire brushes and undercoat brushes are essential to keep these dogs mat-free and cool.
3. Early and Structured Training
Malamutes are large dogs with equally sizable personality–it is important to train these pups early to ensure their intelligence and loyalty is harnessed, and they do not become overly territorial. Malamutes have a natural prey instinct, so this is especially important with other small pets in the home, such as cats. Additionally, while Malamutes are known to be loyal, if an owner is not firm enough, these intelligent dogs can become stubborn and obstinate. However, given the correct obedience training, these dogs are brilliant and faithful companions capable of perpetual affection.
4. Malamute-Proof Surroundings
Malamutes are energetic and curious dogs known especially for their antics in the yard. With their powerful legs, jumping is easy for these dogs, so all fences must be tall enough to prevent any escapes. But while you must build-up, you must also build down! Malamutes are also known for intense digging–fences should be anchored or wired into the ground, or Mals will dig right underneath and Houdini their way outside. Entertainment structures like tunnels and goal-specific toys outside are advantageous to distract from mischief.
5. Breed-Specific Organizations and Screenings
Alaskan Malamutes can be handfuls but are very rewarding, beautiful, and revered dogs. The Alaskan Malamute Club of America is an organization devoted to this breed and elaborates on health risks to the dogs, testing and screening for these conditions, working dog details, breeding details, and more. The AMCA in particular has a collection of genetic testing for Malamute conditions to track the frequency of conditions and possible treatments. It is important to engage with experts on your breed and their health concerns in order to best prepare for the longevity of their life and happiness.
Conclusion
When we first pick up our new puppy, there isn't an aisle in the pet store for "insurance," but it is a key first purchase to secure your pet's health and future. While the process may appear overwhelming, you must choose the best plan for your wallet and pup, pay the monthly premium, and sleep well knowing your canine is covered. Among all the conditions Malamutes are at risk for, these energetic and curious creatures can encounter an accident at any time, and insurance helps put your mind at ease that it is handled.
After extensive research, we conclude that Lemonade pet insurance offers the best dog insurance policy at the lowest monthly price for the Alaskan Malamutes.
SwiftScore Ranking Methodology for Alaskan Malamutes
We ranked the best pet insurance policies for Alaskan Malamutes based on a variety of important factors including the following:
Average monthly price for a 2-year-old Alaskan Malamute with a $500 deductible located in the 90210 zip code
Coverage and benefits
Key policy details including accidents and illnesses, surgeries, annual check-ups, cancer treatment, lab tests, and more
AM Best rating of the underwriter
Reimbursement percentage
Annual benefit amount
Technology and user experience

Ease of sign up

Policy language clarity
User reviews
Other state dog insurance resources
Alabama | Alaska | Arizona | Arkansas | California | Colorado | Connecticut | Delaware | Florida | Georgia | Hawaii | Idaho | Illinois | Indiana | Iowa | Kansas | Kentucky | Louisiana | Maine | Maryland |
Massachusetts | Michigan | Minnesota | Mississippi | Missouri | Montana | Nebraska | Nevada | New Hampshire | New Jersey | New Mexico | New York | North Carolina | North Dakota | Ohio | Oklahoma | Oregon | Pennsylvania | Rhode Island | South Carolina | South Dakota | Tennessee | Texas | Utah | Vermont | Virginia | Washington | West Virginia | Wisconsin | Wyoming