7 Best Akita Pet Insurance Plans Compared 2023
Updated on , by Matthew H. Nash – Licensed Insurance Agent
Purchasing pet insurance for your Akita can feel like an overwhelming task. As a proud dog owner and licensed insurance agent, I understand the challenges people face when it comes to deciphering bewildering policy language and determining the best dog insurance provider for Akitas. My team and I have done extensive research on all of this, so you don't have to. Regardless of the age of your canine pal or where you live in the US, this article has everything you need to know. Read more about our unbiased ranking methodology and advertiser disclosure.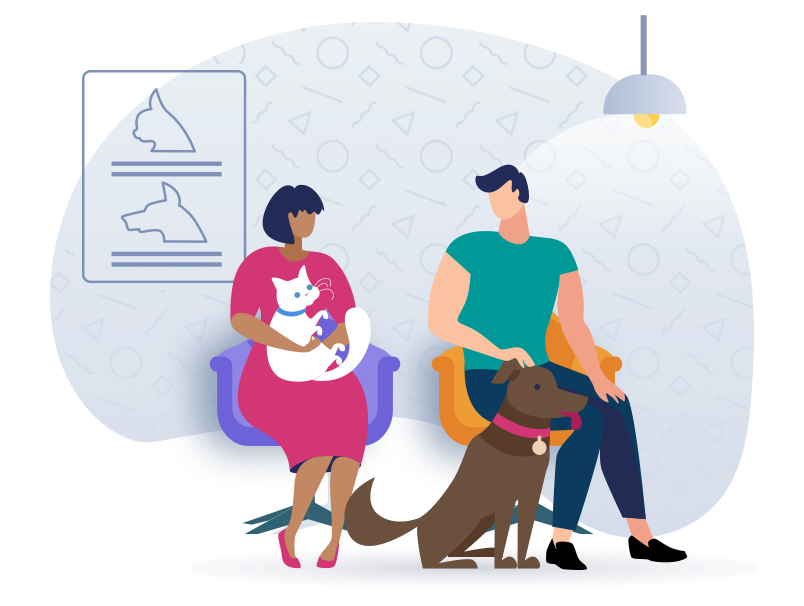 Top Akita Pet Insurance Scored, Ranked & With Cost
Use our below table to quickly compare the best Akita pet insurance providers. The average monthly specific prices shown are based on a healthy 2-year-old Akita with a $500 deductible and 90% reimbursement amount who is located in California with a 90210 zip code. Costs may vary based on age, location, and the coverage amount. Prices are accurate as of January 2023 and are subject to change. For the most up-to-date information, please visit the provider website.
---
Akita Pet Insurance FAQs
What is dog insurance? How is it useful for Akitas?
To protect your dog to the fullest with insurance, apply for coverage with an insurance company and pay the monthly premiums to keep the policy active. Should your dog become sick or get involved in an accident, you will need to pay the veterinary bills upfront. Afterward, you can submit a claim to your insurance provider for reimbursement. It is worth mentioning that insurance policies typically exclude pre-existing conditions, which is all the more reason to get your dog insured while they are still a puppy (8 weeks to 1 year).

Akitas, like other dogs, inevitably encounter medical emergencies at some point in their lives and vet bills mount quickly. Therapies for illnesses such as cancer can run upwards of $10,000. Uninsured pet owners often have to face the heartwrenching choice of putting their beloved dogs down because they cannot afford the needed procedures or treatment.
How old does my Akita need to be to get insured?
Dog insurance companies usually do not have age limits for getting your Akita insured. That said, the minimum age limit tends to be 8-weeks or older. And the younger your dog, the cheaper it will typically be to insure them. As a result, we suggest getting your dog insured before they turn 1-year-old.

An exception to the traditional insurance structure is Pawp. Pawp protects up to 6 pets within a household under one "Emergency Fund," irrespective of age, for a $19 monthly fee. This plan only covers one pet for a single vet bill up to $3,000 once per year. That said, it is important to note that Pawp only extends coverage for actual medical emergencies, which need to be qualified and approved by their virtual veterinary team. In addition to the "Emergency Fund," Pawp also provides telehealth and pet expert consultations.
Is it worth it to get Akita dog insurance? What are the most common reasons for insurance claims?
Veterinary emergencies are inevitable in most dogs' lives and Akitas are no exception. And whenever there is an urgent medical event, vet bills tend to pile up. This is when dog insurance for your Akita becomes particularly worthwhile.

Like other breeds such as Samoyeds, Labradors, and Golden Retrievers, Akitas suffer from hip dysplasia. Dysplasia occurs when the ball and socket joint do not develop properly, which can lead to arthritic pain as the bone and cartilage wear down over the years. Depending upon how severe the pain is, your veterinarian may suggest various pain management techniques, including anti-inflammatory medications and acupuncture. For serious cases, hip replacement surgery will be recommended. Such procedures can run upwards of $5,000.

Cataracts are also another condition that plagues Akitas. Cataracts prevent the eye from taking in light and diminish your dog's ability to see. When left untreated for too long, your pup can go blind. The only truly effective treatment for cataracts is surgery, which costs on average $3,500.

These are two of the primary conditions considered hereditary. In both cases, dog insurance would be tremendously beneficial for ensuring your dog gets the care they need. It would also guarantee that you can afford the procedures vital to your dog's wellbeing.
What does dog insurance cover and exclude?
Coverage differs from one dog insurance provider to the next. A good rule of thumb is that dog insurance will cover any medical event deemed "sudden and catastrophic." Some such ailments include urinary issues, broken bones, infections, and lacerations. However, suppose your dog has a disease or ailment when you apply for dog insurance. In that case, it will be labeled a pre-existing condition and not eligible for reimbursement via the claims process. Another aspect of dog insurance is "wellness packages" that many providers are now offering, which you can add to your basic policy. Should you elect to get a wellness package for your Akita, it will cover routine care and procedures, including annual physical exams, heartworm prevention, vaccinations, and more.
How does the reimbursement process work?
For our purposes here, let's imagine your dog needs an urgent surgery costing $8,000, and you have an insurance policy that has a $250 deductible, a 90% reimbursement amount, and a $20,000 annual maximum benefit. Your insurance provider would reimburse you $7,200 minus your $250 deductible. This means you would only be responsible for $1,050 instead of the original $8,000 bill.

For many people, the idea of paying $8,000 upfront and waiting for reimbursement is extremely stressful, if not impossible. If you prefer an alternative to the traditional insurance reimbursement model, you might be interested in Trupanion. Trupanion is a pet insurance company that directly pays the vets in their network, so you don't have to stress how to cover those bills initially.
Is it better to have a higher or lower deductible?
Which deductible you choose is going to be a matter of personal preference and your financial circumstances. Lower deductibles will get your higher monthly payments with less out-of-pocket costs in emergencies. A higher deductible will get you the opposite: lower monthly premiums, but higher out-of-pocket costs in urgent medical events. You will need to run the numbers and figure out what will work best for you. Many pet insurance providers have calculators on their websites you can use when requesting quotes, but it is worth mentioning that most dog owners seem to prefer either $250 or $500 deductibles.
5 Useful Strategies for Keeping Your Akita Safe & Healthy
Akitas are some of the boldest, most loyal, and intelligent dogs, living up to their original breeding purpose of guarding royalty and aristocrats in medieval Japan. These dogs are a marvel to observe as they epitomize fearlessness and focus.
1. Train your Akita from a very young age
Akitas are considered a working dog breed, which means they thrive on responsibility and being kept busy. That said, training needs to begin very early on in an Akita's life since they tend to be stubborn. They also are known for biting or trying to chew on people's hands and other things, so nip this bad habit in the bud as soon as you notice it. The best sort of training approach for Akitas is when you act as the Teacher-Trainer. This means that you teach and use vocabulary clearly and firmly to demonstrate your expectations. The more you play the role of teacher, the more respect your Akita will show you.
2. Socialize your Akita early on
Akitas are fiercely loyal to their humans but are not so keen on other dogs, animals, or people, which is why you must socialize your Akita pup from the beginning. Akitas' general nature is to be highly protective and "all business," so socializing will help them relax a bit. While they may become playful and affectionate with their owners, do not expect them to behave as such around outsiders. Your goal in socializing your Akita pup is to ensure they do not attack others unnecessarily.
3. Avoid taking your Akita wherever there are other animals
As noted above, Akitas are not fans of other dogs (or animals in general) and can be aggressive. They do well with a large enclosed backyard to run and play in or the open wilderness in which to wander. That said, keep in mind that Akitas will chase birds and other small creatures and go in for the kill rather quickly.
4. Properly groom your Akita each day
The Akita is a larger breed with a thick double coat, not unlike Siberian Huskies. Akitas 'blow' their undercoats twice per year rather than shedding them. This means their undercoats come off all at once, so don't be surprised if you see clumps of fur scattered about your house.

While they are excellent self-groomers, they still need the help of their humans to brush them 2-3 times per week to prevent their fur from matting. Use a steel comb with wideset teeth or a pin brush for these regular grooming sessions. To avoid dead hair from flying around during grooming, spray your Akita's fur with a bit of water before starting.

In addition to regular brushing, Akitas should be bathed every 4-6 weeks. A mild dog shampoo should be used to preserve their skin's natural oils and prevent skin irritations or burns. The great news is that Akitas tend not to smell as most other dogs do.

Word of warning: never shave Akitas as their thick coat helps them regulate their body temperatures in both cold and hot weather. Shaving it will disrupt their ability to do this and lead to sunburns and future body temperature issues.

Lastly, be sure to clip your Akita's nails as soon as you hear them clicking on the floor. Akitas that spend plenty of time outside may not need their nails trimmed as frequently as those who spend most of their time indoors. Regardless, be sure to pay attention to your dog's gait, as untrimmed nails can lead to severe pain, walking issues, and even infections.
5. Feed your Akita a high-quality diet
Your Akita's diet will differ based on their stage of life–puppy, adult, or senior. Usually, the younger they are, the higher the protein content they will need. As they age, transitioning them to a lighter diet will be necessary. A balanced diet of animal protein, minerals, vitamins, and healthy carbohydrates, such as fruits and vegetables, will keep your Akita strong and happy.

In addition to a high-quality diet, keep your dog well-hydrated. There are two approaches that, when done in tandem, will ensure this. The first is the most obvious: keep a bowl of fresh water out for your Akita at all times and refill frequently. The second is to mix in a bit of water with their food. You can do this with homemade, canned, dry, or raw food. You should only add as much water as easily blends with the food. If you drown the food, your Akita will likely turn their nose up at the meal. Start with a couple of spoonfuls and experiment from there. If you feed your dog kibble, the water will enhance the flavor (if you let it absorb for a few minutes).

Remember that hydration is one of the primary keys to having a healthy Akita, so be sure to monitor your pup's water intake, especially during the hotter months.
Conclusion
Ultimately, choosing the right dog insurance for your pup or adult Akita is much more straightforward than you may have thought. We suggest getting dog insurance once your Akita is more than 8-weeks-old. The earlier in your dog's life you get them insured, the better the premiums you will get and the fewer restrictions on pre-existing conditions. That said, buying dog insurance at any point in your canine's life will prove helpful in medical emergencies and for maintaining wellness.
Ready to get started? After countless hours of research, we've found that Lemonade pet insurance consistently performs the best with the lowest monthly premiums.
SwiftScore Ranking Methodology for Akitas
We ranked the best pet insurance policies for Akitas based on a variety of important factors including the following:
Average monthly price for a 2-year-old Akita with a $500 deductible located in the 90210 zip code (Please note: prices will vary greatly based on your location)
Coverage and benefits
Key policy details including accidents and illnesses, surgeries, annual check-ups, cancer treatment, lab tests, and more
AM Best rating of the underwriter
Reimbursement percentage
Annual benefit amount
Technology and user experience

Ease of sign up

Policy language clarity
User reviews
See dog insurance prices in your state
Alabama | Alaska | Arizona | Arkansas | California | Colorado | Connecticut | Delaware | Florida | Georgia | Hawaii | Idaho | Illinois | Indiana | Iowa | Kansas | Kentucky | Louisiana | Maine | Maryland | Massachusetts | Michigan | Minnesota | Mississippi | Missouri | Montana | Nebraska | Nevada | New Hampshire | New Jersey | New Mexico | New York | North Carolina | North Dakota | Ohio | Oklahoma | Oregon | Pennsylvania | Rhode Island | South Carolina | South Dakota | Tennessee | Texas | Utah | Vermont | Virginia | Washington | West Virginia | Wisconsin | Wyoming