7 Best
Airedale Terrier

Pet Insurance Plans Compared in 2022

Updated on by Matthew H. Nash – Licensed Insurance Agent

Energetic, loyal, and intelligent, the Airedale Terrier makes the perfect addition to any family. And although they're typically pretty healthy dogs, often competing in doggie sports or show dog competitions, Airedale Terriers are just as prone to illnesses and injuries as any other breed. Treatments for these situations are available but can get quite costly over time. Although accidents and sickness aren't preventable, pet insurance is one tool many dog owners utilize.

Dog owners who enroll in pet insurance can have some or all of their vet bills reimbursed by their insurance company. This significantly reduces the financial burden placed upon Airedale Terrier owners whenever their dog needs unexpected medical care. But before you choose a dog insurance plan, you likely have many questions about how pet insurance works and how to select the right one. As a licensed insurance agent and lifelong dog owner, I'm answering all of your questions and help you take the steps necessary to protect your pup without breaking the bank. Read more about our unbiased ranking methodology and advertiser disclosure.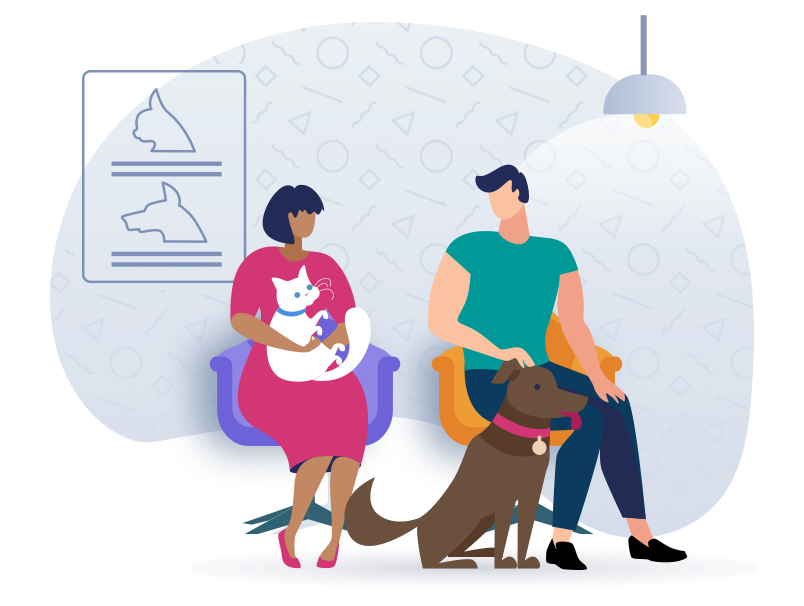 Top Airedale Terrier Pet Insurance Scored, Ranked & With Cost
Use our below table to quickly compare the best Airedale Terrier pet insurance providers. The average monthly specific prices shown are based on a healthy 2-year-old Airedale Terrier with a $500 deductible and 90% reimbursement amount who is located in California with a 90210 zip code. Costs may vary based on age, location, and the coverage amount. Prices are accurate as of January 2023 and are subject to change. For the most up-to-date information, please visit the provider website.
---
Airedale Terrier Pet Insurance FAQs
What is dog insurance, and why is it useful for Airedale Terriers?
Like human medical insurance, dog insurance is a plan you can enroll your dog in to help cover the cost of medical care if your pup ever needs it. If your Airedale terrier contracts an illness or has an accident that results in injury, dog insurance will help with the cost of surgery, medication, test/diagnostics, emergency care, exams, or any other treatment your vet may recommend.

Although your exact coverage amount will depend on your plan's terms and deductible, enrolling in dog insurance will help offset the cost of care and can save pet owners thousands of dollars. And because you can afford the best care for your Airedale Terrier without worrying about depleting your emergency fund, you can instead focus on being there for your dog and ensuring they get back to feeling their best.
What are the age requirements for my Airedale Terrier to be insured?
The exact age requirements to enroll in pet insurance will depend on the provider, but the standard age for most plans is eight weeks. In most cases, you should be able to begin pet insurance for your Airedale Terrier as soon as you bring him or her from the shelter or breeder. Some insurance providers may also have age maximums in order to enroll, so pay special attention to these requirements if you're adopting an older Airedale Terrier. Many insurance providers will continue to insure a senior pet if they're already enrolled in an active plan as they age, so it's important to get started with pet insurance as soon as possible to guarantee coverage.
What are common insurance claims for Airedale Terriers?
Airedale Terriers are prone to several health conditions that will require treatment and could be eligible for reimbursement through your pet insurance plan. This includes urological ailments (such as urinary tract infections, urinary crystals, and bladder stones), cardiac diseases (such as dilated cardiomyopathy), and orthopedic diseases (such as hip dysplasia and elbow dysplasia). Many Airedale Terriers will also develop eye conditions throughout their life, including cataracts and glaucoma. This breed is also especially prone to cancer, which will require ongoing treatment to manage. With pet insurance covering much of the bills, you can get your pup the treatment he or she needs without worrying about its financial costs.
What services are covered by dog insurance? What services are excluded from coverage?
Each insurance provider sets its own guidelines for covered services for each of their plans. However, you can typically expect most plans to cover the costs associated with unexpected illness and injury, including viral infections or broken bones. Because Airedale Terriers have been known not to show signs of pain when they need care, it may be beneficial for owners to choose a plan that also covers preventative care. Additional services such as prescription medications or behavioral treatment may be available to add onto a plan as well.

Insurance providers also determine services that are excluded from coverage. Cosmetic procedures such as ear cropping are typically excluded, and preexisting conditions often won't be eligible for reimbursement either. If your Airedale Terrier develops an ongoing condition while enrolled, it will likely still be eligible for coverage. This is why it's so important to enroll your pup in pet insurance as soon as you are able to do so.
How can you tell which vets accept dog insurance?
Dog insurance operates a little differently than human medical insurance in that they often don't have "in-network" or "out-of-network" providers. Instead, many dog insurance plans use a reimbursement model. This means that if your Airedale Terrier were to ever need care, you can take them to see any licensed veterinarian for care. Once you've paid the bill, you can then submit a claim for reimbursement without worrying whether or not your vet will accept your insurance. Insurance providers will work directly with you to provide reimbursement for your pup's medical costs.
How does reimbursement work?
If your pet were to ever need any sort of care, take him or her to see a vet right away. After treatment, you'll receive a bill, and you should plan to pay it upfront. Once you've paid, you can then submit a claim for reimbursement. The process for submitting a claim will vary, but most insurance providers will allow you to submit online or through an app, via email, or by snail mail. Check with your provider for specific instructions on how to submit claims once you've enrolled your Airedale Terrier. Once your claim has been processed, you will receive a direct payment depending on your plan coverage and deductible.
How long does reimbursement typically take?
The time required for reimbursement will vary, but you can typically expect your insurance provider to take five to ten business days to process and approve claims and send reimbursement. If your claim is more complex or requires additional information, it may take slightly longer before reimbursement can be dispersed. If you're submitting via snail mail, please allow a few extra days for your claim to be received by your insurance provider.
Should I enroll in a high-deductible or low-deductible plan?
Pet insurance providers will typically offer various plan options, including high deductible, low deductible, or even no deductible. Your plan will depend on your dog, your budget, and your preference. High deductible plans often benefit from a lower monthly premium, making it easier to fit into your budget every month. Low deductible plans may have higher premiums, but they often cover a higher percentage of medical costs overall. Although there is no universally "right" plan, the various options will ensure you can find the one that's right for you.
5 Useful Strategies for Keeping Your Airedale Terrier Safe & Healthy
While pet insurance can help offset the costs of unexpected medical care, there are various ways Airedale Terrier owners can help their pup live a healthy and happy life.
1. Regular Check-Ups
Because Airedale Terriers can develop health complications without showing any obvious symptoms, it's important to keep up with the preventative care schedule determined by your vet. Regular check-ups can help uncover medical conditions early, making treatment more effective. Vets can also advise pet owners on any questions or concerns they may have about their dog.
2. Exercise
Most Terriers have a lot of energy, and Airedale Terriers are no different. Your pup will love to play games such as chase or fetch with you and your family. Long walks will also help give your Airedale Terrier the exercise he or she needs, although just letting them run around in the backyard can also help them release energy. Plan for several exercise activities each day, and consider a fenced-in backyard to allow for safe playtime.
3. Training
The Airedale Terrier's energetic and rambunctious nature makes training an essential step in your pup's care. Basic obedience training such as sit, stay and come will help teach your dog good manners. With the breed's intelligence, he or she can also learn more complex tricks with clear and consistent training. Provide your pup with a variety of toys as well to keep him or her occupied between training and play sessions.
4. Grooming
Airedale Terriers have relatively low-maintenance coats, but you should still incorporate regular brushing to help prevent shedding and keep the fur looking great. Your Airedale Terrier should also get a bath every few months or if he or she gets into anything messy. Regular ear cleaning, teeth brushing, and nail trims should also be a part of your pup's grooming schedule.
5. Love and Affection
Above all else, your Airedale Terrier needs love and affection from their family. As a pet owner, you have the obligation and honor to give your pup the best life possible. Whether you enjoy playing in the yard, going on walks together, or just lounging around the house, spending time with your Airedale Terrier will make them the happiest animal on Earth.
Conclusion
Pet insurance is an extremely useful tool for any dog owner. Without worrying about unexpected vet bills, you can give your Airedale Terrier all of the care they need as soon as they need it. Once you've chosen a plan, all you have to worry about is paying your monthly premium and submitting claims as you need to. If you're still unsure which plan could be right for you, I suggest looking into Lemonade pet insurance, as they consistently offer a great combination of coverage and cost.
SwiftScore Ranking Methodology for Airedale Terriers
We ranked the best pet insurance policies for Airedale Terriers based on a variety of important factors including the following:
Average monthly price for a 2-year-old Airedale Terrier with a $500 deductible located in the 90210 zip code
Coverage and benefits
Key policy details including accidents and illnesses, surgeries, annual check-ups, cancer treatment, lab tests, and more
AM Best rating of the underwriter
Reimbursement percentage
Annual benefit amount
Technology and user experience

Ease of sign up

Policy language clarity
User reviews
Other state dog insurance resources
Alabama | Alaska | Arizona | Arkansas | California | Colorado | Connecticut | Delaware | Florida | Georgia | Hawaii | Idaho | Illinois | Indiana | Iowa | Kansas | Kentucky | Louisiana | Maine | Maryland |
Massachusetts | Michigan | Minnesota | Mississippi | Missouri | Montana | Nebraska | Nevada | New Hampshire | New Jersey | New Mexico | New York | North Carolina | North Dakota | Ohio | Oklahoma | Oregon | Pennsylvania | Rhode Island | South Carolina | South Dakota | Tennessee | Texas | Utah | Vermont | Virginia | Washington | West Virginia | Wisconsin | Wyoming