7 Best
Abyssinian Cat Insurance

Plans Compared in 2022

Updated on by Matthew H. Nash – Licensed Insurance Agent

With a lifespan of up to 15 years, the Abyssinian is a hearty breed, but health issues for any pet are never off the table. In the case of the Abyssinian, you'll need to look out for gingivitis, pyruvate kinase deficiency (which leads to anemia), patellar luxation (a hereditary dislocation of the kneecaps) and progressive retinal atrophy (a degenerative eye disease). All of those sound scary, but you can combat these issues as they're all treatable with the help of a veterinarian. Yes, vets can get expensive, so you can make another smart move and counteract those vet bills with pet insurance. As a licensed insurance agent, and purr-fectly happy cat person, I am here to help with all of the cat insurance options available to you. We may receive compensation when you click on the affiliate links below.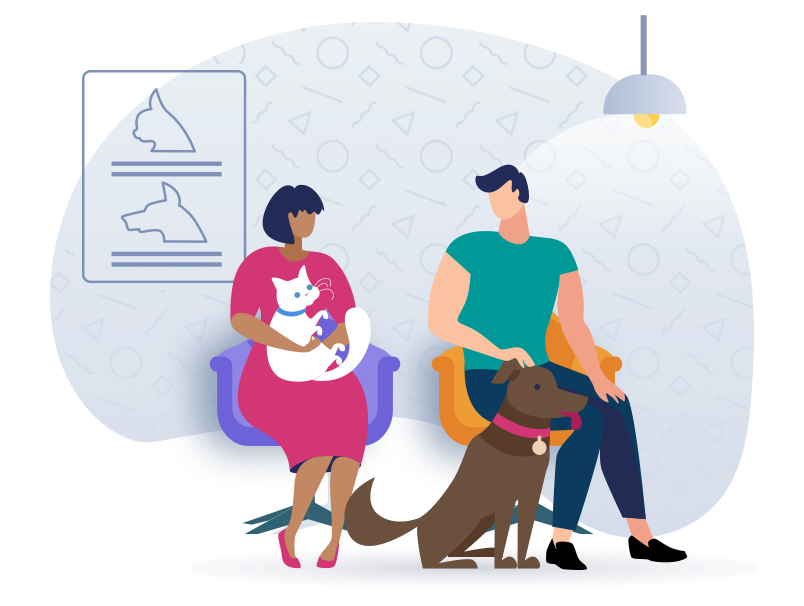 Top Abyssinian Cat Insurance Scored, Ranked & With Cost
Use our below table to quickly compare the best Abyssinian Cat insurance providers. The average monthly specific prices shown are based on a healthy 2-year-old Abyssinian Cat with a $500 deductible and 90% reimbursement amount who is located in California with a 90210 zip code. Costs may vary based on age, location, and the coverage amount. Prices are accurate as of January 2023 and are subject to change. For the most up-to-date information, please visit the provider website.
---
Abyssinian Cat Insurance FAQs
What is cat insurance and why is it useful for Abyssinian cats?
Cat insurance is similar to medical insurance we use as humans. You can purchase pet insurance to help manage and protect your cat's overall health. Cat insurance will help with most medical expenses for your kitty cat and will support cat owners with the financial costs of the veterinary care that's required to keep your cat happy and healthy. It's important to note that cat insurance may not cover the entire vet bill, but it will save you thousands of dollars by covering a significant portion of veterinary bills. The good news is that purchasing and utilizing cat insurance is easy, just select a plan, make the monthly payments to keep the policy active, and that's it. When needed, you'll submit receipts for reimbursement from your insurance provider.

Cat insurance is important if you have an Abyssinian cat as part of your household as the insurance will do exactly as you would expect it to do, it will help prepare you for anything that may pop up health wise with your beloved feline. While the Abyssinian is generally healthy, there are health problems that are known to cause issues, namely gingivitis (which sounds like a problem for a bad toothpaste commercial, but in reality it can lead to serious gum disease and health issues for your Abyssinian), pyruvate kinase deficiency, patellar luxation and progressive retinal atrophy. You can bet even just one of these issues will need the help of an experienced veterinarian to manage and provide ongoing treatment, which inevitably equals a large vet bill. Purchasing a pet insurance policy means your family feline will receive any necessary treatment without scratching out your bank account.
How old does my Abyssinian cat need to be insured?
Abys should be insured as soon as possible. Pet insurance providers will want kittens to be at least eight weeks old in order to begin insurance coverage, but you should consider enrolling your Abyssinian in a cat insurance plan the moment you bring her home for the first time. Most, if not all, pet insurance policies use the age of the pet to determine the premium, which means the younger you can enroll your kitty in a plan, the better.
What are common insurance claims for the Abyssinian?
The Abyssinian has been around for a while and is generally very active and healthy. Some potential genetic health issues include gingivitis, which can lead to more serious periodontitis, or kidney disorders such as amyloidosis or AA amyloidosis. Other conditions include hereditary retinal degeneration, progressive retinal atrophy, and patellar luxation. Also, the Abyssinian is adventurous and likes to go outside, so the dangers of a physical ailment are always potentially on the table (yes, physical problems are also covered under most cat insurance policies).
What services for my Abyssinian are covered by cat insurance? What services are excluded from coverage?
Coverage for your Abyssinian under a cat insurance policy can take on many forms. You can plan on your Abyssinian policy to cover surprise injuries or accidents. Coverage also typically includes surgery, medication, medical tests, emergency care, and exam fees. Some cat insurance plans will cover hospitalizations and preventative care as well. Nearly any problems your Abyssinian may encounter in her lifetime, including infections, broken bones, and strained muscles.

Excluded services also vary by plan, but in general, most cat insurance policies will not cover the cost of care for pre-existing conditions, which is why it's so important to enroll your Abyssinian in a policy as soon as possible.
How does reimbursement work?
As with many pet insurance policies, the cat owner is responsible to pay the pet's medical bill upfront and then submit the vet bill for reimbursement to the insurance provider. Your Abyssinian insurance provider will then pay you back a certain percentage of that bill. Your insurance company will determine how much money you'll receive back based on your deductible and reimbursement rate.
Should I enroll in a high-deductible or low-deductible plan?
There are many pet insurance plans out there to fit any budget. Choose a high deductible plan, a low deductible plan, and even a plan with no deductible at all. It all depends on you and your budget for your Abyssinian. Yes, there's lots of options and it can be very confusing, but my job is to help you make sense of it all. Here's the basics, the higher the deductible you pay means the lower your monthly payment, but that also means you'll pay a higher cost during those unexpected emergencies. You may not want to have to worry about costs when dealing with an emergency. If that's the case, then choosing a lower deductible plan may be the right course for you. That means you'll have a higher monthly payment, but less of a financial surprise during a stressful medical emergency.
5 Tips for Keeping Your Abyssinian Safe & Healthy
Enrolling your Abyssinian in cat insurance is one of the best ways to ensure that your short-haired furry friend will be given the best possible care, but there are also other ways to make sure that your cat is a member of your family for as long as possible.
1. Activity
Weighing between six and ten pounds, the Abyssinian is considered to be low maintenance as they have short coats and shed minimally. That said, don't expect a quiet, lethargic lap cat if you're bringing home an Abyssinian. These cats are very active and are constantly on the move. Abys are very smart and can be trained with a clicker to perform tricks and can even walk on a leash like a dog, some have been trained to perform on agility courses as well. These cute kitties love vertical spaces, so a cat tower and lots of toys will be a must. They're athletic and curious, so they're constantly jumping, climbing and exploring. Don't be surprised to find them on top of your refrigerator, watching over the family activities, climbing window sills in order to get in the best vantage point for birdwatching or sitting on your desk while you work. It's important to keep them busy with mind-stimulating activities as well as cat puzzle toys.
2. Family Friendly
The Abyssinian is very family-friendly, but they like being the center of attention. In general, they'll prefer to be the only cat in the household as they like to be at the forefront of their human's attention (as mentioned earlier, don't be surprised if you find your Aby sitting next to you on your desk while you try to get some work done). The high-spirited Abyssinian can become depressed if she doesn't receive enough human attention, so it's important to make sure when you bring an Aby home that you have enough time to devote to her emotional needs.
3. Nutritious Diet
The Abyssinian is the same as most cats, especially regarding food. Be sure to choose a good high-quality cat food, dry or wet, or even better, a combination of both, will be fine for your Aby's overall health. It's important to read the ingredients as the list should include some kind of meat as the first ingredient, not a grain or by-product. Also, you should purchase food that is appropriate for your Aby's age, such as kitten food for your new kitty and senior food for your older feline. It's always a good idea to work with your vet on your Abyssinian's diet to ensure she's getting the proper nutrition to keep her healthy.
4. Love and Affection
As mentioned earlier, the Abyssinian is family friendly, but in particular she can form strong attachments with the human members of her family. Don't be surprised when she follows you around the house. While we've established that they are very active, really they just want to be close to you, and will "talk" to you often, especially when they want something.
5. Regular Grooming
With its signature cougar-like appearance and short coat, many think the Abyssinian is hypoallergenic, but that's not necessarily the case. An allergic reaction to a cat is not necessarily about the fur, it's more from a glyco-protein the cat produces from the skin glands, saliva and urine. That said, the Aby can be a good choice for folks with allergies as they don't shed a lot and they produce only minimal dander. They also have lower levels of certain saliva that can aggravate allergies. The Aby's coat is easy to care for, especially since she loves to be combed or rubbed with a chamois cloth. Don't forget other basic care like regular nail trimming, ear cleaning, and teeth brushing.
Conclusion
Planning and purchasing the right pet insurance plan for your Abyssinian is the best way to keep your kitty healthy. Those distinctly colored coats will continue to shine and your Aby will be extremely happy with you taking such good care of her, just don't expect her to play with that mouse on your desk to make it look like you're working online. The volume of insurance options available and the enrollment processes can be confusing, but that's why I'm here to help. You'll select the best plan for you and your kitty, pay the monthly premium, and then your Abyssinian is covered. There's many reasons that your Abyssinian may need veterinary care. Having coverage means your furry feline will receive the necessary treatment without the stress of facing a financial pitfall.
After extensive research, we conclude that Lemonade pet insurance offers the best cat insurance policy at the lowest monthly for Abyssinian cats.
SwiftScore Ranking Methodology for Abyssinian Cats
We ranked the best pet insurance policies for Abyssinian Cats based on a variety of important factors including the following:
Average monthly price for a 2-year-old Abyssinian Cat with a $500 deductible located in the 90210 zip code
Coverage and benefits
Key policy details including accidents and illnesses, surgeries, annual check-ups, cancer treatment, lab tests, and more
AM Best rating of the underwriter
Reimbursement percentage
Annual benefit amount
Technology and user experience

Ease of sign up

Policy language clarity
User reviews
Cat insurance by state resources
Alabama | Alaska | Arizona | Arkansas | California | Colorado | Connecticut | Delaware | Florida | Georgia | Hawaii | Idaho | Illinois | Indiana | Iowa | Kansas | Kentucky | Louisiana | Maine | Maryland | Massachusetts | Michigan | Minnesota | Mississippi | Missouri | Montana | Nebraska | Nevada | New Hampshire | New Jersey | New Mexico | New York | North Carolina | North Dakota | Ohio | Oklahoma | Oregon | Pennsylvania | Rhode Island | South Carolina | South Dakota | Tennessee | Texas | Utah | Vermont | Virginia | Washington | West Virginia | Wisconsin | Wyoming