5 Best South Dakota (SD)
Pet Insurance

Plans Compared in 2023

Updated on by Matthew H. Nash – Licensed Insurance Agent

Buying pet insurance in South Dakota can be daunting, especially when deciphering complex policy language to find the best pet insurance company. I understand the challenges as a licensed insurance agent in South Dakota and a lifelong pet owner. I have researched pet insurance in The Mount Rushmore State, and this article has all the information you need regardless of whether you live in Spearfish, Sioux Falls, Winner, Brookings, or somewhere in between. Read more about our unbiased ranking methodology and advertiser disclosure.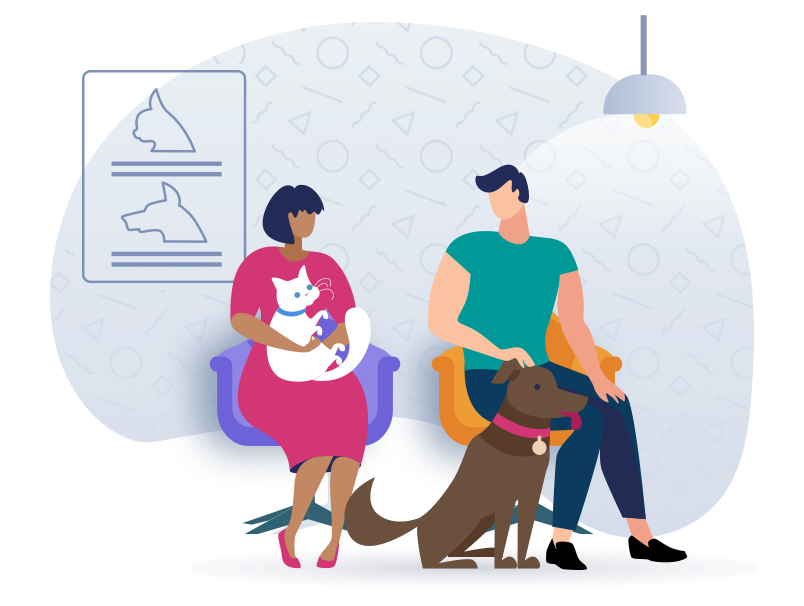 Top SD Pet Insurance Scored, Ranked & With Cost
Use our below table to quickly compare the best pet insurance providers in South Dakota. The average monthly South Dakota specific prices shown are based on a healthy 2-year-old Labrador Retriever with a $500 deductible and 90% reimbursement amount who is located in South Dakota with a 57108 zip code. Costs may vary based on age, location, coverage amount, and depending on the breed of your puppy. Prices are accurate as of June 2022 and are subject to change. For the most up-to-date information, please visit the provider website.
---
How much does dog & cat insurance cost in South Dakota for the 15 most popular breeds?
The price for South Dakota pet insurance is almost always the same throughout the state including in Sioux Falls, Rapid City, Aberdeen, Brookings, Watertown, or Mitchell, etc. However, the prices will vary based on the age, health and breed of your puppy.
All prices shown below are based on a 90% reimbursement rate with a $500 deductible and a $5,000 annual benefit from Figo pet insurance. Please note: these prices should only be treated as a rough guide as of January 2023 and are subject to change. If you're looking for the most up-to-date cost of pet insurance in South Dakota we suggest getting a quote directly with Figo or Embrace.
Dog Insurance Prices in South Dakota:
Mixed Breed – $26.74/ mo
Labrador Retriever – $36.41/ mo
Golden Retriever – $36.33/ mo
German Shepherd – $39.27/ mo
Goldendoodle – $31.61/ mo
Chihuahua – $16.62/ mo
Siberian Husky – $36.51/ mo
Yorkshire Terrier – $22.95/ mo
American Pit Bull Terrier – $40.41/ mo
Australian Shepherd – $25.13/ mo
Dachshund – $23.72/ mo
Shih Tzu – $21.13/ mo
French Bulldog – $49.99/ mo
Boxer – $50.20/ mo
Labradoodle – $31.61/ mo
Cat Insurance Prices in South Dakota:
Mixed Breed – $15.54/ mo
American Shorthair – $18.37/ mo
Bengal – $18.37/ mo
Bombay – $18.37/ mo
British Shorthair – $18.37/ mo
Exotic – $18.37/ mo
Himalayan – $18.37/ mo
Maine Coon – $19.38/ mo
Persian – $19.38/ mo
Ragdoll – $19.38/ mo
Russian Blue – $18.37/ mo
Scottish Fold – $19.38/ mo
Siamese – $19.38/ mo
Sphynx – $18.37/ mo
Abyssinian – $18.37/ mo
Not finding your specific pet breed? Figo pet insurance is our #1 recommendation for South Dakota and they'll be able to give you a quick quote for your exact needs.
South Dakota Pet Insurance FAQs
What is pet insurance? Why is it useful in South Dakota?
To protect your pet to the fullest with pet insurance, you will need to apply for a policy with your chosen company and pay the monthly premiums to keep the policy active. Should your furry friend have an accident or get sick, you must pay the costs upfront. After, you'll be able to submit a claim to your insurance provider for reimbursement. It is important to note that most pet insurance companies exclude pre-existing conditions from coverage. We encourage pet owners to get their little pals insured while they are still juveniles.

Pet insurance is helpful in South Dakota as emergency care, and life-saving treatments can exceed $5,000. In such instances, many uninsured pet owners have to put their pets down because they can't afford the necessary care. Pet insurance eliminates such heart-wrenching decisions.
How old does my pet need to be to get insurance?
Pet insurance providers usually require your pet to be at least 8-weeks of age. However, most companies do not have age limits. That said, the younger the animal, the cheaper they tend to be to insure, which is why we suggest doing so before their first birthday.
Is it worth getting pet insurance in SD?
As mentioned above, sudden illnesses and accidents are inevitable in most pets' lives. As a result, vet bills mount quickly. It is not uncommon to spend upwards of $2,000 on an emergency trip to the vet. With this in mind, you must decide whether paying monthly insurance premiums offsets potentially expensive bills that you would have to pay out of pocket in the future.
What does pet insurance include and exclude?
Coverage varies from one pet insurance provider to the next. A good rule of thumb is that any illness or accident deemed "sudden and catastrophic" will be covered unless specifically listed as an exclusion in your policy. Examples of things that tend to be covered are eye infections, urinary blockages, broken bones, and lacerations. However, if your pet has leukemia when you apply for insurance or has had it in the past, it will be listed as a pre-existing condition and not eligible for claims. To promote better health amongst pets, many providers have begun offering "wellness" packages, which you can add to your basic policy. Such add-ons cover routine physical exams, heartworm prevention, vaccinations, and more.
How does reimbursement work?
For our hypothetical purposes, let's imagine your pet needs a $9,000 emergency surgery, and your policy has a $250 deductible, a 90% reimbursement amount, and a $20,000 annual maximum benefit. In this scenario, your pet insurance provider would reimburse you $8,100 minus your $250 deductible. Therefore, you only pay $1,150 instead of the original $9,000 total. And for those who want to avoid the stress of covering the vet bills up front and waiting for reimbursement, you might consider getting insurance through Trupanion since they directly pay vets in their network.
Which is better: a lower or higher deductible?
This is a matter of personal preference and financial circumstance. Remember that a lower deductible leaves you with higher monthly payments but lower out-of-pocket costs in an emergency. The opposite is true for higher deductibles: you'll have lower monthly payments but higher out-of-pocket costs in a crisis. We recommend doing the calculations and seeing what best suits your needs. Most pet insurance providers have easy-to-use calculators on their websites. With that in mind, most people opt for either a $250 or $500 deductible.
Are there restricted breeds in South Dakota when it comes to homeowners insurance?
Like most other states, South Dakota has restrictions on certain dog breeds regarding homeowners insurance. These restrictions can vary from provider to provider and may include (but not limited to):
Akitas
Bull Mastiffs
Chow Chows
Doberman Pinschers
German Shepherds
Great Danes
Pit Bull Terriers
Rottweilers
Wolf-hybrids
We recommend reaching out to your home insurance provider to verify what your policy includes or excludes and if you will need a specific liability rider. This is also good practice for other types of pets as well.
5 Useful Strategies for Keeping Your Pet Safe & Healthy in South Dakota
While it may be a pet-friendly state, there is still plenty to consider when keeping your pet safe and healthy in South Dakota.
1. Register your pet
The law in South Dakota states that pet owners must obtain a license for all cats and dogs 6 months or older. You'll need to show proof of rabies vaccination to get your pet licensed.
2. Get your pet vaccinated against rabies
Rabies is a significant concern amongst pet owners in South Dakota. The primary carriers of rabies in the state are skunks, of which nearly half are rabid. Even though the vaccination is part of the pet licensing process, it is still a vital health precaution.
3. Protect your pet from dangerous animals
In all its natural beauty, South Dakota has many animals that could potentially harm your pet. These include coyotes, the Prairie Rattlesnake, grizzly bears, skunks, bobcats, and more. Most of the animals mentioned above are nocturnal, which means keeping your pets indoors from dusk until after dawn is a good idea.
4. Keep your pet hydrated
While proper hydration is essential to your pet's health year-round, it is even more so in South Dakota's scorching hot summer months when the mercury can reach over 100-degrees Fahrenheit. There are two things you can do to ensure your pet is hydrated. First, make sure you have a clean bowl of water available at all times. Second, add a bit of water to your pet's food, whether it is canned, dried, cooked, or raw. The water will enhance the food's flavor and be more easily absorbed by your pet's body. Just be sure not to drown the food!
5. Prepare an emergency bag for your pet
With tornadoes, flooding, and severe storms, South Dakota is no stranger to natural disasters. Having an emergency bag for your pet is crucial if you need to make a quick evacuation. This "go" bag should include food, water, bowls, and medicine. If you have a dog, a leash is also essential, and a small litter box with a bag of litter will prove necessary for your cat. In addition to these items, ensure your pet's carrier or kennel is easily accessible and line it with a thick blanket or cushion. (You may even want to place a fresh pee-pad on top.)
5 Unique Pet Shelters in South Dakota
If you're looking for a new furry companion, we recommend adopting instead of buying. Here are five interesting shelters worth looking into:
---
---
---
---
---
Conclusion
Ultimately, selecting the best pet insurance in South Dakota is far easier than it may have initially seemed. We recommend getting your pet insured once it reaches 8-weeks-old. The younger your pet, the better the prices and fewer restrictions it will have when it comes to pre-existing conditions. Nevertheless, getting your pet insured at any age will tremendously benefit you and your furry friend. While it can be helpful in catastrophic situations, pet insurance also promotes wellness. Our comprehensive research shows ASPCA pet insurance consistently performs the best and offers the lowest monthly premiums.
SwiftScore Ranking Methodology for South Dakota
We ranked the best pet insurance policies in South Dakota based on a variety of important factors including the following:
Average monthly price for a 2-year-old Labrador Retriever with a $500 deductible located in South Dakota with a 57108 zip code
Coverage and benefits
Key policy details including accidents and illnesses, surgeries, annual check-ups, cancer treatment, lab tests, and more
AM Best rating of the underwriter
Reimbursement percentage
Annual benefit amount
Technology and user experience

Ease of sign up

Policy language clarity
User reviews