6 Best
Pet Insurance

Plans Compared for 2023

Updated on by Matthew H. Nash – Licensed Insurance Agent

Buying pet insurance for your dog or cat can be daunting. As a lifelong pet owner and a nationally licensed insurance agent, I understand the frustration when trying to determine the best pet insurance company. Since 2020 we have helped 1,000s of pet parents select the ideal pet insurance policy for their fur babies. Our objectively ranked comparison table is trusted by emergency veterinarians, groomers, service dog professionals, dog trainers and many more.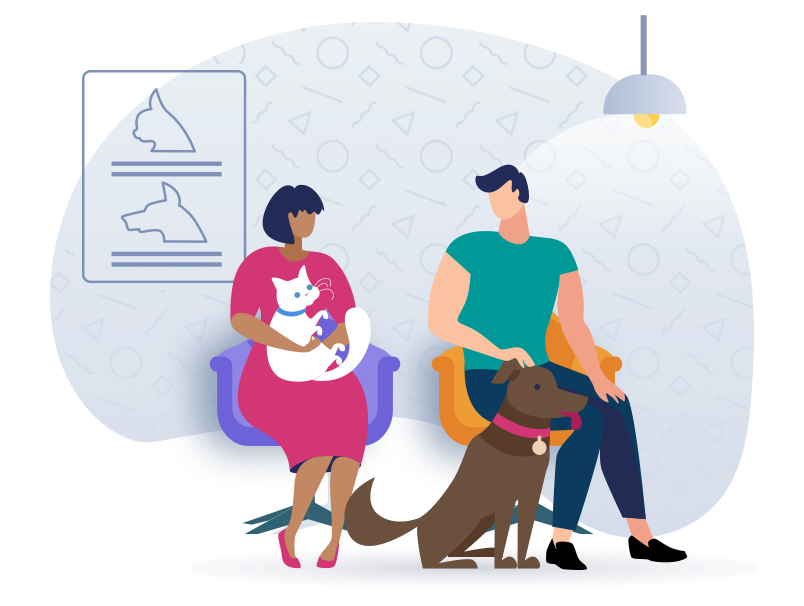 How much does dog and cat insurance cost for the 15 most popular breeds?
The price for pet insurance varies depending on where you live. To give you an idea, we've collected costs for the 15 most popular breeds shown below. The prices will also vary based on the age, health, and location of your pet.
All insurance prices shown below are based on a 90% reimbursement rate with a $500 deductible and a $5,000 annual benefit from Figo pet insurance. The costs are based on an average across 150 American cities (3 in each state). Please note: these prices should only be treated as a rough guide as of August 2023 and are subject to change. If you're looking for the most up-to-date cost of pet insurance in your local area, we suggest getting a quote directly with Figo or Lemonade.
Dog Insurance Prices (National Averages):
Mixed Breed – $26.77/ mo
Labrador Retriever – $37.50/ mo
Golden Retriever – $38.44/ mo
German Shepherd – $40.62/ mo
Goldendoodle – $33.26/ mo
Chihuahua – $16.37/ mo
Siberian Husky – $38.00/ mo
Yorkshire Terrier – $23.62/ mo
American Pit Bull Terrier – $39.93/ mo
Australian Shepherd – $25.07/ mo
Dachshund – $23.81/ mo
Shih Tzu – $22.18/ mo
French Bulldog – $50.77/ mo
Boxer – $50.55/ mo
Labradoodle – $32.92/ mo
Cat Insurance Prices (National Averages):
Mixed Breed – $15.48/ mo
Exotic – $18.96/ mo
Ragdoll – $20.11/ mo
British Shorthair – $18.96/ mo
Persian – $20.11/ mo
Maine Coon – $20.08/ mo
American Shorthair – $18.95/ mo
Scottish Fold – $20.11/ mo
Siamese – $20.11/ mo
Himalayan – $18.77/ mo
Bombay – $18.95/ mo
Bengal – $18.20/ mo
Russian Blue – $19.01/ mo
Abyssinian – $18.25/ mo
Sphynx – $18.57/ mo
Not finding your specific breed? Lemonade pet insurance is our #1 recommendation and they'll be able to give you a quick quote for your exact needs.
Pet Insurance FAQs
1. What is pet insurance and why is it useful?
Pet insurance is essentially health insurance for your dog or cat. If your furry friend happens to fall ill or have an accident you will typically be required to pay ahead of time and then submit a claim for reimbursement from your insurer. To fully protect your pet via insurance, you will need to sign up with an insurance company and pay a monthly premium to keep the policy active. One thing that is helpful to know is that insurance companies often like to exclude certain pre-existing conditions and that's why we recommend getting pet insurance while your animal is in the puppy or kitten phase (after 8 weeks of age) or as soon as possible. I've heard countless stories about people with animals aged 6 years or older who later regret not getting insurance because it would have covered major illnesses later in their pet's life.
Pet insurance is very useful across the US since vet bills can get astronomically high for therapies like cancer treatment that can cost well over $10,000. Many uninsured pet owners have to make the unfortunate decision to euthanize their animal because they simply can't afford the cost of treatment. Insurance is there to help relieve the financial burden of expensive vet bills.
2. How old does my pet need to be to get insured?
Most pet insurance companies require your little buddy to be a minimum of 8-weeks-old before you can apply for insurance. However, the majority of providers do not have an age limit for when you can get pet insurance. Although, younger animals are typically much cheaper to insure and so we recommend you get your pet insurance before their first birthday but honestly, it's beneficial at any age.
3. How worth it is to get pet insurance?
As I mentioned earlier, vet bills can quickly pile up for accidents and illnesses that are inevitable to occur in the life of your best friend. Many pet owners find that they end up spending $3,500 or more for an emergency vet visit at some point during the life of their pet. You need to decide whether paying the monthly insurance premiums is worth the mitigation of potential high out-of-pocket bills down the road. Vet prices vary depending on breed and state but in general, the prices are increasing annually.
4. What is covered and what's excluded with pet insurance?
Coverage varies with each pet insurance provider but usually, any accident or illness will be covered unless it is specifically excluded. Typically, anything that is "sudden and catastrophic" will be covered. Think broken bones, eye infections, swallowing a ball, or accidentally eating chicken bones. An example of something that may not be covered is if your animal already has cancer when you apply for insurance then this would be a pre-existing condition that isn't eligible for coverage. Many providers now offer "wellness" packages that are usually an add-on that covers things like vaccinations, routine check-ups, and heart-worm prevention, etc. Some policies even cover alternative treatments like acupuncture and massage.
5. How does reimbursement work?
Let's say you have pet insurance with a 90% reimbursement amount, a $250 deductible, and a $20,000 annual max benefit. Then imagine something happens that requires a $10,000 emergency vet surgery. In this scenario, your insurance company would reimburse you $9,000 minus your $250 deductible meaning that you would be out-of-pocket $1,250 instead of $10,000. One company that is an outlier is Trupanion who offers payment directly to vets who are in their network. This way, you won't have to rely on reimbursements, but will instead receive a bill for the remaining balance owed.
6. Is it better to have a lower deductible – what's the sweet spot?
A lower deductible means higher monthly payments. This means you will be spending more each month but you'll be less out-of-pocket when there is a catastrophe or illness. You're best to do the math based on your financial situation and be sure to utilize the easy-to-use calculator most carriers offer when getting a quote. From my experience, most people choose a $250 or $500 deductible.
5 Useful Strategies for Keeping Your Pet Safe & Healthy
We believe that pet insurance is essential for providing your furry family member with the best odds for enjoying a long and healthy life. Regardless of your pet insurance status, nobody wants an avoidable emergency trip to the veterinarian. Especially not your little munchkin! Here are some simple but useful tips on how to keep your animal safe and healthy:
1. Keep them hydrated!
It's one of the most basic things for health in any living organism yet is often overlooked. Always make sure there is a full bowl of freshwater accessible. Be sure to change the water several times per day and be extra vigilant when the weather is hot.
2. Be conscious of your local wildlife
Every state has its unique mix of flora and fauna. Common predators in North America include coyotes, foxes, mountain lions, snakes, raccoons, and bears. Each region will have its own special set of hazards. Additionally, remember small pests such as ticks can also pose major threats to your pet.
3. Get regular veterinary exams
Just like with humans, early detection of illness in animals is the smartest way for avoiding chronic disease. A licensed vet can often detect if something isn't right with your dog or cat even before major symptoms are experienced. Also, don't forget to get your vaccinations and medications such as heart-worm pills of which many insurance policies will cover.
4. Watch out for inclement weather
No matter which part of the country you live in, there can always be unexpected weather and natural disasters. From extreme cold to sweltering heat, tornadoes, hurricanes to wildfires and blizzards these are all situations that can be life-threatening to your four-legged pal. When venturing out, always check the weather beforehand to be sure that you're prepared. One often overlooked example is when it's moderately hot pavements can be well over 125 degrees which is easily hot enough to burn your pet's paws.
5. Educate yourself on common pet allergies
Both dogs and cats are often allergic to certain foods. Many foods can also be toxic or poisonous for pets. These foods include but are not limited to pits of fruits like apricots and cherries, chocolate, coffee, alcohol, garlic, onions, dairy products, and raw/undercooked meat. It's important that you also secure your trash so that your buddy doesn't get access to the wrong foods even by accident.
Conclusion
Choosing the ideal pet insurance plan can be somewhat daunting. I hope that this guide has helped you make a more informed decision. Again, remember, the best time to get pet insurance is when your animal is young and the second-best time is right now. We've heard countless stories of people regretting not getting insured even when their animal is getting older.
After much deliberation and countless hours of research, we've consistently found Lemonade Pet Insurance offers the ideal combo of coverage and price. Regardless of who you decide to go with, I wish you and your furry friend all the best and years of health and happiness.
SwiftScore Ranking Methodology
We ranked the best pet insurance policies based on a variety of important factors including the following:
National average monthly price for a 2-year-old Labrador Retriever with a $500 deductible and this is how we calculate the "standard plan cost" shown above
Below are all the zip codes we used to get the national average prices for each pet insurance provider: AL (35206) | AK (99516) | AZ (85050) | AR (72205) | CA (90210) | CO (80238) | CT (06105) | DE (19904) | FL (33155) | GA (30331) | HI (96821) | ID (83712) | IL (60630) | IN (46229) | IA (50317) | KS (66109) | KY (40511) | LA (70112) | ME (04108) | MD (21209) | MA (02136) | MI (48201) | MN (55414) | MS (39211) | MO (63104) | MT (59101) | NE (68154) | NV (89117) | NH (03062) | NJ (07305) | NM (87120) | NY (10022) | NC (27603) | ND (58104) | OH (44102) | OK (73129) | OR (97229) | PA (19128) | RI (02909) | SC (29414) | SD (57108) | TN (38111) | TX (77054) | UT (84104) | VT (05408) | VA (23221) | WA (98108) | WV (25311) | WI (53225) | WY (82009)
Coverage and benefits
Key policy details including accidents and illnesses, surgeries, annual check-ups, cancer treatment, lab tests, and more
AM Best rating of the underwriter
Reimbursement percentage
Annual benefit amount
Technology and user experience

Ease of sign up

Policy language clarity
User reviews