6 Best North Carolina (NC) Pet Insurance – Average Cost in 2023
Updated on by Matthew H. Nash – Licensed Insurance Agent
So you want insurance for your pet. I've been there. I understand you as a pet owner and a licensed North Carolina insurance agent. Picking the perfect insurance policy doesn't have to be stressful; I've compiled this guide to make it as easy as possible. From Asheville to Raleigh and Greensboro to Cary, getting pet insurance in North Carolina is simple! Read more about our unbiased ranking methodology and advertiser disclosure.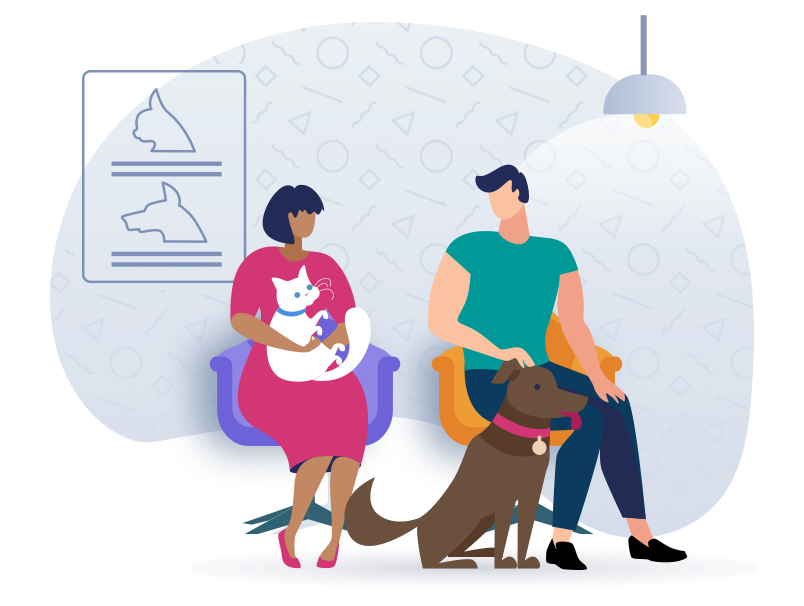 Top NC Pet Insurance Scored, Ranked & With Cost
Use our below table to compare the best pet insurance providers in North Carolina quickly. The average monthly North Carolina specific prices shown are based on a healthy 2-year-old Labrador Retriever with a $500 deductible and 90% reimbursement amount who is located in North Carolina with a 27603 zip code. Costs may vary based on age, location, coverage amount, and depending on the breed of your puppy. Prices are accurate as of January 2023 and are subject to change. For the most up-to-date information, please visit the provider website.
---
How much does dog & cat insurance cost in North Carolina for the 15 most popular breeds?
The price for North Carolina pet insurance is almost always the same throughout the state including in Charlotte, Raleigh, Greensboro, Durham, or Winston-Salem, etc. However, the prices will vary based on the age, health and breed of your puppy.
All prices shown below are based on a 90% reimbursement rate with a $500 deductible and a $5,000 annual benefit from Figo pet insurance. Please note: these prices should only be treated as a rough guide as of June 2022 and are subject to change. If you're looking for the most up-to-date cost of pet insurance in North Carolina we suggest getting a quote directly with Figo or Lemonade.
Dog Insurance Prices in North Carolina:
Mixed Breed – $24.84/ mo
Labrador Retriever – $33.83/ mo
Golden Retriever – $33.75/ mo
German Shepherd – $36.50/ mo
Goldendoodle – $29.37/ mo
Chihuahua – $15.45/ mo
Siberian Husky – $33.92/ mo
Yorkshire Terrier – $21.33/ mo
American Pit Bull Terrier – $37.56/ mo
Australian Shepherd – $23.34/ mo
Dachshund – $22.03/ mo
Shih Tzu – $19.62/ mo
French Bulldog – $46.45/ mo
Boxer – $46.64/ mo
Labradoodle – $29.37/ mo
Cat Insurance Prices in North Carolina:
Mixed Breed – $14.45/ mo
American Shorthair – $17.08/ mo
Bengal – $17.08/ mo
Bombay – $17.08/ mo
British Shorthair – $17.08/ mo
Exotic – $17.08/ mo
Himalayan – $17.08/ mo
Maine Coon – $18.01/ mo
Persian – $18.01/ mo
Ragdoll – $18.01/ mo
Russian Blue – $17.08/ mo
Scottish Fold – $18.01/ mo
Siamese – $18.01/ mo
Sphynx – $17.18/ mo
Abyssinian – $17.18/ mo
Not finding your specific pet breed? Lemonade pet insurance is our #1 recommendation for North Carolina and they'll be able to give you a quick quote for your exact needs.
FAQs About North Carolina Pet Insurance
Why do I need pet insurance in North Carolina?
You should utilize pet insurance because it ensures access to veterinary care without draining your finances. Veterinarian visits often cost more than you'd imagine. Sadly, sometimes it's so expensive that the best option for uninsured pet owners is to put their dog or cat to sleep. With insurance, that doesn't ever need to be an option.

Sounds worthwhile right? After you decide you want pet insurance, you'll next need to find a provider. After you apply and are approved, you'll then pay monthly fees, called "premiums." After a visit to the vet, you will pay the bill up front and submit a reimbursement claim sometime later.

You should remember that most insurance companies exclude some conditions, called "pre-existing conditions" from reimbursement. To avoid higher chances of this happening, you should obtain insurance when your pet is still young.
How old does my pet need to be to get insurance?
In order to be eligible, insurance companies require a minimum age of 8 weeks for kittens and puppies. Fully-grown pets and aging pets may also get insurance, but you should be aware that the cost could be higher. After 8 weeks and before their 1st birthday is the best time to sign up.
So is pet insurance really necessary in North Carolina?
As I stated above, vet costs can be higher than you think. That's why I feel that pet insurance is extremely beneficial. With a pet insurance policy, you know you're protected, no matter how much treatment costs. Although the monthly premium payments might sound like a headache, it's far less a price to pay than $10,000 bills.
Are there exclusions with pet insurance?
Unfortunately, yes, there are exclusions. You probably remember when I mentioned pre-existing conditions. If your pet has an ongoing illness or injury unresolved before obtaining insurance, this will likely be excluded.

It does vary, however, based on your insurance provider and policy. You can expect most anything deemed sudden and out of your control to be eligible for reimbursement.

To stop pre-existing conditions from developing in the first place, and for maximum wellbeing, you can purchase an add-on to your insurance, usually known as a "wellness package." These packages cover vaccines, routine check-ups, spay, neuter, and more.
What does reimbursement look like?
Reimbursement is actually a bit simpler than you were probably imagining! Let's break it down: You'll have an annual deductible, which is the amount you must pay before insurance kicks in. You'll also have a reimbursement percentage, which is the amount you'll get back after paying the bill. Finally, your max benefit is the most your insurance company will pay towards claims.

Here's a sample scenario:

Annual Deductible: $500
Reimbursement Amount: 95%
Annual Max Benefit: $10,000
You pay the vet a bill of $9,000
The bill ($9,000) minus your deductible ($500) equals $8,500.
You receive a reimbursement percentage of 95% of $8,500, equalling $8,075.
Easy, right? One good thing to note is that not all insurance providers function the same, such as Trupanion, who pays veterinarians directly without making you foot the bill first.
High deductible vs low deductible?
I can't tell you what the best deductible is for you without knowing your financial situation, but most pet owners choose $250 or $500. A low deductible will mean higher monthly premiums and smaller bills from the vet, while a high deductible equates to lower monthly premiums and a larger bill from the vet.

Either way, you pay! Figure out what deductible works best based on your finances. When obtaining an insurance quote, see if your provider offers a calculator to help you do the math.
Are any dog or cat breeds restricted for homeowners insurance in North Carolina?
You will likely run into restrictions on some dog breeds considered higher risk, like the following:
Bull Mastiffs
Cane Corsos
Chow Chows
Doberman Pinschers
German Shepherds
Great Danes
Pit Bull Terriers
Rottweilers
Wolfhounds
Keep in mind, this list is not exhaustive, nor does it include cats, who generally don't face homeowners insurance restrictions. To find the most precise and current information, reach out to your homeowners insurance provider.
5 North Carolina Health & Safety Strategies
1. Plants: Pretty & Poisonous
North Carolina is a gorgeous state, filled with all kinds of colorful and beautiful scenery. As pretty as some of these plants are, they can also be toxic to pets. Here's how you, your canines, and kitties can all enjoy the great outdoors:
Supervise pets outside. Keep dogs leashed.
When out in nature, stay on designated trails. Avoid overgrown areas that can hide dangerous plants and other hazards.
Avoid these plants, including, but not limited to:

Arum Lily
Autumn Crocus
Bulb Flowers
Buckthorn
Cherry Tree
Hydrangea
English Ivy
Mandrake
Morning Glory
Mountain Laurel
Mushrooms
Nightshades
Oak
Oleander
Red Maple
Wisteria
2. Winning Swimming
There's lots of outdoor recreation opportunities to enjoy in North Carolina, including swimming, boating, and river rafting. Obviously, you're not thinking of taking your cats for a dip, but many dogs love it! Just make sure you take precautions so they can have a doggone good time:
Not all dogs are natural swimmers. Some short nosed breeds, as well as smaller dogs may struggle. Acclimate your dog first and start with shallow, safer bodies of water. Don't ever throw your dog in, no matter how experienced they are.
Never leave dogs unattended in water.
Swimming is fun, but exhausting. Make sure your dog gets regular rest in between all the excitement.
Try not to let your dog drink chlorinated or dirty water. Provide fresh, clean water for them to drink instead.
After a swim, rinse your dog and dry their ears to prevent infection.
3. A Walk to Remember
With all the greenery and scenery, no wonder North Carolina residents spend so much time outside! Be sure to keep your pets safe when they're outdoors too, whether in the neighborhood or wilderness:
Microchip your cats and dogs. Make sure they wear a collar with ID as well.
Collars, harnesses, and leashes should be properly fitted.
Off-leash dogs should only be in designated areas, such as dog parks or your yard. Do not allow your dog to roam off-leash anywhere unsecured or where it's against the rules.
4. Summer Safely
North Carolina summers are hot and humid. With the change in weather comes extra caution for our furry friends:
Exercise pets during cooler hours in the day. Early morning or late evening is best.
Make sure there is shade and protection from the sun.
Learn the signs of heat stroke: Excessive panting or difficulty breathing, dehydration, excessive drooling, fever, bright red gums, lack of urine, rapid pulse, muscle tremors, lethargy, vomiting, diarrhea, dizziness.
Animals with flat faces (such as pugs, bulldogs and Persian kitties) are more susceptible to heat stroke. Please also take extra cautions with senior and overweight pets.
Don't leave pets unattended in cars. Even if it's only 70 degrees outside, the inside of your car can heat to over 90 degrees!
5. Coyote & Bobcat Haven
Coyotes and bobcats are abundant in North Carolina, however, they'll try to stay out of your hair as long as you're careful:
Don't leave pets unattended outdoors.
Avoid feeding pets outdoors. The smell will attract wildlife.
Keep human food or anything odorous indoors.
Keep lids on all garbage cans.
5 North Carolina Pet Shelters to Know
So you're ready to bring a new furry friend home? We know just the places to go. Check out these five must-visit North Carolina shelters.
---
---
---
---
---
Conclusion
No headaches, right? Now you see just how simple pet insurance really is! In conclusion, remember that you should get insurance before your pet's 1st birthday and after 8 weeks of age for the ideal rates and fewest restrictions. The second best time is now, since insurance will protect dogs, cats, and your pockets. To get started, we recommend Lemonade pet insurance for unbeatable prices and performance.
SwiftScore Ranking Methodology for North Carolina
We ranked the best pet insurance policies in North Carolina based on a variety of important factors including the following:
Average monthly price for a 2-year-old Labrador Retriever with a $500 deductible located in North Carolina with a 27603 zip code
Coverage and benefits
Key policy details including accidents and illnesses, surgeries, annual check-ups, cancer treatment, lab tests, and more
AM Best rating of the underwriter
Reimbursement percentage
Annual benefit amount
Technology and user experience

Ease of sign up

Policy language clarity
User reviews