7 Best New Mexico (NM)
Pet Insurance

– Average Cost in 2022

Updated on by Matthew H. Nash – Licensed Insurance Agent

Finding pet insurance in New Mexico is no hassle, because I've done the work for you! Being a cat owner myself and licensed insurance agent in New Mexico, I've spent a lot of time learning about the pet insurance industry to help other pet owners like you navigate the ins and outs of obtaining coverage for your kitties and canines. Check out my guide to insurance for dog and cat owners across New Mexico. From Albuquerque and Taos, to Rio Rancho and Santa Fe, you're in good hands. Read more about our unbiased ranking methodology and advertiser disclosure.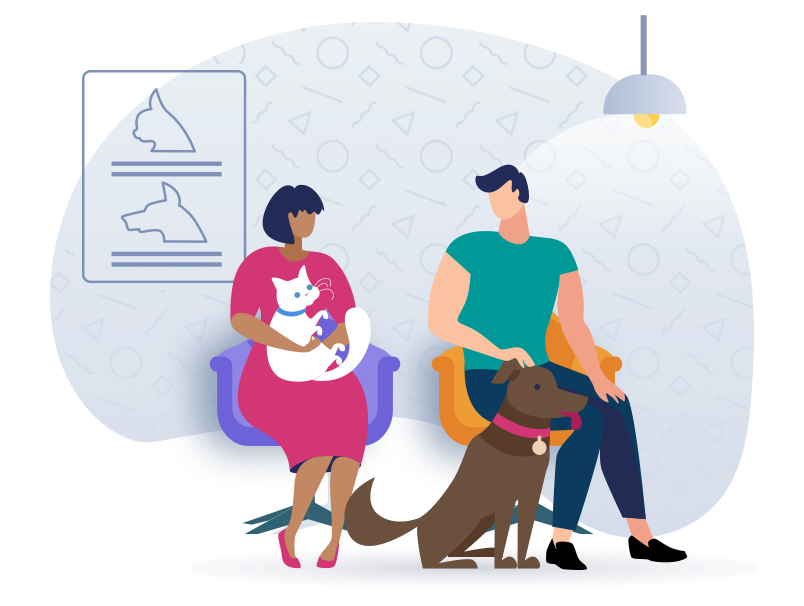 Top NM Pet Insurance Scored, Ranked & With Cost
Use our below table to quickly compare the best pet insurance providers in New Mexico. The average monthly New Mexico specific prices shown are based on a healthy 2-year-old Labrador Retriever with a $500 deductible and 90% reimbursement amount who is located in New Mexico with an 87120 zip code. Costs may vary based on age, location, coverage amount, and depending on the breed of your puppy. Prices are accurate as of January 2022 and are subject to change. For the most up-to-date information, please visit the provider website.
---
How much does dog & cat insurance cost in New Mexico for the 15 most popular breeds?
The price for New Mexico pet insurance is almost always the same throughout the state including in Albuquerque, Las Cruces, Rio Rancho, Santa Fe, Roswell, Taos, or Farmington, etc. However, the prices will vary based on the age, health and breed of your puppy.
All prices shown below are based on a 90% reimbursement rate with a $500 deductible and a $5,000 annual benefit from Figo pet insurance. Please note: these prices should only be treated as a rough guide as of January 2022 and are subject to change. If you're looking for the most up-to-date cost of pet insurance in New Mexico we suggest getting a quote directly with Figo or Lemonade.
Dog Insurance Prices in New Mexico:
Mixed Breed – $18.74/ mo
Labrador Retriever – $25.53/ mo
Golden Retriever – $25.46/ mo
German Shepherd – $27.53/ mo
Goldendoodle – $22.15/ mo
Chihuahua – $11.66/ mo
Siberian Husky – $25.60/ mo
Yorkshire Terrier – $16.08/ mo
American Pit Bull Terrier – $28.33/ mo
Australian Shepherd – $17.62/ mo
Dachshund – $16.62/ mo
Shih Tzu – $14.80/ mo
French Bulldog – $35.04/ mo
Boxer – $35.20/ mo
Labradoodle – $22.15/ mo
Cat Insurance Prices in New Mexico:
Mixed Breed – $10.90/ mo
American Shorthair – $12.89/ mo
Bengal – $12.89/ mo
Bombay – $12.89/ mo
British Shorthair – $12.89/ mo
Exotic – $12.89/ mo
Himalayan – $12.89/ mo
Maine Coon – $13.59/ mo
Persian – $13.59/ mo
Ragdoll – $13.59/ mo
Russian Blue – $12.89/ mo
Scottish Fold – $13.59/ mo
Siamese – $13.59/ mo
Sphynx – $12.96/ mo
Abyssinian – $12.96/ mo
Not finding your specific pet breed? Lemonade pet insurance is our #1 recommendation for New Mexico and they'll be able to give you a quick quote for your exact needs.
New Mexico Pet Insurance FAQs
Why is obtaining pet insurance important in New Mexico?
Pet insurance is just like health insurance for humans. It's a way to make sure you can obtain needed treatment without having to endure too much financial stress. That's exactly why it's important for your pet to have insurance coverage too.

Unfortunately, vet visits can be quite expensive. You've probably heard of pet owners having to put their beloved companions to sleep because it was more affordable than medical treatment. Don't let that happen to you; pet insurance stops you from having to make that decision.
So how do I get pet insurance?
In order to get pet insurance, you must first find an insurance provider that will write pet policies. After you sign up, you then must pay a monthly premium for the duration of your policy; this keeps the policy active.

In the event your pet needs to visit the veterinarian, you will pay the bill as you did previously, however, since your pet is now insured, you can submit a claim for reimbursement from your insurance provider.

Keep in mind, many insurance providers exclude pre-existing conditions from coverage, meaning if your dog or cat has an existing ailment at the time you sign up for insurance, that ailment will likely not be eligible for reimbursement. We recommend signing up for insurance while your pet is still a kitten or puppy for the best coverage.
How old does my kitten or puppy need to be for insurance?
Both kittens and puppies should be at least eight weeks old before you sign up for insurance. Most insurers will simply not approve policies for pets any younger than this. On the opposite side, there are no upper age limits. Adult and senior pets can still obtain coverage.

Younger puppies and kittens have the best rates and coverage. If possible, your most ideal option is to obtain insurance before your pet's first birthday.
Is pet insurance worth it in New Mexico?
New Mexico vet visits are certainly not known for being cheap. And just think about all the times you'll have to make a visit: yearly checkups, vaccinations, illnesses, accidents, emergencies, etc. As you're thinking about healthcare and all the costs that come with it, you should, at the very least, consider pet insurance as an affordable option.
What's included in my pet insurance policy?
You've probably shopped for insurance for yourself, or switched employers finding your new insurance policy to be totally different from the last. It's the same with pet insurance. Coverage is variable based on your pet's provider and policy. However, you can expect this to be universally covered: anything deemed "sudden and catastrophic." Cat took a tumble in traffic? Dog caught more than trash in the bin? The unexpected is inevitable and rarely in our control. Thankfully, insurance companies understand that.

Now, here's the tricky part. Illnesses like arthritis and cancer, although considered catastrophic to us pet owners, are unfortunately not "sudden." If your pet's ailment was known and existing prior to insurance, it most likely won't be covered. Contact insurance companies to find out exactly what they will and won't cover.

One thing to make things a bit easier is purchasing an add-on package to your insurance that includes useful things like yearly exams, spay/neuter, and vaccinations.
How do I get reimbursed?
You will have an annual deductible, reimbursement percentage, and coverage limit as part of your insurance policy. These numbers vary based on your policy and provider. Let's look at an example of how it works:

Deductible: $500
Reimbursement Percentage: 90%
You pay a veterinary bill of $2000.
$2000 (bill) – $500 (deductible) = $1500.
You receive a reimbursement of 90% of $1500, equalling $1,350.
Trupanion is a company doing things a bit differently, giving payment directly to vets in their network, meaning you won't have to pay the bill first.
Do I want a low deductible or high deductible?
Lower deductibles equal higher monthly premiums. In this case, you generally pay more out of pocket per month, but less at the vet. Higher deductibles equal lower monthly premiums. You'll pay less per month but may face a larger bill at the vet.

Most pet owners pick a deductible of $250 or $500. Find what works best for your financial situation. Need extra help? Many insurance companies offer a useful calculator to help you get an accurate quote.
Does New Mexico homeowners insurance restrict any dog or cat breeds?
It's likely that certain high-risk dog breeds will be restricted by your homeowners insurance policy, including breeds such as (but not limited to):
Akitas
Chow Chows
Doberman Pinschers
German Shepherds
Great Danes
Bull Mastiffs
Pit Bull Terriers
Wolfhounds
You probably have nothing to worry about when it comes to your everyday domestic cat. (Just don't go and try to purchase a lion!)

For the most accurate information, reach out to your local home insurance provider. You may be able to have a liability rider on your insurance policy to keep a restricted dog breed.
Five Tips for a Safe & Healthy Pet in New Mexico
1. Snakes Are No Sweat
Snakes thrive during the spring and summer seasons in New Mexico when they emerge from winter dens to hunt for food. There are two venomous snakes that call New Mexico home: the rattlesnake and the coral snake.
Rattlesnake: This is the most common venomous snake in New Mexico.Rattlesnakes are usually 2.5 to 4.5 feet long. Rattlesnake venom is toxic and can be deadly.
Coral Snake: Coral snakes are found in the southwest corner of New Mexico. They are usually too small to bite humans, but your small pets can be a target.
Stay safe from snakes by practicing the following:

Walk in clear areas where you can watch your step. Don't allow your pet to venture off paths.
Don't let your curious pets stick their faces into places they and you can't see.
Patch holes in your home that are more than a quarter of an inch wide.
Don't let your pets in crawlspaces or other small, dark areas.
If your pet is bitten, contact your veterinarian immediately.
2. Prevent Spider Pests
Fortunately, New Mexico is not known for too many venomous spiders, but you should beware the black widow and brown spider.
Black Widow: These spiders are a shiny black color, with large, rounded abdomens. Females are larger than males, about one to two inches in diameter. The female also has a red marking on her abdomen resembling an hourglass.
Brown Spider: New Mexico contains three species of brown spiders: the blanda, desert and Apache. They are each similar looking, about an inch in length (including the legs) and colored light to dark brown. They are close relatives of the brown recluse, featuring a marking resembling a violin on their bodies. They live outdoors in mostly hidden places such as under logs, rocks, dead cacti, burrows, etc. Brown spider venom is extremely potent and can be deadly.
Prevent these pests by practicing the following:

Regularly dust and vacuum around neglected areas such as windows, corners of rooms, and under furniture.
Keep your pet out of dark, dirty, and less-visited areas of the home, such as sheds, garages, cellars, crawlspaces, closets, etc.
Check your pet's paws for bites regularly.
Have a professional exterminate for spiders on a regular basis; request a pesticide that is safe for pets.
If your pet is bitten by a suspected venomous spider, contact your veterinarian immediately.
3. Say No to Scorpions
Because much of New Mexico lies in a desert environment, it's a prime target for scorpions, specifically the Arizona bark scorpion, which can cause serious illness and even death. Arizona bark scorpions reside in the southwest corner of New Mexico. If you live in the area, you are likely to encounter them at some point. Here's how to prevent these creepy-crawlies:
Wear shoes outside, especially around swimming pools and lakes at night.
Don't let your pets near damp areas outdoors.
Shake all shoes, towels (especially damp towels) and both human and pet bedding before use.
Have a professional exterminate on a regular basis; request a pesticide that is safe for pets.
4. Summer Swelter Sorrows
Although New Mexico is a high-altitude desert, experiencing all four seasons, summers can still be blistering. Follow these tips to protect your pets:
Do not leave your pet alone in a vehicle, even if you leave the window open or A/C on. Vehicle temperatures always rise faster than outdoor temperatures.
Limit your dog's exercise on hot days to early morning and late evening hours. Outdoor cats should also stay inside during the hottest parts of the day.
Always provide cold water and shade to your cats and dogs.
Know signs of heat exhaustion: heavy panting, glazed eyes, rapid pulse, dizziness, a staggering gait, vomiting, or a deep red or purple tongue.
5. Winter Weather Worries
New Mexico is known for unpredictable weather. From blistering summers to freezing winters, you never know when the temperature will take an extreme turn. Here's how to keep your pets safe in cold weather:
Keep your cat indoors when it's cold outside. As much as some cats like being outside, they can easily injure themselves. As a precaution, tap the hood of your car before starting your engine, in case a cat is using the vehicle for warmth.
Keep dogs indoors when it's cold as well. Some dog breeds, such as Huskies, can safely stay outside longer, but you must still exercise caution. Remember, long-haired breeds will fare better than short-haired breeds.
Don't let your dog off leash on snow or ice, or during storms.
5 Must-Know New Mexico Pet Shelters
Adding a fur baby to your family is easy when you have these incredible shelters (and many more) to choose from.
---
---
---
---
---
Conclusion
You now know how to find the best insurance policy for your cat or canine in New Mexico! To reiterate, it's recommended that you sign up for insurance while your pet is still a puppy or kitten, after eight weeks of age, and before their first birthday for optimal coverage and low rates. Even if your animal is older, it's always a good time to get insurance. There's no time limit on protecting your pet!

Want to get started? After researching, we found that Lemonade pet insurance offers amazing prices and coverage.
SwiftScore Ranking Methodology for New Mexico
We ranked the best pet insurance policies in New Mexico based on a variety of important factors including the following:
Average monthly price for a 2-year-old Labrador Retriever with a $500 deductible located in New Mexico with a 87120 zip code
Coverage and benefits
Key policy details including accidents and illnesses, surgeries, annual check-ups, cancer treatment, lab tests, and more
AM Best rating of the underwriter
Reimbursement percentage
Annual benefit amount
Technology and user experience

Ease of sign up

Policy language clarity
User reviews