7 Best New Hampshire (NH)
Pet Insurance

– Average Cost in 2022

Updated on by Matthew H. Nash – Licensed Insurance Agent

Animal owners everywhere can agree that pets are more than just pets; they are members of the family. As family members, we want our companions to live long and healthy lives. As a licensed New Hampshire insurance agent and pet owner, I understand the complexity of navigating pet insurance. As fellow animal lovers, our team has investigated all of the details that you need to know about pet insurance in New Hampshire. The best part is that pet insurance coverage is available in all areas of The Granite State no matter where you live, including Nashua, Henniker, Manchester, Concord or anywhere in between. Read more about our unbiased ranking methodology and advertiser disclosure.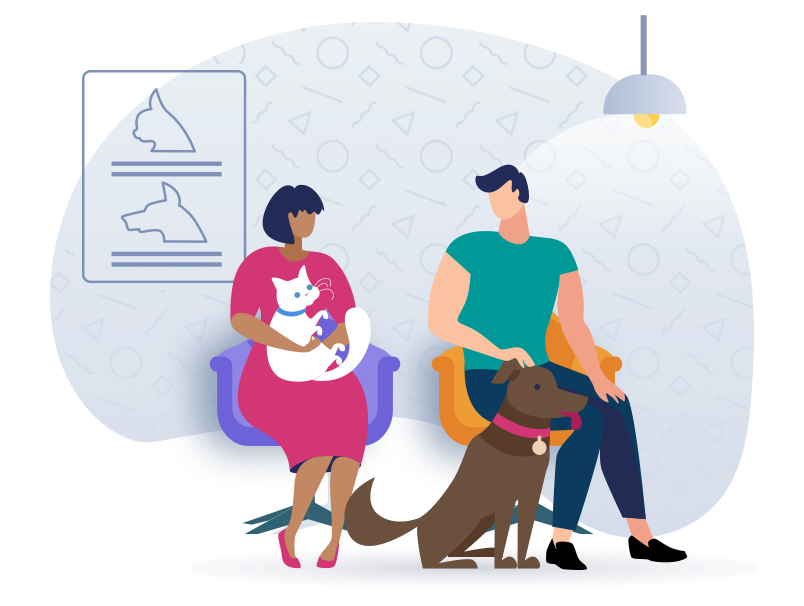 Top NH Pet Insurance Scored, Ranked & With Cost
Use our table below to compare the best pet insurance providers in New Hampshire quickly. The average monthly New Hampshire-specific prices are shown are based on a healthy 2-year-old Labrador Retriever with a $500 deductible and 90% reimbursement amount who is located in New Hampshire with a 03062 zip code. Costs may vary based on age, location, coverage amount, and depending on the breed of your puppy. Prices are accurate as of September 2022and are subject to change. For the most up-to-date information, please visit the provider website.
---
How much does dog & cat insurance cost in New Hampshire for the 15 most popular breeds?
The price for New Hampshire pet insurance is almost always the same throughout the state including in Manchester, Nashua, Concord, Derry, Dover, or Rochester, etc. However, the prices will vary based on the age, health and breed of your puppy.
All prices shown below are based on a 90% reimbursement rate with a $500 deductible and a $5,000 annual benefit from Figo pet insurance. Please note: these prices should only be treated as a rough guide as of September 2022 and are subject to change. If you're looking for the most up-to-date cost of pet insurance in New Hampshire we suggest getting a quote directly with Figo or Lemonade.
Dog Insurance Prices in New Hampshire:
Mixed Breed – $25.76/ mo
Labrador Retriever – $35.09/ mo
Golden Retriever – $35.02/ mo
German Shepherd – $37.88/ mo
Goldendoodle – $30.48/ mo
Chihuahua – $16.03/ mo
Siberian Husky – $35.21/ mo
Yorkshire Terrier – $22.12/ mo
American Pit Bull Terrier – $38.97/ mo
Australian Shepherd – $24.24/ mo
Dachshund – $22.86/ mo
Shih Tzu – $20.37/ mo
French Bulldog – $48.20/ mo
Boxer – $48.40/ mo
Labradoodle – $30.48/ mo
Cat Insurance Prices in New Hampshire:
Mixed Breed – $15.00/ mo
American Shorthair – $17.72/ mo
Bengal – $17.72/ mo
Bombay – $17.72/ mo
British Shorthair – $17.72/ mo
Exotic – $17.72/ mo
Himalayan – $17.72/ mo
Maine Coon – $18.69/ mo
Persian – $18.69/ mo
Ragdoll – $18.69/ mo
Russian Blue – $17.72/ mo
Scottish Fold – $18.69/ mo
Siamese – $18.69/ mo
Sphynx – $17.72/ mo
Abyssinian – $17.72/ mo
Not finding your specific pet breed? Lemonade pet insurance is our #1 recommendation for New Hampshire and they'll be able to give you a quick quote for your exact needs.
New Hampshire Pet Insurance FAQs
What is pet insurance?
Pet insurance is similar to human health insurance in that it is available to support the cost of medical care for your animal. With pet insurance, you can choose a carrier and policy that is right for you and your pet, and as long as you make monthly payments, coverage will be available if and when it is needed. Typically, pet insurance carriers require you to pay any vet bills first, and then they will reimburse you.
Why is pet insurance helpful to have in New Hampshire?
Pet insurance can be beneficial to have in New Hampshire due to the high cost of veterinary care. Any pet can be plagued with unexpected illness or experience an accident, which can lead to expensive treatment. Pet insurance is a way to prevent financial strain in order to provide optimal care for pets. Unfortunately, many pet owners without insurance are forced to euthanize their pets or bring them to shelters because the vet care is too expensive.
Are there specific age-eligibility requirements for pet insurance?
Age requirements vary by insurance carrier and type of pet. For dogs, the minimum age for coverage is usually 8 weeks. For cats, some plans allow enrollment beginning at 6 weeks old. However, most pet insurance plans have policies available for pets of any age after they meet the minimum age requirement.
What types of expenses does pet insurance cover?
Coverage varies depending on the carrier and type of pet. At a minimum, most plans cover basic services, such as sudden illness and accident coverage. However, some plans offer more extensive services. For example, some cat insurance policies will cover dental care, physical exams, prescriptions, and hospitalization. Since every plan is different, it is important to research different plans to determine which one is right for you and your pet.

In addition, it is important to know that pet insurance policies rarely cover any pre-existing conditions.
How much will my insurance carrier reimburse me?
The amount that you will be reimbursed is based on your specified reimbursement rate percentage, the cost of the care provided, and your deductible. For example, say that you have a $250 deductible and a 90% reimbursement rate. Your cat needs emergency surgery and stays in the hospital overnight. The total bill is $12,000. The insurance company would reimburse 90% of the total bill minus the deductible amount. Therefore, you would be reimbursed $10,550 from your insurance and only need to pay $1,450.
What about deductibles? Should I have a higher or a lower deductible?
Whether you prefer a higher or a lower deductible is entirely your choice. A lower deductible usually means a higher monthly cost and vice versa. However, there is no right or wrong choice in terms of deductible amounts; it depends on what is comfortable for you.
Are there any pet restrictions for homeowners insurance in New Hampshire?
There are some pet restrictions for homeowners insurance in most states. This most often applies to certain dog breeds. The breeds that are most commonly excluded from homeowners insurance are:
Doberman Pinschers
German Shepherds
Bull Mastiffs
Pit Bull Terriers
Rottweilers
Wolfhounds
However, to determine specific pet restrictions for your homeowners insurance, you can contact your provider directly for more information.
5 Useful Strategies for Keeping Your Pet Safe & Healthy in New Hampshire
1. Be aware of wildlife
New Hampshire is home to many different species of wildlife, including bears. Therefore, it is important to be mindful of the potential wildlife near you, especially when you are walking outside with your pup or if you have an outdoor cat.
2. Avoid eating poisonous plants
Since a vast area of New Hampshire is composed of forest, poisonous plants are likely in the woods or in your own yard. It can be helpful to know what unhealthy plants look like and prevent your pets from eating them.
3. Be prepared for lots of snow
The Granite State can get a lot of snow in the winter months. Make sure that your animal has a shoveled space outside to use the bathroom and keep a close eye on outdoor cats so that they do not get lost in the snow.
4. Stay hydrated
Keeping your pets hydrated is important no matter where you live. As cold and snowy as New Hampshire can be in the winter, it can also get very hot in the summer. Always keep a water dish out for your pets and bring water with you when you are outside.
5. Follow hunting laws
Many forests in New Hampshire allow hunting during certain times of the year. If you like to walk your dog in the woods during hunting season, both you and your pup need to wear bright clothing to stay safe.
5 Unique Animal Rescue Shelters in New Hampshire
Thousands of animals live in shelters across the country every year. Adopting one of these sweet animals is a rewarding experience, both for you and for your new friend. If you are interested in rescuing your next pet, take a look at these animal shelters in New Hampshire.
---
---
---
---
---
Conclusion
If you are an animal lover, you know how special having a pet can be. Investing in pet insurance is an important way to keep your pet healthy and ensure that they can live a long life with you. While there are many different policies and insurance carriers, choosing the best coverage for you and your pet is most important. Once you enroll in insurance, do not forget to implement daily healthy strategies, such as keeping your pet hydrated and safe from wild animals. Your pal will thank you! The best all around plan we have found is Lemonade.
SwiftScore Ranking Methodology for New Hampshire
We ranked the best pet insurance policies in New Hampshire based on a variety of important factors including the following:
Average monthly price for a 2-year-old Labrador Retriever with a $500 deductible located in New Hampshire with a 03062 zip code
Coverage and benefits
Key policy details including accidents and illnesses, surgeries, annual check-ups, cancer treatment, lab tests, and more
AM Best rating of the underwriter
Reimbursement percentage
Annual benefit amount
Technology and user experience

Ease of sign up

Policy language clarity
User reviews