7 Best Portugal
Travel Insurance

Plans for US Citizens in 2023

Updated on by Matthew H. Nash – Licensed Insurance Agent

Visitors flock to Portugal for its dazzling landscape, stunning architecture, incredible culinary scene and dynamic cities. Each year more and more Americans find themselves putting Portugal at the top of their list of countries to visit. With circumstances around travel constantly in flux, protecting yourself with the best Portugal travel insurance is vital. Doing so will protect you financially against lost, damaged or stolen luggage; trip delays and cancellations; medical emergencies; evacuations and more. In this article, I go over differences in policies, explain optional upgrade packages, suggest appropriate levels of coverage and list the average costs of such plans. Read more about our unbiased ranking methodology and advertiser disclosure.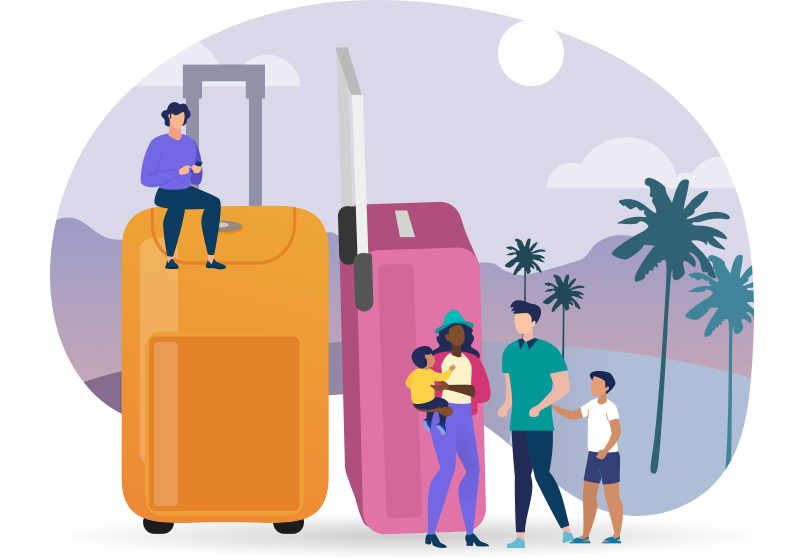 4.9
SwiftScore

Our SwiftScore is a unique and proprietary insurance ranking system objectively comparing key metrics which are most important to Portugal travelers. Learn more at the end of this page.
STARTING PRICE
FOR 2-WEEK TRIP TO THE PORTUGAL
$62.53
CAN YOU CANCEL YOUR TRIP FOR ANY REASON?
Yes
BEST
WEBSITE
FOR
Comparing Policies
Compare dozens of the best Portugal travel insurance policies from all the major providers in one place
Easily filter for the features you want and get support from their award-winning customer service team
Founded in 2013, TravelInsurance.com has helped hundreds of thousands of travelers find affordable insurance coverage
4.8
SwiftScore

Our SwiftScore is a unique and proprietary insurance ranking system objectively comparing key metrics which are most important to travelers. Learn more at the end of this page.
STARTING PRICE
FOR 2-WEEK TRIP TO THE PORTUGAL
$78.75
CAN YOU CANCEL YOUR TRIP FOR ANY REASON?
Yes
BEST
POLICY
FOR
Travelers Aged 55+
Pre-existing medical conditions are covered for a reasonable fee and they offer "cancel for any reason" as an add-on
$2,000 COVID quarantine coverage available w/ Safe Travels Voyager plan
Founded in 1998 and underwritten by Nationwide and GBG Insurance
4.8
SwiftScore

Our SwiftScore is a unique and proprietary insurance ranking system objectively comparing key metrics which are most important to travelers. Learn more at the end of this page.
STARTING PRICE
FOR 2-WEEK TRIP TO THE PORTUGAL
$87.53
CAN YOU CANCEL YOUR TRIP FOR ANY REASON?
Yes
BEST
WEBSITE
FOR
Filtering Plans
This comparison website has the most comprehensive filters especially for Covid-19 which helps you search for the specific benefits you need
They have "Zero Complaint Guarantee" which promises a fair claims process
Established in 2003, Squaremouth has consistently been recognized for it's exceptional customer service
4.7
SwiftScore

Our SwiftScore is a unique and proprietary insurance ranking system objectively comparing key metrics which are most important to travelers. Learn more at the end of this page.
STARTING PRICE
FOR 2-WEEK TRIP TO THE PORTUGAL
$88.00
CAN YOU CANCEL YOUR TRIP FOR ANY REASON?
Yes
BEST
POLICY
FROM
An Established Brand
Well rounded, inexpensive travel insurance plans from an established and top rated global insurance company
AXA has plans that cover pre-existing conditions and their "Platinum" plan covers "cancel for any reason" with an optional add-on. They also offer helpful 24/7 Worldwide Travel Assistance Services
Founded in 1959 and underwritten by Nationwide
4.7
SwiftScore

Our SwiftScore is a unique and proprietary insurance ranking system objectively comparing key metrics which are most important to travelers. Learn more at the end of this page.
STARTING PRICE
FOR 2-WEEK TRIP TO THE PORTUGAL
$68.63
CAN YOU CANCEL YOUR TRIP FOR ANY REASON?
No
BEST
POLICY
FOR
Adventure Travel
Covers almost all adventure activities for a reasonable price for U.S. residents up to age 70 (worldwide up to age 65)
Can insure up to 9 people in one family and the signup process is super easy
Founded in 2002 and underwritten for U.S. travelers by Nationwide Insurance
4.2
SwiftScore

Our SwiftScore is a unique and proprietary insurance ranking system objectively comparing key metrics which are most important to travelers. Learn more at the end of this page.
STARTING PRICE
FOR 2-WEEK TRIP TO THE PORTUGAL
$139.00
CAN YOU CANCEL YOUR TRIP FOR ANY REASON?
Yes
BEST
POLICY
FOR
Family Travel
Their "Trip Interruption for any Reason" feature allows you to get a 75% reimbursement for any additional expenses if you decide to go home early from your trip
They have a variety of insurance products to suit any travel needs
Founded in 1993 and underwritten by Nationwide Insurance
3.6
SwiftScore

Our SwiftScore is a unique and proprietary insurance ranking system objectively comparing key metrics which are most important to travelers. Learn more at the end of this page.
STARTING PRICE
FOR 2-WEEK TRIP TO THE PORTUGAL
$521/yr
CAN YOU CANCEL YOUR TRIP FOR ANY REASON?
No
BEST
POLICY
FOR
Long-term Travel
Ideal for digital nomads and long-term travel, available to anyone anywhere
Scored lower because short-term travel coverage isn't as robust as competitors
Founded in 2018 and is underwritten by Lloyds of London
4.9
SwiftScore

Our SwiftScore is a unique and proprietary insurance ranking system objectively comparing key metrics which are most important to travelers. Learn more at the end of this page.
STARTING PRICE
FOR 2-WEEK TRIP TO THE PORTUGAL
$62.52
CAN YOU CANCEL YOUR TRIP FOR ANY REASON?
Yes
BEST
WEBSITE
FOR
Comparing Policies
Compare dozens of travel insurance policies from all the major providers in one place
Easily filter for the features you want and get support from their award-winning customer service team
Founded in 2013, TravelInsurance.com has helped hundreds of thousands of travelers find affordable insurance coverage
Portugal travel insurance FAQs
How long does my Portugal trip insurance last for?
If you purchase "single trip" travel insurance, you can expect coverage to last from the time you leave home for Portugal until you return home. It's worth mentioning that should you opt for a policy without trip cancellation benefits, it is called an international medical policy. Such a policy usually offers up to one year of coverage but may be eligible for renewal up to 3 years. Should you choose an annual policy instead, it will provide you with medical care and evacuation coverage for as many trips as you take in a given year.
How far do I need to travel from home for my Portugal trip insurance benefits to kick in?
This depends on which benefits you're curious about. Trip Cancellation benefits, also known as pre-departure benefits, will cover unforeseen events before you leave home for your vacation in Portugal. The rest of the benefits in your policy kick in once you leave home to start your trip. Note that some policies have benefits that only become active once you travel over 100 miles from home.
How is a Cancel for Any Reason upgrade beneficial?
Cancel for Any Reason (CFAR) optional packages are perfect for people who want extra financial security and flexibility. A CFAR package protects against cancellation reasons not covered by your standard policy. The typical reimbursement amount with CFAR plans is 75% of your nonrefundable trip costs.
How many people does a travel insurance policy cover?
The maximum number of travelers you can insure on Single Trip insurance plans is 10, and all must be residents of the same state and have identical travel itineraries. Those living in a different state or with varying travel dates and itineraries must get their own travel insurance policies. That said, if 8 or more of you plan to travel together, purchasing a group policy may be a more economical option, especially as you would still get the same benefits as a standard plan. The great thing about group policies is that everyone can have different itineraries. The only requirement is that they are US residents.
If I am healthy and in good shape, do I need trip insurance?
Since travel insurance financially safeguards you against unexpected medical events, emergency evacuations, trip cancellations, and lost, damaged, or stolen luggage, it is worthwhile for anyone traveling internationally. You can even purchase optional upgrades that cover your medical expenses should you suffer an emergency due to a documented pre-existing condition. Portugal trip insurance gives you peace of mind knowing that the money you invest in your vacation is protected.
How do travel insurance companies define trip interruption?
In case of an unforeseen event that forces you to cut your vacation in Portugal short and head back home to the US, your trip interruption benefits will kick in. Covered reasons under most policies include terrorist attacks, job termination, natural disasters, inclement weather and the injury, illness, or death of any of your travel companions insured on your policy. Trip Interruption coverage is a post-departure benefit, which means it becomes active once you leave home on vacation.
Which expenses do travel delay benefits cover?
You can expect travel delay expenses to cover hotels (or other accommodations), meals, internet access and ground transportation (if necessary). Each policy comes with a $150-200 per diem limit for each insured traveler on your policy. Keep in mind that your policy will have a maximum travel delay benefit amount. After which, you will be responsible for any expenses above that limit.
Will my insurer compensate me if my flight is delayed for 2 hours?
While not all policies are the same, most require a minimum 3-hour flight delay before your coverage becomes active. However, many plans have a 6 to 12-hour minimum. Covered reasons for flight delays include aircraft maintenance, unsafe weather conditions, air traffic issues and more. No two policies are identical, so remember to read the full details before purchasing your Portugal travel insurance plan.
Typical problems tourists may experience while traveling in Portugal and how to avoid them:
Illnesses
The great news is that you don't need to worry about contracting exotic illnesses. Aside from the odd bout of food poisoning, the most typical ailments visitors develop are due to consuming too much alcohol or having too much sun exposure.

Sunstroke (aka heatstroke) is a potential danger in Portugal, particularly in July and August. Temperatures in Portugal often reach the 90s during the summer months and during heat waves, you can expect high 90s and low 100s. You can do several things to avoid experiencing sunstroke. The first is to stay indoors mid-afternoon when the sun is hottest. The second is to drink plenty of water and freshly pressed juices to boost hydration and minimize your consumption of dehydrating liquids like coffee, soda and alcohol.

Sunstroke symptoms include nausea, vomiting, high fever, confusion, headaches, elevated heart rate and excessive sweating. If you experience any of these symptoms (or a combination), seek medical treatment immediately. Sunstroke can be fatal if not treated.

If you plan to hit the beach in Portugal, be aware of the Portuguese Man-of-War, which looks like a jellyfish even though it is not. It has long tentacles that can attach and inject venom into you. It's always a good idea to research them before going on your trip so you know what to keep an eye out for when you're at the beach. You can usually get a sense of their presence by walking the shoreline to see if any have washed up.

Safety note: Man-of-war can still sting you days after they've died, so steer clear. Symptoms you might experience include fever, headache, shock, swollen lymph nodes, a burning sensation and a red welt in the area you were stung. Get to a doctor quickly for treatment.

A significant upshot of vacationing in Portugal is that it has a high standard of medical care. Public hospitals tend to be relatively cheap and private hospitals are significantly more expensive, but less so than the equivalent in the US. Remember to get trip insurance to cover any unexpected medical emergencies you or your travel companions may experience.
Accidents
A typical accident tourists experience in Portugal is tripping or falling, resulting in cuts, bruises and sometimes sprained wrists or twisted ankles. However, visitors who participate in adventure sports and other outdoor activities will be more prone to injury. Therefore, remember to listen to your guides and always follow their safety advice.
Muggings
Despite being an extremely safe country, pickpocketing and bag-snatching are relatively common in areas with higher levels of tourist foot traffic, especially in cities like Lisbon, Porto and Faro, and all public transport. You can minimize your risk by locking your valuables in your hotel room safe or your vacation rental, wearing a money belt and not keeping anything important in your pockets. Many people also wear their bags on the front of their bodies to keep the zippers in their vision. Also, when you're in a restaurant or cafe in a busy area, avoid hanging the back on the back of your chair or leaving it on the empty seat next to you. It can quickly get snatched while placing an order or using your phone.
Emergency resources for Portugal
Phone numbers
Dial 112 from any phone for free to be connected with emergency services. The operator or dispatcher may not speak English fluently, so speak clearly. If you're in Lisbon and you experience or witness a non-violent crime, head to the Tourist Police Station in Restauradores Square, adjacent to the Tourist Office.
US embassy or consulate details
The US has an embassy in Lisbon and a consulate in Ponta Delgada. Please visit the Embassy's website for contact information, citizen services, and opening hours.

If you are inclined to register your travel itinerary with the State Department's Smart Traveler Enrollment Program, you will receive safety and security alerts that pertain to your trip to Portugal. Doing so also makes it simple for the Embassy to contact you or your family back in the States in an emergency.
Other local knowledge that is helpful for travelers
Accommodations
Tourists in Portugal are spoiled for quality choices when it comes to accommodations, and that value for money is much better than in other Western and Southern European countries. Ultimately, Portugal caters to all budgets, regardless of if you want a basic room in a small family-run guesthouse, a suite in a luxury hotel or an entire home.

However, one of the unique things about visiting Portugal is the Pousadas. These are historic buildings that the government has restored and turned into high-end inns and hotels. Pousadas can be found in old manor houses, monasteries, convents, and elegant urban buildings; some are even in castles. Pousadas offer visitors a more traditional experience of Portugal. Discounts are available for honeymooners and anyone over 55.

In addition to hostels, guesthouses, hotels, resorts and vacation rentals, camping and renting RVs are becoming popular. Another growing trend is rural tourism, which allows you to stay in privately owned country homes, manor houses, palaces, farmhouses and traditional country hotels. Check out all of your options by region on the CENTER website.
Adventure Activities & Extreme Sports
Portugal is a dream come true for visitors who love being outdoors and staying active. With plenty of sports and activities, staying busy, getting fit and having a blast is easy. For those who seek an adrenaline rush, you can go skydiving in the Alentejo region, surfing in Peniche or Ericeira or mountain biking in the Lousã Mountains. Other options that are equally as demanding physically include hiking in Madeira or kayaking in the Upper Douro in Douro National Park. However, if you prefer something adventurous but not as physically rigorous, consider ziplining between Portugal (Alcoutim) and Spain (Guadiana) or horseback riding along the Blue Coast. If you want to have an active vacation in Portugal, you will need a top trip insurance plan to shield you against unexpected medical emergencies. To find a policy covering the specific sports and outdoor activities you want to participate in, use SquareMouth and put their "Sports & Activities" filter to good use. Then, it will list all the policies extending coverage to your preferred activities.
Communication
Staying connected during your trip to Portugal will be relatively simple in Lisbon, Porto or the Algarve. Most restaurants, cafés and bars have free WiFi you can use. You may need to ask your server or bartender for the network's password. Your hotel or accommodation will likely have free internet access as well.

By keeping your phone on airplane mode, free WiFi will allow you to stay in touch with friends, family and colleagues back home via free messaging and calling apps and email at no extra cost to you. You can also download offline maps using WiFi, and those maps can help you navigate your way around Portugal. It's worth noting that free WiFi is a bit less common outside of urban or tourist centers, but you should still be able to get online.

The most costly option, but requiring the least effort, is adding an international roaming package (that includes Portugal) to your US phone plan. This will allow you to call and text everyone back home while on vacation. However, roaming plans invariably come with small data packages, so you will also need to rely on free WiFi to download offline maps or use various apps on your phone. If this is the route you decide to take, you will need to turn the background data off for the apps on your phone. If you don't, you'll return home with a massive phone bill due to the data usage from these apps.

Your two other choices involve being more proactive once you're on the ground in Portugal. The first is to get a local, prepaid SIM card, which will only work if your phone from home is unlocked. Check with your mobile phone carrier if you need help determining whether your phone is unlocked.

A local SIM card will give you the capacity to call, text and get online at a much cheaper price point. Top mobile phone carriers in Portugal include Vodafone, NOS, Meo and Airalo. You can pick up a SIM at any of the 7 international airports in the country, the mobile providers' retail stores or convenience stores. Some offer the choice to purchase one online. Once you arrive, your second "on-the-ground" choice is to rent a pocket WiFi hotspot at the airport to take with you as you explore Portugal.
Currency
Portugal's currency is the euro (€). It comes in denominations of €200, €100, €50, €20, €10 and €5 notes and €2, €1, €0.50, €0.20, €0.10, €0.05, €0.02 and €0.01 coins. Don't sweat it if your pockets start to get heavy with coins. They're excellent for buying coffee, beer and wine and tipping.

Use your debit card at local ATMs to get the best exchange rates once you arrive in Portugal. Even including all fees, ATMs generally get you better rates than official currency exchange businesses. The Portuguese call ATMs caixa automática or multibanco. Note: Euronet ATMs charge incredibly high fees, ranging between 7.5% and 20% of your withdrawal total.

During your vacation in Portugal, you will likely use a mix of cash and credit or debit cards. Cash is essential for getting gas (petrol), tipping, taxis and smaller purchases. In Lisbon, Porto and the Algarve, two major tourist areas, you'll find that credit and debit are often accepted, though not usually for purchases under €5.

Throughout the rest of Portugal, you will find that debit cards are more widely accepted than credit cards but cash is still the predominant form of payment. You can expect to use credit cards for larger expenses, such as hotel rooms and rental cars, and cash for everything else.

Before leaving for your trip, you need to do two things: The first is to memorize all of your PINs for both your debit and credit cards. The second is to add a travel notification to your debit and credit cards so they don't get flagged for potentially fraudulent activity when you try to use them in Portugal.
Entry Requirements
US visitors to Portugal can enter the country visa-free for up to 90 days and must be able to show their return tickets to immigration officers upon request. Portugal is part of the Schengen Area, a network of European countries through which you can travel without a visa. Americans can stay in the region up to 180 days per year, never exceeding 90 days at one time.
Food & Drink
One of the many great things about Portuguese culture is that the days revolve around coffee and food. Approximate mealtimes include breakfast from 8-9 am, a morning snack between 10 and 11 am, lunch from 12-2 pm, an afternoon snack (lanche de manhã) from 4-5 pm and dinner around 8-9 pm. However, on Friday and Saturday nights, expect locals to have dinner between 9-11 pm. And among those who indulge in late nights on the weekends, brunch between 12-3 pm has become quite popular.
In Portugal, breakfast is much simpler than in the US. It almost always involves bread and coffee in some form or other. For example, people have bread and jam, buttered toast (torada) or a toasted ham and Edam cheese sandwich (tosta mista). In addition, the Portuguese usually pair their breakfast with a milky coffee. If you would like a latte equivalent, order a uma meia de leite, but if you would like the coffee to be weaker and the drink milkier, order um galaõ.
If you see locals out for lunch during the week, they're probably taking advantage of the fixed menus many restaurants offer, which include soup, the prato do día (daily special), dessert and coffee.
The mid-morning and mid-afternoon (lanche de manhã) snacks involve an espresso (um café) and a sweet or savory pastry. Some popular pastries are the pastel de nata (custard tart), pastéis de bacalhau (codfish cakes) and rissóis de camarão (shrimp turnovers). People also love bifanas, Portuguese buns stuffed with pork marinated in olive oil or fried lard, garlic and white wine.
The most popular places to eat in Portugal are the tascas. A tasca is a tavern that serves traditional Portuguese food. You can recognize them immediately because they have paper tablecloths and serve wine in jugs. Moreover, prices are reasonable, portions are large and the food is generally delicious.
Your best bet is to choose a tasca that's packed with locals. Meals come with 2 carbs, a meat and cooked vegetables or salad. You will also find the daily special scratched onto a chalkboard. If you happen upon a place claiming to be a tasca but has a menu in several different languages, steer clear! It's a tourist trap.
A typical Portuguese dish worth trying is polvo à lagareiro, which consists of octopus that is boiled, then baked and served with mashed potatoes and herbed garlic olive oil. Some restaurants will substitute the octopus with other seafood or fish. A soup that appears on nearly every menu is caldo verde. It's made with potatoes, onions, kale, garlic and extra virgin olive oil and served with cornbread. Aside from Portuguese barbecue (no churrasco)––a must try––be sure to eat feijoada à transmontana, a bean and pork stew. While the flavors are rich and delicious, it's made from nearly every part of the pig, including ears, belly, trotters (feet), etc., so it's not for the faint of heart.
You also can't leave Portugal without trying carne de porco à Alentejana, a dish of marinated pork and small clams, which are boiled, then simmered in tomatoes, garlic, onions, olive oil and red pepper flakes and then served with rice. Finally, a trip to Portugal would not be complete without eating arroz de marisco, which is seafood rice, and inevitably comes with a mix of clams, mussels, lobster, shrimp and sometimes even monkfish.
Since most people in the service industry speak English to some degree, making restaurant reservations should be relatively easy in Portugal. When you are seated in a restaurant, your server or another employee at the restaurant will likely bring you bread, olives and EVOO. This is not complimentary and will end up on your bill as a charge between €1.50 and €3.50. If you do not want it, tell your server immediately and ask that they take it away. Remember that most menus do not list the ingredients of each dish, so you'll have to ask your server. Lastly, note that Portuguese restaurants do not do substitutions as a general rule.
Getting Around
Finding your way around Portugal is relatively simple. However, renting a car or motorbike is a must if you want to explore the country's more desolate areas. Renting a car is relatively straightforward. You will need a credit card, your US driver's license as well as an International Driver's Permit (IDP). Apply for your IDP through your nearest AAA location or via mail. All of the necessary information is on the AAA website. Most cars in Portugal have manual transmissions, so if you need an automatic, be sure you're renting the right vehicle. Note that automatics often cost more.
Domestic flights tend to be expensive and don't save you heaps of time, considering how well-linked the country is via trains and buses. If you must fly, Portugal's largest airline is TAP.
Buses are a great way to get around without blowing your budget, and they even allow you to reach more rural corners of the country that trains do not reach. Private companies such as Vamus Algarve, Rodonorte, and Rede Expressos run regional bus operations. Buses fall into three tiers of quality:
Alta Qualidade designates faster, more luxurious trains.
Expressos and Rápidas are fast and comfortable.
Carreiras (CR) are the slowest buses out there, but that's because they stop frequently.
You can also get around Portugal via train. Trains are comfortable and reasonably priced and offer some incredible sightseeing. They have first class (primeira classe/conforto) and second class (segunda classe/turística) seats available.
Comboios de Portugal (CP) runs the country's train network. You can check train times and book your tickets on their website. Otherwise, depending on the station, you can purchase them from the ticket office or a kiosk. Also, you can book tickets on the same day of departure or up to 30 days in advance. If you plan to purchase your ticket at the station, arrive several hours in advance so you don't get stuck in long lines and miss your train.
Language
While many Portuguese people speak some level of English, it always helps to have a few useful words and phrases under your belt. Locals will also see it as a sign of respect and appreciation. Aside from memorizing numbers, this brief guide will prepare you for your trip to Portugal:
Hello (formal) – olá
hello (informal) – oi
goodbye/see you later (formal) – até logo
goodbye/see you later (informal) – adeus/tchau
good morning – bom dia
good afternoon/evening – boa tarde
good night – boa noite
yes – sim
no – não
please – por favor
thank you – obrigado/a (masculine/feminine)
you're welcome – de nada
Excuse me – com licença
Do you speak English? – Fala inglês?
I don't understand – Não entendo
I'm sorry – desculpa
Where is the …? – Onde é…?
bathroom – o banheiro
hospital – hospital
pharmacy – uma farmácia
police station – delegacia de polícia
train station – estação de comboio
bus station – estação de autocarro
bus stop – paragem de autocarro
airport – aeroporto
entrance – entrada
exit – saida
Left – esquerda
Right – direita
Turn left – Vire à esquerda
Turn right – Vire à direita
Straight ahead – direto em frente/sempre em frente
breakfast – pequeno almoço
lunch – almoço
dinner – jantar
What do you recommend? – O que você recomenda?
May I have ______, please? – Pode me dar, por favor?
I would like ______. – Queria ______.
a coffee – um café
water (cold) – água fresca
water (room temperature) – água natural
water (sparkling) – água com gás
a beer – uma cerveja
wine – vinho
house wine – vinho de casa
milk – leite (pronounced lay-chee)
juice – suco
bread – pão
olives – azeitonas
salad – salada
beans – feijão
chicken – frango
fish – peixe (pronounced pay-shee)
lamb – cordeiro
beef – bife/carne bovina
well done – bem passado
medium – médio
medium rare – ao ponto
rare – mal passado
I am vegetarian. – Sou vegetariano. (masc.). Sou vegetariana. (fem.)
dessert – sobremesa The bill, please – A conta, por favor.
Local Customs & Etiquette
Portuguese people are known for being friendly, welcoming and pleasant. Therefore, when you enter and leave a shop, restaurant or other business, you expect to greet the staff accordingly. Not doing so is considered rude.

Another way to show respect is to greet people you don't know with a firm handshake, ask them how they are and introduce yourself. Some people may opt for the 2-cheek kiss, which always begins with the left cheek and keeps your arms at your side. Furthermore, making eye contact when speaking to someone is an important way of showing respect.

Unlike many Southern Europeans, the Portuguese do not gesture very much. In fact, it's frowned upon. Whatever you do, avoid pointing your finger, as it is considered rude. The one similarity with other countries in the region is that they speak loudly, which often has little to do with tension, anger or high emotions. Keep in mind that the Portuguese are very direct, though respectful. Honesty is expected, but so is being polite.

Being a predominantly Catholic country, you will notice that the Portuguese dress conservatively and take great pride in their appearance, even if they wear casual clothes. If you want to blend in, wear neat, neutral-colored clothing. Avoid wearing short shorts or skirts, sportswear or clothes with large logos, and you'll be appropriately dressed for almost anywhere. If you plan to visit a church or cathedral, you must wear capped sleeves and ensure your knees are covered. Even better is to wear long skirts and pants.

When it comes to eating, the most important thing to know is that the Portuguese eat slowly. They believe in appreciating and savoring their food, but they also think eating quickly is a sign of greediness. Dining etiquette also includes keeping your elbows off the table and placing your fork and knife parallel across your plate with handles in opposite directions once you've finished eating.

If you receive an invite to lunch or dinner at a local's home, always bring flowers, high-quality chocolate or candy for your hostess. It's standard to show up approximately 10 minutes after they ask you to arrive to give your hosts extra time to prepare. Always wait to be seated in case your hostess has assigned seats and wait for her to wish everyone "Bom apetite!" before you begin eating.
Tipping
Tipping is less common in Portugal than it is in other European countries. There is no obligation to tip, but many people still do. Unlike in the US, though, you must always tip in cash (euros). Many card processing machines in Portugal do not provide the option to leave a tip. Since most things cost far less in Portugal than in the States, we recommend tipping whenever you receive good to superb service.

Should you frequent restaurants that are popular among tourists, tipping is expected. Check your bill first to see if it already includes a service charge. You can always leave a few extra euros for excellent service if it does. If not, a 10% cash tip is recommended for good service. In higher-end restaurants, 10-15% works well. If you receive outstanding service at any time, you can leave a 15-20% tip.

The Portuguese generally only tip at high-end cocktail bars, not regular bars. In which case, they'll leave the bartender or drinks server €2. At cafés, people usually round up to the nearest euro or leave behind at least €0.50-€2, depending on how many drinks and/or snacks they ordered.

Expect to tip all hotel employees who directly serve you. For example, tip porters €1-€2 per bag. Housekeepers should get €2-€5/day, room service staff €1-€2 per delivery and doormen €1-€2 if they hail you a taxi, carry your bags or assist you with other transportation needs. If the concierge provides you with a personal service, tip them anywhere from €5 to €10 based on much effort your request requires.

Lastly, remember your tour guides. If you pay to join a walking tour for 2-3 hours, the standard tip range is €3-€5 per person, and for private or day-long tours, tip €10-€20 per person. However, if you join a free walking tour that is 2 hours or less, tips between €10-€15 per person are appropriate. That said, if the free tour goes longer than 2 hours or your guide did an extraordinary job, tip €20 or more. If you join a day tour by bus, tip your guide €5 and the driver €2-€3 per person. For multi-day tours, asking the tour operator for tipping advice is always good.
A final note about travel insurance for the Portugal
I have spent dozens of hours researching travel insurance, including getting quotes and comparing coverage from all the most popular brands. Regardless of where you're going I am confident that you will also find that TravelInsurance.com offers the best way to compare policies with the ideal combo of coverage and price.
I wish you and yours an incredible journey.
SwiftScore Ranking Methodology
Average price for a 2-week vacation based on a 35-year-old California resident traveling to the Portugal with a $3,500 trip cost
Coronavirus coverage
Cancel for any reason (CFAR)
AM Best rating of the underwriter
Key policy details including cancellation, interruption, emergency medical evacuation, and baggage & personal effects
Ease of sign up
Policy language clarity
User reviews