7 Best Nepal
Travel Insurance

Plans for US Citizens in 2023

Updated on September 20, 2023 by Matthew H. Nash – Licensed Insurance Agent

Between the awe-inspiring landscape, delicious food, friendly locals and mind-blowing adventure sports and activities, it's no wonder people from all over the globe travel thousands of miles to visit this small Himalayan mountain country. However, with the ever-changing nature of international travel, anything can get in the way of your plans. The best Nepal travel insurance plan can protect you from the financial hazards that accompany trip cancellation or delay; lost, damaged or stolen luggage; and medical emergencies or evacuations. This article will walk you through the differences in policies, various optional upgrade packages providers offer, different levels of coverage and what you can expect to pay. Read more about our unbiased ranking methodology and advertiser disclosure.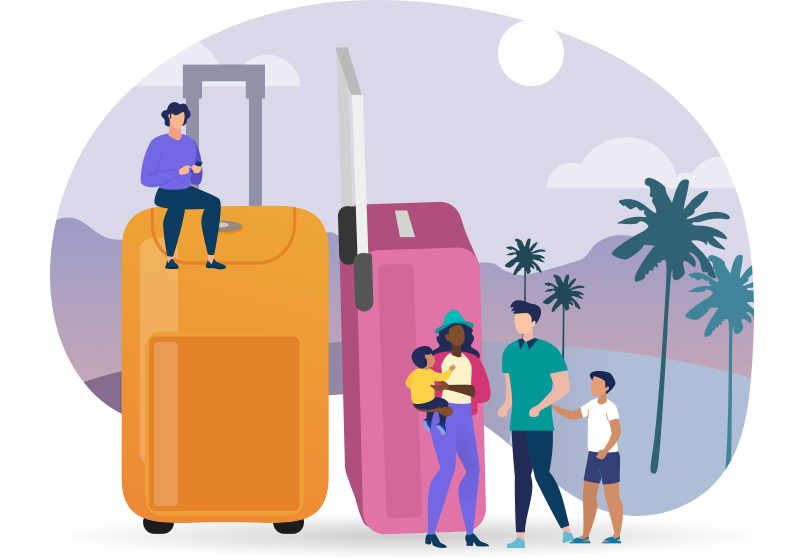 Nepal travel insurance FAQs
Is it worth buying travel insurance for trekking in Nepal?
Nepal travel insurance protects you financially against lost or stolen luggage, medical emergencies and evacuations, and trip cancellations or interruptions. You can even opt for "Cancel for Any Reason" coverage, or CFAR, to guarantee more flexibility. With travel being expensive these days, having the right policy can reimburse your travel costs should an unforeseen event interfere with your vacation, saving you from a significant financial loss.

In medical emergencies, trip insurance provides crucial assistance, including coordinating medical evacuations and airlifts and admitting you to hospitals meeting US standards. The best travel insurance policy gives you peace of mind and will prove worthwhile for Nepal. In addition, depending on your age, most plans only cost approximately 2-3% of your total trip cost, making it highly affordable.
When should I buy Nepal travel insurance?
To get the most from your coverage, we recommend purchasing Nepal travel insurance, especially a Trip Cancellation plan, immediately after you book your vacation. This will ensure that you and any of your insured travel companions are protected against unexpected events prior to and during your trip. Remember that if you want a "Cancel for Any Reason" (CFAR) or Pre-Existing Condition optional upgrade, you must buy them within 14-21 days of paying the deposit on your vacation. Please verify with your preferred insurance provider for their specific requirements.
How many people can my Nepal travel insurance cover?
This depends on several factors, but all travelers wishing to be insured on the same plan must have the same travel dates and itineraries and reside in the same US state. The maximum number of people for Single Trip policies is 10. Any one of your travel companions who has a different travel itinerary to you or lives in another state must get their own policy. If 8 or more of you are traveling together, consider looking into group policies, as they are often cheaper and do not require that all travelers have the same itinerary or live in the same state. The only stipulation is that everyone must be US residents, and you still get the same dynamic coverage that you would get with a standard travel insurance plan.
Where can I find the cheapest Nepal travel insurance?
Instead of seeking the cheapest Nepal travel insurance, look for the one that best meets your coverage needs. First, use a comparison site like WithFaye.com to narrow down all policies that fit your criteria. Then, you can click the option to sort by price and choose the most affordable policy.
Do Nepal travel insurance plans cover a relative's death?
This varies between policies. Many cheaper Nepal travel insurance plans will not offer bereavement benefits if your relative passes away from a pre-existing medical condition or commits suicide. However, some plans with higher premiums may reimburse you no matter your relative's cause of death. Lastly, you'll want to find out what each provider considers a "relative" to be. Does that include your siblings? Aunts and uncles? Grandparents? Cousins? Pets? Every insurer has different terms, so to be on the safe side, read the full details of any policy before buying it and follow up with the insurer should you have any lingering questions.
How do insurers define baggage loss? What does that benefit cover?
Baggage loss coverage is a complex topic. Baggage loss benefits ensure that if your baggage or personal effects get stolen, damaged, lost or destroyed during your time in Nepal or traveling to and from there, your provider will reimburse you up to the Maximum Benefit Amount listed in your policy. This even covers when your bags are checked with a hotel, common carrier or travel supplier. Of course, in such instances, the amount your travel insurance provider would reimburse you would be reduced by the amount the responsible party owes you.

All travel insurance plans state Maximum Benefit Limits on a per-person basis, and it denotes the highest total your insurer will reimburse you for stolen, lost or damaged luggage. The total per-person reimbursement is also calculated based on the Per Article Benefit. This is the maximum amount your provider will reimburse you for each lost, stolen or damaged item during your travels.

However, there is something called a Combined Article Limit for items such as watches, furs, jewelry, electronic devices and more. Therefore, should you lose one or more of these specific items, the most your insurer will reimburse you for all of them is the amount stated in your policy as the Combined Article Limit, even if their value exceeds it. The good news is that depending on your state of residence, your Nepal travel insurance plan may not have such restrictions.

To better understand this, let's imagine that your policy has a $2,500 Maximum Benefit Limit, a $500 Per Article Benefit and a $750 Per Article Limit. If your suitcase gets lost, your insurer will reimburse you depending on each item's real value, but never more than your $500 Per Article Benefit. So, as a result, if there was a $1,000 coat in your lost suitcase, you will only get back $500, even if you haven't reached your policy's Maximum Benefit Limit.

Let's imagine you lose 2 items listed in your policy's Combined Articles Limit section. The most you will get in return is $750, no matter how much greater their individual or combined value may be. Total reimbursements for all items cannot exceed your policy's $2,500 Maximum Benefit Limit.

Keep in mind that your Nepal trip insurance provided will require documentation to support your claim of possession and loss before they reimburse you. Proof of ownership can include police reports, original receipts, photographs, and letters from the responsible party (i.e., your travel carrier, hotel, etc.). Review the full details of your travel plan to ensure you know the different limits of your baggage loss coverage.
Will my Nepal travel insurance plan cover extreme sports and adventure activities such as trekking?
Most travelers to Nepal are there to experience world-class trekking, including Annapurna and Mt. Everest, and other adventure sports. With a high risk of injury, securing a travel insurance plan that covers these activities is essential.

To find an insurance provider for this level of coverage, I suggest using SquareMouth.com and selecting their "Sports & Activities" filter. Doing so will allow you to enter the specific activities you plan to participate in while on vacation in Nepal. Once you submit your query, it will show you all of the available plans that provide your requested coverage. Remember to read all of a policy's details before buying.
Will my travel insurance plan cover the inherent costs that come with canceled flights?
The vast majority of the time, trip insurance will cover canceled flights. For example, you can expect to be eligible for benefits if your flight gets canceled at least 24 hours before departure due to inclement weather, an employee strike or a natural disaster. However, if you need to cancel your flight, there are some circumstances under which you could be reimbursed. These include the illness, injury or death of an insured travel companion or your own medical emergency. Additional approved reasons include civil unrest in your location or destination, a jury duty summons or unexpected military deployment.
Most common problems while traveling in Nepal and how to avoid them:
Illnesses
Altitude sickness is a typical illness that travelers in Nepal experience, especially those who insist on trekking without a local guide or sherpa and don't appropriately pace their ascents and descents.

Travelers Diarrhea is another illness that plagues those who visit Nepal. TD, a stomach and intestinal condition, also manifests with several other symptoms, including fever, headache, abdominal cramps, bloating and more. Make sure you eat food that has been cooked properly–piping hot!–or raw produce that has been washed well.

Other health risks include dengue fever and malaria. Should you lose your appetite, get dizzy and nauseous and develop a high fever, consult a doctor immediately. If left untreated, both of these can be fatal, especially if you allow yourself to become dehydrated.
Accidents
When people think of Nepal, they often think of mountains–8 of the 10 world's largest! And when it comes to accidents and injuries, most are the result of trekking expeditions throughout the country. Twisted ankles and frostbite are among the most common injuries among travelers in Nepal. Falling victim to natural disasters such as earthquakes, landslides and blizzards are also possible. Another potential for accidents is tied to riding buses. Buses in Nepal are old and often poorly maintained, as are the country's treacherous mountain roads.
Muggings
Pickpockets and muggers are particularly active in busy transportation hubs, the Thamel area of Kathmandu and other busy areas packed with tourists. Money belts are a smart choice as long as you wear them correctly–under your shirt and the waistband of your pants. Also, if you must take a bus anywhere within the country and hand over your luggage to be stowed away, keep all of your valuables in a small backpack that you carry onboard so that they don't get stolen during stops along the way.
Emergency resources for the United Kingdom
Phone numbers
To contact the police, dial 100 from any phone or 101 for the fire department.
US embassy or consulate details
The US Embassy is located in Nepal's capital city of Kathmandu. Please consult the website for their hours, phone number, address and information about citizen services.

To be on the safe side, you can register your trip to Nepal with the Department of State via their Smart Traveler Enrollment Program. Whenever you list your travel plans with STEP, the State Department will send you special travel alerts for your destination. It also makes it simpler for the US Embassy in Nepal to communicate with you and your family in an emergency.
Other local knowledge that is helpful for travelers
Accommodations
Nepal offers a wide range of accommodations catering to all budgets, ranging from backpacker hostels and small family-run guesthouses to 5-star hotels and luxury resorts. While your accommodation is covered during your treks, you will still need to book a place to stay in Kathmandu or the surrounding areas for the night of your arrival in Nepal and any additional time you wish.

In Kathmandu, most travelers stay in Thamel, the historic part of the city, which is packed with restaurants, shops, and cafés. Pokhara, a lakeside town, is the other most popular destination for tourists in Nepal, which abounds with comfortable guesthouses and restaurants.

Avoid staying anywhere called a lodge (or "hotel and lodge") and is excessively cheap. These places are often stark and uncomfortable, with unsanitary bathrooms and cold water showers. However, in the mountains, lodges can be pretty comfortable and primitive with hospitable owners.
Currency
The national currency is the Nepalese rupee (NPR). Note that the NPR is not exchanged anywhere else in the world. In fact, it is illegal to take Nepalese rupees out of the country. Therefore, you must exchange your NPRs for another currency before departing. You can do so at the airport or usually in Kathmandu. The Nepalese rupee comes in 1, 2, 5, 10, 20, 25, 50, 100, 250, 500, and 1000 NPR notes, along with NPR 1, 2, 5, and 10 coins.

Since Nepal is primarily a cash-based society, always keep plenty of cash on hand. While this is not the norm in other countries, you will get the best exchange rates at the airport. Also, ATMs are available in touristy areas, but they are far less prevalent than you are used to in the States.

Having US dollars of larger denominations ($100 or $50) will simplify your life since Foreign Currency Exchanges are available in places like Kathmandu, Pokhara, and Lumbini. You will need to show your passport to exchange currencies, and always remember to save your receipts from these exchanges.

Should you use ATMs in Nepal to withdraw funds, you must notify your US bank of your travel dates and destination, so they do not block your card due to "suspicious activity." You will need your PIN, so be sure to have it committed to memory before leaving home.
Food
Eating in Nepal can be an absolute pleasure, as Tibet and India have highly influenced their cuisine. Nepali dishes are loaded with vegetables, meats, spices, lentils and chickpeas. The most popular dish among locals is dal bhat, which, if you get the complete Nepali khana set, usually includes rice, a small serving of lentil soup, curried vegetables, pickles, some raw vegetables and a dairy sauce or yogurt. Dal bhat is healthy and filling.

Another comparable meal to the Nepali khana set mentioned above is the Takhali Thali, which hails from the Mustang region of the country. Like the khana, the thali comes with rice, buckwheat, maize, millet, dal, pickles and vegetables.

Nepali people also love their momos! These are steamed dumplings filled with spices and vegetables or meat that are served with chutney. Almost as popular as momos, but not quite, are samosas, also found throughout the Indian subcontinent. These are fried savory pastries filled with spices, potatoes and other vegetables that are served with chutney.

While there are several other much-loved snacks and dishes in Nepal, these are the best. Just don't forget to try a piping hot cup of Nepali masala chia at least once, particularly if you go trekking. It's comparable to Indian masala chai (tea).

Lastly, do not waste food. Nepalis waste nothing and will polish their plates. Wasting is not only an insult to the chef, but it symbolizes a lack of respect for the abundance you are given. After all, Nepal is an impoverished country and people value what they have. On the other hand, asking for seconds is a great compliment to the chef.
Getting Around
How you get around Nepal may vary based on where you go and what you plan to do. Whether you go by bicycle, motorbike, bus, mini-bus, or airplane, traveling throughout this mountainous country requires some planning due to the poor condition of the vehicles and roads. Whenever you're in any Nepali city, tuk-tuks, taxis and your own feet are the most reliable options for getting around. For tuk-tuks, ensure that you establish a fare for your destination before you set off. You may have to do the same with taxis if you can't find a driver willing to use the meter.

While bus travel seems to be the most popular mode of transport, it's important to point out that it comes with significant risks and is quite dangerous. Thousands of bus accidents occur yearly, resulting in many deaths and injuries. Avoid Local and Regular buses if possible since there is little comfort, and people travel on the roofs and floors. Instead, purchase tickets for Tourist, Express or Deluxe buses where you will enjoy a reasonable amount of comfort. Even though Tourist Buses are the most expensive, they are still very budget-friendly.

Mountain biking trips throughout Nepal have become incredibly popular in recent years. You can take one-day or multi-day cycling trips on the Annapurna Circuit, to remote villages, from Kathmandu to Pokhara and beyond. The longest trips on offer last approximately 16 days. Always seek a reputable company to take your mountain biking trips with, as they can supply you with appropriate gear and bikes and provide an abundance of cultural and trail knowledge. This is the best way to minimize injuries and maximize your overall experience of Nepal.

Should you choose to rent a motorbike to explore the country, only do so if you're used to riding motorbikes or motorcycles back home, as the rough roads in Nepal can pose a real threat to your safety. Also, to drive in Nepal, even a motorbike, you will need an International Driver's Permit (available through AAA online/mail or in-person) and your US driver's license. Finally, if you decide to rent/hire a car, it's probably best to hire a driver since they know the roads well.

Flying is another option for moving around Nepal, as small airports and airstrips are scattered throughout this Himalayan country. The three airlines you can book tickets with are Nepal Airlines (government-run), Yeti Airlines and Buddha Air–the latter two are privately owned air carriers with better performance and safety records.

The most common flights people take are from Kathmandu to Pokhara, particularly among those who plan to trek the Annapurna Circuit and Lukla for those who want to do an Everest Base Camp trek. While flying can save you a tremendous amount of time and score you some breathtaking views of the Himalayas, please note that Nepal does not have the best air safety record.
Local Customs & Etiquette
Knowing how to greet people is an important aspect of life in Nepal. In Nepal, people greet one another with "Namaste" and put their hands in a prayer position. Namaste means "the light in me honors the light in you." The more respect you intend to show, the higher you hold your hands. For example, if you meet elders or monks, you might want to raise your prayer hands in front of your face. Whereas with others, you can place your hands in prayer at the center of your chest. Groups of men tend to greet one another individually with handshakes instead. When in doubt, follow the lead of the locals with whom you're interacting.

Nepal is a "right-handed" community like many countries in the region. This means that Nepali people view the left hand as dirty. It is the hand people wipe themselves with when using the bathroom. And since most Nepalis do not use toilet paper, you can imagine the disgust they might experience if you pay for your meal by handing them cash with your left hand. In short, if you shake hands or give something to someone, always use your right hand.

If you receive an invitation to a Nepali home, remember to remove your shoes before entering. You may see shoes outside the front door or just inside it, so act accordingly. This keeps outside dirt and "bad energy" from spreading throughout the home.

Unlike in the US, people in Nepal do not touch one another's heads. The head is sacred for them as they perceive it to be their connection to divine energy or spirit. Respect this custom completely, even with babies.

Furthermore, dress modestly while you're in Nepal. This is a very traditional country, and it's important to respect their customs around clothing, especially when visiting a temple or a stupa. Appropriate attire includes pants or skirts that cover the knees and reach your ankles as well as tops that cover your shoulders. Tops that reveal cleavage or show one's knees is not acceptable. Also, remember to remove your shoes before entering a temple and refrain from taking photos, as most temples prohibit it.

While in Nepal, you may see men and women walking separately by gender. It's typical to see men walking with their arms around one another or holding hands; the same goes for women. Since PDAs are frowned upon in Nepal, these tactile gestures between people of the same gender have nothing to do with sexuality. Instead, it is a form of acceptable affection between friends.

Another quirk about the people of Nepal is their laid-back attitude towards time. While most adventure sports and activities usually take place relatively as planned, most meetings do not. So relax and get on Nepali time!

Lastly, do not be caught off-guard by the Nepali habit of spitting. Nepalis spit frequently and everywhere, so watch out you don't end up in the line of fire.
Restrooms
Public bathrooms, or "toilets" as they are known in Nepal, are in major shortage, even in the capital of Kathmandu. So it's always best to grab a drink at a café or a meal in a restaurant and use their bathroom instead. Many businesses catering to tourists will have Western-style toilets, while smaller businesses may have squat toilets.

Should you end up using a public toilet, expect to pay a minimal fee and don't be surprised if you get asked, "Short toilet or long toilet?" This does not mean what you probably think it does. You declare "short toilet" if you need to pee and "long toilet" if your bowels need to move. It may seem odd or embarrassing to say your intentions for the toilet publicly, but it's the norm in Nepal. A "long toilet" will cost you slightly more. If you cannot find the lever and it comes time to flush, look to see if there is a bucket and a water tap in your stall. If so, you'll have to manually flush the toilet by filling up the bucket and pouring the water into the toilet.
Tipping
First and foremost, always tip in Nepalese rupees, not dollars. Tipping is expected in restaurants, hotels and businesses that cater to tourists. You may see a 10% service charge on your restaurant bills. While this fee supposedly goes to the servers, many contend it may not. Therefore, leaving a cash tip for your server of 10-15% of your bill for good service is always appreciated. Casual food stands or shops that do not employ servers will not expect tips, though leaving behind your coins or rounding up to the next rupee note is polite.

Many hotels have tip boxes at their front desks for the cleaning staff. If they do not, you can leave it in your room. The suggested tip is $1/night for hotels that cost up to $25/night. Increase your tip to a maximum of US $4-$5 for more expensive accommodations. An appropriate tip for bellhops is $1 per bag in most hotels, but if you're staying at a resort or luxury hotel, $2 is good. When requesting concierge assistance, tipping $2-$3 will go a long way in ensuring you get good service. Should you order room service, always tip a minimum of 10%. However, if your order is small, like a coffee and toast, then tip a minimum of $0.50.

Only tip taxi drivers who use their meter when shuttling you from one place to another. We say this because it reinforces honesty. You can round up to the nearest NPR note or give them an extra $1-$2 tip. It depends on the quality of service you receive.

Lastly, be sure to tip your trekking guide and porters. A standard tip for guides is 10% of your total trek costs–a minimum of $5/day for solo trekkers; $10/day for group trekkers. Of course, you can always tip more if you have the time of your life and really want to thank them for the experience and memories. Don't forget to tip your porters $3-5/day. The heavier your bag, the more you should tip. If you trek in a group instead of hiring a guide for just you and your friends or family, then tipping will be on a group basis. Ask your trekking company how to handle this best. You will also want to tip any guides you may have for city or cultural tours, approximately $3-5 for the day.
Trekking
Trekking in Nepal is a dream come true for many Americans, and the great thing is that there are treks for all types. So whether you want to go for a day hike, a 5-day trek or an arduous 21-day trek, you have plenty of choices, from Everest Base Camp and Annapurna Circuit to the Tamang Heritage Trail and the less crowded Upper Mustang trail.

Many experienced trekkers and mountain climbers assume they'll be fine trekking on their own, but this sort of hubris often leads to serious injury and can threaten a person's safety. Professional guides and porters from Nepal-based companies know every detail of these trails, understand how to pace trekkers to prevent altitude sickness and can lead people out of dangerous circumstances.

Speaking from experience, save yourself the money and hassle of bringing all your fancy trekking gear from home. You can rent or buy everything you need in Nepal for a fraction of the price, but do bring your own boots, rain poncho, antibiotics for stomach or respiratory illnesses, bandages, face cloth, travel towel, headlamp and batteries. Also, be sure to bring 2-4 extra passport photos–check with your tour operator–with you as your trekking guide/company will need them to apply for your trekking permit, also known as TIMS. Keep this permit with you at all times. This permit is like a passport, but it is also Nepal's way of keeping track of trekkers to ensure no one goes missing.

Most treks will specify whether your accommodations will be with local families, tents or teahouses. Teahouses are family-run mountain inns. They vary quite a bit with respect to size and comfort. Some have hot showers and heated rooms, while others don't. The good news is that Nepal makes the warmest blankets you've ever seen! Furthermore, most teahouses offer all-day food and chia/chai (tea). Dal bhat is a typical lunch meal, though many teahouses offer Western-style foods, including sandwiches, pasta, eggs, pies and more.
Scams
A typical scam, primarily in Kathmandu, is conducted by men who dress as if they are holy men, also known as sadhus. The scam starts by beckoning tourists to them to take photographs with them. Once the pictures are taken, the "sadhus" demand payment, leaving unsuspecting tourists caught off-guard and feeling cheated. Just avoid them altogether.

Credit card skimming is particularly common at nightclubs in Nepal. So unless you want to spend part of your vacation on the phone with your credit card company dealing with fraudulent charges, steer clear of them or pay cash. If you decide to go to bars or clubs in Kathmandu or Pokhara, drink-spiking is common, especially among tourists.

Taxi drivers have a terrible reputation in Nepal for scamming tourists. Most will refuse to use the meter, charging tourists double or triple the regular fare. You can decide to wait until you find a taxi that will use the meter or attempt to set a fixed price with a driver who refuses to use their meter.

Many scams involve children, particularly the "buy milk for baby" scam. Do your best to avoid these situations at all costs. If you feel sorry for a child, you can buy them food or a small carton of milk and open it for them to consume immediately, but do not do so at the store they're trying to lure you into because the shopkeeper will charge you an excessive amount of money.
Safety
Nepal is generally a very safe country, even for solo female travelers. That said, using common sense and exercising your street smarts never hurts. Never leave your valuables unattended. Don't flash around large sums of cash, fancy jewelry or expensive camera gear. Avoid walking alone at night, particularly in desolate or dark areas. Petty theft, such as pickpocketing or muggings, is the most common but not more than in most American cities.

If you are trekking, never go alone. Always employ the services of a guide and be sure to heed their advice to minimize your risk of injury or illness while in the mountains. Unfortunately, there have been instances of sexual assault against solo female trekkers by their male guides. While it is certainly not the norm, if you want to put your mind at ease, hire a female guide (yes, there are a few!) if you're solo trekking or join a group trek.

Avoid nightclubs in Nepal. After countless scams of having vast sums of money charged to their credit cards and their drinks spiked, there is no real incentive to go. Instead, stick to your hotel bar if you need a drink.
What to pack for Trekking in Nepal
Apart from Travel Insurance, we recommend you bring the following items for maximum health, safety and enjoyment of your trip to Nepal
A final note about travel insurance for the Nepal
I have spent dozens of hours researching travel insurance, including getting quotes and comparing coverage from all the most popular brands. Regardless of where you're going I am confident that you will also find that WithFaye.com offers the best way to compare policies with the ideal combo of coverage and price.
I wish you and yours an incredible journey.
SwiftScore Ranking Methodology
Average price for a 2-week vacation based on a 35-year-old California resident traveling to the Nepal with a $3,500 trip cost
Coronavirus coverage
Cancel for any reason (CFAR)
AM Best rating of the underwriter
Key policy details including cancellation, interruption, emergency medical evacuation, and baggage & personal effects
Ease of sign up
Policy language clarity
User reviews