7 Best Israel
Travel Insurance

Plans for US Citizens in 2023

Updated on September 12, 2023 by Matthew H. Nash – Licensed Insurance Agent

Sandwiched between Africa, Europe, and the Middle East, Israel has one of the most dynamic landscapes of any small country: coastal plains, snow-capped mountains, rocky deserts, and vibrant green valleys. With its diverse and welcoming people, exquisite food, and strong religious and cultural heritage, it's no wonder tourists from the US are drawn to Israel. Since the nature of travel is constantly shifting, travelers face a higher risk of trip delays, cancellations, baggage loss, and medical emergencies. Having the best Israel travel insurance plan can protect all that you've invested in your vacation and help you stay healthy abroad. This article explains the differences between top plans, the level of coverage you may need, and the expected costs. Read more about our unbiased ranking methodology and advertiser disclosure.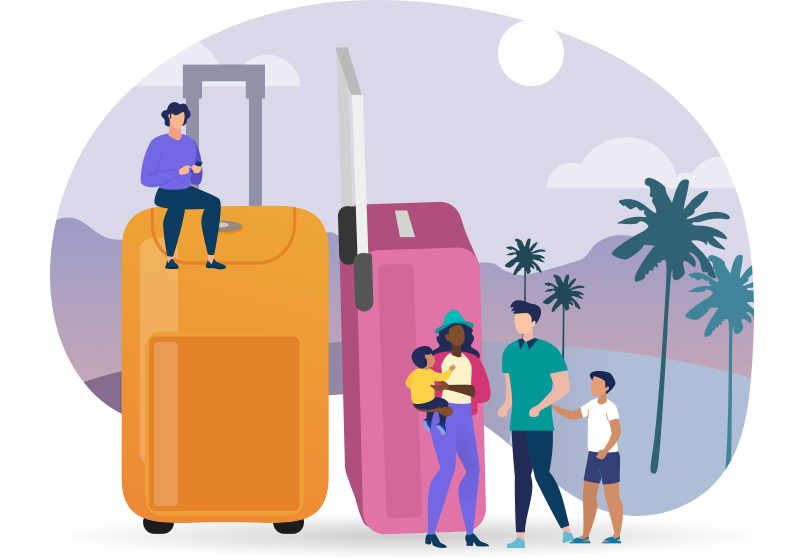 Israel travel insurance FAQs
What is the best travel insurance company?
22 well-established travel insurance companies cater to the diverse needs of American travelers headed abroad. I encourage you to use a comparison site to find the best travel insurance plan since they allow you to search for specific benefits and coverage. I like WithFaye.com because they list policies from the most trusted companies. Their website allows you to search with various filters and provide options that specifically meet your requirements. They also have excellent customer service should you have any questions throughout the buying process.
What is "Cancel for Any Reason" (CFAR) insurance?
"Cancel for Any Reason" (CFAR) is an optional upgrade that allows you to do exactly as the name implies: cancel your trip for any reason at all. The typical reimbursement rate with a CFAR is 75% of the nonrefundable trip costs.
Is it worth getting a "Cancel for Any Reason" (CFAR) upgrade?
"Cancel for Any Reason" packages are helpful for those who want the added financial protection should they need or want to cancel their trip for any reason their standard policy does not cover. As mentioned above, CFAR upgrades usually reimburse 75% of nonrefundable trip costs.
When will my Israel travel insurance kick in?
Your policy will have some pre-departure benefits, like Trip Cancellation, that will financially safeguard against unforeseen events before you even depart for Israel. The rest of your benefits will become active as soon as you leave home for vacation. That said, some travel insurance plans out there require you to travel more than 100 miles for the policy to become active. Always read the full details of your plan and reach out to your provider should you need further clarification.
Do I need travel insurance if I am healthy and in good shape?
While it's terrific that you are healthy and in shape, travel insurance protects you against unexpected events, such as the sudden onset of illness, accidents, lost or stolen property, trip delays, and cancellations. People purchase travel insurance for the peace of mind it gives them, knowing their investment in their trip to Israel is safe.
How do I file a claim with my travel insurance provider?
Travel insurance providers usually have a link on their websites, usually in the footer, that says "Claims," "Make a Claim," "Submit a Claim" or something to that effect. Follow that link, and it will guide you through the entire process and detail the documentation you will need to submit alongside your claim. Most travel insurance companies still allow claim submissions to be made by mail.
What do I do if my travel insurance claim is rejected?
If your claim was rejected, but you believe it is valid, your provider will provide you with possible steps of recourse to follow. Claims get rejected for several reasons: the claim did not fall under the policy's coverage, the claimant did not disclose pre-existing conditions upon purchasing the policy, accurate costs were not submitted or it did not follow the provider's claim submission procedures.
If I forget my laptop on a plane, train or bus, will my insurance policy cover it?
Travel insurance policies provide approximately $500 per lost electronic item. Read any policy's full details before buying to determine if your electronics will be covered and to what degree. You can also inquire whether your travel insurance provider offers added protection for electronics via an upgrade package or policy rider.
Common problems tourists experience in Israel and how to avoid them:
Illnesses
Viral infections such as malaria and dengue do not exist in Israel, so travelers can rest easy knowing those are not concerns. Of course, mosquitoes still exist and come out in full force during summer, along with sand flies, so bring a strong insect repellent.

A potential concern for travelers is heatstroke from being out in the desert during the summer. Remember to wear a hat, stay hydrated and avoid the sun mid-day. Other things to watch out for are jellyfish from June through August, scorpions in the desert, and snakes––the latter being quite rare. Should you be stung or bitten by any of these, get medical treatment as soon as possible. And since Israel has an excellent medical system, you will be in good hands.
Accidents
Accidents in Israel are often the result of something simple such as tripping and falling. That said, foreigners who aren't used to driving in Israel may have accidents. Extra caution and attention will spare you the trouble.
Muggings
While crime in Israel is extremely low, and you don't have to worry much about being mugged or pickpocketed, it is still a good idea to be mindful of what you carry with you and how you carry it. Also, watch out for scams in markets. A perfect example is that you ask how much something is, and the vendor will give you a number that you think is in shekels, but then they demand that amount in dollars. You can avoid such incidents with clear communication and the willingness to walk away from a dishonest salesman. Another scam to watch out for is when a taxi driver wants to negotiate a price instead of using the meter. Insist they use a meter or seek the services of a different taxi driver.
Emergency resources for Israel
Phone numbers
There is no single number to reach all emergency services, so be sure to carry a written note of them with you during your vacation. For the police, dial 100. For ambulance and emergency medical services, dial 101. For the fire department, dial 102.
US embassy or consulate details
The US has an embassy in Jerusalem and a branch office in Tel Aviv. For further information about opening hours, addresses, and available citizen services, consult their website.
Additional information to help travelers have better experience in Israel:
Currency
Israel's currency is called the shekel (ILS). While many places accept USD, it's better for workers and businesses if you pay in shekels as they will have difficulty exchanging small foreign bills and get a less-than-favorable exchange rate. While ATMs are all over Israeli cities, be aware that if you're headed for more rural parts of the country, you will need to withdraw plenty of cash beforehand as ATMs are fewer and further between.

Using your US debit card to withdraw shekels, even with factoring in ATM fees, will get you the best exchange rates possible. You will need cash for street markets, food carts, taxis, and tips; otherwise, most businesses accept debit and credit cards.
Etiquette & Local Customs
Israelis are gregarious and friendly. They love to chat with others, be they, foreigners or locals. Many will be curious about your experience in their country, so feel free to speak with them in English. Most can manage conversations in English just fine, and many like native speakers. Don't be surprised if many want to practice their English with you. And feel free to ask them questions about their country and culture as it is a source of great pride for them.

They are also incredibly attentive hosts who will do their utmost to ensure you are comfortable and happy. You do not need to accept everything they offer, but always remember to say toda raba (thank you). Also, consider bringing a small gift, such as a bottle of wine. If an Israeli invites you out for a meal or coffee, they intend to pay for you. You can offer to pay, but being insistent is considered insulting. You can invite them out on a different occasion and foot the bill if you would like.

In Israel, the work week is Sunday through Thursday, and the weekend is on Friday and Saturday. Shabbat, also known as the Sabbath, commences at sundown on Friday through sunset on Saturday. Avoid smoking on Shabbat, if possible, but at the very minimum, do not smoke near religious sites. While many businesses in Tel Aviv remain open on weekends, this is not the case for most other parts of the country. Expect religious sites to be closed and public transport to shut down.

Many parts of Israel are very much orthodox, especially the communities around religious sites, and thus require that you dress modestly. For men, this means long-sleeve shirts and pants, and for women, long-sleeve shirts with long skirts or pants. Men will also need to cover their heads. Yarmulkes, or skullcaps, are typically handed out on-site to male visitors who do not have them. Keep in mind that Israel can get quite warm in the summer, so you will want comfortable, light-weight, breathable clothes. Do not photograph specific individuals or groups and avoid public displays of affection between men and women in these areas.

Keep in mind that while many parts of Israel are LGBTQ-friendly, there are parts that are not, particularly in Gaza and Palestinian society. Same-sex sex is illegal in Gaza and punishable with a hefty prison sentence.
Food & Drink
For the most dynamic culinary experience, you will want to visit Tel Aviv and Haifa, where there is a mix of kosher and non-kosher foods, everything from sushi to steakhouses to vegan restaurants. Since Israel has such a diverse population, it's safe to say that "Israeli" food is not a thing but rather a blend of food cultures with Middle Eastern foods at the fore. To experience traditional Druze dishes and more rustic cuisine, head to Golan Heights. And for a beach resort vibe and the typical international food scene you'd expect along with it, visit Israel's southernmost port city, Eilat, where they have everything from cheap pizza and burgers to upscale European cuisine.

Israelis are not big drinkers, but they love to have a good time and socialize, which is why major urban centers have a decent-sized bar scene. While they may go easy on the alcohol, Israelis love their coffee. Whether you like espresso-based drinks, creamy iced coffees or Arabic coffee, you'll find something you enjoy.
Getting Around
Being a relatively compact country makes Israel easy to get around. Israeli cities have good public transport but remember that none of it operates on holidays or Shabbat.

Israel has a relatively new train network that continues to be expanded. You can catch a train from Ben Gurion Airport to Tel Aviv, Haifa, Netanya and Herzliya, and some trains serve the coastal region. However, subway systems are in short supply. The four train stations in Tel Aviv are used for traveling outside the city, and the only subway is in the country's third-largest city, Haifa, to help residents get around the hilly landscape.

The most typical way of getting around is by bus. Israel's cities have excellent bus networks, and the country's cities are also linked by buses. While they may be crowded, they are known for being clean and comfortable. As in most places, tickets are available for purchase from the driver or at any bus station.

If you want to visit the desert, Dead Sea, Caesarea National Park, Jaffa Port or Mar Saba Monastery, you may want to join a tour or rent a car. Renting a car in Israel is straightforward and similar to what one would expect in the US. Just remember to get your International Driver's Permit (IDP) from your local AAA office before departing for your trip. The one major difference is that many car rental agencies in Israel limit how far you can drive the car (kilometers/day). After which, you will be responsible for overage fees.

If at all possible, avoid having a rental car while you are staying in Tel Aviv, Jerusalem or any other city. Otherwise, you'll have to deal with nightmarish traffic, moving the car frequently and the hassle of finding parking spots. Be aware that traffic cameras are all over Israel, so keep an eye on your speed and heed all traffic lights.
Immigration
Making your way through Israeli immigration can feel more intimidating than most places as you will undergo detailed questioning about yourself, your line of work, the purpose of your trip, your travel companions, your luggage, and more. You will also go through security, though this will be on par with what you're used to in other countries.

Travelers worldwide are concerned about being banned from entering other countries if they've visited Israel. For this reason, Israel will not stamp your passport. Instead, they will give you a visa card that you must always retain and carry with you, along with a copy of your passport photo page, as proof that you have entered the country legally. You will also need to present it with your passport to an immigration officer upon departure from Israel.
Language
Israel's official languages are Hebrew and Arabic, though many Israelis speak English since it is a required subject in school. Additionally, Israel gets English-speaking movies and television shows without dubbing, improving the people's familiarity with the language.
Police & Military
Security is tight everywhere in Israel. Don't be alarmed if you see military troops patrolling the streets or if you have to go through security and bag checks when entering malls, train and bus stations and other crowded venues. Security checks are the norm throughout the country, and as a result, Israel enjoys low crime rates, especially compared to western countries. Always have a government-issued ID on you and never photograph police or military troops and installations anywhere in the country.
Tipping
Like in the US, tipping is a common practice in Israel. That said, the expectations are a bit different. For example, in restaurants and bars, an appropriate tip is 12-15% of the total and is never included on the bill. Always tip in cash. If you absolutely must add a tip to your card payment, ask if it is possible before paying. Not all payment processing systems are set up to accommodate this. If it is possible, you will have to tell the server how much tip you would like to add instead of writing it on the restaurant's copy of the receipt as you do in the US.

Tipping the hotel staff for good service has become standard practice. Expect to tip porters approximately 7 shekels per bag (always use bills, not coins) and tip room service staff 5% of the total bill. Leaving your housekeepers 7-15 shekels (ILS) each day will undoubtedly get you a sparkling room. Additionally, 7-15 ILS is adequate for valets, and you can tip a bit more for concierges who go above and beyond the call of duty.

If you take a taxi within city limits, tips are not expected. However, you can round up to the nearest significant amount. Always tip a taxi driver who shuttles you to or from the airport. 10% of the total fare is suitable. If you have a taxi driver who shows you around for most of the day, you can tip them 15-20% of their daily rate. For guides on organized tours, consider giving them 10% of the tour per person fare.

Salons and spas are the only places where tipping is not standardized, though most people round up a few shekels to the next significant amount. Of course, if you receive excellent service and want to show your appreciation, a 10% tip is always appreciated.
A final note about travel insurance for the Israel
I have spent dozens of hours researching travel insurance, including getting quotes and comparing coverage from all the most popular brands. Regardless of where you're going I am confident that you will also find that WithFaye.com offers the best way to compare policies with the ideal combo of coverage and price.
I wish you and yours an incredible journey.
SwiftScore Ranking Methodology
Average price for a 2-week vacation based on a 35-year-old California resident traveling to the Israel with a $3,500 trip cost
Coronavirus coverage
Cancel for any reason (CFAR)
AM Best rating of the underwriter
Key policy details including cancellation, interruption, emergency medical evacuation, and baggage & personal effects
Ease of sign up
Policy language clarity
User reviews