7 Best Greece
Travel Insurance

Plans for US Citizens in 2023

Updated on September 20, 2023 by Matthew H. Nash – Licensed Insurance Agent

With breathtaking landscapes, awe-inspiring beaches, mouth-watering food and a rich cultural history as the seat of Western civilization, Greece attracts millions of visitors from all over the globe each year. Of course, with all the uncertainty around travel, having the best Greece travel insurance plan will cover you for lost and damaged luggage, medical emergencies, trip delays and cancellations. This article will explain differences in plans and upgrade packages, various levels of coverage and the costs. Read more about our unbiased ranking methodology and advertiser disclosure.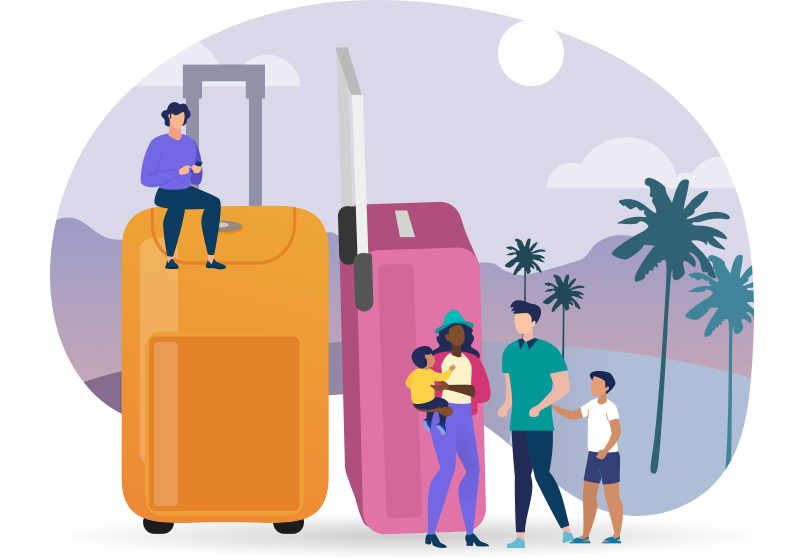 Greece travel insurance FAQs
Is it worthwhile to get Greece travel insurance?
If you want to protect the financial investment you make in your vacation, then getting Greece travel insurance will be worthwhile. A good policy will protect you against trip interruptions or cancellations, medical emergencies and evacuations, and lost, stolen or damaged luggage. You can upgrade your coverage to include "Cancel for Any Reason" (CFAR) insurance. With travel costs high these days, your trip insurance plan will reimburse you in case of unforeseen events.

It also provides essential support during medical emergencies. Whether arranging airlifts, other medical-related evacuations or checking you into hospitals that meet US standards, trip insurance can eliminate unnecessary stress from already difficult situations.

Speaking from experience, having the best travel insurance policy will give you peace of mind while you're on vacation in Greece. And since most plans cost between 2% and 3% of your total trip cost, it's pretty affordable.
What is "Cancel for Any Reason" travel insurance?
"Cancel for Any Reason" (CFAR) insurance is an optional upgrade for most policies. And it does precisely as the name claims: it allows you to cancel your trip for any reason. The typical reimbursement rate for CFAR insurance is 75% of nonrefundable trip costs that your standard policy does not cover.
How far from home do I have to travel for my Greece trip insurance policy to go into effect?
A major pre-departure benefit that immediately goes into effect is Trip Cancellation. You become eligible for the remaining benefits upon leaving your house for your Greek vacation. Keep in mind that some policies require you to travel at least 100 miles from home before those benefits become active.
If I end up hospitalized in Greece, will travel insurance cover my medical bills?
Since most US health insurance policies do not cover medical expenses abroad, and those that do only offer partial coverage, Greece trip insurance is the best option. Also, note that Medicare does not extend coverage internationally.
How many people can I insure on my Greece trip insurance plan?
Most travel insurance companies will allow you to insure as many as 10 people on a Single Trip plan. However, you must all have identical travel itineraries and live in the same state. You must purchase separate policies if you plan to vacation with friends and family living in other states or have different travel itineraries.

That said, if 8 or more of you are traveling together, consider purchasing a group policy, as they tend to be more economical than Single Trip plans but still offer the same great benefits. One of the best things about group policies is that they do not require insured travelers to have the same itineraries or live in the same state. Their only requirement is that all travelers be US residents.
Why do I need Greece trip insurance if I am fit and healthy?
Travel insurance protects you financially against unforeseen events such as accidents, injuries, illnesses, trip delays, and cancellations as well as lost, damaged or stolen property. It even covers any medical care or medical evacuations you might need.

So while it's fantastic that you are fit and healthy, you are still equally susceptible to all of the unexpected events mentioned above. Having the best trip insurance policy can put your mind at ease, knowing that you and your investment in your vacation to Greece are covered.
If I forget my laptop on a bus, train or plane, will travel insurance still cover it?
Most travel insurance plans do not provide extensive coverage for electronics–typically only $500 per lost, stolen or damaged item. Check the full policy details to be sure it offers you the coverage you need and want. If you want more protection for your electronics, it doesn't hurt to ask your trip insurance provider if they offer any upgrade packages or policy riders that will expand your coverage.
How do travel insurance companies define baggage loss? What do baggage loss benefits entail?
Baggage loss benefits cover your baggage and other personal effects should they end up lost, stolen or damaged during your trip to Greece, even when they are checked with a hotel, tour operator or common carrier. You would be eligible for reimbursement up to the Maximum Benefit Amount listed in your policy, less whatever the responsible party reimburses you.

Be aware that the Maximum Benefit Limit stated in your policy is per person and is the highest amount your insurer will reimburse you if any of your belongings are lost, stolen or damaged. However, other benefit terms affect the amount you get reimbursed for individual items.

For example, the Per Article Benefit is the highest amount your insurer will reimburse you for any lost, stolen or damaged item until you reach your Maximum Benefit Limit. Another such limit is the Combined Article Limit that applies only to furs, jewelry, watches and electronic devices, such as cameras, smartphones, laptops and video cameras. The Combined Article Limit is the highest amount your travel insurance provider will reimburse you for one or more of these items, regardless of how many of them you lose and their total market value. (Note: Not all states have Combined Article Limits in their travel insurance policies.)

Let's review a hypothetical scenario to make this easier to digest. Imagine your policy has a $2,000 Maximum Benefit, a $500 Per Article Benefit and a $500 Combined Article Limit. Now say that one of your bags is lost, stolen or damaged. Therefore, your insurance provider will reimburse you no more than $500 (Per Article Benefit), up to $2,000 (your Maximum Benefit). So, let's say you lose a fur coat valued at $650 and a watch valued at $450. The most your insurer will reimburse you is $500 per the Combined Article Limit terms. Therefore, no matter what you lose, the most you can receive via reimbursement as per your policy is $2,000 (per insured traveler).

It is essential to mention that proving ownership and loss or damage requires sufficient documentation. Prior to leaving for your trip, you can take photographs and videos of everything you're packing and gather any receipts for those items you may have. Should anything happen to your luggage, a police report or letter from the responsible party will be necessary. Consult your policy or travel insurance provider for further clarification.
Will trip insurance cover me if I want to participate in any adventure sports and activities?
Greece is a country of great weather, stunning natural beauty, and diverse terrains, making it a fantastic destination for adventure sports and activities. Many reputable travel insurance companies extend coverage to a diverse selection of outdoor sports and activities, including diving, hiking, sailing, biking, sea kayaking, rock climbing, and skiing.

To find the policies that cover you for the sports and activities you want to do:
Use SquareMouth.com and select the "Sports & Activities" filter. You can input those you plan to participate in during your Greek vacation.
Once you choose all that you're interested in, click "Search," and it will bring up all the policies that offer the level of coverage you need.
Before buying a policy, read the full details to ensure you understand all the benefits and exclusions.
Most common problems while traveling in Greece and how to avoid them:
Illnesses
The great thing about Greece is that, like most southern European countries, you don't have to worry about contracting any exotic illnesses as you would in tropical destinations. Of course, there will always be the odd food poisoning incident, but the most frequent illness among travelers in Greece is sunstroke (aka heat stroke).

If you plan to visit Greece between June and September, you must take extra precautions to stay healthy and avoid sun/heat stroke. The sun can be intense in Greece. Temperatures often rise above 100F during the summer months and are regularly in the 90s. To keep healthy, stay out of the sun during mid-afternoon hours when it's at its most intense. Another is to stay hydrated by drinking plenty of water, consuming moisture-rich foods, such as fresh fruit and vegetables, and avoiding too much alcohol and caffeine.

Symptoms of sun/heatstroke include headaches, high fever, nausea, disorientation and delirium, vomiting, increased heart rate, abnormal sweating and loss of consciousness. Should you or your travel companions experience any of these symptoms or a combination, seek medical treatment immediately. Sun/heat stroke is serious since it can cause the brain and other organs to swell, potentially ending in long-term damage or death.

Additionally, if you plan to visit rural, rocky or agricultural areas, watch out for Greece's only venomous snake: the horned viper (also known as the Ohia snake). They will only strike if they feel threatened or if you accidentally step on them, so remember to watch where you walk.

Be forewarned that in recent years, Greece has suffered several wildfires during the summer season, which resulted in extreme air pollution, leaving countless people hospitalized for smoke inhalation. If there are fires, check with your hotel concierge or staff about safety precautions, such as which areas to avoid. The other natural threat that is on the rise is earthquakes. Whether in Athens or far out to sea on the island of Crete, geological activity happens with earthquakes in the last few decades as over 6.0 on the Richter scale.
Accidents
Most accidents and injuries tourists experience in Greece involve tripping and falling, cars or mopeds, adventure sports and activities. Cuts, scrapes, twisted ankles or wrists and broken bones are typical injuries. If you choose to go hiking, rock climbing, diving and beyond, book your excursions with a reputable tour operator and purchase your travel insurance in advance.
Muggings
While muggings are quite rare in Greece, the economic crisis over the last 15-20 years has caused a rise in crime. Pickpocketing is more common, so be conscientious about your belongings, especially on public transportation. Lock your valuables in your accommodation and carry only what you absolutely need. Body purses and money belts are wise choices. Alternatively, some people wear small backpacks on their chests when walking around crowded, touristy areas. Street smarts are necessary, but being overly paranoid is unnecessary.
Emergency resources for Greece
Phone numbers
The pan-European emergency number is 112. If you need to reach the tourist police, dial 1517. Call 166 and 199 to contact the fire department or request an ambulance.
US embassy or consulate details
The US Embassy in Greece is located in central Athens, and you can find a US Consulate General in Greece's second-largest city, Thessaloniki. Please visit their website for their address, phone number, opening hours, and detailed information regarding citizen services.

Some travelers register their travel plans with the Department of State's Smart Traveler Enrollment Program for added peace of mind. Doing so will give you travel advisories for Greece relative to your specific trip dates. It also makes communication between you or your family and the US Embassy in Greece significantly easier should any emergency occur.
Other local knowledge that is helpful for travelers
Accommodation
As with most countries, you'll find a wide range of accommodations in Greece to suit most budgets. The choices are seemingly endless from hostels to pensions, small family-run hotels, mid-range hotels, luxury hotels, vacation and private room rentals, camping and more. One thing to note about accommodations here is that many places aren't great value for money. For example, what you might pay for a hotel room in the center of a major German or French city, will not necessarily get you a room or rental of equal quality in Greece. Also, hostels tend to be few and far between compared to most other European countries, and those that do exist are generally over-priced and unpleasant. You're better off making reservations at small, family-run hotels or mid-range to luxury hotels and vacation rentals to get the most out of your money.

Note: Camping is illegal outside of designated campgrounds/areas.
Adventure Sports & Activities
There's more to Greece than just mouth-wateringly delicious food and beach chairs in the sun. It is a dream destination for those who love the sun, clear aquamarine waters, outdoor sports, and activities. Whether you're into diving, rock climbing, sea kayaking, sailing, hiking, biking or skiing––yes, Greece gets snow!––Greece is a dream destination. Be sure to get a travel insurance policy that will cover you for your preferred sports and activities. See the final question in the FAQ section above for more information.
Communication
Many visitors find having mobile phone service and connection to the internet essential. WiFi is readily available at cafés and hotels in popular tourist hotspots throughout Greece. Your first option is to ask your US mobile phone carrier to add an international roaming plan for Greece to your phone for your trip dates. While this may sound convenient, it's the priciest choice, as such plans rarely offer much data.

As mentioned above, the cheapest option is to keep your phone on airplane mode and access the internet via free WiFi networks. Be aware that many cafés put passwords on their WiFi, so you can usually find it at the bottom of your receipt. This is an excellent choice for people who don't need to be connected 24/7 and prefer using email and messaging apps to stay in touch with family and friends in the US instead of calling.

If you want around-the-clock calling, texting and internet access but don't want to spend hundreds of dollars, your best option will be to get a local prepaid SIM card when you arrive in Greece. The mobile phone carrier with the broadest range of coverage is Cosmote (aka OTE), but Vodafone and Nova are the other major ones. You can ask your host or hotel concierge for information about the nearest shop for these carriers, or you can use Google maps. You will need to check with your US mobile phone carrier about unlocking your phone before you leave home, though.
Currency
Since Greece is part of the eurozone, along with 19 other countries, its currency is the euro (€). The euro banknotes come in denominations of €5, €10, €20, €50, €100 and €200, along with €2, €1, 50-cent, 20-cent, 10-cent, 5-cent, 2-cent and 1-cent coins.

ATMs abound in urban hubs but less so in rural areas. While many places accept credit cards and debit cards, many businesses still operate on a cash-only basis, so always have plenty on hand.

While there are some foreign currency exchanges, you will get the best exchange rate by using local ATMs to withdraw cash from your US bank account, even if you factor in the international fees. Stick with ATMs located directly outside a bank branch, such as Alpha Bank, Eurobank, Piraeus Bank, etc., as they are serviced regularly and less prone to card-skimming scams.
Food
Greek food is more than just gyros and souvlaki. It's abundant in fresh vegetables, herbs, fish and meat that melts off the bone. It's known for being healthy, especially as though the country abounds in beautiful, fresh produce. So, vegetarians and vegans can get by just fine in most places.

So, what can you expect from Greek food? As you might have guessed, Greeks use a lot of local extra virgin olive oil (EVOO) on their food, along with vinegar, salt and pepper. In addition, herbs, especially dill and oregano, play prominent roles in the flavoring of Greek dishes.

Meals usually entail at least a few mezedes–tapas or appetizers–and are shared family-style. Examples of such dishes include horta/vlita, saganaki, gavros, fasolakia, dolmades and choriatiki.

Horta refers to bitter wild greens that are foraged, particularly chicory, dandelion and mustard. Whereas vlita refers to greens grown in the garden with a much mellower taste, specifically green amaranth. Both horta and vlita are boiled and served with a healthy topping of EVOO and fresh lemon juice or red wine vinegar.

Another popular small dish is fasolakia. This is slow-cooked green beans in tomato sauce, onions, potatoes and EVOO. Dolmades are another favorite among Greeks.

Dolmades are boiled grape leaves stuffed with rice, a little lemon juice, spices and herbs. These can be purely vegan or made with meat, so check the menu or ask your server to ensure you're getting what you want.

Choriatiki, a traditional Greek salad, is a must during your vacation. It consists of tomatoes, cucumbers, red onions, olives (usually Kalamata), feta cheese, salt, vinegar and EVOO.

Saganaki is a delightful, albeit somewhat unhealthy, starter. You eat fried kefalograviera cheese with fresh bread and lemon juice. Kefalograviera is a firm, sharp cheese that's slightly salty and is made from either goat or sheep's milk.

A table without gavros is not a Greek table! Gavros marinatos are anchovies marinated in EVOO, lemon and oregano. But if you're drinking ouzo with Greeks –local anise and licorice-flavored clear liquor–grilled octopodi (octopus) will most likely take the place of gavros marinatos.

Tiropita and spanakopita can also be eaten as a snack, mezede or meal. The former is cheese pie (usually feta) and the latter is spinach and cheese (feta) pie. Both are made with phyllo dough, dressed with butter or olive oil, and baked until flaky and lightly browned.

Of course, there are many more, but this is a handful of some of the most typical dishes. Sometimes, you will see Greeks create a meal of one or more of these mezedes, along with a slice or two of bread.

But don't miss out on some of their main dishes either. One of the most famous is moussaka. This rich, creamy casserole is made of a spiced meat sauce (lamb or beef), layers of eggplant slices, cheese and bechamel sauce. It may often include other vegetables, such as zucchini and potatoes. A similar dish is papoutsakia, baked eggplant stuffed with ground beef, chopped tomatoes, garlic and bechamel sauce. Pastitio is Greek beef lasagna and is highly aromatic.

A stuffed vegetable dish perfect for vegetarians and vegans is gemista. Gemista is baked tomatoes stuffed with rice, herbs and aromatics, dressed with EVOO and topped with breadcrumbs. An alternative to tomatoes is stuffed peppers. Sometimes, gemista is stuffed with ground meat (turkey, beef or pork) and rice, so double-check with your server before placing your order. Since Greeks eat seasonally, this is known as a summer dish.

Another popular summer dish that appeals to all, but especially to those who don't eat meat, is briam. This is the Greek version of ratatouille, consisting of eggplant, zucchini, potatoes, red onions, EVOO, garlic, herbs and fresh parsley.

And you can't talk about Greek food without mentioning souvlaki. Souvlaki is marinated meat cooked on a skewer and served accordingly or in a warm pita with tzatziki sauce, red onions, garlic, tomatoes and sometimes crispy lettuce. While it is traditionally made with chicken, beef or lamb, fish souvlaki is becoming more common around Greece.

Remember to try some sweets too! The Greeks may have a diet laden with fresh vegetables and herbs, but they also have sweet tooths. They like their desserts rich and sugary. Baklava is the richest and most widely known Greek dessert. It's made with flaky phyllo dough, honey, cinnamon, cloves, nuts (pistachios and walnuts) and vanilla.

A close second to baklava for richness is galaktoboureko. Like baklava, galaktoboureko is made with phyllo dough, filled with butter and semolina custard, topped with orange-spiced syrup and baked. A cousin of galaktoboureko is bougatsa, which is cheese or semolina custard wrapped in phyllo dough and baked. However, unlike galaktoboureko, it's topped with powdered sugar and cinnamon, not drenched in syrup.

Lastly, one of the most popular drinks in Greece, especially when the weather is hot, is a frappé. It's made with instant coffee sugar and ice that is either shaken or put into a special mixer and topped with cold, frothed milk. However, two trendy variations have sprung up over the years: a freddo cappuccino (an iced cappuccino with frothed milk and foam) and a freddo espresso espresso shaken with ice cubes.
Getting Around
With a large mainland and 227 inhabited islands to explore, knowing the best ways to get around Greece will make your trip better and save you plenty of time and energy.

Greece has an extensive network of ferries, with frequent trips to most destinations each day throughout summer, including hydrofoils known as "flying dolphins," catamarans, overnight ferries and fast boats that can accommodate cars. The largest port in Greece is Piraeus, on the outskirts of Athens, which you can access via the metro. Since the boats mentioned above book out well in advance, be sure to buy your tickets long before arriving in Greece. Also, always check the online schedule the day before your ferry leaves in case of any changes to your itinerary due to weather and sea conditions.

If you prefer to fly to the Islands or other destinations within Greece, you'll first fly into Athens' Eleftherios Venizelos International Airport (ATH) and then hop on another flight from there. The major domestic airlines include Olympic Air, Aegean Airlines and EasyJet. Between the three carriers, you shouldn't have any trouble making your way to Santorini, Crete, Corfu, Thessaloniki and beyond. Of course, it's always worth spending 3 full days in Athens to visit the Acropolis, roam the beautiful streets of the Plaka and dine on traditional Greek food, hike Mount Lykavitos and visit museums and street markets before heading off to other corners of the country.

If you want to adventure around the mainland, you have two options: by bus or car. Please note that Greek trains will be a serious disappointment, as they are not of the same high standard you might experience in other major European countries. For example, the rail network does not link the entire mainland, and the trains are older and not very clean.

On the other hand, you can get just about anywhere on the Greek mainland by bus. A government organization called KTEL runs the nation's bus system, which includes various companies. If you need help booking tickets, ask your hotel's concierge or vacation rental host.

Renting a car or a moped is an incredible way to explore this stunning country, but driving in Greece isn't for the faint of heart. Greeks tend to be high-octane drivers, zipping around with little regard for the cars and people around them. There is also the challenge of navigating narrow, winding, poorly-lit roads and busy urban streets. On the other hand, the advantage of renting a car is that you can visit small, remote villages that most tourists rarely ever come across.

If this sounds like your preferred mode of transportation, remember that most rental cars in Greece have manual transmissions (standard). To rent a car or a moped, you will need your US driver's license and International Driver's Permit, which you can get from AAA (American Automobile Association).

Lastly, before you leave home, download Google Maps for Greece so that you can access them without needing to use up data or find a WiFi connection.
Language
A large portion of the Greek population is either proficient in English or equipped with enough of the language to answer your questions. Learning a bit of Greek before your trip never hurts, especially since Greeks are such hospitable and friendly people. They appreciate even the smallest of efforts from visitors.
Greek is one of the most ancient languages still used today, and even as many as 40,000 English words are derived from Greek. So while it may be quite a complex language with an alphabet all its own, learning some practical words and phrases is easy.
hello/goodbye (formal) – yassas – Γειά σάς (YAH-sas)
hello/goodbye (informal) – yassou – Γειά σου (YAH-soo)
hey/bye – yah – Γειά (yah)
good morning – kalimera – καλημέρα (kah-lee-MER-ah)
good afternoon/evening – kalispera – Καλησπέρα (kah-lee-SPER-ah)
good night – kalinikta – καληνύχτα (kah-lee-NEEKH-tah)
please – parakalo – Παρακαλώ (para-kah-LOE)
thank you – efxaristo – ευχαριστώ (eff-kha-ri-STOE)
yes – nai – ναι (neh)
no – ohi – oχι (OH-hee)
Do you speak English? – Milate Aglika? – Μιλάτε αγγλικά (Mee-LAH-teh
ag-li-KAH)?
excuse me/sorry – signomi – Συγνώμη (seeg-NO-mee)
Local Customs & Etiquette
Greeks are incredibly welcoming and proudly share their country and culture with visitors. If a local invites you to their home for lunch or dinner, your acceptance will bring them much pleasure. Remember to take along a small gift, such as chocolates or flowers. If a Greek leans in to kiss you as a greeting, be aware that they kiss both cheeks, not one. While this gesture is reserved for more personal interactions, don't be surprised if the Greeks you meet prefer it to hand-shaking.

Another thing to consider is that while the younger generations are pretty modern and open-minded, older generations are quite conservative. Therefore, go easy on the PDAs. If you want to be respectful, simply observe the locals and act accordingly.

Many Americans will find that Greeks have a very different rhythm to their days than we do in the US. For example, during the week, shops are often open from 9 am to 9 pm but will close between 2-5 pm or 2:30-5:30 pm. This is equivalent to the Spanish siesta, or nap/rest time, and it also functions as their lunch break. Some shops in touristic areas will remain open all day, but it's best to know these approximate hours as many still do not. Additionally, shops will stay open until 7 or 8 pm on Saturday. However, besides some restaurants and cafes, most shops, including grocery stores, will be closed on Sundays. Equally as important to note is that Greeks take a very laid-back approach to clock time.

Breakfast isn't huge in Greece, but going out for a British or American-style weekend brunch is becoming trendy. Most Greeks will grab a pastry, sweets, and coffee around mid-morning instead of having a full meal. As mentioned above, they eat lunch mid-afternoon, will have another snack early in the evening and then eat dinner around 10 or 11 pm, particularly during the warmer months. The good news is that Greeks don't expect tourists to keep those hours too, so plenty of restaurants will be open to serve you dinner earlier.

Another aspect of life in Greece worth mentioning is that while Greeks are very casual at the beach, they tend to dress up anywhere else they go. It's frowned upon not to present oneself well, so don't be surprised if you see locals dressed to the nines.

Coming from the United States, arriving in a country where half the population smokes cigarettes can be shocking. Greece passed a stringent smoking ban in restaurants, cafes, public transport, and workplaces in 2008. However, they very rarely enforce it. If you want to minimize your exposure to second-hand smoke, grab a seat outside whenever possible.

The primary religion is Greek Orthodox (Christianity), which is quite conservative. Therefore, a specific dress code is expected when visiting a church or monastery. At the minimum, women should have their shoulders covered and their elbows. Long, loose, ankle-length skirts are also customary. However, if women are wearing pants, they usually wrap a sarong around their waists. For men, long pants and a shirt covering your shoulders are expected.

Greece is known for having incredible nightlife, particularly on the more popular islands and along the coast outside of Athens. That said, it's not common for Greeks to get rip-roaring drunk, so do show some restraint when drinking. Also, when you're in cafés, do not feel rushed to vacate your table. In Greece, people enjoy life, nurse their coffees, and often chat with friends and family for hours. The point is: enjoy yourself!
Safety
Greece is a relatively safe country, so you probably won't witness any violent crime outside periods of unrest and protests. However, due to the ongoing financial and refugee crises, certain areas may experience more crime, such as pickpocketing and muggings. In central Athens, you will also witness a fair bit of homelessness.

Drinking tap water on the Greek mainland is safe, but when you visit the Islands, opt for bottled water. The primary reason for this is that water is a scarce resource on most Greek Islands, and hotels use the majority of it for laundry and bathing. A second reason is that tap water is a bit salty on some islands, like Hydra.

It would be best never to leave your wallets, cell phones or other valuables on cafe tables while enjoying a drink or meal, especially in popular tourist areas. A scam in which young children approach cafe customers with a map, asking for help with directions or offering advice on where you should visit. They usually hold the map between you and your valuables, so you don't notice their partner-in-crime swiping your belongings.

A common scam that targets solo male travelers is carried out by women who lure them into bars in cities, tourist towns and port towns across the country. This is especially true of the area around Syntagma Square (Constitution Square) in Athens. The women are prostitutes but never let onto it, and they engage men in conversation, expecting the men to buy them drinks. Then, the bar hits the men with extortionate bills whenever they decide to leave. And these unsuspecting men often get threatened with great bodily harm if they don't pay.

Watch out for little old ladies dressed as nuns. They are usually solo. If one tries to give you a cross, refuse it with a firm 'no' and walk away. Should she pursue you a bit, repeat your firm 'no.' When you're distracted, these ladies will try to snatch your bags or belongings.

Lastly, some taxi drivers may try to scam you. Some will say you paid them less than you actually did so that they can give you back less change. Others may try to charge you a higher rate for a ride to/from the airport than the rates enforced by law. You can use this website to determine the appropriate fares for these specific rides. If you prefer ride-hailing apps, use Beat, as Greece banned Uber. Beat's app is simple to use and very similar to Uber's.

See the section after the travel insurance FAQs called "Most common problems while traveling in Greece and how to avoid them" for safety and health issues related to natural disasters.
Taxes
When shopping, ask the shopkeepers if they offer duty-free shopping, and if so, what is the minimum purchase required to get a VAT (value-added tax) receipt. The stores that do will provide you with the appropriate paperwork you will need to present at the airport for your refund. Ensure the shop stamps the refund form and that you hold onto all your receipts. Otherwise, the customs authorities may consider it invalid. You will need these papers whenever you depart Greece or the European Union (in case you plan to go to other countries after Greece).
If you pack any items in your checked luggage that you plan to get a VAT refund for, let the airline's check-in agent know that you'll have to take your bags to get your tax refund. You can usually find the customs and VAT refund offices just before passport control, but it doesn't hurt to ask the check-in agent to point you in the right direction.
After a customs agent approves your VAT refund and inspects your duty-free purchases, they'll deliver your luggage to your flight for you. Most refunds are made immediately at the airport, but it can take 45 minutes to 1 hour to process them, so remember to factor in the extra time needed and arrive at the airport well in advance. Further information on duty-free shopping and VAT refunds within the EU is available at Global Blue.
Tipping
Tipping 10-15% is customary in Greece when dining in restaurants. Tipping 50 cents or rounding up to the next euro is appropriate if you're grabbing a coffee in a cafe. Most people round their bills up in tavernas, casual Greek restaurants filled with traditional food and wine. If your bill is €45, many people will leave €50. Of course, you can always tip more if you receive excellent service, but tipping 20% or more is not expected in Greece as in the United States.
If you end up in a restaurant or taverna and they put bread on your table, tell them immediately if you don't want it. Otherwise, this will end up on your bill as a "service" or "cover" charge (KOYBEP in Greek).
Tipping, when it comes to hotel staff, depends on the type of hotel. At high-end luxury hotels and resorts, always tip porters, room service attendants and housekeepers.In such settings, tip porters €2-3 per bag minimum (never less than €5 total), €5 per day for housekeepers and a few euros for room service or any poolside attendants (drink deliveries). If you stay at more modest hotels, you can slightly scale back your tips. And if you book into a family-run hotel, you do not need to tip the owners should they offer to help you with your luggage.
If you decide to take any free walking tours, what you tip will depend on the length. €10 for a tour of 2 hours or less is appropriate. Consider adding €3-5 for each additional hour. However, if you take a private tour, tip your guide 10-15% of the tour cost. You may want to tip the tour driver as well.
When it comes to taxis, most people don't tip their drivers. Instead, they round up to the nearest euro. That said, if your taxi driver goes out of their way to help you with your luggage or drives you quite some way, then definitely tip them.
Lastly, should you ever have food delivered, €2-3 should be adequate for orders between €15-30. However, consider increasing that tip accordingly if you have a large or expensive order.
Ultimately, your tips go a long way in the lives of Greeks, whose cost of living is comparable to many other European countries but whose wages are significantly lower.
What to pack for Greece
Apart from Travel Insurance, we recommend you bring the following items for maximum health, safety, and enjoyment of your trip to Greece.
A final note about travel insurance for the Greece
I have spent dozens of hours researching travel insurance, including getting quotes and comparing coverage from all the most popular brands. Regardless of where you're going I am confident that you will also find that TravelInsurance.com offers the best way to compare policies with the ideal combo of coverage and price.
I wish you and yours an incredible journey.
SwiftScore Ranking Methodology
Average price for a 2-week vacation based on a 35-year-old California resident traveling to the Greece with a $3,500 trip cost
Coronavirus coverage
Cancel for any reason (CFAR)
AM Best rating of the underwriter
Key policy details including cancellation, interruption, emergency medical evacuation, and baggage & personal effects
Ease of sign up
Policy language clarity
User reviews