7 Best Dubai
Travel Insurance

Plans for US Citizens in 2023

Updated on September 12, 2023 by Matthew H. Nash – Licensed Insurance Agent

With its incredible skyline, impressive souks, shopping malls and delicious food, Dubai attracts visitors worldwide for a unique urban desert experience. Of course, with the landscape of travel being in constant flux, travelers have a heightened risk of experiencing luggage issues, having trip cancellations and delays or experiencing medical emergencies. By purchasing the best Dubai travel insurance policy, travelers can protect themselves financially against unforeseen events that could interfere with their vacations. In this article, I elaborate upon differences in the leading plans, various coverage levels, and their respective prices. Read more about our unbiased ranking methodology and advertiser disclosure.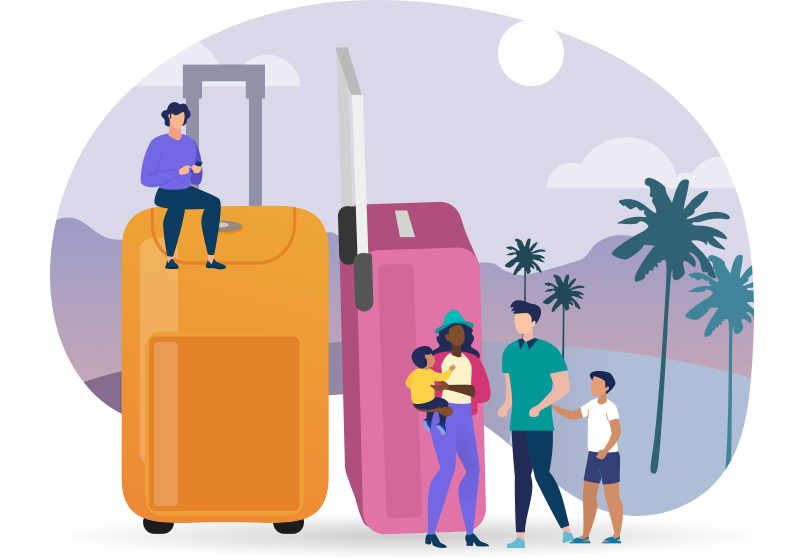 Dubai travel insurance FAQs
Which is the best travel insurance company?
With nearly two dozen reputable travel insurance companies, I encourage travelers to use a comparison website to find a plan that meets their needs. I recommend WithFaye.com since they only feature policies offered by the most highly regarded providers out there. They also have filters you can select to refine your search and excellent customer service.
Can I buy Dubai trip insurance once I'm there?
I encourage travelers to purchase Dubai travel insurance before leaving home on vacation. That said, you can always buy a plan after your trip has begun. If you purchase travel insurance once you're already in Dubai, be aware that it will only protect you and any other travelers insured on your policy from the date of purchase and cannot be used retroactively. Therefore, it will not cover any events that occurred on your trip, medically or otherwise, prior to the date of purchase.
How long will Dubai travel insurance last for?
Single-trip insurance covers you from when you leave home for your vacation until you get back. Be aware that International Medical plans are policies that do not offer Trip Cancellation benefits. These can provide coverage for up to a year; some will even allow you to renew them for 3 years. Furthermore, annual trip insurance plans offer coverage for medical treatment and evacuation for multiple trips in a year.
How far do I have to be away from home for Dubai travel insurance to take effect?
This depends on which benefits we're talking about. For example, Trip Cancellation benefits protect you against unexpected events and will reimburse you for trip costs before leaving home for Dubai. However, other benefits will kick in as soon as you leave home. Of course, this differs from one policy to another, some of which require you to be 100 miles from home for it to become active.
What is the definition of trip interruption?
Trip Interruption is when unexpected, extraordinary events require you to return home earlier than planned. Events that would make you eligible for these benefits include:
terrorist attacks
inclement weather
termination from your job
illness
injury or death of you or anyone insured on your policy
Trip Interruption is a post-departure benefit because it goes into effect once you leave home on vacation.
Will Dubai trip insurance provide coverage for a relative's death?
This depends on the travel insurance policy you purchase. Under some plans, you may not be eligible for bereavement benefits if a relative commits suicide or dies from a pre-existing medical condition. This is often the case with the cheapest travel insurance policies. That said, plans with higher premiums tend to reimburse insured travelers, irrespective of a relative's cause of death. Always check the full details of any policy you're considering buying.

You will also need to verify how each insurance company defines "covered relatives." Does this include cousins? How about brothers and sisters? And grandparents? Every insurance provider is different, so this is worth clarifying before you buy a policy.
If I forget my laptop on a train or plane, will trip insurance still cover it, even though it's not stolen?
The majority of travel insurance policies offer very little coverage for electronics, typically $500 per item lost. Read the full plan details to find out if it covers your laptop and, if so, for how much. It never hurts to check with your provider to see if there is an upgrade package or policy rider you can buy to expand your coverage. Your home insurance provider may also cover your electronics when you're traveling, so be sure to consult them as well.
How do travel insurance companies define baggage loss? What does this insurance benefit cover?
Should your baggage or any personal effects get lost, stolen, destroyed, or damaged during your trip, your insurance provider will reimburse you up to your Maximum Benefit Amount minus whatever the party responsible for the loss reimburses you. This protection also includes whenever your possessions are checked with a common carrier, travel supplier, or hotel.

Maximum Benefit Limits are stated in every policy on a per-person basis and is the highest amount your provider will reimburse you for lost, stolen, or damaged luggage. However, total reimbursements per person are calculated in part by the Per Article Benefit. A Per Article Benefit is the highest dollar amount you can receive from your insurance provider for any item that may have been lost, stolen, or damaged.

Another factor determining the amount you are reimbursed is the Combined Article Limit, which applies to specific items such as jewelry, watches, furs, and electronic devices (including but not limited to laptops, cameras, smartphones, video cameras, etc.). Therefore, if you lose one or more of these items, the most you will get reimbursed for them is the dollar amount stated in your policy under the Combined Article Limit, regardless of the item(s) total value. It is worth noting that depending on your provider and your state, there may not be a Combined Article Limit, which means you may get reimbursed more.

For example, let's say you have a policy with a $2,000 Maximum Benefit, a $500 Per Article Benefit, and a $500 Combined Article Limit. If one of your bags gets lost, your insurer will reimburse you no more than $500 per item. Therefore, if you lose a leather jacket valued at $700, the most your provider will compensate you is $500, regardless of whether you've used your Maximum Benefit or not. However, let's imagine you lose three items on the Combined Art list. The most you will receive is $500, even if your lost items are valued much higher. Total reimbursements for all possessions must not exceed the Maximum Benefit of $2,000 per person.

It is important to note that you will need sufficient documentation to prove possession and loss to get reimbursed. Such documentation may include receipts, photographs of the items, police reports, and letters from the responsible party. Always review your policy's full details for more details.
Common problems tourists experience in Dubai and how to steer clear:
Illnesses
The most frequent illness travelers to Dubai experience is heat stroke/sunstroke and dehydration. You can prevent both by staying inside during the hottest hours of the day. Nearly every building in downtown Dubai is air-conditioned, so retreat somewhere comfortable to stay cool. You will also want to consume hydrating foods and drinks, such as freshly pressed juices, fruits, and vegetables, and reduce your intake of caffeine and alcohol as they dehydrate. If you're in this Emirati city during the summer, keep your sun exposure to a minimum as temperatures tend to exceed 100 degrees Fahrenheit nearly every day, and it's not out of the question for some days to get up into the 120s.

Another thing to be aware of is mosquitoes, which make their presence known during the cooler months. (Yes, they exist in the desert.) Remember to use a strong insect repellent, including on your feet. It reduces your potential exposure to mosquito-borne diseases such as the Zika virus, malaria, and dengue fever. If at any time during your trip you come down with a fever, full body aches, and pains, chills, loss of appetite or disorientation, or a combination of these symptoms, consult a doctor immediately. The good news is that Dubai has excellent medical services.
Accidents
The most common of accidents amongst tourists in Dubai is car-related. Driving in Dubai can be a wild and intimidating experience, with 8-lane freeways and incredibly high speed limits. Accidents like tripping and falling are typical, leading to twisted ankles, scrapes and bruises, and broken bones.
Muggings
Dubai is an incredibly safe city, and muggings and other violent person-to-person crimes do not frequently occur. That said, pickpockets are active throughout the city, so be sure to secure your wallet and other belongings appropriately. Also, be mindful about any bags or purses you carry with you and keep them close to your body and in your line of sight.
Emergency resources for Dubai
Phone numbers
In case of an emergency during your time in Dubai, dial 999 for the police, 998 for ambulance services, and 997 for the fire department.
US embassy or consulate details
While the US Embassy for the United Arab Emirates (UAE) is in Abu Dhabi, there is a consulate in Dubai. Refer to their website for citizen services, hours of operation, address, and phone number.
Additional information to help travelers have a better experience in Dubai:
Communication
As a traveler, getting online for free is relatively easy in Dubai. Most cafés, coffee shops, malls and hotel lobbies have free WiFi. Keeping your phone on airplane mode and using email and messaging apps may be the cheapest way to communicate with loved ones back home while on vacation in this stunning Emirati city.

If you prefer to sign up for an international roaming plan, ensure you have an unlocked multiband GSM phone. If you are uncertain about your phone, check with your carrier. As long as your phone is paid for in full, most mobile phone carriers in the US will unlock it for you so you can purchase a SIM card once you get to Dubai. You can access free public WiFi throughout the Dubai Metro, at the beach, and in many other parts of the city with a local mobile number.

Another option is renting a local mobile phone once you arrive in Dubai. Most car rental companies can rent you one, but there are also mobile phone kiosks at the airport and in shopping malls that start with 7-day packages.

That said, public pay phones dot the city, many of which will allow you to call internationally. All you have to do is buy a calling card and insert it into a pay phone. Doing so will be much cheaper than dialing directly from your hotel room, though that is a convenient alternative if there is an emergency.

Be aware that the internet is heavily surveilled in Dubai, and your internet searches may be censored, particularly content that is sexual, drug-related, or deemed profane.
Currency
In Dubai, people use the UAE's national currency, the Arab Emirates Dirham (AED/DH/DHS), and each Dirham comprises 100 fil. Exchanging US Dollars for Dirhams is fairly easy and all currency exchanges are heavily regulated, so the chances of getting ripped off are slim. You'll see currency exchange desks and offices throughout the country, including in malls, supermarkets, metro stations, and along the streets of this bustling international city.

You can also use any of the countless ATMs located all over Dubai to withdraw cash in Dirhams from your bank account back in the States. Just remember to notify your bank of your travel dates and destination, so they do not block access to your debit card. You will need cash for shopping in souks, tipping, and paying taxi fares. Be sure to carry bills of smaller denominations as it tends to be hard to get change for larger ones.

That said, it's easy to enjoy Dubai without carrying significant sums of cash since debit and credit cards are accepted almost everywhere, including American Express.
Customs & Uncommon Laws
As with the rest of the United Arab Emirates, Dubai is a highly conservative Muslim culture that Sharia Law regulates. The country's laws make LGBTQ relationships and sexual activity illegal, regardless of whether you are a foreigner or a UAE citizen. Therefore, avoid all public displays of affection unless you'd like to face arrest and serious legal consequences. It is crucial to note that most hotels, even if they are part of international chains, will require that people of the same sex who share a room have two beds.

Also, regardless of sexual preference, sexual activity outside marriage, including adultery, is illegal. Hand-holding and hugging can even get you in trouble with the morality police. Segregation of men and women in public is quite stringent unless married, which means unmarried men and women are not meant to be alone in rooms or cars together. If you're traveling with a partner but aren't married, it's best to check into one of the international hotels and refer to each other as husband and wife. It's better to play it safe, despite the recent relaxation of laws around premarital cohabitation.

The strict dress code in the UAE may not fully apply to international visitors, but you will be expected to dress modestly. For women, this translates into long, loose pants and skirts and tops that cover the shoulders, and long pants and at least shoulder-covering t-shirts are acceptable for men. Therefore, no form-fitting clothes, tank tops or strappy tops. Knee-length shorts are acceptable at the beach for men. Otherwise, stick with pants. Women should wear one-piece bathing suits and baggy surf shorts at a waterpark, pool or beach. Some private beaches in front of major international hotels will tolerate bikinis, but it is not worth the potential fuss.

Sharing your opinion in Dubai and the rest of the UAE is illegal if it involves anything that goes against the Islamic faith or Sharia Law or disparages the government or any of its leaders, other people and public buildings. Also, be careful what you post on social media or in business reviews since they can be held against you. Another thing to be mindful of is the photographs you take. It is illegal in the UAE to snap pictures of anyone without their consent. As a result, you will need to be careful which pictures you post to your social media accounts while you're still in the UAE.

While Dubai may have incredible nightlife, it's not as 'loose' as it may seem. Non-Muslims can drink in designated areas such as hotel bars and restaurants, and to purchase alcohol from any establishment beyond these requires a liquor license. Drunken behavior, regardless of nationality, is illegal and can lead to arrest and jail time.

And since the UAE has exceptionally stringent laws against the use and possession of drugs of any sort, you will need to apply online to the Ministry of Health and Prevention for pre-approval to bring any prescription medications into the country. Be sure to do so at least 1-2 weeks before you depart from the US. You must also bring the original prescription from your doctor or a copy of it with the prescription medications. Everything will be inspected at your port of entry into the United Arab Emirates, along with your approved Permit to Import Medicines for Personal Use. Please note that electronic cigarettes are illegal in the UAE and will be confiscated should you attempt to bring them into the country.
Getting Around
Dubai's fully-automated metro system makes getting around the city reasonably straightforward. Unlike most cities, Dubai's metro has three different car classes: Gold, Silver (Standard) and Women and Children. Gold Class comes with ultra-comfortable leather seats and panoramic views. In addition to the metro, there is also the Dubai Tram, the primary form of public transport around the Dubai Marina area. Also, the Palm Jumeirah Monorail links the Dubai Marina with Palm Jumeirah.

When purchasing a ticket, you must select your preferred car class (metro), your destination and the type of fare, such as one-way, round-trip (return), or a Nol card, since all of these combined determine your fare. Nol cards are rechargeable tickets that allow you to preload money so that you do not have to buy single tickets each time you want to get on the metro.

Exploring Dubai by bus is a very affordable and pleasant option as all bus stops have air-conditioned shelters. Remember that you will need a Nol card to use the bus system, which you can purchase from any metro station and select bus stations. You can plan your journey for all public transport using the city's RTA Wojhati app.

Taxis are another option for getting around Dubai and are licensed through the Roads and Transport Authority (RTA). Ladies & Family taxis are denoted by their pink roofs and are operated by fully licensed female drivers. For those who prefer to use a rideshare app, Careem and Uber both operate in Dubai.

One of the most popular ways tourists see Dubai is by wooden boat, an abra or dhow, essentially a colorful water taxi. Abras can shuttle you between more than 40 different stations throughout the city. The Dubai Ferry is also a great way to get around. The ferry and the water taxis offer unrivaled views of the city's sleek and awe-inspiring architecture.

If you plan to visit Dubai in the "cooler" months (November-February), getting around on foot is quite enjoyable. With well-maintained and marked sidewalks, walkways, footbridges and crosswalks, you should have no problem finding your way around the city, particularly Old Dubai.

While renting a car in Dubai is easy, it is the least efficient way to get around since traffic can be horrendous for large parts of the day and the city is well-connected with various forms of affordable public transport. However, if you prefer renting a car, you'll have many rental car companies to choose from, including major US companies and local outfits. Driving in Dubai can be quite a wild experience with many well-maintained 8-lane freeways, high speed limits, multi-lane rotaries/roundabouts, heavy traffic, sometimes unruly drivers and heaps of traffic lights. The upshot is that gas is very cheap in Dubai, with some stations offering full service and others requiring that you pump your own gas.
Language
Standard Arabic is the official language used in most official matters. However, Dubai is such a dynamic, international city populated by people worldwide that English is the most commonly spoken language. As a visitor, you'll have no trouble getting around as nearly everyone in the service and tourist industries speaks English, and all street and metro signs and menus are translated into English.
Tipping
Tipping in Dubai varies from one industry/profession to another, and it is optional, though very much customary since service tends to be outstanding. Even if a service charge is added to the bill, most people tip staff in restaurants and cafes between 10-15% and the same goes for bars. For spa staff, tips range from 10-15% for longer treatments such as massages, body wraps and body scrubs, but only 5-10 AED for simpler services such as manicures and pedicures.

Leaving 12-15 Dirham daily for your hotel room housekeeper is adequate, whereas 5 AED is more appropriate for porters. Of course, if you have excessive or heavy luggage, you might consider doubling their tip.

If you take any tours during your time in Dubai or any other part of the UAE, tip your guide 10% of the tour cost if they do a good job. Another role that warrants tips for their services is the supermarket bag packers, so be sure to give them a few Dirhams upon leaving. Dubai is like New York; you can have nearly anything delivered at any time of day or night, so remember to tip your delivery driver 5-10 AED. Lastly, don't forget about taxi drivers for whom 5 Dirham is sufficient. Should they carry your luggage or go out of their way to help you, 10-20 AED will always be appreciated.

Remember to always tip in cash.
Packing advice for Dubai
Apart from Travel Insurance, we recommend you bring the following items for maximum health, safety and enjoyment in Dubai.
A final note about travel insurance for Dubai
I have spent dozens of hours researching travel insurance, including getting quotes and comparing coverage from all the most popular brands. Regardless of where you're going, I am confident that you will also find that WithFaye.com offers the best way to compare policies with the ideal combo of coverage and price.
I wish you and yours an incredible journey.
SwiftScore Ranking Methodology
Average price for a 2-week vacation based on a 35-year-old California resident traveling to the Dubai with a $3,500 trip cost
Coronavirus coverage
Cancel for any reason (CFAR)
AM Best rating of the underwriter
Key policy details including cancellation, interruption, emergency medical evacuation, and baggage & personal effects
Ease of sign up
Policy language clarity
User reviews