7 Best Belize
Travel Insurance

Plans for US Citizens in 2023

Updated on September 12, 2023 by Matthew H. Nash – Licensed Insurance Agent

Belize is known for its white sand beaches, incredible diving, lush jungles and ancient Mayan ruins. Combine these beautiful attractions with the country's proximity to the US, and it's no wonder Belize is a popular vacation destination for Americans. With all the uncertainties of international travel, the possibility of trip delays and cancellations, emergencies and lost or stolen luggage has increased. This article details everything you will need to know about the best Belize travel insurance policies, including costs, the level of coverage you may need and the major differences between the top plans. Read more about our unbiased ranking methodology and advertiser disclosure.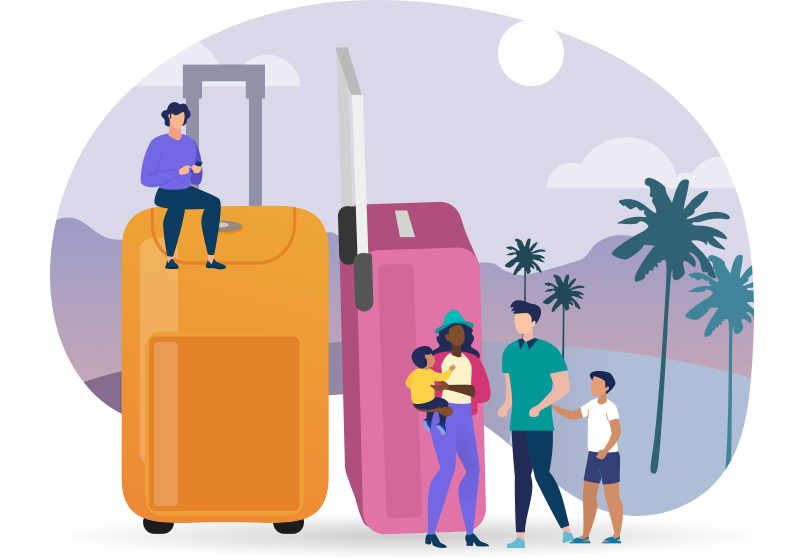 Belize travel insurance FAQs
When should I buy Belize travel insurance?
I recommend getting a Belize travel insurance plan, especially Trip Cancellation, as soon as possible because this will protect you and anyone else you insure on your policy from unforeseen events prior to and during your vacation. It is worth mentioning that Cancel for Any Reason (CFAR) and Pre-Existing Condition optional upgrades are usually only available for purchase up to 14-21 days from the date you paid for your trip or at least the deposit. Read through a policy's full details for the specific conditions around these upgrade packages.
How long will my Belize travel insurance plan last?
If you buy Single Trip insurance, it will cover you from departure until you return home. That said, if your policy does not offer Trip Cancellation benefits, it is known as an International Medical policy. International Medical insurance plans operate differently in that they often provide coverage for up to a year but may be renewable for up to 3 years. Such plans will cover you when it comes to medical treatment and emergency evacuations for multiple trips within the space of your policy year.
How far do I need to travel from home before my Belize travel insurance policy becomes active?
This depends on which benefits we're talking about. For example, Trip Cancellation benefits protect you against unforeseen events before your departure. Whereas all other benefits go into effect once you leave home to catch your flight, bus or train. Some travel insurance plans may not become active until you are at least 100 miles from home. We encourage you to read your policy's full details for such specifics.
Will travel insurance cover my bills if I'm hospitalized in Belize?
It's important to keep in mind that your US-based health insurance probably will not reimburse for any medical bills in Belize. Those companies that do tend to offer only partial coverage, and Medicare offers none. To be safe, it's a good idea to get a Belize travel insurance plan right after you book your vacation.
How many people can I insure under one travel insurance plan?
You can insure up to 10 people on your travel insurance policy as long as they share identical travel itineraries and you are all residents of the same state. If your travel companions have different itineraries or live in other states, they must buy their own plans. However, if there are 8 or more of you traveling together, you may want to look into getting a group policy as it will save you money and still offer the same great coverage. The perk of group policies is that their only requirement is that all travelers be US residents, and their states of residence and travel itineraries have no bearing on your ability to purchase one.
Is Belize a safe vacation destination?
Belize is a relatively safe country to visit, but like anywhere, certain areas of Belize City and Belmopan should be avoided. Always do your research before leaving home. Since the rest of Belize is primarily rural, it tends to be much safer. I recommend visiting the Belize Travel Advisory page on the US Department of State's website for the most up-to-date information.
If I am in shape and healthy, do I need travel insurance?
Regardless of how fit and healthy they may be, many people get travel insurance because it safeguards them against the events and things they can't control. These may include trip cancellation, illness, injury, and lost, damaged or stolen luggage. A good insurance policy offers you peace of mind that your investment in your vacation is protected and that if you need them, you will have access to the best medical services possible in Belize.
How is baggage loss defined? What can I expect for coverage? What does this insurance benefit cover?
Suppose your possessions are lost, stolen or damaged during your trip to Belize. In that case, your insurance provider will offer reimbursement up to the Maximum Benefit amount less whatever the responsible party owes you for the loss or damage. This applies when your luggage is transported or held by a travel supplier, hotel or common carrier.

Keep in mind that when you see Maximum Benefit Limits in your Belize travel plan, they are listed per traveler. The Maximum Benefit Limits denote the most your provider is willing to reimburse you should anything happen to your personal effects on your trip to Belize. That said, the reimbursement amount for each person is also calculated using the Per Article Benefit. What is a Per Article Benefit? It is the highest amount your provider will reimburse you for an item in such circumstances.

The Combined Article Limit is another aspect that determines the amount your provider will reimburse you. This is applied to specific possessions such as electronic devices (phones, laptops, cameras and more), jewelry, furs, watches, etc. If any items that fall under this category are lost, damaged or stolen, the most your provider will reimburse you is the amount stated in this section of your policy. Whether it be one item or multiple, the reimbursement amount cannot exceed the Combine Article Limit, even if the item(s) actual values are higher than that limit. It is worth mentioning that, depending on your state, your policy may not have a Combined Article Limit. Without a Combined Article Limit, your ability to be reimbursed for an amount that better reflects the actual value of the item(s) is higher.

Let's run through a hypothetical scenario to explain these benefits better. Imagine that your policy offers a $2,500 Maximum Benefit, and a $500 Combined Article Limit and a $500 Per Article Benefit. Therefore, if one of your suitcases gets lost, your policy will cover up to $500 per item. However, let's say that you lost a leather jacket valued at $600. You would still only receive $500 because that is your Per Article Benefit cap.

Let's say you lose three items that fall under the Combined Article category. The highest reimbursement you can receive for all three items combined is $500 because that is what is allowed in your policy, irrespective of whether their actual value is higher. Finally, the total permitted reimbursement with this policy is $2,500. This means that if the value of the items you lose is $3,000, you will receive only $2,500.

Remember that documentation of these items will be essential in ensuring your insurer properly reimburses you. Appropriate documentation can include photographs of the articles, letters from the party responsible for the loss or damage, police reports, item receipts, etc. Every policy is different, so consult your insurance company for further clarification.
Common problems tourists experience in Belize and how to steer clear:
Illnesses
Unlike most countries in Central America, tap water in Belize, or pipe water as it's called, is generally safe to drink, so you don't need to worry about that. Of course, bottled water is available everywhere if you prefer it. Most illnesses travelers pick up in Belize are insect-borne, such as dengue, malaria, Chagas disease and leishmaniasis.

Chagas disease is not something most Americans have any experience with, but it can be life-threatening and is found throughout Mexico, Central and South America. It's passed via triatomine bugs, which are also called "kissing bugs." They are tiny and tend to bite people and animals around the mouth or eyes, mainly when asleep. They also defecate once biting someone or something, and those feces carry a parasite known as T. cruzi that enters the body. You can also contract this parasite through unsanitary food or by eating the meat of an infected animal.

Symptoms may include fever, body rash, swollen eyes, loss of appetite, diarrhea, vomiting and fatigue. You will likely see an infected sore where the parasite entered your body. You will need medical help immediately, even if your symptoms seem mild or disappear entirely. The parasite will go dormant and return with force and can cause life-threatening heart, intestinal and colon-related problems. Getting treated with the proper anti-parasite medication as soon as symptoms arise will kill the parasite and help your body flush it out.

Another health concern for travelers to Belize is leishmaniasis, another parasitic disease, and one typically contracts this by being bitten by an infected sand fly. It most commonly appears as skin ulcers, but other rarer forms exist. Other symptoms include difficulty breathing, runny or congested nose, nosebleeds, fever, fatigue, sudden weight loss, inflamed liver or spleen or swollen lymph nodes. Seek medical treatment immediately so that you can heal so that the sores do not scar or cause disfigurement.

Both dengue and malaria are mosquito-borne viruses that leave you bedridden for several weeks or months with a high fever, chills, aches and little energy. It also suppresses your appetite for food or drink. Dehydration is one of the most dangerous effects of these viruses on the body. Seek medical treatment immediately and do your utmost to stay hydrated.

You can minimize your risk of contracting any of these illnesses by regularly using strong insect repellent and sleeping with a mosquito net over your bed that you tuck into the bed frame or under the matter. Since such infections can have extreme effects on your health, trip insurance will help ensure you get the treatment you need in a facility of high standards, even if it means evacuating you back to the US.
Accidents
In Belize, most tourist accidents are car or motorbike related since many roads are often narrow and in poor condition. Visitors may also experience injuries related to adventure sports and activities, depending on which ones they choose to participate in, as well as those from tripping and falling. Should you have an accident, be sure to get treated at a private hospital in Belize City, as this is where the best medical services are concentrated.

Please note that Belize lacks a level-one trauma center, so I recommend buying a high medical evacuation benefit policy. It will protect you in case of life-threatening illnesses or injuries so that you can be evacuated back to the US.
Muggings
Muggings occur in Belize's two major cities, Belmopan and Belize City, but these crimes are often targeted at Belizeans as opposed to tourists. However, this does not mean one should be complacent about being aware of your surroundings and keeping your belongings close to your body. Do not wander alone at night in desolate and unsavory areas. You would be wise to research the worst parts of both cities and avoid them. That said, be mindful of pickpockets, even in the best areas of these cities.
Emergency resources for Belize
Phone numbers
To reach the Belize police, dial 911, and for the fire department or ambulance services, dial 90. In case of a road accident, call 225 2087.
US embassy or consulate details
The United States Embassy in Belize is located in Belmopan. For the address, phone number and further information on citizen services visit their website. If you want added security for your trip to Belize, you can register your travel plans with the Department of State's Smart Traveler Enrollment Program. Once you do so, they will inform you of any safety, security, or health warnings in Belize as they relate to your trip. It will also enable the Embassy to liaise with you or your family back home in the US in an emergency.
Additional information to help travelers have a better experience in Belize:
Communication
If you prefer not to splash out on buying an international roaming plan for your cell phone, I suggest putting your phone on airplane mode and using messenger and calling apps, such as FaceTime, Skype, etc., when you're connected to WiFi. Most hotels, restaurants, cafes and bars offer free WiFi, and many larger public parks have free community WiFi. Speeds may not be as fast as you're used to, but they should be adequate for all basic tasks. Also, Belize's urban areas are still dotted with internet cafes, so these are an excellent option for those who need some time at a desktop computer.

Another alternative would be to rent a cell phone with a local calling plan once you arrive in Belize. You can usually get these for as low as US$7.50 per day. Your best bet is to seek one out at the airport upon arrival. Just know that most of those available for rent may be basic phones.

Of course, if you have an unlocked GSM phone, you should be able to swap your SIM card out for a Belizean SIM card once you arrive in the country. The country's two primary carriers are DigiCell and SMART Cellular Service.
Currency
The official currency is the Belize dollar (BZD), and while it is used frequently, the US Dollar is also widely accepted. Therefore, do not worry about exchanging your USDs for BZDs. You should be able to use USDs for the entirety of your trip without trouble. The standard exchange rate of BZD to USD has held consistent at approximately 2 to 1. Note that ATMs are widely available in Belize's bigger cities but are few and far between throughout the rest of the country.
Customs and Etiquette
Belize is probably one of the most laid-back places you'll ever visit. The pace of life is much slower than most of us are used to, even in the cities. Approach locals with a smile, eye contact and respect, and you'll generally get the same in return. That said, always refer to someone as Mr. or Mrs. with their last name until they suggest you call them by their first name. In this sense, Belizean culture may seem a bit more formal than much of the US.

Upon first meeting a Belizean, knowing the proper way to greet someone is essential. Men generally shake hands but hug those with whom they are familiar, and women tend to gently rub or stroke another woman's shoulder or forearm as a greeting as opposed to shaking hands. That said, Belizeans are not overly affectionate types. When it comes to male-female interaction, a simple nod of the head and a subdued smile will do unless a Belizean offers you their hand.

One of Belize's most vital things to understand is that it is highly family-centric and most people adhere to traditional gender roles. Most people are quite happy to, so it's important not to project your cultural values and assumptions about this onto them.

In general, Belizeans are not fond of confrontation and will speak as diplomatically as possible to avoid the intensity and unease that comes with them. Also, they will make their points in much less direct ways than we may be used to, so keep this in mind if an issue arises with a local business owner.

Last but certainly not least, if a local invites you to their home for a meal, there are some things you should know in advance. The first is to bring your hosts a small gift, such as chocolates or flowers (no red ones!). In Belize, arriving 20-30 minutes late to most social events is typical, and they consider arriving early rude.

Allow your hosts to guide you through the evening. Most will immediately introduce you to the rest of the people gathered, show you where your seat is at the table and signal when it is time to eat. (Hint: It's always once the cook begins eating.) Also, heed their dinner table etiquette. Belizeans eat with their forks and knives, avoid putting their elbows on tables and even leave a tiny bit of food on their plate as a form of politeness.
Getting Around
Since Belize is a relatively small country, getting around is quite easy. One of the most common ways of exploring is by foot, as many famous sights are located close to one another. However, another great option is to take a ferry or water taxi, mainly because they do not require a reservation. All you have to do is show up! If you prefer to take a taxi, be aware that they do not operate with meters, and you must negotiate a fare with the driver before setting off. You can also rent a bicycle or motorbike in popular tourist areas or even a car from Enterprise, Avis or a local rental car company.

Buses are the preferred mode of transportation among Belizeans and, as a result, the buses connect most corners of the country. The primary bus stations in Belize are the Belize City and Belmopan bus stations. Belize's buses are painted old school buses from the US. If you decide to get around by bus, stick with express lines as they tend to be in the best condition, stop only at designated stops, and are the safest. Once the conductor comes around the bus to collect your fare, you will need to tell him your destination. Whether you take a regular or express bus, don't be surprised if they are extra crowded.
Immigration
US citizens are welcome to enter the country without a tourist visa for up to 30 days if they have proof of their intention to leave the country within that time frame. Have your outward-bound ticket on hand. If you want to vacation in Belize for longer, you must apply for a tourist visa in advance. You must ensure that your passport is valid for at least 6 months from your date of application and allow 1 month for processing. Please note that Belize requires tourists to pay a $40 exit fee. Verify with your airline whether that fee is included in your fare. If it hasn't, you will need to pay the exit tax at the airport upon departure.

Lastly, unlike other countries that allow people to enter with up to US $10,000 of any currency, Belize limits it to US $5,000. Once in Belize, you can always use your American debit card to withdraw cash from local ATMs. If you do, stick to using ATMs within banks to reduce your risk of having your card information stolen by skimmers. Before leaving home, remember to notify your bank in the US of your travel dates and destination so they do not block your card.
Language
The primary language spoken in Belize is English because the British once annexed it. Despite declaring independence from the British Crown, they still maintain English as the official language for all government affairs, schools, and media. People also speak Spanish, Kriol, German and Mayan throughout the country, but on a much more limited basis.
Tipping
Tipping in Belize is much more straightforward than it is in other countries. Here's a simple rule: anyone who works in tourism or the service industry, whether they're working in a hotel, restaurant, bar or tour and adventure activity business, will expect a tip. You can tip 10-15% for average service, 18% for good service and 20% if someone goes above and beyond the call of duty. I recommend always tipping in cash, so the person who helped you receives the entire tip. Otherwise, their employer may keep it for themselves, an unfortunately common experience. Another thing employers may do is deduct part of the tip to cover credit card servicing fees, so keep plenty of cash on hand.

With that in mind, a few people do not expect tips in Belize. People such as vendors selling arts and crafts or street food are two who do not. Another is taxi drivers. Taxi drivers are generally self-employed and make decent money (unlike most taxi drivers worldwide). Of course, if you tip them for exceptional service or carrying your bags, they may offer their chauffeur services to tour you around the country at a very reasonable rate. It's certainly a safe and more comfortable way to get around.

Ultimately, if you're ever in doubt, leave a tip. It will go a long way in improving the lives of the people who serve you.
Packing advice for Belize
Apart from Travel Insurance, we recommend you bring the following items for maximum health, safety, and enjoyment in Belize.
A final note about travel insurance for Belize
I have spent dozens of hours researching travel insurance, including getting quotes and comparing coverage from all the most popular brands. Regardless of where you're going, I am confident that you will also find that WithFaye.com offers the best way to compare policies with the ideal combo of coverage and price.
I wish you and yours an incredible journey.
SwiftScore Ranking Methodology
Average price for a 2-week vacation based on a 35-year-old California resident traveling to the Belize with a $3,500 trip cost
Coronavirus coverage
Cancel for any reason (CFAR)
AM Best rating of the underwriter
Key policy details including cancellation, interruption, emergency medical evacuation, and baggage & personal effects
Ease of sign up
Policy language clarity
User reviews