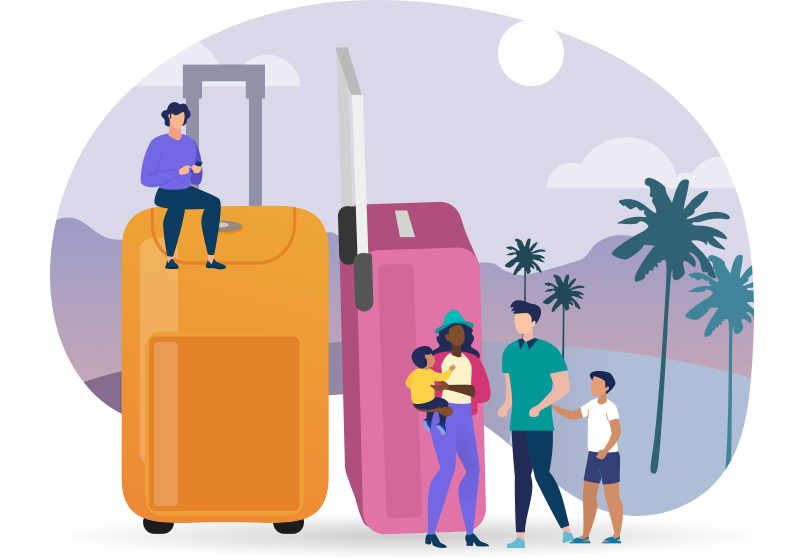 SwiftScore Rating
4.9 ★★★★★
4.3 ★★★★
Average Price
$26.31/ mo
$71.74/mo
Reimbursement
60%, 70%, 80%, or 90%
90%
Annual Benefit
$5k, $10k, $20k, $50k, or $100k
Unlimited only
Illness Waiting Period
14 days
30 days
Accident Waiting Period
2 days
5 days
Other Perks
10% bundle discount (renters, home, life, auto)
5% multi-pet discount
5% annual discount
Vet bills can be paid directly to your provider
Money Back Guarantee (if no claims)
30 days
30 days
Get a free
Lemonade
quote →
Get a free
Trupanion
quote →
Overall Winner: Lemonade →
Lemonade Pet Insurance Overview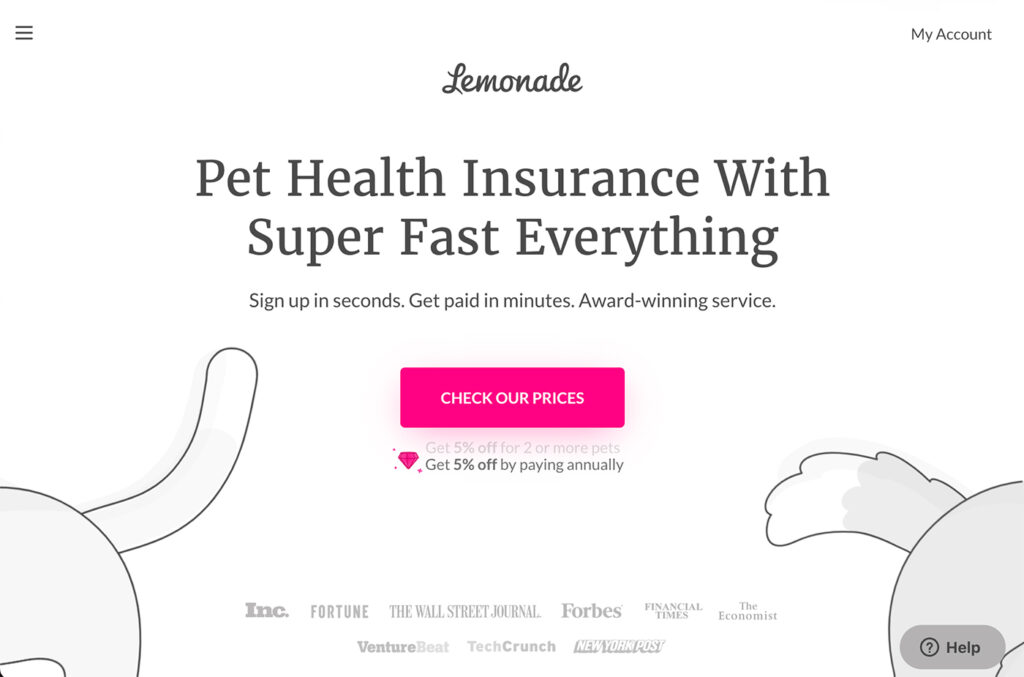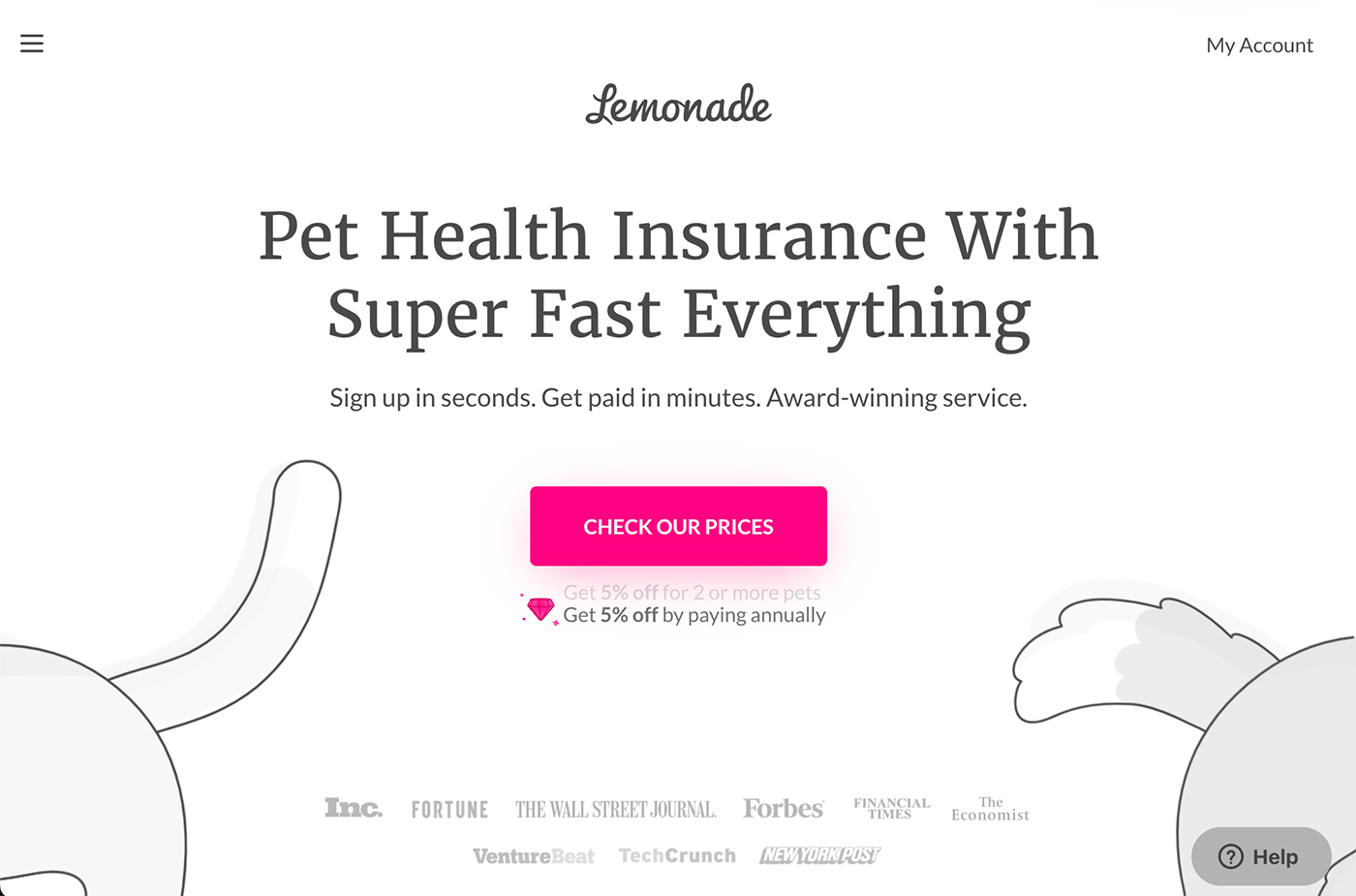 Although Lemonade is still a fairly new provider, they are an industry leader in pet insurance. Their business model is completely virtual, with a mobile app that is both user-friendly and intuitive. Pet owners can use the app to enroll in a plan, submit claims, chat with customer service, and much more.

If you choose Lemonade as your provider, you'll also have the option to choose from three optional wellness plans – the Preventative Package, the Preventative+ Package, or the Puppy/Kitten Preventative Package. Add-on packages can also cover additional costs such as preventative care, vet visit fees, physical therapy, or dental illnesses.

However, it should be noted that Lemonade isn't available in every state. Lemonade also may not be the best option for senior pets or pets with pre-existing conditions.

Below is a list of pros and cons to help you determine whether or not Lemonade is right for you and your family.

Pros: Affordable monthly premiums, easy-to-use mobile app, simple process for filing claims, regular charitable donations, ability to live chat with an agent, quick reimbursement (30% approved and paid instantly), optional add-on, and wellness packages to fit any need.

Cons: Not available in all states, does not cover pre-existing conditions, the waiting period for cruciate ligament events is 6 months, pets must be over 8 weeks old and under 14 years old in order to enroll.
VISIT lemonade →
Trupanion Pet Insurance Overview
Founded in 1999, Trupanion is a well-established and one of the oldest providers in the pet insurance industry. They claim to be the top plan chosen by vet's. Trupanion will cover pre-existing conditions if a pet hasn't shown symptoms or needed treatment related to those conditions in the past 12 months.
Trupanion's standard policies are available in all 50 states. Claims can be submitted and paid out directly to vets, so you won't have to pay out of pocket or get reimbursed. This feature is available to vets within their network and stands out in the industry.
Although Trupanion is great for pet owners who want comprehensive coverage, they do not offer an accident-only plan, which is often more affordable than standard coverage.
Below are some pros and cons to remember when determining if Trupanion is right for you and your family.
Pros: Pays vets directly, fast claim processing, optional add-on plans for additional coverage, no cap on individual claims, no cap on lifetime benefits. Trupanion has saved pet parents billions of dollars over the last 20 years and countless animals' lives.
Cons: Trupanion is typically the most expensive pet insurance provider we have seen. No accident-only plan, most pre-existing conditions are not covered, exam fees for accidents & illness related vet visits are not covered.
VISIT Trupanion →
The Swiftest's Verdict


Monthly Plan Prices
Lemonade's low premiums and customizable plans give them a leg up when it comes to pricing. With Lemonade, pet owners can enroll in a standard accident/injury plan, just a wellness plan, or both with options for add-ons. Trupanion, however, has a more comprehensive plan with some options for add-ons, but it's pricier overall and pet owners may not need all of the benefits included.
Deductibles
Lemonade offers deductibles of $100, $250, or $500. However, Trupanion has options from $0 all the way up to $1000. Higher deductibles often result in a lower monthly premium, so more deductible options give pet owners more flexibility. Therefore, Trupanion is the better option when just looking at the deductibles.
Coverage
Lemonade is available in 37 states plus Washington DC. Trupanion's standard policy, however, is available in all 50 states while their wellness plan varies in availability by state. Both Lemonade and Trupanion offer add-on options for preventative care, although Lemonade allows pet owners to choose between three preventative care packages. Both companies also offer additional add-on care packages, although Lemonade has more options and is much more customizable. Overall, if Lemonade is available in your state, it is superior in coverage.
Customer Service
Lemonade's world-class mobile app allows users to contact customer support through a live chat at any time. Lemonade can also be contacted via their website, phone, or email. Trupanion can be contacted by calling, online live chat, or emailing. Although the two have similar options, Lemonade's intuitive app makes their customer service much easier to work with.
Additional Perks
As we mentioned, Lemonade offers a variety of plan options so coverage can be customized to fit any pet's needs. This allows users to only pay for what they need, and additional discounts such as multiple pets and bundling with other insurance products make their insurance even more affordable.

Additionally, Lemonade has a Giveback program that also allows insurance premiums to do some good in the community. Lemonade takes a flat fee and puts away to rest to pay out claims, then they donate whatever is leftover.

The main draw of Trupanion is their vet direct pay for the vets in their network so that you won't be too much out of pocket for any length of time. Although Lemonade does not offer that feature, their mobile app facilitates lightning claim payments so the Trupanion perk isn't really that valuable in the end.
Conclusion
Here at The Swiftest, we've determined that Lemonade's plan flexibility, low monthly premiums, easy-to-use app, and community impact make them the best option for pet insurance. If their coverage is available in your state, we highly recommend looking into Lemonade as you determine the right pet insurance plan for your furry friend.
VISIT lemonade →
SwiftScore Ranking Methodology
We ranked the best pet insurance policies based on a variety of important factors including the following:
National average monthly price for a 2-year-old Labrador Retriever with a $500 deductible and this is how we calculate the "standard plan cost" shown above
Below are all the zip codes we used to get the national average prices for each pet insurance provider: AL (35206) | AK (99516) | AZ (85050) | AR (72205) | CA (90210) | CO (80238) | CT (06105) | DE (19904) | FL (33155) | GA (30331) | HI (96821) | ID (83712) | IL (60630) | IN (46229) | IA (50317) | KS (66109) | KY (40511) | LA (70112) | ME (04108) | MD (21209) | MA (02136) | MI (48201) | MN (55414) | MS (39211) | MO (63104) | MT (59101) | NE (68154) | NV (89117) | NH (03062) | NJ (07305) | NM (87120) | NY (10022) | NC (27603) | ND (58104) | OH (44102) | OK (73129) | OR (97229) | PA (19128) | RI (02909) | SC (29414) | SD (57108) | TN (38111) | TX (77054) | UT (84104) | VT (05408) | VA (23221) | WA (98108) | WV (25311) | WI (53225) | WY (82009)
Coverage and benefits
Key policy details including accidents and illnesses, surgeries, annual check-ups, cancer treatment, lab tests, and more
AM Best rating of the underwriter
Reimbursement percentage
Annual benefit amount
Technology and user experience
Ease of sign up
Policy language clarity
User reviews