7 Best Pennsylvania (PA)
Pet Insurance

Plans Compared in 2023

Updated on by Matthew H. Nash – Licensed Insurance Agent

As a lifelong pet owner and licensed Pennsylvania insurance agent, I know how important our furry companions are to our families and how buying pet insurance will help maintain their quality of life. Insurance jargon can be confusing, and many plans are out there. Whether you live in Pittsburgh, Erie, State College, Philadelphia, Harrisburg or Scranton, this article will help guide you to make the right choice for your cat or dog in The Keystone State. We may receive compensation when you click on the affiliate links below.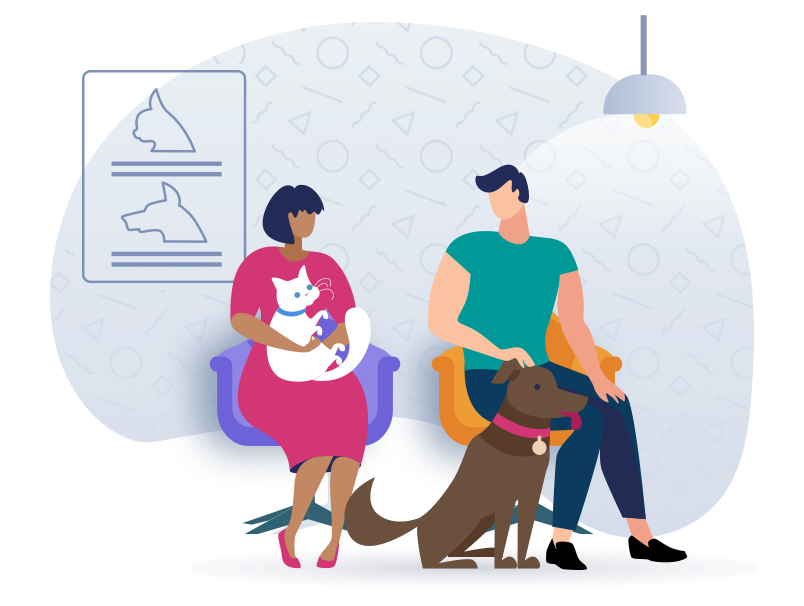 Top PA Pet Insurance Scored, Ranked & With Cost
Use our below table to quickly compare the best pet insurance providers in Pennsylvania. The average monthly Pennsylvania-specific prices shown are based on a healthy 2-year-old Labrador Retriever with a $500 deductible and 90% reimbursement amount who is located in Pennsylvania with a 19128 zip code. Costs may vary based on age, location, coverage amount, and depending on the breed of your puppy. Prices are accurate as of June 2022 and are subject to change. For the most up-to-date information, please visit the provider website.
---
How much does dog & cat insurance cost in Pennsylvania for the 15 most popular breeds?
The price for Pennsylvania pet insurance is almost always the same throughout the state including in Philadelphia, Pittsburgh, Allentown, Erie, Reading, or Scranton, etc. However, the prices will vary based on your puppy's age, health and breed.
All prices shown below are based on a 90% reimbursement rate with a $500 deductible and a $5,000 annual benefit from Figo pet insurance. Please note: these prices should only be treated as a rough guide as of June 2022 and are subject to change. If you're looking for the most up-to-date cost of pet insurance in Pennsylvania we suggest getting a quote directly with Figo or Lemonade.
Dog Insurance Prices in Pennsylvania:
Mixed Breed – $25.90/ mo
Labrador Retriever – $35.28/ mo
Golden Retriever – $35.21/ mo
German Shepherd – $38.05/ mo
Goldendoodle – $30.63/ mo
Chihuahua – $16.10/ mo
Siberian Husky – $35.37/ mo
Yorkshire Terrier – $22.23/ mo
American Pit Bull Terrier – $39.17/ mo
Australian Shepherd – $24.36/ mo
Dachshund – $22.98/ mo
Shih Tzu – $20.47/ mo
French Bulldog – $48.43/ mo
Boxer – $48.62/ mo
Labradoodle – $30.63/ mo
Cat Insurance Prices in Pennsylvania:
Mixed Breed – $15.07/ mo
American Shorthair – $17.80/ mo
Bengal – $17.80/ mo
Bombay – $17.80/ mo
British Shorthair – $17.80/ mo
Exotic – $17.80/ mo
Himalayan – $17.80/ mo
Maine Coon – $18.78/ mo
Persian – $18.78/ mo
Ragdoll – $18.78/ mo
Russian Blue – $17.80/ mo
Scottish Fold – $18.78/ mo
Siamese – $18.78/ mo
Sphynx – $17.80/ mo
Abyssinian – $17.80/ mo
Not finding your specific pet breed? Lemonade pet insurance is our #1 recommendation for Pennsylvania and they'll be able to give you a quick quote for your exact needs.
Pennsylvania Pet Insurance FAQs
What is pet insurance?
Like health insurance for humans, pet insurance offers protection against accidents and illness. Unlike it's human equivalent, pet insurance can be used at any veterinarian; there is no required network for office visits. Usually pet insurance is offered in 3 tiers – accident coverage, accident and illness, and possibly a wellness plan depending on the provider.

An accident plan will cover injury-related issues such as MRIs and x-rays, surgery, hospitalization, broken bones, and swallowed objects. Suppose you choose pet insurance that also includes illness. In that case, it may cover lab/blood work, ultrasounds, cancer treatment, dental work (for an infection, not routine care), prescription medication, alternative therapies and skin conditions. These lists are for example purposes; review coverage details as you look at plans. A preventative care plan will assist with routine care costs such as vaccines, wellness exams, and teeth cleaning.
How are pet insurance rates decided?
Pet insurance rates are decided by what species (dog, cat or exotic animal), breed of animal, gender, age, whether a pet has been spayed/neutered, where you live, prior claims, and the type of coverage you choose in terms of deductibles, annual limits, and reimbursement rates. In our state, pet insurance companies are regulated by the Pennsylvania Insurance Department, who take a look at things like rates, policy forms and rules. Some insurance providers will not offer plans to dogs over 14 and cats over 16 years of age, and most will require a puppy to be at least 8 weeks old and a kitten should be 6 weeks.
Will everything at my vet visit be covered?
No, pet insurance will not cover things like cosmetic or elective surgery, pregnancy/birth care, and spay/neuter procedures. No plan will insure pre-existing conditions, which are symptoms or conditions that existed prior to purchasing pet insurance. Plans will also have a waiting period, often 2-15 days after you buy a policy but before you can begin submitting claims.
How do pet insurance plans work?
Pet insurance policies will have a deductible, a dollar amount you must pay out of pocket before the benefits kick in, often in increments of $250, $500 or $750. You can choose to have no annual payout limit in which case the policy will reimburse you an unlimited amount annually but that option will increase your monthly premiums. It might be wiser to select a reasonable annual payout amount, such as $2,000 or $5,000. Most plans will allow you to choose a reimbursement rate that you will be refunded on your claims. At a vet visit, you will pay the full bill to the office and then submit a claim for reimbursement, possibly through an app or through a portal online.
Why won't my homeowner's insurance policy cover my dog?
There is good news and bad news when it comes to breed restrictions on homeowner's insurance. While the state of Pennsylvania prohibits an insurance provider from excluding coverage based on a specific dog breed, it does require pet owners of dangerous dogs (as defined by state law) to have liability insurance of at least $50,000. Check your homeowner's specific insurance policy for details about dangerous dog liabilities.
5 Ways to Keep Your Pets Healthy & Safe in Pennsylvania
1. Mind The Weather
Cold, wintry weather is an issue in Pennsylvania so it's important to keep your pets in mind. Bring them inside if at all possible, or offer a protective shelter if they must stay outside. Brush off paws when they come inside to knock off salt from driveways that can be toxic and ice particles that can become embedded in their paws. Keep antifreeze out of reach as the sweet smell will draw them in but it is very harmful to ingest.
2. Never Leave Your Pet in a Hot Car
Pet owners in the Keystone State should be aware of a bill that was passed in 2018 that allows public safety professionals to remove an unattended pet in a hot or cold vehicle without liability. Because cars are often 15-20 degrees warmer inside than the outside temperature, heat stroke can come on quickly, so it's important to stay diligent. This new bill means citizens can contact their local police department or humane officer if they notice a pet in distress in a locked car. The rescuer must leave contact information if they are taking the pet with them and any details the citizen can think of about the situation should go to the public safety professional.
3. Enjoy Parks with Your Pet
There's lots of pet-friendly parks, hiking trails and even shopping to explore with your dog in Pennsylvania. It's always a good idea to make sure your dog is up to date on vaccines before heading out. All dogs should have a collar with identification tag and be on a leash, unless an area indicates they can be off. Carry water and a collapsible bowl for frequent water and rest breaks. While travelling in the car with them, make sure your dog is hooked up to a harness or riding in a carrier.
4. Always Make sure Your Dog or Cat Excercises
Exercise is a great way to help your pet stay healthy. Even cats can benefit from chasing an object around. When you take your dog for a walk, pay attention to the temperature outside and the feel of the pavement you are walking on. If it's too hot or the temps are frigid outside, it's not a good time to go. During the summer the best times are early morning or later in the evening after the sun has gone down. Your dog's fur protects them a bit in winter but it would help to have a coat or sweater along with booties to keep their paws from being cut on snow and ice.
5. Keep Up To Date with Anti-Parasitics
Unfortunately, in Pennsylvania, we have our fair share of mosquitos, fleas and ticks. These bugs are problematic when it comes to pets as they carry diseases such as heartworm and Lyme disease. Make a habit of giving your dog heartworm medication on a monthly basis from June-November. All pets can benefit from flea and tick prevention, which often comes in oral or topical solutions.
5 Unique Pet Rescue Shelters in Pennsylvania
---
---
---
---
---
Conclusion
Whether you have a newly adopted fur family member or a longtime furry companion, it's never too late to consider pet insurance. Keeping your dog or cat healthy and safe, working with a good veterinarian and choosing a pet insurance plan that meets your needs can all increase the lifespan of your pet. After extensive research, my conclusion is that Lemonade offers the best combination of price and coverage in Pennsylvania.
SwiftScore Ranking Methodology for Pennsylvania
We ranked the best pet insurance policies in Pennsylvania based on a variety of important factors including the following:
Average monthly price for a 2-year-old Labrador Retriever with a $500 deductible located in Pennsylvania with a 19128 zip code
Coverage and benefits
Key policy details including accidents and illnesses, surgeries, annual check-ups, cancer treatment, lab tests, and more
AM Best rating of the underwriter
Reimbursement percentage
Annual benefit amount
Technology and user experience

Ease of sign up

Policy language clarity
User reviews