6 Best Oklahoma (OK)
Pet Insurance

Plans Compared in 2023

Updated on by Matthew H. Nash – Licensed Insurance Agent

As a licensed pet insurance agent in Oklahoma and a lifetime cat and dog owner, I understand how pet owners can become confused when purchasing pet insurance in The Sooner State. I have extensively researched pet insurance in Oklahoma for cats and dogs. My guide for Oklahoma pet insurance helps you understand how reimbursements work and identify the perfect deductible for your pet. From the flashing lights of Tulsa and Oklahoma City to the quaint towns of Norman and Arcadia, there is a pet insurance policy for every Oklahoman pet. Read more about our unbiased ranking methodology and advertiser disclosure.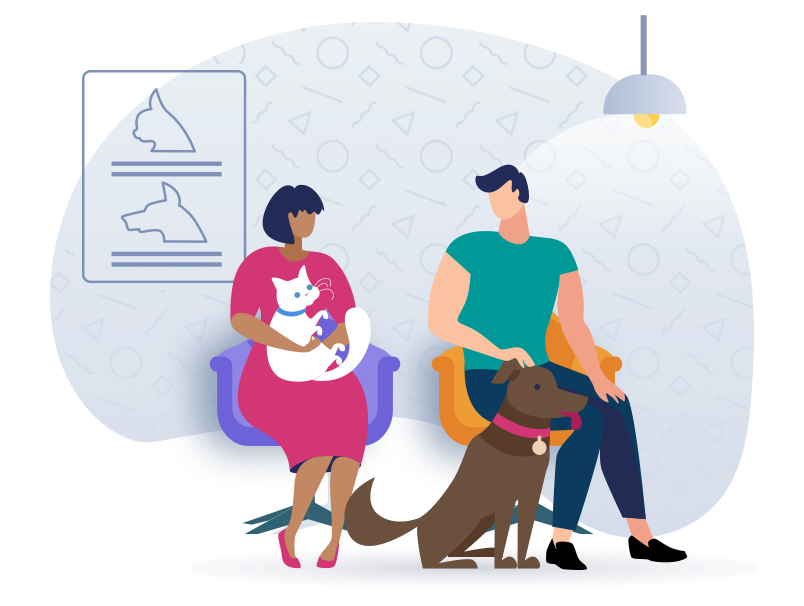 Top OK Pet Insurance Scored, Ranked & With Cost
Use our below table to quickly compare the best pet insurance providers in Oklahoma. The average monthly Oklahoma-specific prices shown are based on a healthy 2-year-old Labrador Retriever with a $500 deductible and 90% reimbursement amount who is located in Oklahoma with a 73129 zip code. Costs may vary based on age, location, coverage amount, and depending on the breed of your puppy. Prices are accurate as of July 2023 and are subject to change. For the most up-to-date information, please visit the provider website.
---
How much does dog & cat insurance cost in Oklahoma for the 15 most popular breeds?
The price for Oklahoma pet insurance is almost always the same throughout the state including in Oklahoma City, Tulsa, Norman, Broken Arrow, Lawton, or Edmond, etc. However, the prices will vary based on the age, health and breed of your puppy.
All prices shown below are based on a 90% reimbursement rate with a $500 deductible and a $5,000 annual benefit from Figo pet insurance. Please note: these prices should only be treated as a rough guide as of June 2022 and are subject to change. If you're looking for the most up-to-date cost of pet insurance in Oklahoma, we suggest getting a quote directly with Figo or Lemonade.
Dog Insurance Prices in Oklahoma:
Mixed Breed – $19.24/ mo
Labrador Retriever – $26.21/ mo
Golden Retriever – $26.16/ mo
German Shepherd – $28.28/ mo
Goldendoodle – $22.75/ mo
Chihuahua – $11.98/ mo
Siberian Husky – $26.28/ mo
Yorkshire Terrier – $16.53/ mo
American Pit Bull Terrier – $29.11/ mo
Australian Shepherd – $18.10/ mo
Dachshund – $17.08/ mo
Shih Tzu – $15.21/ mo
French Bulldog – $35.99/ mo
Boxer – $36.14/ mo
Labradoodle – $22.75/ mo
Cat Insurance Prices in Oklahoma:
Mixed Breed – $11.19/ mo
American Shorthair – $13.24/ mo
Bengal – $13.24/ mo
Bombay – $13.24/ mo
British Shorthair – $13.24/ mo
Exotic – $13.24/ mo
Himalayan – $13.24/ mo
Maine Coon – $13.96/ mo
Persian – $13.96/ mo
Ragdoll – $13.96/ mo
Russian Blue – $13.24/ mo
Scottish Fold – $13.96/ mo
Siamese – $13.96/ mo
Sphynx – $13.24/ mo
Abyssinian – $13.24/ mo
Not finding your specific pet breed? Lemonade pet insurance is our #1 recommendation for Oklahoma and they'll be able to give you a quick quote for your exact needs.
Oklahoma Pet Insurance FAQs
What is pet insurance and why is it useful in Oklahoma?
Pet insurance is your way of protecting your pet from dangerous ailments and fatal diseases. Sign up with an insurance company to fully protect your pets with insurance. Every policy requires a monthly payment to keep your policy active. These monthly payments maintain the policy. You are typically required to pay your veterinarian at least a portion ahead of time when your canine or feline has an accident or comes down with an illness. After paying, Oklahoma pet insurance companies allow you to submit the claim for reimbursement, which refunds you a portion of your money back. Insurance companies often exclude pre-existing conditions, which is why buying pet insurance early on (8 weeks for kittens and puppies) increases your chances of coverage.

Purchasing pet insurance in Oklahoma is critical. Treatment for major medical conditions like cancer, renal failure, and more can result in extraordinary pricy veterinary bills. When faced with the potential price of treatment, uninsured pet owners must make difficult decisions. Oklahoma pet insurance agencies eliminate these agonizing choices.
How old do my puppy and kitten need to be to get insured?
Pet insurance companies require puppies and kittens to be a minimum of 8-weeks-old before their owners can apply for pet insurance. There are a few insurance companies that have no minimum. Most pet insurance agencies have no age limit; however, younger pets are much cheaper to insure. Purchase insurance for your pets before their first birthday.
How worth it is to get pet insurance in OK?
There are many dangers in Oklahoma. The more you visit the vet, the higher these bills can stay up. Purchasing pet insurance can be extremely helpful if you are stuck in a sticky financial situation. Many pet owners end up with veterinarian bills in the thousands. When choosing pet insurance, you must decide whether paying monthly insurance premiums is worth the potential out-of-pocket costs when disaster strikes.
What is covered and what's excluded with pet insurance?
Every pet insurance policy has its own coverage. The coverage varies with each policy. Most policies include basic coverage on events that are "sudden and catastrophic". Sudden and catastrophic events include broken bones, allergies, and other unavoidable accidents. A lot of pet insurance policies have exclusions that are ineligible for claims. Ineligible claims include pre-existing conditions. Some pet insurance companies offer additional packages such as "wellness packages" with additional add-ons and others that may also cover pre-existing conditions. Additional packages may incur a higher monthly cost.
How does reimbursement work?
Reimbursements give refunds to pet owners when they spend money at the vet. For instance, imagine you have an emergency and must pay a $10,000 veterinarian bill for treatment. A pet insurance policy that gives 90% reimbursement will refund $9,000 for a $10,000 veterinarian bill (after meeting your reimbursement). After submitting your claim for reimbursement, you will only be paying $1,000 for your furry friend's surgery. Some companies like Trupanion will pay for the $9,000 upfront to minimize your out-of-pocket payments. Some veterinarians may also let you make payments which you can coordinate with your insurance company. Paying only a small portion of your pet's surgery or treatment makes life easier. It eliminates any difficult decisions that may prevent you from pursuing treatment.
Is it better to have a lower deductible – what's the sweet spot?
Lower deductibles typically result in higher monthly payments. This means you pay less money when you visit the vet but more every month.it is recommended that you invest in a pet insurance policy that supports your pet's needs and fits your financial situation. Many pet insurance agencies offer an easy, online quote. A majority of pet owners choose a deductible between $250 or $500.
Is there any restricted dog or cat breeds for homeowners insurance in Oklahoma?
Many states have restrictions on homeowner insurance. Some pet insurance providers may not cover certain breeds of dogs. Most dog breeds excluded from coverage are large or known for aggression. On the other hand, there are no cat breeds not covered by cat insurance.
Excluded dog breeds may include (but are not limited to):
Akitas
Chow Chows
Doberman Pinschers
German Shepherds
Bull Mastiffs
Pit Bull Terriers
Rottweilers
Wolfhounds
Contact your pet insurance provider to see what breeds your policy includes or excludes.
5 Useful Strategies for Keeping Your Pets Safe & Healthy in Oklahoma
1. Cover Your Food
Dogs and cats cannot eat high-sodium foods. Covering your food is a safe way of guaranteeing that your pet does not hop on the counter and drag your food away. Always put a lid or extra plate over your food after taking it off the BBQ or out of the oven or your furry friend may hop on the counter and drag it away. Eating human food is dangerous to your pet's health, especially if it is high in sodium or if it has any seasoning on it.
2. Limit Your Pet's Exposures to Cold Weather
Oklahoma winters can be brutal, especially on cats and dogs. You must keep your pets inside to prevent hypothermia or other cold-related illnesses. If you take your pets outside to use the restroom during winter, invest in cold weather harnesses and booties. Although it does not always snow in Oklahoma, the weather is temperamental and is known to sleet. Wearing booties will protect your pup or cat from hurting their paws on ice.
3. Spay or Neuter Your Pet
Unless you are willing to home numerous litters of kittens and puppies, you need to spay or neuter your pet. Oklahoma City has the highest number of stray cats and dogs in Oklahoma. Many organizations are already working to fix strays, but you must also do your part by fixing your dog or cat so they do not continue this problem.
4. Be Careful of Large Predators
Many large predators in Oklahoma threaten your pet's health. If you keep your pet outside all day, you are leaving them at the hands of predators like mountain lions. Many large predators lurk in cities, too, like the coyote. Believe it or not, coyotes are unafraid of approaching urban areas. These predatory canines roam into cities to hunt domesticated pets. If you do not keep an eye on your pet, they can easily become prey.
5. Chip Your Pet
Some areas in Oklahoma have large numbers of homeless pets who have lost their owners. Without microchips, pets cannot return to their families and end up homeless. Some pets may even get adopted by new owners if they are not found and claimed within enough time. Microchipping bypasses that process by letting you track your pet down instantly. It also allows veterinarians, animal control, and shelters to scan your user information through the chip so they may contact you.
5 Unique Pet Rescue Shelters in Oklahoma
The following are five unique pet rescue shelters for cats and dogs in Oklahoma. Each shelter provides cat and dog adoption and original features.
---
---
---
---
---
Conclusion
Choosing pet insurance in Oklahoma is not as difficult as it seems pet insurance is pretty straightforward. Find a premium that works for your financial situation and determine the ideal coverage for your pet. Easy, right? Investing in pet insurance early on is highly recommended so you can get the most coverage for the least amount of money. By purchasing pet insurance for your puppy or kitten around the age of 8-weeks, the minimum for most agencies, you are eliminating the potential that you get declined later in their lives because of pre-existing conditions. Pet insurance can save your bank account, and even better, it can save your pet's life. The right pet insurance is the real make-or-break when catastrophe hits. That is why choosing the right insurance agency is so important. The Oklahoma pet insurance agency that consistently performed the best was Lemonade. Lemonade had the lowest monthly premiums with the overall best coverage.
SwiftScore Ranking Methodology for Oklahoma
We ranked the best pet insurance policies in Oklahoma based on a variety of important factors including the following:
Average monthly price for a 2-year-old Labrador Retriever with a $500 deductible located in Oklahoma with a 73129 zip code
Coverage and benefits
Key policy details including accidents and illnesses, surgeries, annual check-ups, cancer treatment, lab tests, and more
AM Best rating of the underwriter
Reimbursement percentage
Annual benefit amount
Technology and user experience

Ease of sign up

Policy language clarity
User reviews