6 Best Ohio (OH)
Pet Insurance

Plans Compared in 2023

Updated on by Matthew H. Nash – Licensed Insurance Agent

Purchasing pet insurance in Ohio can be intimidating. As a licensed Ohio insurance agent and lifelong pet parent, I understand dissecting insurance company policies can be difficult. That's why I'm bringing you all the most important info on Ohio pet insurance in an easy-to-understand format. Whether you live in Columbus, Cleveland, Cincinnati, Springfield, Athens, Toledo or anywhere in between, we've got you covered. Read more about our unbiased ranking methodology and advertiser disclosure.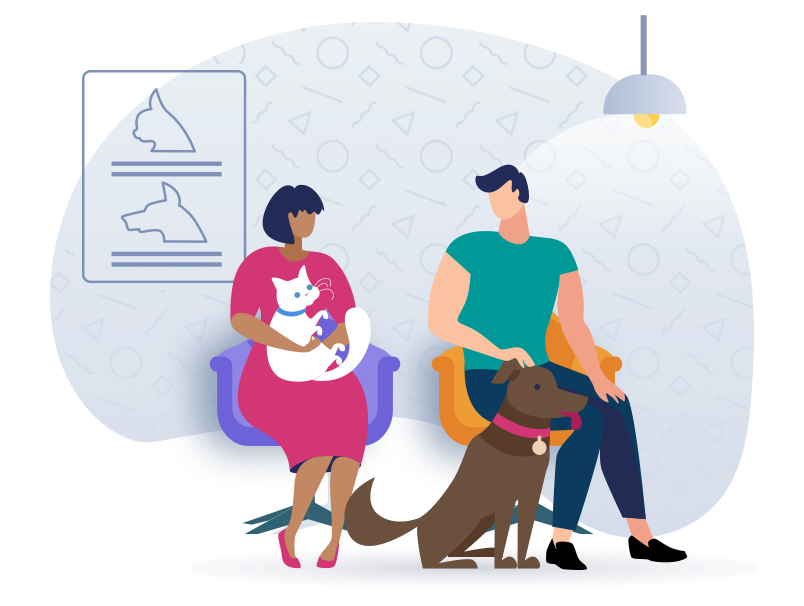 Top OH Pet Insurance Scored, Ranked & With Cost
Use our below table to quickly compare the best pet insurance providers in Ohio. The average monthly Ohio-specific prices shown are based on a healthy 2-year-old Labrador Retriever with a $500 deductible and 90% reimbursement amount who is located in Ohio with a 44102 zip code. Costs may vary based on age, location, coverage amount, and depending on the breed of your puppy. Prices are accurate as of September 2023 and are subject to change. For the most up-to-date information, please visit the provider website.
---
How much does dog & cat insurance cost in Ohio for the 15 most popular breeds?
The price for Ohio pet insurance is almost always the same throughout the state including in Columbus, Cleveland, Cincinnati, Toledo, Akron, or Dayton, etc. However, the prices will vary based on the age, health and breed of your puppy.
All prices shown below are based on a 90% reimbursement rate with a $500 deductible and a $5,000 annual benefit from Figo pet insurance. Please note: these prices should only be treated as a rough guide as of September 2021 and are subject to change. If you're looking for the most up-to-date cost of pet insurance in Ohio we suggest getting a quote directly with Figo or Lemonade.
Dog Insurance Prices in Ohio:
Mixed Breed – $23.79/ mo
Labrador Retriever – $32.39/ mo
Golden Retriever – $32.33/ mo
German Shepherd – $34.95/ mo
Goldendoodle – $28.12/ mo
Chihuahua – $14.79/ mo
Siberian Husky – $32.50/ mo
Yorkshire Terrier – $20.42/ mo
American Pit Bull Terrier – $35.97/ mo
Australian Shepherd – $22.37/ mo
Dachshund – $21.11/ mo
Shih Tzu – $18.79/ mo
French Bulldog – $44.50/ mo
Boxer – $44.67/ mo
Labradoodle – $28.12/ mo
Cat Insurance Prices in Ohio:
Mixed Breed – $13.83/ mo
American Shorthair – $16.35/ mo
Bengal – $16.35/ mo
Bombay – $16.35/ mo
British Shorthair – $16.35/ mo
Exotic – $16.35/ mo
Himalayan – $16.35/ mo
Maine Coon – $17.24/ mo
Persian – $17.24/ mo
Ragdoll – $17.24/ mo
Russian Blue – $16.35/ mo
Scottish Fold – $17.24/ mo
Siamese – $17.24/ mo
Sphynx – $16.35/ mo
Abyssinian – $16.35/ mo
Not finding your specific pet breed? Lemonade pet insurance is our #1 recommendation for Ohio and they'll be able to give you a quick quote for your exact needs.
Ohio Pet Insurance FAQs
What is pet insurance and why is it useful in Ohio?
To protect your pet via pet insurance, you'll need to pay a monthly amount to a pet insurance company to keep a policy active. These plans operate similarly to health insurance plans for humans. If your furry friend falls ill or has an accident, you will typically pay your vet ahead of time for treatment before submitting a claim for reimbursement from your insurance company. Keep in mind that pet insurance companies like to exclude certain pre-existing conditions, which is why we recommend getting dog insurance while your animal is still young.

Pet insurance is extremely useful in Ohio since vet bills can grow exponentially for treatments for accidents and illnesses such as broken bones or cancer treatments. Uninsured pet owners are often forced to euthanize pets when vet treatments are too costly. Acquiring pet insurance can help protect you from having to make that decision.
How old does my pet need to be to get pet insurance?
Most insurance companies do not have an age limit when it comes to purchasing a pet insurance plan. However, most companies require your puppy or kitten to be at least 8 weeks old before getting coverage. It is much more affordable to insure pets when they are younger, so we recommend you purchase pet insurance before your furry friend's first birthday.
Is pet insurance worth it in Ohio?
As mentioned earlier, vet bills can quickly pile up and cause financial strain and heartbreak when it comes to pet care. Emergency vet visits can easily cost thousands of dollars, and it's likely that pets will have at least one emergency during their lifetime. Whether or not pet insurance is worth it in Ohio depends on your financial situation and mindset on whether or not monthly insurance premiums are worth it to mitigate higher costs down the road.
What is covered and what's excluded with pet insurance coverage?
When it comes to pet insurance coverage, treatments and costs will be covered or excluded based on your specific plan. But in general, "sudden and catastrophic" events will be covered unless explicitly stated otherwise. These events could include broken bones, allergic reactions, sprains, and more. Things that may not be included include treatments for pre-existing illnesses. However, many providers now also have "wellness" packages that cover routine vaccinations, check-ups, heartworm prevention, and more for an additional monthly cost.
How does pet insurance reimbursement work?
The easiest way to understand pet insurance is to run some numbers. Let's say that you have a pet insurance plan with a 90% reimbursement amount. You also have a $250 deductible and a $20,000 animal max benefit. In this situation, if something happens to your pet that requires a $10,000 emergency surgery, your insurance company would reimburse you $9,000 minus your $250 deductible. You would end up paying $1,250 out-of-pocket instead of the full $10,000. Keep in mind that you'd still have to pay the $10,000 upfront before getting reimbursed from your insurance company unless you work with Trupanion. Trupanion offers payments directly to vets who are in their network, saving you from having to pay out-of-pocket at the time of an emergency treatment.
Is it better to have a lower or higher pet insurance deductible?
When you have a lower pet insurance deductible, you will have higher monthly payments to your insurance provider. This means that you'll pay more each month, but less out of pocket when there is a sudden illness or accident. Whether you choose a lower or higher pet deductible will depend on your personal financial situation. Take a look at pet insurance provider on-site calculators when asking for a quote. Our research shows that the majority of people choose $250 or $500 deductibles.
Are there any restricted dog breeds for homeowners insurance in Ohio?
Ohio does restrict dog breed owners for homeowners insurance depending on your local ordinance. These may include (but are not limited to):
Akitas
Chow Chows
Doberman Pinschers
German Shepherds
Huskies
Bull Mastiffs
Pit Bull Terriers
Rottweilers
Wolfhounds
We recommend contacting your local home insurance provider to see if your policy will include or exclude a specific dog breed. If it does, it's time to find a new specific liability rider.
Are there any restricted cat breeds for homeowners insurance in Ohio?
In general, any cat breed that you can purchase or adopt at a shelter in Ohio is allowed as a housepet. Truly exotic animals in the cat family are typically not allowed as pets in any state, including lions, tigers and bobcats. However, you might have heard of bengal cats in the context of home pets before.

Bengal cats, particularly hybrids bred at nurseries, are legal as housepets although they do require a bit more exercise than other house cats. Bengal cats and kittens are popular for their distinctive fur markings but will cost you a pretty penny for a visit to a breeder.
5 Useful Strategies for Keeping Your Pet Safe & Healthy in Ohio
1. Keep Your Pup on a Leash in Ohio
State law in the Buckeye state doesn't allow for pet dogs to run loose. They must be under someone's control at all times and must be on a leash when in heat. The one exception to this rule is when a dog is hunting with its owner or keeper. Keep your dog close and don't let them wander too far! They'll have more fun when you're by their side during adventures, too.
2. Getting a License for Your Ohio Dog
If you own a dog in Ohio, you must register your dog with your county's auditor by January 31 each year. This is required for all dogs over the age of three months, and dogs are also required to always wear a tag issued by the county auditor. Don't forget to update your contact information each year as well. Cats, on the other hand, are not required to be licensed in the state of Ohio. On the other hand, rescue efforts will also not be as robust when it comes to rescuing a lost or stuck cat.
3. Protect Your Pet from the Cold
Ohio is not the warmest state by a long shot! In wintertime, Ohio temperatures can drop below 0℉. If you're taking care of a furry best friend in Ohio, it's important to protect them throughout all seasons. Take your dog on shorter walks during the wintertime, and consider smaller coats for particularly cold dogs. When indoors, any pet can suffer from cold floors and nowhere to keep warm. Make sure to have a dog or cat pet ready in winter and leave your house heat on a comfortable level when leaving the house with your pet inside.
4. Indoor Dog Parks are Safe and Clean
If it's wintertime in Ohio and your furry friend is suffering from the cold, consider bringing them to an indoor dog park! They'll still need to get their energy out without freezing their paws or getting sick. The Dogtown Huber Heights dog daycare center in Huber Heights, Ohio has both popular indoor and outdoor dog parks perfect for your friend in any season.
5. Protect Your Pet from Worms and Parasites
No matter where you live, it's important to protect your pet from worms and parasites. Heartworms can enter your pet's system through mosquito bites, and fleas, ticks, mites, and more can find your furry friend outside. While dogs are typically more prone to worms and parasites from daily walks outside, heartworm treatment is possible for man's best friend. If your cat gets heartworms, on the other hand, there isn't truly a treatment that can help kill or flush the worms out quickly. This makes it doubly important to protect your cat from parasites with topical monthly treatments.
5 Unique Pet Rescue Shelters in Ohio
Looking for a new pet? We recommend these five highly rated and interesting animal shelters in Ohio. We believe that shelter adoption is one of the best ways to find your new furry best friend.
---
---
---
---
---
Conclusion
Finding the right pet insurance in Ohio for your cat or dog can be made simple. We recommend purchasing a pet insurance plan for your dog and cat once they are over 8 weeks old. This will allow you to take advantage of great coverage and lower costs. Pre-existing health conditions and age will equate to higher pet insurance plan costs, but we still recommend getting a plan even for these pets as it can save you from catastrophic event costs. According to our research, we found Lemonade pet insurance to perform at the top of the pack with the lowest monthly premiums.
SwiftScore Ranking Methodology for Ohio
We ranked the best pet insurance policies in Ohio based on a variety of important factors including the following:
Average monthly price for a 2-year-old Labrador Retriever with a $500 deductible located in Ohio with a 44102 zip code
Coverage and benefits
Key policy details including accidents and illnesses, surgeries, annual check-ups, cancer treatment, lab tests, and more
AM Best rating of the underwriter
Reimbursement percentage
Annual benefit amount
Technology and user experience

Ease of sign up

Policy language clarity
User reviews