7 Best North Dakota (ND)
Pet Insurance

Plans Compared in 2023

Updated on by Matthew H. Nash – Licensed Insurance Agent

Searching for and purchasing insurance has proven to be difficult for pet owners time and time again. I am a licensed North Dakota insurance agent, pet owner, and all around insurance nerd. I realize most people aren't like me and don't find insurance riveting, so I have condensed the ins and outs of pet insurance into an easy to read guide. With the staggering number of pet insurance agencies and the confusing policies, just opening a browser search for pet insurance is a task in itself. Whether you live in Bismarck, Grand Forks, Fargo, or any city in between, you will surely leave this article knowing what you need. Read more about our unbiased ranking methodology and advertiser disclosure.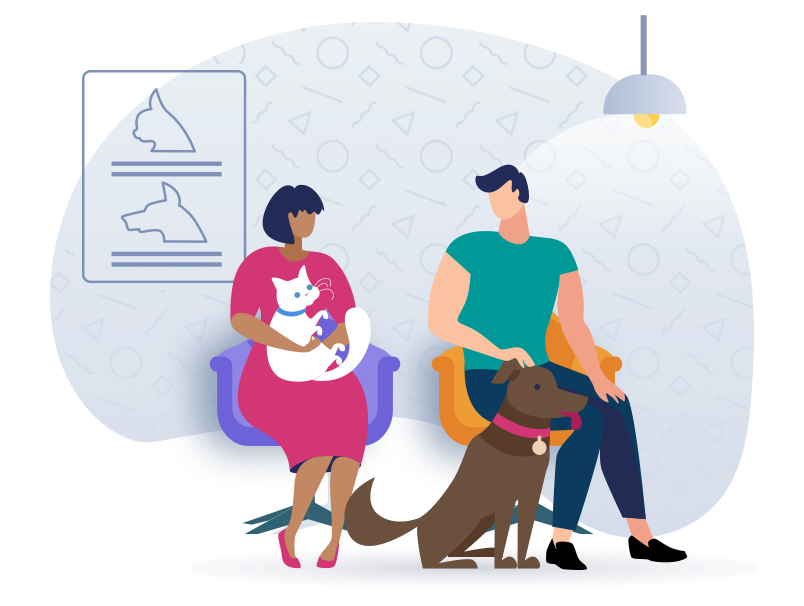 Top ND Pet Insurance Scored, Ranked & With Cost
Use our below table to quickly compare the best pet insurance providers in North Dakota. The average monthly North Dakota specific prices shown are based on a healthy 2-year-old Labrador Retriever with a $500 deductible and 90% reimbursement amount who is located in North Dakota with a 58104 zip code. Costs may vary based on age, location, coverage amount, and depending on the breed of your puppy. Prices are accurate as of January 2023 and are subject to change. For the most up-to-date information, please visit the provider website.
---
How much does dog & cat insurance cost in North Dakota for the 15 most popular breeds?
The price for North Dakota pet insurance is almost always the same throughout the state including in Fargo, Bismarck, Grand Forks, Minot, Williston, or Dickinson, etc. However, the prices will vary based on the age, health and breed of your puppy.
All prices shown below are based on a 90% reimbursement rate with a $500 deductible and a $5,000 annual benefit from Figo pet insurance. Please note: these prices should only be treated as a rough guide as of January 2023 and are subject to change. If you're looking for the most up-to-date cost of pet insurance in North Dakota we suggest getting a quote directly with Figo or Lemonade.
Dog Insurance Prices in North Dakota:
Mixed Breed – $19.93/ mo
Labrador Retriever – $27.13/ mo
Golden Retriever – $27.06/ mo
German Shepherd – $29.27/ mo
Goldendoodle – $23.54/ mo
Chihuahua – $12.38/ mo
Siberian Husky – $27.19/ mo
Yorkshire Terrier – $17.10/ mo
American Pit Bull Terrier – $30.11/ mo
Australian Shepherd – $18.73/ mo
Dachshund – $17.67/ mo
Shih Tzu – $15.74/ mo
French Bulldog – $37.24/ mo
Boxer – $37.39/ mo
Labradoodle – $23.54/ mo
Cat Insurance Prices in North Dakota:
Mixed Breed – $11.58/ mo
American Shorthair – $13.68/ mo
Bengal – $13.68/ mo
Bombay – $13.68/ mo
British Shorthair – $13.68/ mo
Exotic – $13.68/ mo
Himalayan – $13.68/ mo
Maine Coon – $14.44/ mo
Persian – $14.44/ mo
Ragdoll – $14.44/ mo
Russian Blue – $13.68/ mo
Scottish Fold – $14.44/ mo
Siamese – $14.44/ mo
Sphynx – $13.68/ mo
Abyssinian – $13.68/ mo
Not finding your specific pet breed? Lemonade pet insurance is our #1 recommendation for North Dakota and they'll be able to give you a quick quote for your exact needs.
Answering Your North Dakota Pet Insurance Queries (FAQs)
Understanding Pet Insurance and Its Benefits In North Dakota
Pet insurance is similar to health insurance in that holders sign documents enrolling them in their chosen agency and then pay a monthly sum. This sum ensures your placement as a member of the pet insurance company under your chosen policy. Practices such as this will provide a safety net should your pet need veterinary services. The initial fee is charged to the insurance member and later reimbursed after submitting a claim.

One important rule of thumb is to have your cat or dog insured before the age of 8 weeks. An exclusion many companies hold to involves pre-existing conditions, most of which come with older age. Total insurance coverage before your pet's eight-week age mark further solidifies the foundation of optimal health you have set for your pet's future.

In a state like North Dakota, where big cities and large populations are plentiful, it should come as no surprise that veterinary costs can become sky-high. More intensive treatments, such as those for cancer, can reach prices of $10,000. Without cat or dog insurance, many owners are in a less-than-desirable position.
What Age Is Prime-Time For Pet Insurance Selection?
An age of 8 weeks takes the cake for pros discussing the optimal age for insuring your pet. Fortunately for latecomers, many insurance companies have no qualms when insuring older felines and canines. The eight-week mark is suggested more for the benefit of the insurance holder and pet owner than anyone else. As it goes, the earlier you insure your pet, the more coverage they receive for any illnesses that may strike down the line.
What Are The Pluses Of Purchasing Pet Insurance In North Dakota?
As much as you might hope for the opposite, vet fees are a given when you have a pet. Many situations can happen and could render a simple checkup or a treatment plan for a critical illness necessary. Either way, one stat remains consistent. The average cat or dog owner could end up with accrued expenses totaling well over $3,000 should an emergency strike. This amount is not very easy to pay upfront. A discussion regarding the responsibility of monthly costs vs. the potential for a hefty out-of-pocket bill will be time well spent. In larger North Dakota cities, veterinarians tend to be more expensive, further proving the many benefits of pet insurance.
What Does An Insurance Plan Encompass, And What Does It Leave Out?
A standard practice of insurance companies is to cover any sickness or incident unless explicitly stated in the plan. These covered incidents tend to include all abrupt and unexpected health issues with your pet. However, some health problems would most likely fall outside the scope of your insurance plan. These exclusions can include all pre-existing conditions and illnesses, such as a type of cancer. It is vital to learn what claims are ineligible for reimbursement before settling on an agency. Package extras may be available and include many fantastic benefits for your pet, including wellness checks or booster administration.
How Do You Receive Your Reimbursement?
In the instance of a hypothetical emergency vet trip, you might find yourself $15,000 in the hole. Within this case, the deductible is $250, the reimbursement percentage is 90%, and the annual cap is roughly $30,000. After extensive treatments to preserve the health of your cat, you receive the bill. This is where pet insurance comes into play. Since your trip was unforeseen and your total is well under your annual cap, there is no reason to worry. With a whopping $13,500 covered by your insurance, the out-of-pocket cost sits at just $1,500.
Is A Lower Deductible Better Or Worse For Your Insurance Plan?
A lower deductible bulks up your monthly fees, but in turn, lowers your out-of-pocket costs in the end. Whether you desire smaller monthly payments or want to chance a higher-end cost, the decision is one worth discussing. Finding a quote calculator is easy as many companies offer this feature. The general deductible price tag that owners select sits around $250 or $500.
Can Homeowners Insure All Cat And Dog Breeds In North Dakota?
Few states do not have restrictions in place where particular dog breeds are concerned. As opposed to their canine counterparts, there do not appear to be many cat breeds that will affect your insurance directly. A few of the most common potentially uninsurable dogs include:
German Shepherds
Chow Chows
Bull Mastiffs
Wolfhounds
Pit Bull Terriers
Akitas
Rottweilers
Doberman Pinschers
5 Curated Tips For Maintaining Your Pets Health In North Dakota
1. Keep Your Eye On The Sky
Owls are a prominent part of the ecosystems in the Northern US, and this is especially true for North Dakota. Predatory and bold in nature, owls have no problem swooping at creatures that match them in size. While they do not pose a threat to cats daily, it is worth paying attention to any circling birds in the sky.
2. Check For FIV Before Introducing Multiple Cats
The feline leukemia virus poses a real threat to any cats near a carrier as it is transmittable. It is a common suggestion to test your cat at the vet before introducing any new felines to the home.
3. Integrating Two Species
Cats and dogs are both great species with the potential to be even better together. Analyzing your pet's behaviors and aggressions before bringing home a second pet will help you gauge whether you can do so safely or if your cat or dog is better off as an only pet.
4. Change With The Seasons
Around every quarter year, the temperatures may change drastically. North Dakota has blistering summers and frigid winters, so be sure to take precautions with each change. In the summer months, take action by monitoring your pet's outside time and providing cool water. This action will help ward off heat sickness. During the winter, limiting time outside or keeping your cat indoors will ensure their safety.
5. Big Cities & High Traffic Roads
Part of the appeal of North Dakota is its bustling cities, but with higher population and tourism comes increased road traffic. Upwards of 1 million pets are struck on the road each year, some being luckier than others. It is vital to keep an eye on your four-legged friend to avoid an accident and a hefty vet bill.
Top Five Shelters For Both Cats And Dogs In North Dakota
Not all pets are lucky enough to have a place to call their own. Fortunately for them, North Dakota is home to many animal shelters that want to provide stray and relinquished pets with lifelong health and happiness. If you live in North Dakota or are just swinging by, we suggest planning a trip to any of these animal shelters. Who knows, you might meet your forever friend.
---
---
---
---
---
Conclusion
Choosing a great pet insurance match for your family cat or dog is not challenging in nature. Given enough information, it is quite the opposite. When you select an insurance agency, you will gain new confidence in your abilities to give your pet what they deserve. While there is a recommended age of eight weeks for insurance, any age will do. There is no time like today to make your furry friend's future a little brighter. After extensive research, I have concluded that Lemonade provides the best combination of price and coverage for most pet owners.
SwiftScore Ranking Methodology for North Dakota
We ranked the best pet insurance policies in North Dakota based on a variety of important factors including the following:
Average monthly price for a 2-year-old Labrador Retriever with a $500 deductible located in North Dakota with a 58104 zip code
Coverage and benefits
Key policy details including accidents and illnesses, surgeries, annual check-ups, cancer treatment, lab tests, and more
AM Best rating of the underwriter
Reimbursement percentage
Annual benefit amount
Technology and user experience

Ease of sign up

Policy language clarity
User reviews