6 Best Nevada (NV)
Pet Insurance

Plans Compared in 2023

Updated on by Matthew H. Nash – Licensed Insurance Agent

Are you buying insurance for your cuddly cat or canine companion? As a pet owner and animal lover licensed to sell insurance in Nevada, I completely understand the problem of choosing the proper pet insurance policy here in The Silver State. That's why I've done the work for you. This post has all your need-to-know information, whether you're in Vegas, Henderson, Reno, or Carson City. Read more about our unbiased ranking methodology and advertiser disclosure.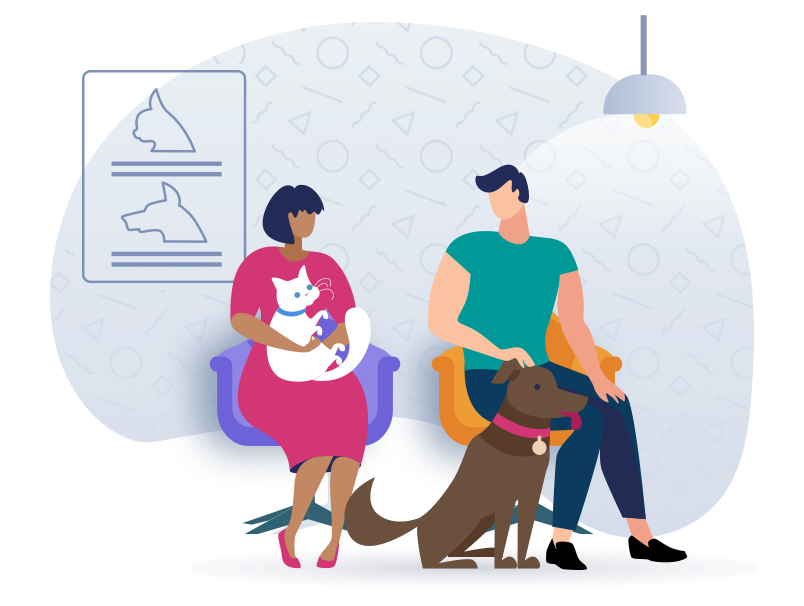 Top NV Pet Insurance Scored, Ranked & With Cost
Use our below table to quickly compare the best pet insurance providers in Nevada. The average monthly Nevada-specific prices shown are based on a healthy 2-year-old Labrador Retriever with a $500 deductible and 90% reimbursement amount who is located in Nevada with an 89117 zip code. Costs may vary based on age, location, coverage amount, and depending on the breed of your puppy. Prices are accurate as of January 2023 and are subject to change. For the most up-to-date information, please visit the provider website.
---
How much does dog & cat insurance cost in Nevada for the 15 most popular breeds?
The price for Nevada pet insurance is almost always the same throughout the state including in Las Vegas, Reno, Henderson, Paradise, or Spring Valley, etc. However, the prices will vary based on the age, health and breed of your puppy.
All prices shown below are based on a 90% reimbursement rate with a $500 deductible and a $5,000 annual benefit from Figo pet insurance. Please note: these prices should only be treated as a rough guide as of January 2023 and are subject to change. If you're looking for the most up-to-date cost of pet insurance in Nevada we suggest getting a quote directly with Figo or Lemonade.
Dog Insurance Prices in Nevada:
Mixed Breed – $26.41/ mo
Labrador Retriever – $35.97/ mo
Golden Retriever – $35.89/ mo
German Shepherd – $38.80/ mo
Goldendoodle – $31.23/ mo
Chihuahua – $16.42/ mo
Siberian Husky – $36.07/ mo
Yorkshire Terrier – $22.67/ mo
American Pit Bull Terrier – $39.92/ mo
Australian Shepherd – $24.83/ mo
Dachshund – $23.43/ mo
Shih Tzu – $20.86/ mo
French Bulldog – $49.39/ mo
Boxer – $49.58/ mo
Labradoodle – $31.23/ mo
Cat Insurance Prices in Nevada:
Mixed Breed – $15.35/ mo
American Shorthair – $18.15/ mo
Bengal – $18.15/ mo
Bombay – $18.15/ mo
British Shorthair – $18.15/ mo
Exotic – $18.15/ mo
Himalayan – $18.15/ mo
Maine Coon – $19.15/ mo
Persian – $19.15/ mo
Ragdoll – $19.15/ mo
Russian Blue – $18.15/ mo
Scottish Fold – $19.15/ mo
Siamese – $19.15/ mo
Sphynx – $18.15/ mo
Abyssinian – $18.15/ mo
Not finding your specific pet breed? Lemonade pet insurance is our #1 recommendation for Nevada and they'll be able to give you a quick quote for your exact needs.
Nevada Pet Insurance FAQs
What is pet insurance?
Medical care is expensive. How many times have you been to the doctor to receive much-needed treatment only to get a giant bill in the mail a week later? Just as insurance alleviates our healthcare costs, it's also a big help for our pets. Pet insurance is a health care policy for your cat or dog that allows reimbursement of certain health expenses.
Why do I need to have pet insurance in Nevada?
Nevada vet bills can be high! Whether your cat is suffering from cancer or your dog is facing hip dysplasia, vet bills are the last thing you want occupying your mind. Unfortunately, some pet owners simply can't afford treatment, making euthanization the best option to take their pet's pain away. Having pet insurance eliminates this painful decision.
What do I need to know about purchasing a pet insurance policy?
To enjoy the benefits of pet insurance, you must find an insurance company that writes pet policies. The same company that provides your healthcare policy won't do the same for your pet.

After you've found a company, you are required to pay a fee each month to ensure your policy remains active. If your pet gets injured or sick, you will first pay out of pocket and submit a reimbursement claim retroactively. The one exception to this we have found is Trupanion, they will pay your vet directly if your vet is in their network so you won't have to pay out of pocket.

Something to keep in mind—insurance companies generally exclude many pre-existing conditions. It is best to get insurance while your pets are still kittens or puppies because they are far less likely to have already developed any medical conditions at this stage of their life.
How old does my pet need to be for insurance?
Eight weeks is the minimum age most companies will write a policy. Once your cat or dog has reached eight weeks, it's best to start pursuing insurance as soon as possible. Try to obtain insurance before their first birthday, as younger animals are the most affordable to insure.
Is pet insurance worth it?
You've likely faced a medical emergency or know someone who has in your own life. Why wouldn't it be different for your pets? Medical treatment and the bills that follow are a part of our fur family's lives too. It's essential to prepare yourself because these situations can occur at any time.

Everyone's financial situation is unique. Whether you're paying upfront or paying a monthly fee on your insurance policy, the bill is going to get paid regardless. Nevada vet bills can be pretty costly. It's up to you to decide how to handle it best.
Does insurance cover everything?
Most insurance companies cover injuries and illnesses unless your specific policy excludes them. If the disease or injury is considered "sudden and catastrophic" it will be covered, such as broken bones or a respiratory infection. If your pet's disease or injury has a sudden onset or is an accident, it will most likely be covered.

Unfortunately, some problems are excluded. Let's say you have a cat who has had diabetes its entire life. Your insurance company will consider this a pre-existing condition. Sadly, pre-existing conditions are rarely covered.

Some insurance companies are offering vaccination and routine exam packages to make costs more affordable.
Can I be reimbursed?
Yes, to a certain extent. For example, let's say you have pet insurance with an 80% reimbursement amount, a $500 deductible, and a $20,000 max annual benefit. Suddenly, your cat is injured, requiring $10,000 in treatment costs. Your insurance would reimburse you $8,000 minus your $500 deductible, meaning your out-of-pocket payment is substantially smaller than $10,000!

One exception is Trupanion, which gives payment directly to in-network veterinarians and doesn't ask for any out-of-pocket costs from you.
Should I aim for a lower deductible?
Most deductibles are $250 or $500. Lower deductibles equal higher monthly payments but smaller payments from you at the vet's office. A higher deductible equals a smaller monthly payment but a larger vet bill. Find the right fit for you on your income and overall financial snapshot.
Does my Nevada homeowners insurance exclude some cat or dog breeds?
Many states restrict dog breeds perceived as "risky" or "dangerous" in homeowner insurance policies. These breeds include, but are not limited to:
German Shepherd
Akita
Alaskan Malamute
Cane Corso
Chow Chow
Doberman Pinscher
Mastiff
Presa Canario
Siberian Husky
Wolf hybrid
Cats generally face few restrictions, but you should consult your home insurance provider for the most updated information.
5 Useful Strategies for Keeping Your Dog Safe & Healthy in Nevada
1. Don't Get Bitten or Stung
Rattlesnakes and scorpions love dry desert Nevada landscapes. Popular hiking areas like Red Rock and Valley of Fire where many people bring their pooches are home to this creepy crawlies (and slithies). Fortunately, all you need to do is practice caution:
Keep your dog leashed. This is the easiest way to ensure your dog doesn't run off and find trouble.
Protect your pets in Nevada. Dogs get bitten by snakes more often than humans due to being close to the ground. They often let their curiosity get the best of them and get too close to snake and scorpion hideouts.
Keep your hands, feet, and pets where you can see them. Holes, crevices, logs, and other mysterious places may seem attractive to explore but can be home to dangerous predators.
Listen and freeze. If you think you hear a rattle, stop and freeze. Look around your surroundings, including by your feet. If you don't see a snake, walk back the way you came.
If your dog gets bitten or stung, take them to a vet immediately. Even if you think it wasn't a poisonous creature, it's better to be safe than sorry!
2. Don't Try to Beat the Heat
Nevada is a desert where hot temperatures are the norm year-round. In the summer, it's not abnormal to see triple-digit temps reaching 110 or higher! It's not healthy for us or our pets to be outside for long durations during these times. Here's how to keep your furry friends safe:
Keep your dogs and cats well-hydrated. Water should be cold and replaced regularly.
Avoid letting pets outside between 10 am and 4 pm when the sun's UV rays are most potent (and hottest).
Don't walk dogs on asphalt or concrete during the hottest part of the day. Either wait until early morning and late evening or walk on more excellent surfaces to avoid paw burns.
Make sure pets have access to shade if they must be outside for an extended period of time.
Don't ever leave pets in unattended cars. Inside temperatures can soar to over 170 degrees.
Check for signs of overheating: excessive inactivity, excessive panting, difficulty breathing, increased heart rate, drooling, dizziness, seizures, vomit, fevers, and/or bloody diarrhea.
3. Don't Outrun Traffic
Traffic is dangerous everywhere but can be especially problematic in densely populated and highly touristy cities like Las Vegas. Despite road hazards, you can still keep your pets out of harm's way:
Always leash your dog before going outside, unless you have a fenced yard. If you have an outdoor cat, make sure they are microchipped and wearing a collar for easy identification if they roam a little too far from home.
Get your cats and dogs spayed or neutered. This is especially important with male animals looking for females in heat.
Train your dog to come to you when called. If you lose sight of them, it should be easy to have them get back to you.
Don't open doors without knowing where your pets are. A sneaky cat can easily escape without you noticing.
If you live in a busy area, consider fencing your front yard if you have one. That way, your cats and dogs can enjoy the outdoors with less danger.
4. Don't Get Caught in a Fire
Being one of the driest states in the nation, it's no surprise that wildfires occur every year in Nevada. Even though you may think the chances of evacuation are slim, be prepared for this very real possibility:
Bring pets inside at the first sign of a wildfire. If evacuation is required, your pets will be close and you won't have to spend time searching for them.
If there is time to do so, take pets with you when evacuating. It's no question that they're family, but sometimes it's easy to forget what to do when in panic mode. With that being said, only take your pets if it is safe enough. Your own life comes first.
Have a supply kit ready in the event of an emergency. Add the old ones to your pet supply kit when you buy a new leash, harness, collar, or bed. Instead of throwing away old towels, wash them and store them in your kit. If it's feasible, try to store a couple of day's worth of pet food as well. (Remember to replace food periodically.)
Keep your pet's paperwork nearby. In a supply kit, in your wallet or purse, or somewhere you know you can reach on short notice in case you have to evacuate. If you can, it's ideal for storing this information electronically as well.
5. Don't Catch Preventable Illness
We all get sick at some point, but many illnesses are easily preventable with basic hygiene practices:
Take your pets for yearly and routine wellness exams.
Keep your pet's vaccinations up to date.
Dispose of feces regularly. If you have a cat, clean the litter box regularly.
Bathe your pets when needed. (Even if your cat hates it!)
5 Nevada Animal Shelters You Need to Know About
Want to welcome a new fur baby to the family? Find your next friend at one of these awesome animal shelters in Nevada.
---
---
---
---
---
Conclusion
Now you're ready to find the perfect pet insurance! Remember, now is the best time to sign up for insurance. The younger your pet is, the smoother the insurance process is. You'll get the best prices, the fewest exclusions, and the value you want. Regardless, pet insurance at any age will benefit your kitty or canine and your mind.

Let's get started. We've done the research and found that Lemonade insurance gives the best bang for your buck.
SwiftScore Ranking Methodology for Nevada
We ranked the best pet insurance policies in Nevada based on a variety of important factors including the following:
Average monthly price for a 2-year-old Labrador Retriever with a $500 deductible located in Nevada with a 89117 zip code
Coverage and benefits
Key policy details including accidents and illnesses, surgeries, annual check-ups, cancer treatment, lab tests, and more
AM Best rating of the underwriter
Reimbursement percentage
Annual benefit amount
Technology and user experience

Ease of sign up

Policy language clarity
User reviews