7 Best Iowa (IA) Pet Insurance – Average Cost in 2022
Updated on by Matthew H. Nash – Licensed Insurance Agent
As a licensed insurance agent in Iowa and lifelong pet parent, I know pets are wonderful companions and family members, but their care can be pretty expensive. Emergency surgeries can cost over $10,000, not including the cost of follow-up care and medications. However, thanks to pet insurance, there is no need to panic. Pet insurance is one of the best ways to keep your pet healthy and your wallet full. So, if you are a pet owner in Orange City, Cedar Rapids, Fairfield, North Liberty or Des Moines, this article will tell you everything you need to know about enrolling in a pet insurance plan in Iowa. Read more about our unbiased ranking methodology and advertiser disclosure.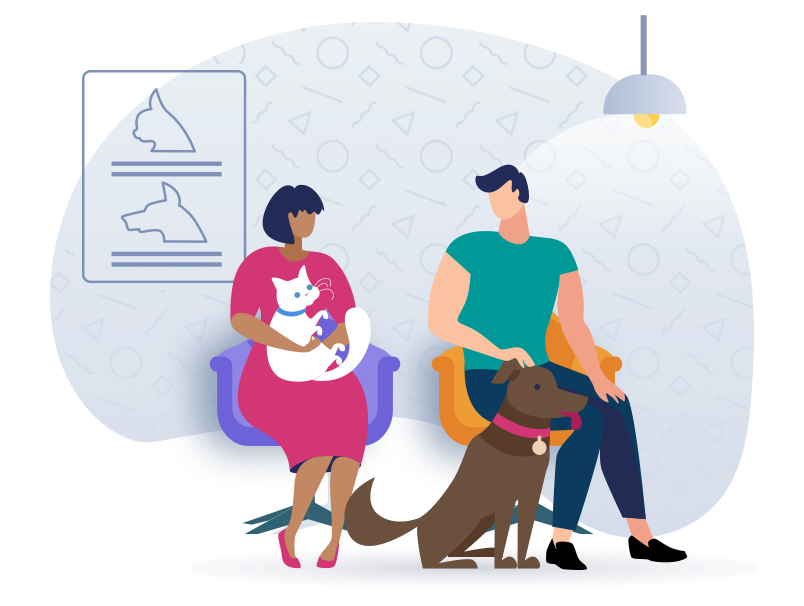 Top IA Pet Insurance Scored, Ranked & With Cost
Use our table below to quickly compare the best pet insurance providers in Iowa. The average monthly Iowa-specific prices shown are based on a healthy 2-year-old Labrador Retriever with a $500 deductible and 90% reimbursement amount who is located in Iowa with a 50317 zip code. Costs may vary based on age, location, coverage amount, and depending on the breed of your puppy. Prices are accurate as of September 2022 and are subject to change. For the most up-to-date information, please visit the provider website.
---
How much does dog & cat insurance cost in Iowa for the 15 most popular breeds?
The price for Iowa pet insurance is almost always the same throughout the state including in Des Moines, Cedar Rapids, Iowa City, Le Mars, or Pella, etc. However, the prices will vary based on the age, health, and breed of your puppy.
All prices shown below are based on a 90% reimbursement rate with a $500 deductible and a $5,000 annual benefit from Figo pet insurance. Please note: these prices should only be treated as a rough guide as of September 2022 and are subject to change. If you're looking for the most up-to-date cost of pet insurance in Iowa we suggest getting a quote directly with Figo or Lemonade.
Dog Insurance Prices in Iowa:
Mixed Breed – $22.26/ mo
Labrador Retriever – $30.34/ mo
Golden Retriever – $30.25/ mo
German Shepherd – $32.71/ mo
Goldendoodle – $26.33/ mo
Chihuahua – $13.86/ mo
Siberian Husky – $30.42/ mo
Yorkshire Terrier – $19.12/ mo
American Pit Bull Terrier – $33.67/ mo
Australian Shepherd – $20.93/ mo
Dachshund – $19.76/ mo
Shih Tzu – $17.60/ mo
French Bulldog – $41.64/ mo
Boxer – $41.82/ mo
Labradoodle – $26.33/ mo
Cat Insurance Prices in Iowa:
Mixed Breed – $12.95/ mo
American Shorthair – $15.31/ mo
Bengal – $15.31/ mo
Bombay – $15.31/ mo
British Shorthair – $15.31/ mo
Exotic – $15.31/ mo
Himalayan – $15.31/ mo
Maine Coon – $16.15/ mo
Persian – $16.15/ mo
Ragdoll – $16.15/ mo
Russian Blue – $15.31/ mo
Scottish Fold – $16.15/ mo
Siamese – $16.15/ mo
Sphynx – $15.31/ mo
Abyssinian – $15.31/ mo
Not finding your specific pet breed? Lemonade pet insurance is our #1 recommendation for Iowa and they'll be able to give you a quick quote for your exact needs.
Iowa Pet Insurance FAQs
What is pet insurance?
Pet insurance is essentially medical coverage for pets. There are many different providers and plans to choose from, but pet insurance generally offers coverage for veterinary costs that result from sudden illness or accidents. To sign up, you need to select a plan, pay a monthly premium, and then you are all set!

Pet insurance operates slightly differently from human health insurance in that most pet insurance plans use a reimbursement model, which means that pet owners are reimbursed for veterinary costs. While you may need to pay your vet bills up front, you will be refunded a certain amount by your insurance provider.
Is pet insurance available for all pets?
Yes! Pet insurance is available for any house pet that you may have, whether you have a dog, cat, bird, hamster, potbelly pig, or snake.

The specific plans available may vary by animal. For example, the programs available for dogs usually differ from those available for cats. When selecting a plan, make sure that the plan includes coverage for all of your pet's unique needs.
Are there any age requirements or restrictions to enroll in pet insurance?
It is common for pet insurance plans to require that pets meet specific age requirements to be eligible for pet insurance. For example, most plans require kittens to enroll in a plan are at least 6 weeks old. However, age requirements vary by provider and pet.

Conversely, there is usually not an age limit to enroll pets in pet insurance. This means that you can enroll your pet at any time, as long as the minimum age requirement is met. Also, pet insurance does not expire, as long as you pay the monthly premium.
What services are covered by pet insurance?
Every pet insurance provider and plan is different. However, most offer basic coverage, which includes unexpected/emergency veterinary care for illness and accidents. Other plans offer the basic coverage plan outlined above in addition to prescription coverage and routine check-up coverage. Since every plan is different, it is important to select the right plan for you and your pet.

It is important to be aware that pet insurance companies rarely cover expenses related to pre-existing conditions. These include any ailments that were present/diagnosed before coverage began. This is why it may be a good idea to enroll your pet in insurance at a young age to avoid potentially high out-of-pocket costs for pre-existing conditions.
How will I be reimbursed?
After your pet receives veterinary care, you will receive a bill. In most cases, you as the owner will need to make an initial payment, and then you can submit a reimbursement request to your insurance provider. Your insurance provider will then reimburse you for the costs incurred.
However, it is crucial to know that you will most likely not be reimbursed for the entire bill. The amount that your pet insurance carrier reimburses you for veterinary costs depends on your reimbursement rate, your deductible, and your annual maximum benefit.

For example, you have cat insurance with an 80% reimbursement rate, a $250 deductible, and a $25,000 maximum benefit. One day, your cat needs emergency surgery and stays in the hospital overnight. The total cost of care comes to $13,000. Then, you submit a reimbursement request to your provider. After factoring in your reimbursement rate, deductible, and maximum benefit, your provider would reimburse you $10,400 minus the $250 deductible. This means that you will ultimately be reimbursed $10,150 and only need to pay $2,850 instead of $13,000.
Should I enroll in a plan that has a high or a low deductible?
There are pros and cons to both high deductible and low deductible plans. Lower deductibles usually mean higher monthly payments. Conversely, plans with higher deductibles mean lower monthly payments but less coverage during an emergency. Whichever plan you choose depends on your personal financial preferences.
Are any pets restricted from homeowners insurance in Iowa?
The pets that are most commonly excluded from homeowners insurance are certain dog breeds. Some breeds are more likely to be aggressive towards humans and other dogs, such as German Shepherds and Pitbulls. Other commonly restricted breeds include:
Akitas
Chow Chows
Doberman Pinschers
Bull Mastiffs
Rottweilers
Wolfhounds
If you own one of these breeds or are looking to bring one of these dog breeds into your family, we suggest that you contact your homeowner's insurance company to discuss any restrictions.
5 Useful Strategies for Keeping Your Pet Safe & Healthy in Iowa
In addition to pet insurance, there are numerous strategies that you can implement daily to keep your pet healthy and safe in Iowa.
1. For Dogs: Avoid hot paws
Located in the heart of America, Iowa is a hotspot for extreme weather conditions, especially scorching hot summers. It is important to limit time walking on the pavement when walking your pup, as pavement can reach dangerously hot temperatures during the summer. This can damage your puppy's paws and be quite painful.
2. For (Outdoor) Cats: Watch the Weather
Lots of felines enjoy spending time outside. If you have an outdoor cat, make sure to keep an eye on the weather and watch for potential storms. Due to the heat and humidity, Iowa can experience pop-up thunderstorms and tornadoes during the summer. You would not want your kitty to be outside during one of those storms.
3. For Birds: clean cage
No matter where you live or what kind of bird you have, a clean cage makes for a happy (and sanitary) bird. Make sure that you clean your bird's cage regularly, including picking up droppings, changing the water, and providing fresh food.
4. For All Pets: Healthy Diet
All pets need to follow a well-balanced diet to stay healthy. While specific nutritional needs vary by animal, it is important to make sure that your pet eats a healthy diet everyday. Some treats are okay, but make sure they don't snack too much, as weight gain can lead to undesirable health issues.
5. For All Pets: Regular Vet Visits
Some pets may go many years without needing medical treatment. However, bringing your pet in for routine preventative exams at the vet is never a bad idea, especially if your insurance plan covers routine exams.
5 Unique Animal Rescue Shelters in Iowa
Numerous animal rescues and shelters across Iowa rehabilitate thousands of animals every year. If you are interested in bringing a new pet into your family, take a look at these five shelters.
---
---
---
---
---
Conclusion
Even though enrolling in pet insurance can seem confusing, all you need to do is find the right plan for your pet, pay your monthly bill, and then your companion will be covered. Life is unpredictable and your pet can become ill at any time. Pet insurance can help alleviate the financial burden associated with vet bills and make sure that your pet can get the medical care they need. We all want our pets to live with us for as long as possible and pet insurance is a crucial tool to help make that happen. The best overall plan we have reviewed for price and coverage is Lemonade Pet Insurance.
SwiftScore Ranking Methodology for Iowa
We ranked the best pet insurance policies in Iowa based on a variety of important factors including the following:
Average monthly price for a 2-year-old Labrador Retriever with a $500 deductible located in Iowa with a 50317 zip code
Coverage and benefits
Key policy details including accidents and illnesses, surgeries, annual check-ups, cancer treatment, lab tests, and more
AM Best rating of the underwriter
Reimbursement percentage
Annual benefit amount
Technology and user experience

Ease of sign up

Policy language clarity
User reviews