6 Best Indiana (IN) Pet Insurance – Average Cost in 2023
Updated on by Matthew H. Nash – Licensed Insurance Agent
As a licensed Indiana insurance agent and owner of both cats and dogs I know how confusing it can be when looking for the ideal Indiana pet insurance plan. In this article, I lay out all you need to know about getting the best policy at the lowest price. It doesn't matter if you live in Indianapolis, Bloomington, Fort Wayne, South Bend, Carmel, Evansville or anywhere in between, we've got you covered. We may receive compensation when you click on the affiliate links below.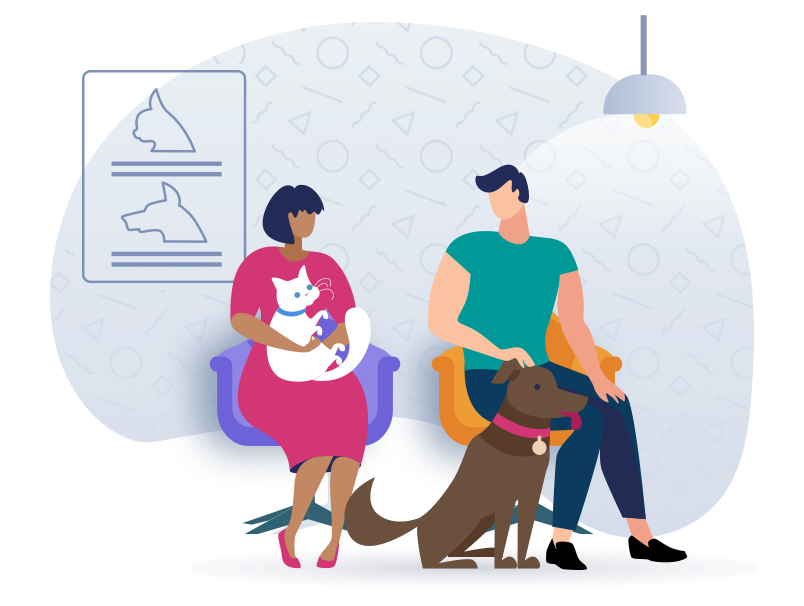 Top IN Pet Insurance Scored, Ranked & With Cost
Use our below table to quickly compare the best pet insurance providers in Indiana. The average monthly Indiana specific prices shown are based on a healthy 2-year-old Labrador Retriever with a $500 deductible and 90% reimbursement amount who is located in Indiana with a 46229 zip code. Costs may vary based on age, location, coverage amount, and depending on the breed of your puppy. Prices are accurate as of January 2023 and are subject to change. For the most up-to-date information, please visit the provider website.
---
How much does pet insurance cost in Indiana for the 15 most popular breeds?
The price for Indiana pet insurance is almost always the same throughout the state including in Indianapolis, Bloomington, Evansville, Fort Wayne, or Lafayette, etc. However, the prices will vary based on the age, health, and breed of your puppy.
All prices shown below are based on a 90% reimbursement rate with a $500 deductible and a $5,000 annual benefit from Figo pet insurance. Please note: these prices should only be treated as a rough guide as of January 2023 and are subject to change. If you're looking for the most up-to-date cost of pet insurance in Indiana we suggest getting a quote directly with Figo or Lemonade.
Dog Insurance Prices in Indiana
Mixed Breed – $25.58/ mo
Labrador Retriever – $35.25/ mo
Golden Retriever – $35.17/ mo
German Shepherd – $38.01/ mo
Goldendoodle – $30.61/ mo
Chihuahua – $16.09/ mo
Siberian Husky – $35.34/ mo
Yorkshire Terrier – $22.22/ mo
American Pit Bull Terrier – $39.12/ mo
Australian Shepherd – $24.34/ mo
Dachshund – $22.96/ mo
Shih Tzu – $20.45/ mo
French Bulldog – $48.39/ mo
Boxer – $48.58/ mo
Labradoodle – $30.61/ mo
Cat Insurance Prices in Indiana
Mixed Breed – $15.05/ mo
American Shorthair – $17.78/ mo
Bengal – $17.78/ mo
Bombay – $17.78/ mo
British Shorthair – $17.78/ mo
Exotic – $17.78/ mo
Himalayan – $17.78/ mo
Maine Coon – $18.77/ mo
Persian – $18.77/ mo
Ragdoll – $18.77/ mo
Russian Blue – $23.04/ mo
Scottish Fold – $18.77/ mo
Siamese – $18.77/ mo
Sphynx – $17.78/ mo
Abyssinian – $17.78/ mo
Not finding your specific pet breed? Lemonade pet insurance is our #1 recommendation for Indiana and they'll be able to give you a quick quote for your exact needs.
FAQs About Indiana Pet Insurance
Why do I need pet insurance in Indiana?
Pet insurance protects your financial pockets and allows your cats and dogs to get the healthcare they need. It's a great tool because vet bills are often surprisingly high, making treatment out of reach for many pet owners. When pet owners are uninsured, they can find themselves in a sad situation, eventually making the choice to euthanize their furry family member. When you have insurance, you don't have to ever even think about making that choice! Once you find a pet insurance company you'd like to sign up with, you'll have to apply for coverage and pay a monthly premium. In the event your pet has to go to the vet, you'll pay the bill like normal, and submit a claim for reimbursement later on.

Keep in mind, most insurance providers exclude certain pre-existing conditions from coverage. It's best if you can get insurance while your pet is still a kitten or puppy for the fewest exclusions and restrictions.
How old does my kitten or puppy need to be for insurance?
Insurance providers require kittens and puppies to be at least 8 weeks old for insurance eligibility. There is no age cap after that point; adult and senior pets are welcome to get insurance as well, but it will likely be more expensive. Sign up for insurance before your pet's first birthday for the best rates.
Is pet insurance worth it in Indiana?
I absolutely believe pet insurance is worthwhile. You never know when an accident will happen or when your pet will get sick. Insurance gives you peace of mind because you'll know that no matter what happens, your pet will be able to get treatment without bankrupting you. It's true that you have to pay monthly premiums, but this will likely end up costing far less than an emergency vet visit.
What's covered and what's not with pet insurance?
Your coverage will be different depending on your company and specific insurance policy. Usually, anything that is unexpected will be covered, like your dog swallowing a toy, or your kitty getting injured in a neighborhood catfight. Not everything is covered, however, such as pre-existing conditions. For example, if your pet already has allergies prior to insurance coverage, it likely won't be covered.

One thing to help prevent future conditions from developing is a wellness package, now offered by several insurance companies. It often covers routine exams, heartworm prevention, spay/neuter, and vaccines, among other benefits.
How will I get reimbursed?
It's not as complicated as it looks. As part of your policy, you'll have an annual deductible, reimbursement amount, and maximum benefit. Check out the following example:

Annual Deductible: $400
Reimbursement Amount: 85%
After an emergency vet visit, you pay a bill of $3000.
$3000 (vet bill) minus $400 (annual deductible) totals $2600.
You get back 85% (reimbursement amount) of $2600 (bill minus deductible), totaling $2,210.
One insurance provider that's a bit different is Trupanion. They give payments right to in-network veterinarians, making it so you don't have to pay the bill upfront.
Low deductible or high deductible? What's better?
The best deductible is the one you can comfortably afford. I find that pet owners commonly pick a deductible of $250 or $500. Lower deductibles amount to higher premiums every month, but a smaller bill when it comes time to visit the vet. Higher deductibles are the opposite—lower premiums, higher bills.

Find out what your own financial situation looks like. Many insurance providers offer complimentary calculators to figure out what works best for your finances.
Are any cat or dog breeds restricted by homeowners insurance in Indiana?
It's true that most states do restrict certain dog breeds often deemed as problematic. These breeds may include:
Akitas
Cane Corsos
Chow Chows
Doberman Pinschers
German Shepherds
Great Danes
Bull Mastiffs
Pit Bull Terriers
Rottweilers
Wolfhounds
You shouldn't have any issues with cats, as they are considered less risky to insurers. Please get in touch with your home insurance provider for the latest and most accurate information regarding restricted pets.
5 Strategies to Keep Your Pet Safe & Healthy in Indiana
1. Severe Storm Warning
It's common to experience severe storms in Indiana, such as heavy rainfall, large hail, extremely strong wind gusts, as well as thunderstorms. When living in Indiana with pets, be prepared to face stormy weather:
Pets may panic or experience anxiety and restlessness. Remain calm to help them stay calm.
Don't leave your pets outdoors. If the weather is too much for you, it's too much for them.
If your pet is afraid of thunder, play soft music or other sounds to distract them.
Be aware of your surroundings outdoors. Even after a storm has passed, there could be downed power lines, gaps in fences or any other number of hazards. Make sure the area is clear before allowing your pets back outside.
2. Open the Floodgates
You may be surprised to hear that before Indiana was settled, an entire quarter of the state was covered in wetlands. Even big cities can't change geography. Flooding is a matter of "when," not "if." Here's how to not get swept away:
Take your pets inside and go to the highest floor of your home.
Keep important documents, such as vaccination records and your vet contact information in a waterproof bag.
Evacuate if you are told to do so, and take your pets with you.
Learn about pet-friendly shelters or hotels you can take your pet to.
Don't walk your dog or allow pets to drink floodwater. Flood debris can leave all kinds of unsanitary and dangerous remnants behind.
3. Tornado Alley
On average, Indiana experiences 22 tornados a year. Tornados are known for happening quickly, without much warning, so it's important to always be prepared, even at a moment's notice:
Make sure your pets are microchipped and wear a collar. This makes a reunion much more likely if you're separated.
Do tornado safety practice runs. Designate a safe place to bring your pet to and take them there every few months so they become familiarized and less likely to panic during the real event.
Know which areas are more tornado-safe than others. Stick to basements, windowless bathrooms, and closets if possible.
4. Coyote Country
Numerous coyotes call Indiana home. Although humans don't face much danger, your pets can be very vulnerable. Keep them out of trouble by practicing the following:
Never leave pets unsupervised outdoors.
Avoid feeding pets outside as that attracts wildlife, including coyotes.
Keep human food indoors.
Keep lids on garbage cans.
Rinse out food containers to remove odors.
5. Ice, Ice, Baby
Although Indiana winters are relatively short, they're also incredibly cold. Due to the state's proximity to Lake Michigan, lake-effect snowfall is common. Watch out for this icy time, especially if you have vulnerable pets:
Keep pets indoors during low temperatures. If it's too cold outside for you, it's too cold for them. Young animals and senior animals are the most at risk.
Keep your pet's natural coat long as it helps insulate against the cold. Save the short haircut for summer.
If your pet spends any time outside during the winter, immediately wipe their paws when they come in. Not only does it keep your home clean, but it can save them from harmful effects of ice and snow.
Some dog breeds fare better than others, such as Huskies, Alaskan Malamutes, and other long-haired breeds, but you should still practice caution.
Don't let your dog off leash on snow or ice, or during blizzards.
5 Incredible Indiana Pet Shelters
Wanting to bring a new pawfect family member home? These five incredible shelters in Indiana are a great place to adopt your next cat or dog.
---
---
---
---
---
Conclusion
See? That wasn't painful at all! Finding pet insurance is no sweat. Just remember, the best time to get insurance is after 8 weeks and before your pet's first birthday for fewer exclusions and better prices, but there is no wrong time. Cats and dogs of all ages will benefit from the protection insurance provides. Want to get started? Check out Lemonade pet insurance for low premiums and high performance.
SwiftScore Ranking Methodology for Indiana
We ranked the best pet insurance policies in Indiana based on a variety of important factors including the following:
Average monthly price for a 2-year-old Labrador Retriever with a $500 deductible located in Indiana with a 46229 zip code
Coverage and benefits
Key policy details including accidents and illnesses, surgeries, annual check-ups, cancer treatment, lab tests, and more
AM Best rating of the underwriter
Reimbursement percentage
Annual benefit amount
Technology and user experience

Ease of sign up

Policy language clarity
User reviews