6 Best Idaho (ID)
Pet Insurance

Plans Compared in 2023

Updated on by Matthew H. Nash – Licensed Insurance Agent

Purchasing pet insurance in Idaho may feel like an arduous task. As a licensed insurance agent in Idaho, I understand the challenges of deciphering complex policy language and determining the best pet insurance company. I have researched everything you need to know for Idaho pets. Whether you live in Boise, Meridian, Gibbonsville, Eastport, or somewhere between, this article has everything you need to know. Read more about our unbiased ranking methodology and advertiser disclosure.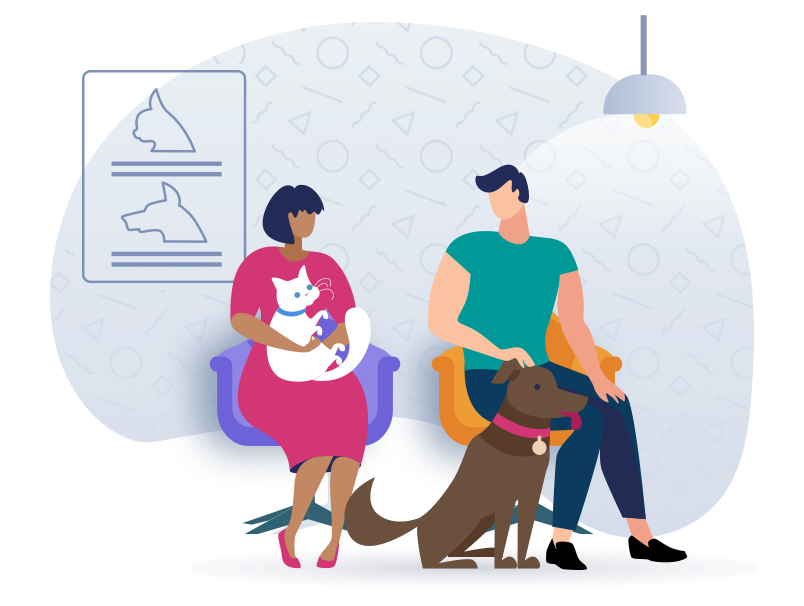 Top ID Pet Insurance Scored, Ranked & With Cost
Use our below table to quickly compare the best pet insurance providers in Idaho. The average monthly Idaho-specific prices shown are based on a healthy 2-year-old Labrador Retriever with a $500 deductible and 90% reimbursement amount who is located in Idaho with an 83712 zip code. Costs may vary based on age, location, coverage amount, and depending on the breed of your puppy. Prices are accurate as of June 2022 and are subject to change. For the most up-to-date information, please visit the provider website.
---
How much does dog & cat insurance cost in Idaho for the 15 most popular breeds?
The price for Idaho pet insurance is almost always the same throughout the state including in Boise, Idaho Falls, Pocatello, or Coeur d'Alene, etc. However, the prices will vary based on the age, health, and breed of your puppy.
All prices shown below are based on a 90% reimbursement rate with a $500 deductible and a $5,000 annual benefit from Figo pet insurance. Please note: these prices should only be treated as a rough guide as of June 2022 and are subject to change. If you're looking for the most up-to-date cost of pet insurance in Idaho we suggest getting a quote directly with Figo or Wagmo.
Dog Insurance Prices in Idaho:
Mixed Breed – $31.35/ mo
Labrador Retriever – $40.30/ mo
Golden Retriever – $48.96/ mo
German Shepherd – $46.48/ mo
Goldendoodle – $38.96/ mo
Chihuahua – $16.57/ mo
Siberian Husky – $44.33/ mo
Yorkshire Terrier – $23.41/ mo
American Pit Bull Terrier – $46.12/ mo
Australian Shepherd – $29.08/ mo
Dachshund – $27.05/ mo
Shih Tzu – $23.46/ mo
French Bulldog – $56.39/ mo
Boxer – $66.24/ mo
Labradoodle – $38.96/ mo
Cat Insurance Prices in Idaho:
Mixed Breed – $17.77/ mo
American Shorthair – $25.38/ mo
Bengal – $20.28/ mo
Bombay – $20.28/ mo
British Shorthair – $20.28/ mo
Exotic – $20.28/ mo
Himalayan – $20.28/ mo
Maine Coon – $21.68/ mo
Persian – $21.68/ mo
Ragdoll – $21.68/ mo
Russian Blue – $20.28/ mo
Scottish Fold – $21.68/ mo
Siamese – $21.68/ mo
Sphynx – $20.28/ mo
Abyssinian – $20.28/ mo
Not finding your specific pet breed? Figo pet insurance is our #1 recommendation for Idaho and they'll be able to give you a quick quote for your exact needs.
Idaho Pet Insurance FAQs
What is pet insurance? Why is it useful in Idaho?
To protect your pet to the fullest with insurance, you will have to apply for coverage with an insurance company and pay the monthly premiums to keep your policy active. Should your little friend end up in an accident or become ill, you will need to pay the vet bill at the time of service. Afterward, you can submit a claim to be reimbursed. Most insurance companies exclude pre-existing conditions, which is another reason to get your pet insured while still a juvenile (8 weeks or older).

Pet insurance is helpful in Idaho, especially in emergencies, since vet bills tend to go through the roof and therapies for illnesses like cancer can run as high as $10,000. It is not uncommon for uninsured pet owners to put their pets down because the cost of necessary treatment is beyond their reach. Insurance safeguards you from such devastating circumstances.
At what age can I get my pet insured?
Pet insurance companies require pets to be at least 8 weeks or older to get a policy put in place. The good news is that most providers do not have an age limit for insuring your pet. Keep in mind that younger animals are always cheaper to insure, which is why we recommend insuring your pet before its first birthday.
Is it worth getting pet insurance in ID?
As noted earlier, accidents and sickness are inevitable parts of every pet's life, and in such instances, vet bills quickly pile up. Pet owners often find themselves paying upwards of $2,500 for an urgent vet visit. It is up to you to decide whether paying monthly premiums offsets the potential high out-of-pocket costs down the road.
What does pet insurance include and exclude?
Pet insurance coverage differs from one provider to the next. Still, a good rule of thumb is that your policy will cover health events deemed "sudden and catastrophic," including things such as urinary blockages, broken bones, lacerations, eye infections, and much more. However, if your pet has cancer when you apply for an insurance policy, it will be considered a pre-existing condition and not eligible for claims. In addition to traditional policies, many pet insurance companies now feature "wellness" packages, which are add-ons. Such packages cover routine and preventative care, including heartworm prevention, annual physical exams, vaccinations, and more.
How does reimbursement work?
Hypothetically speaking, let's say your pet needs a $5,000 surgery, and your insurance policy has a $250 deductible, along with a 90% reimbursement amount and a $20,000 annual maximum benefit. In this scenario, your provider would pay $4,500 less your $250 deductible. Therefore, you would only need to pay only $750 instead of the original $5,000. If the idea of paying vet bills up front and waiting for reimbursement stresses you out, Trupanion might be a good option for your insurance needs as they pay vets in their network directly.
Is it better to have a higher or lower deductible?
This depends on your finances and personal preference. A lower deductible will get you higher monthly payments but less out-of-pocket costs in an emergency. In contrast, a higher deductible will get you the opposite: a lower monthly premium but higher out-of-pocket costs in a crisis. It is essential to run some numbers based on your circumstances to determine what works best for you. Most providers have calculators on their websites you can use when requesting a quote. It is worth noting that the most popular deductibles among pet owners are $250 and $500.
Are there restricted breeds for homeowners insurance in Idaho?
Most states have restricted dog breeds for homeowners insurance, but this varies depending on the company. Such restrictions may include:
Akitas
Bull Mastiffs
Chow Chows
Doberman Pinschers
German Shepherds
Pit Bull Terriers
Rottweilers
Wolf-hybrids
Whether you have a dog, cat, or another type of animal, we suggest contacting your home insurance provider to determine what your policy covers and if you'll need a specific liability rider.
5 Useful Strategies for Keeping Your Pet Safe & Healthy in Idaho
Between predators, natural disasters, and primary care, pet owners in Idaho have a lot to think about when it comes to keeping their pets safe and healthy.
1. Keep your pet hydrated
While keeping your pet well hydrated is an integral part of its health, it's especially vital during Idaho's hot summer months. You can do two things in tandem to ensure your pet's hydration levels are high enough: First, keep a fresh, clean bowl of water available every day. Second, mix a couple of spoonfuls of water in with your pet's food, regardless of whether it's canned, dry, cooked, or raw. Doing so enhances the flavors. Whatever you do, be sure not to drown the food.
2. Register your pet
Idaho requires that all dogs be licensed, and some counties even require cats to be as well. Be sure to check with your local town or city office about their requirements. One uniform requirement throughout the state is that you will have to show proof that your pet has been spayed or neutered.
3. Treat your pet for fleas and ticks
While treating your pet for fleas and ticks is essential in Idaho, the upshot is that Lyme disease is not very common. Unlike many states that have been overtaken by deer ticks (primary Lyme disease carrier), Idaho mostly has wood ticks. However, wood ticks can transmit Rocky Mountain Spotted Fever and Tularemia, which can cause your pet to have extremely high fevers, swollen lymph nodes, serious illness, jaundice, and abdominal pain. Flea and tick medicine is available as collars and spot-on treatments. The latter is often the most effective.
4. Protect your pet against predators
Idaho has a rugged and beautiful landscape, but it also comes with some seriously dangerous predators. Some such examples include black bears, coyotes, cougars, bobcats, and mountain lions. And that doesn't even account for other creatures that may pose a hazard to your pet, such as rattlesnakes, venomous spiders, skunks, and porcupines. If you want to reduce your pet's chance of a run-in, be sure to keep them indoors from before dusk and until after sunrise, as many of these critters are nocturnal.
5. Prepare an emergency bag
Idaho faces a severe risk of wildfires each year, and it only seems to be getting worse. Combine this with flooding, earthquakes, and intense winter storms, and Idahoans have plenty of reasons to prepare a "go" bag for their pets. The bag should include food, water, two bowls, and medicine. If you have a cat, you will need a spare litter box and bag of litter, and if you have a dog, you will want to have an extra leash. Be sure to keep your pet's carrier or kennel in an easily accessible place and have it lined with a thick blanket or cushion to comfort your little friend in an emergency. You may want to place a fresh pee-pad on top too.
5 Unique Animal Rescue Shelters in Idaho
---
---
---
---
---
Conclusion
As you can see, choosing the best pet insurance in Idaho is far more straightforward than it may have first seemed. I suggest getting pet insurance as soon as your cat or dog is more than 8-weeks-old. (For other types of animals, check with your provider.) Remember, the younger the pet, the better prices you'll get, and with far fewer restrictions on pre-existing conditions. Nevertheless, getting pet insurance at any age is better than never. It will help you cope financially in emergencies and cover wellness-related care. Our comprehensive research shows that Wagmo pet insurance consistently performs the best and provides the lowest monthly premiums.
SwiftScore Ranking Methodology for Idaho
We ranked the best pet insurance policies in Idaho based on a variety of important factors including the following:
Average monthly price for a 2-year-old Labrador Retriever with a $500 deductible located in Idaho with a 83712 zip code
Coverage and benefits
Key policy details including accidents and illnesses, surgeries, annual check-ups, cancer treatment, lab tests, and more
AM Best rating of the underwriter
Reimbursement percentage
Annual benefit amount
Technology and user experience

Ease of sign up

Policy language clarity
User reviews