6 Best Georgia (GA) Pet Insurance – Average Cost in 2023
Updated on by Matthew H. Nash – Licensed Insurance Agent
As a licensed Georgia Insurance agent and pet owner, I know first hand, pet insurance for your dog or cat is not always top-of-mind, but it should be. Across the Peach State from Atlanta to Valdosta or Columbus to Augusta, 1 in 3 pets will experience an unexpected illness or injury during their lifetimes. It doesn't take a mathematician to understand the financial risks of a large out-of-pocket vet bill, which can put you in a bind. Pet insurance can lessen the blow of a large out-of-pocket bill for your furry buddy in case of an emergency. I have put together the ultimate list of what to look for in a quality, comprehensive plan to help you make an informed decision. Read more about our unbiased ranking methodology and advertiser disclosure.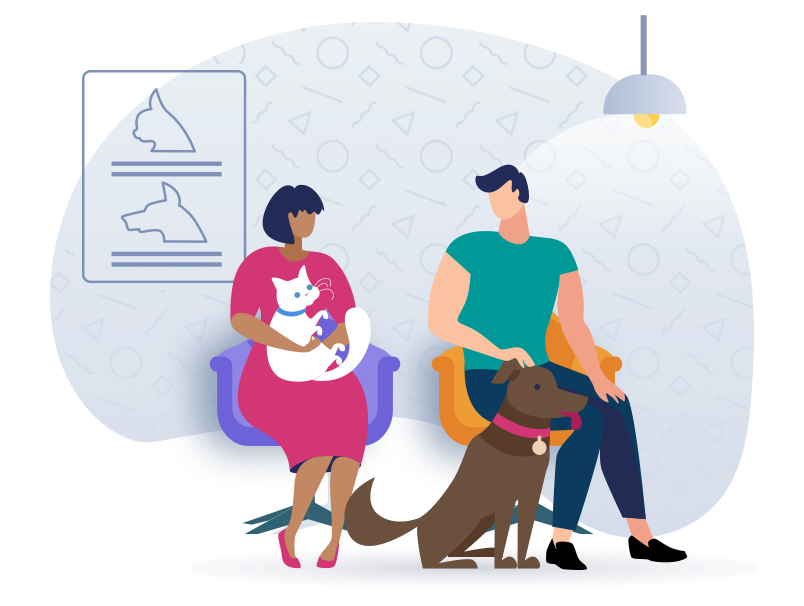 Top GA Pet Insurance Scored, Ranked & With Cost
Use our below table to quickly compare the best pet insurance providers in Georgia. The average monthly Georgia-specific prices shown are based on a healthy 2-year-old Labrador Retriever with a $500 deductible and 90% reimbursement amount who is located in Georgia with a 30331 zip code. Costs may vary based on age, location, coverage amount, and depending on the breed of your puppy. Prices are accurate as of May 2023 and are subject to change. For the most up-to-date information, please visit the provider website.
---
How much does dog & cat insurance cost in Georgia for the 15 most popular breeds?
The price for Georgia pet insurance varies depending on where you live. To give you an idea we've collected prices for three cities shown below. The prices will also vary based on the age, health, and breed of your puppy.
All prices shown below are based on a 90% reimbursement rate with a $500 deductible and a $5,000 annual benefit from Figo pet insurance. Please note: these prices should only be treated as a rough guide as of May 2023 and are subject to change. If you're looking for the most up-to-date cost of pet insurance in Georgia we suggest getting a quote directly with Figo or Lemonade.
Dog Insurance Prices in Georgia:
Mixed Breed

Atlanta – $30.36/ mo
Hartwell – $30.36/ mo
Augusta – $25.06/ mo

Labrador Retriever

Atlanta – $41.34/ mo
Hartwell – $41.34/ mo
Augusta – $34.13/ mo

Golden Retriever

Atlanta – $41.24/ mo
Hartwell – $41.24/ mo
Augusta – $34.07/ mo

German Shepherd

Atlanta – $44.60/ mo
Hartwell – $44.60/ mo
Augusta – $36.82/ mo

Goldendoodle

Atlanta – $35.89/ mo
Hartwell – $35.89/ mo
Augusta – $29.62/ mo

Chihuahua

Atlanta – $18.89/ mo
Hartwell – $18.89/ mo
Augusta – $15.58/ mo

Siberian Husky

Atlanta – $41.46/ mo
Hartwell – $41.46/ mo
Augusta – $34.23/ mo

Yorkshire Terrier

Atlanta – $26.06/ mo
Hartwell – $26.06/ mo
Augusta – $21.51/ mo

American Pit Bull Terrier

Atlanta – $45.89/ mo
Hartwell – $45.89/ mo
Augusta – $37.89/ mo

Australian Shepherd

Atlanta – $28.55/ mo
Hartwell – $28.55/ mo
Augusta – $23.56/ mo

Dachshund

Atlanta – $26.92/ mo
Hartwell – $26.92/ mo
Augusta – $22.23/ mo

Shih Tzu

Atlanta – $23.99/ mo
Hartwell – $23.99/ mo
Augusta – $19.80/ mo

French Bulldog

Atlanta – $56.75/ mo
Hartwell – $56.75/ mo
Augusta – $46.86/ mo

Boxer

Atlanta – $56.98/ mo
Hartwell – $56.98/ mo
Augusta – $47.05/ mo

Labradoodle

Atlanta – $35.89/ mo
Hartwell – $35.89/ mo
Augusta – $29.62/ mo
Cat Insurance Prices in Georgia:
Mixed Breed

Atlanta – $17.66/ mo
Augusta – $14.57/ mo
Hartwell – $17.66/ mo

American Shorthair

Atlanta – $20.87/ mo
Augusta – $17.22/ mo
Hartwell – $20.87/ mo

Bengal

Atlanta – $20.87/ mo
Augusta – $17.22/ mo
Hartwell – $20.87/ mo

Bombay

Atlanta – $20.87/ mo
Augusta – $17.22/ mo
Hartwell – $20.87/ mo

British Shorthair

Atlanta – $20.87/ mo
Augusta – $17.22/ mo
Hartwell – $20.87/ mo

Exotic

Atlanta – $20.87/ mo
Augusta – $17.22/ mo
Hartwell – $20.87/ mo

Himalayan

Atlanta – $20.87/ mo
Augusta – $17.22/ mo
Hartwell – $20.87/ mo

Maine Coon

Atlanta – $22.02/ mo
Augusta – $18.17/ mo
Hartwell – $22.02/ mo

Persian

Atlanta – $22.02/ mo
Augusta – $18.17/ mo
Hartwell – $22.02/ mo

Ragdoll

Atlanta – $22.02/ mo
Augusta – $18.17/ mo
Hartwell – $22.02/ mo

Russian Blue

Atlanta – $20.87/ mo
Augusta – $17.22/ mo
Hartwell – $20.87/ mo

Scottish Fold

Atlanta – $22.02/ mo
Augusta – $18.17/ mo
Hartwell – $22.02/ mo

Siamese

Atlanta – $22.02/ mo
Augusta – $18.17/ mo
Hartwell – $22.02/ mo

Sphynx

Atlanta – $20.99/ mo
Augusta – $17.32/ mo
Hartwell – $20.99/ mo

Abyssinian

Atlanta – $20.99/ mo
Augusta – $17.32/ mo
Hartwell – $20.99/ mo
Not finding your specific pet breed? Lemonade pet insurance is our #1 recommendation for Georgia and they'll be able to give you a quick quote for your exact needs.
Georgia Pet Insurance FAQs
This is a comprehensive guide that should answer most of your pet insurance questions. If you have specific questions that are not addressed below, contact your veterinarian or your pet insurance provider for more help.
What is pet insurance?
Pet insurance is a health care policy for your pet that reimburses you for many medical expenses. In the unfortunate event of a surprise accident or illness, having a pet insurance plan helps to protect your finances against extremely expensive but necessary vet medical care. Pet owners pay a monthly premium or fee for this service, with costs varying based on age and breed, what medical costs are covered under the policy, what annual or per-procedure deductible the policy includes, and what percentage of treatment the company will reimburse for the customer. There are generally 3 styles of plans—good, better, best. Typically, the more you spend, more comprehensive the plan.
How much does pet insurance cost?
It depends. Pet insurance costs vary widely and depend on many factors, including:
Breed
Age
Health
Deductible
Annual limit
Reimbursement level
Coverage level
Where you live
Can I choose any vet?
Yes. All Georgia veterinary clinics & animal hospitals accept pet insurance. You can keep your vet or, for many policies, visit any licensed vet in the world. But don't say the Georgia Department of Commerce didn't warn you (see question below about insurance fraud). If you choose to purchase pet health insurance for your pet, read the terms and conditions of your policy. No two pet insurance policies are the same. The coverage can vary greatly from one policy to the next. Take the time to examine the co-pays, deductibles, limits, and exclusions, and double-check the amount of coverage shown in your insurance policy.
Is there a waiting period for pet insurance?
Yes. All pet insurance companies have waiting periods. Just like with any insurance plan, waiting periods vary by state and insurer.
What can you tell me about pet insurance and its usefulness?
1 in 3 pets will experience an unexpected illness or injury. Every six seconds a pet owner is faced with a veterinary bill over $1,000. And every year 1 in 3 pets will suffer from an unexpected accident or illnesses that will require veterinary care. An unexpected illness or injury that requires diagnostic tests, surgeries, overnight hospitalization, and mediPetion can cost more than many pet owners can afford. If your pet is healthy all its life and has no accidents, then it doesn't pay to buy it. But are you willing to risk the life and health of your pet on a wager like that? It's smart to invest in a plan that covers these unintended consequences and costs and prevents a situation in which you are forced to euthanize your pet because you can't afford treatment. This is the number one reason why pet owners invest in pet insurance.

Because pet owners are paying less out of pocket for their pet's health care, they're also more likely to bring their pet to the vet instead of hesitating or attempting to provide homemade pet care. Pets whose care isn't delayed usually recover more quickly and don't get as sick as pets who are forced to wait for proper care.
So how does it work when I need to use my pet insurance?
First is the sign-up process where you provide information on the provider's website about your pet's breed, age, and basic medical history. You will then get a quote. This quote can change as you readjust your deductible, reimbursement percentage, annual limit, and coverage plan.

Second, call your pet insurance provider and get pre-approval for any medical procedure your pet is undergoing to make sure the provider covers it under the policy. Some providers will pay the vet directly, while others will reimburse you after paying the vet. The amount of time it will take to get reimbursed varies, however some providers.

Third, in the unfortunate event that your pet has an accident or gets sick, you may pay out-of-pocket at the veterinarian's office for treatment.

Fourth, you will then make a claim for reimbursement with your pet insurance provider. The amount you are reimbursed depends on your policy; it ranges between 70% and 90% of the costs after you pay your deductible. Most policies have annual payout limits and a waiting period of 14 days.
How much do veterinarians charge?
Veterinary treatment in Georgia can be very expensive. Here is a sampling of long term illnesses that can really take a toll on your expenses:

Addison's Disease – $2,400 per year
Cancer – $5,000 to $20,000
Petaracts – $2,000 to $3,000 per eye
Disc Disease – $3,000 to $9,000
Heart Disease – $5,000 to $20,000
Patellar Luxation – $1,500 to $3,000

Investing in pet insurance is more important now than ever. Veterinary fees increased 85% between January 2000 and December 2011, according to the Bureau of Labor & Statistics. Over the same time, the overall consumer price index (CPI) rose just 31%. At this rate, veterinary fees will double every 13 years. Pet insurance is your backstop against potential financial Petastrophe.
How does reimbursement work?
Say your insurance has a 90% reimbursement amount, a $250 deductible, and a $20,000 annual max benefit. Then imagine something happens that requires a $10,000 emergency vet surgery. In this scenario, your insurance company would reimburse you $9,000 minus your $250 deductible meaning that you would be out of pocket $1,250 instead of $10,000.
Deductibles: Higher or lower, which is better?
Ultimately, the choice is up to you. You can pay lower premiums (monthly bills) upfront, but a higher deductible (the amount you have to pay before the insurance company takes over and pays the rest) in the end, or you can pay a higher premium upfront, but a lower deductible at the end (claim). It's up to you to just stop to consider your budget and the prices of the premiums and deductibles involved.
What is a Deductible?
A Deductible is an up-front payment that you are required to pay before your insurance provider is obligated to honor a claim or pay their share.
Reimbursement Level
The deductible isn't the only cost that you will pay out-of-pocket. The insurer does not pay you back 100% of the cost of a covered procedure. It will generally pay you back somewhere between 70%-90% of the cost. If you choose 70%, your monthly premium will be lower, whereas it will be higher if you choose 90%.
Annual Limit
This is the maximum amount that the insurer will pay for treatment in a given year.
How old does my pet need to be to get insured?
For most pet policies, your pet has to be a minimum of 8 weeks old before you can apply for pet insurance. Don't forget there is a small waiting period before the policy kicks in gear. Also, most providers do not have an age limit for when you can get pet insurance.
Is it better to get a pet insurance policy while my pet is young, or should I wait?
Get it after the 8-week minimum while she's a young healthy pet. Enough said.
What about pre-existing conditions?
If your pet is already injured or ill when you apply for insurance, then it is a preexisting condition, and you are out of luck. To be clear, the condition first occurred or showed clinical signs or symptoms (there doesn't need to be a diagnosis) before your pet's coverage started, including waiting periods. The bottom line, you have to buy your policy while your pet is healthy. Insuring your pet early on means they're less likely to have pre-existing conditions that are excluded from coverage.

NOTE: If your pet is part of a breed that is at greater risk for a particular medical issue, you'll want to make sure that you choose a provider, that covers breed-specific and genetic conditions. If you have a purebred pet, research the breed to see if there are any conditions you should know about.
What is covered and what's excluded with pet insurance?
Coverage varies with each pet insurance provider but generally, the items below are covered:
Emergency & Hospitalization
Surgeries
Veterinary Specialists
Hereditary & Congenital Conditions
Chronic Conditions (allergies, arthritis) and their mediPetions
Cancer Treatments
FDA-Approved Prescriptions
Imaging
Knee Conditions
Ear infections
Diabetes
Prosthetics & Orthopedics
Hernias
Eye disorders
Dental work needed resulting from an accident
Any accident or illness (unless specifically excluded)
Sudden Petastrophic Events (broken bones, eye infection, swallow objects)
What is not covered?
Pre-existing conditions
Routine, wellness, or preventative care
Spaying or neutering
Experimental procedures
Breeding, pregnancy or giving birth
Cloned pets or cloning procedures
Cosmetic surgery or elective procedures
Grooming
Supplements
Diet food
Most parasites
Routine dental care (cleanings, tooth removals)
Does pet health insurance cover lab fees and diagnostics?
Indeed. Tests and procedures like x-rays, CT scans, MRIs, ultrasounds, blood tests, urinalysis are covered.
What about Emergency Care & Hospitalization, is that covered?
Yes.
What about chronic reoccurring conditions?
Yes.
What about Nationwide coverage?
No. Some do and most don't.
Will pet health insurance cover vet bills after an accident?
Yes. There are exceptions for self-inflicted injury, however, in most cases your pet is covered.
Does pet health insurance cover cancer treatments?
Yes. Standard treatments are covered while experimental treatments are not covered.
Am I covered for my pet's physical therapy?
Uncertain. Check with your policy.
5 Ways to Keep Your Pet Safe in Georgia
1. Extreme Heat
Probably the biggest weather risk your pooch faces in Georgia is extreme heat, especially in hot cars. It is important to know that dogs are susceptible to heatstroke, which is potentially fatal. Dogs don't sweat like humans, so their primary method of controlling body temperature is through panting. Sometimes panting isn't enough to sufficiently lower their temperature, leading to overheating and heatstroke. Never leave your dog in a parked car as they can become deadly in a matter of minutes. Even on cooler days in the low 80s, in the closed box environment of a vehicle, it can reach temps of over 100 rapidly. In a short period, this can cause heat stroke or organ failure.
2. Ocean Hazards
The ocean isn't all fun and games for dogs. When heading to the beach you need to keep your dog hydrated and keep them from drinking seawater as it will make your dog very sick. Be sure to keep an eye on them as they play in the ocean and wash them after as salt and other sea minerals can damage dogs' coats. Also, be sure to check at your local beach or lake for water conditions. you should consider that jellyfish and sea lice can be dangerous should your dog make contact.
3. Observe Tethering and Leash Laws
Check Local Beaches! Make sure to check if your beach or lake is pet-friendly and what their leash laws are. Many cities have various ordinances on tethering animals outside. This prevents many animals from being exposed to dangerous heat and conditions. Both Hall and Cobb Counties have recently amended their county's current tethering law with an amendment that prohibits owners from leaving their dogs unattended while tethered outside.
4. Prepare for Storms
Many pets experience high anxiety and distress during storms. Watch your local weather. Bring your pets inside if your area is expecting bad weather. You should know that it's against the law in Macon-Bibb to leave your pet outside during severe weather. If your pet has anxiety during storms, talk to a vet about getting them medication. Consider sitting with them during the storm to comfort them. Turn on a radio or tv as a way to drown out the sound of storms.
5. Keep Away from Chemicals
Antifreeze, cleaners, and other household chemicals can be hazardous for dogs. Antifreeze, especially, has a sweet taste but contains an ingredient that can be fatal to dogs if not treated immediately. Outdoor fertilizers, blood meal, insecticides, and bait traps for rodents or slugs can all be dangerous for dogs. Get medical help right away if your dog gets into any household chemicals.
5 Unique Pet Rescue Shelters in Georgia
An animal shelter is a place where stray, lost, abandoned, or surrendered animals are kept. They are an important facet of our society and provide compassionate services for pet owners in helping to keep pets healthy, happy, and in safe homes. Georgia is loaded with excellent, caring animal shelters, and it was hard to narrow the list down to 5. Here are 5 shelters you can count on.
---
---
---
---
---
So, which insurance is best for your pet in Georgia?
Providing pet insurance for your pet is a smart move that can potentially save you tens of thousands of dollars and save your pet's life! While we urge you to insure your pet when they are young, it's still prudent to sign them up even as an adult pet. Your pet deserves pet insurance that will cover all their medical needs as they age, and you deserve the peace of mind of knowing you can afford any procedure they may require. And now, drum roll, please….
Conclusion
After extensive research, I have concluded that the best pet policy for Georgia is Lemonade pet insurance. Lemonade consistently outperformed the others thanks to its extensive coverage and low monthly premiums. However, read your pet insurance policy in its entirety, and talk to your veterinarian about its coverage and acceptance.
SwiftScore Ranking Methodology for Georgia
We ranked the best pet insurance policies in Georgia based on a variety of important factors including the following:
Average monthly price for a 2-year-old Labrador Retriever with a $500 deductible located in Georgia with a 30331 zip code
Coverage and benefits
Key policy details including accidents and illnesses, surgeries, annual check-ups, cancer treatment, lab tests, and more
AM Best rating of the underwriter
Reimbursement percentage
Annual benefit amount
Technology and user experience

Ease of sign up

Policy language clarity
User reviews