7 Best Colorado (CO) Pet Insurance – Average Cost in 2023
Updated on by Matthew H. Nash – Licensed Insurance Agent
As a licensed Colorado insurance agent and lifelong pet owner, I am familiar with how confusing the policy language can be when comparing the best policy for my pets. I have researched amongst the top pet insurance plans for you, helping to make the process hassle-free. This article will guide you through the Colorado pet insurance fundamentals whether you live in Colorado Springs, Boulder, Englewood, Durango, Denver, Aurora, or anywhere else in the Rocky Mountain State. We may receive compensation when you click on the affiliate links below.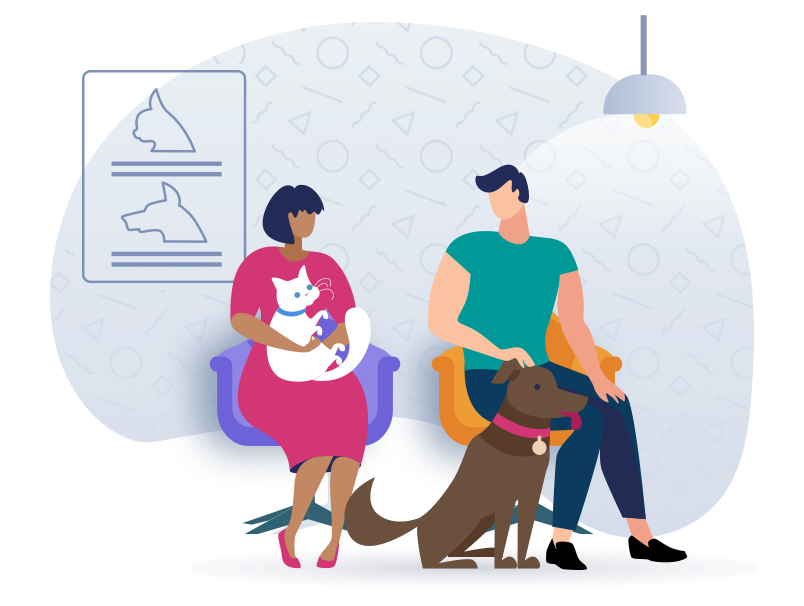 Top CO Pet Insurance Scored, Ranked & With Cost
Use our below table to compare the best pet insurance providers in Colorado quickly. The average monthly Colorado-specific prices shown are based on a healthy 2-year-old Labrador Retriever with a $500 deductible and 90% reimbursement amount who is located in Colorado with an 80238 zip code. Costs may vary based on age, location, coverage amount, and depending on the breed of your puppy. Prices are accurate as of January 2023 and are subject to change. For the most up-to-date information, please visit the provider website.
---
How much does dog & cat insurance cost in Colorado for the 15 most popular breeds?
The price for Colorado pet insurance varies depending on where you live. To give you an idea we've collected prices for three cities shown below. The prices will also vary based on the age, health, and breed of your puppy.
All prices shown below are based on a 90% reimbursement rate with a $500 deductible and a $5,000 annual benefit from Figo pet insurance. Please note: these prices should only be treated as a rough guide as of January 2023 and are subject to change. If you're looking for the most up-to-date cost of pet insurance in Colorado we suggest getting a quote directly with Figo or Lemonade.
Dog Insurance Prices in Colorado:
Mixed Breed

Denver – $33.92/ mo
Colorado Springs – $33.92/ mo
Campo – $28.02/ mo

Labrador Retriever

Denver – $46.19/ mo
Colorado Springs – $46.19/ mo
Campo – $38.15/ mo

Golden Retriever

Denver – $46.10/ mo
Colorado Springs – $46.10/ mo
Campo – $38.07/ mo

German Shepherd

Denver – $49.83/ mo
Colorado Springs – $49.83/ mo
Campo – $41.16/ mo

Goldendoodle

Denver – $40.11/ mo
Colorado Springs – $40.11/ mo
Campo – $33.12/ mo

Chihuahua

Denver – $21.09/ mo
Colorado Springs – $21.09/ mo
Campo – $17.42/ mo

Siberian Husky

Denver – $46.32/ mo
Colorado Springs – $46.32/ mo
Campo – $38.26/ mo

Yorkshire Terrier

Denver – $29.13/ mo
Colorado Springs – $29.13/ mo
Campo – $24.05/ mo

American Pit Bull Terrier

Denver – $51.28/ mo
Colorado Springs – $51.28/ mo
Campo – $42.36/ mo

Australian Shepherd

Denver – $31.89/ mo
Colorado Springs – $31.89/ mo
Campo – $26.34/ mo

Dachshund

Denver – $30.09/ mo
Colorado Springs – $30.09/ mo
Campo – $24.85/ mo

Shih Tzu

Denver – $26.80/ mo
Colorado Springs – $26.80/ mo
Campo – $22.13/ mo

French Bulldog

Denver – $63.42/ mo
Colorado Springs – $63.42/ mo
Campo – $52.39/ mo

Boxer

Denver – $63.67/ mo
Colorado Springs – $63.67/ mo
Campo – $52.59/ mo

Labradoodle

Denver – $40.11/ mo
Colorado Springs – $40.11/ mo
Campo – $33.12/ mo
Cat Insurance Prices in Colorado:
Mixed Breed – $19.72/ mo
American Shorthair – $23.30/ mo
Bengal – $23.30/ mo
Bombay – $23.30/ mo
British Shorthair – $23.30/ mo
Exotic – $23.30/ mo
Himalayan – $23.30/ mo
Maine Coon – $24.59/ mo
Persian – $24.59/ mo
Ragdoll – $24.59/ mo
Russian Blue – $23.30/ mo
Scottish Fold – $24.59/ mo
Siamese – $24.59/ mo
Sphynx – $23.45/ mo
Abyssinian – $23.45/ mo
Not finding your specific pet breed? Lemonade pet insurance is our #1 recommendation for Colorado and they'll be able to give you a quick quote for your exact needs.
Colorado Pet Insurance FAQs
What is pet insurance and how is it valuable in Colorado?
To ensure your pet is fully protected, you will need to sign up for a plan with an insurance company and begin making monthly payments to keep the policy active. If your pet were ever to have an accident or become ill, you are normally required to pay out of pocket for the veterinary bill and then submit a claim to your insurer afterward to receive reimbursement. When you sign up for pet insurance, consider that many providers will exclude certain pre-existing conditions from coverage. We recommend insuring your pet once they reach 8 weeks of age, or are still in the puppy or kitten phase, so you can avoid coverage restrictions like these.

Pet insurance is worth serious consideration in Colorado. Veterinary care can be pricey, especially remedies for cancer and other comparable conditions where the costs for treatment can reach well over $10,000. Pet owners who don't have insurance for their animals may find themselves deciding to put their pets down because they are struggling to afford the cost of treatment. Having a pet insurance policy will protect you from this sort of outcome.
How old does my pet need to be to get insured?
The vast majority of pet insurance companies require that your pet be at least 8 weeks old when you sign them up for an insurance plan, but plenty of insurance providers have not set age limits for their adult pet policies. It typically costs less to insure younger animals, so we recommend that you sign your pet up for insurance before they reach their first birthday.
How important is pet insurance in Colorado?
Many pets will experience an accident or illness in their lifetime, and the veterinary bills associated with treatment can quickly add up. Pet owners may find themselves spending $3,000 or more for an emergency vet visit, so you will have to decide if paying a monthly insurance premium is worth the alleviation of costly vet bills.
What is included with pet insurance and what is excluded?
Each provider will offer different coverage options, but any illness or accident involving your pet is typically covered. Any "sudden and catastrophic" incident, such as broken bones, eye infections, swallowing a tennis ball, or allergies, is included in insurance coverage for your pet. However, suppose your pet has been diagnosed with cancer before you sign up for an insurance policy. In that case, this is classified as a pre-existing condition and will not be eligible for coverage or claims. Many pet insurance companies are beginning to offer wellness packages, which are add-ons to traditional coverage that will split the cost with you for regular vet visits like check-ups, vaccinations, and heartworm prevention.
How does reimbursement work?
Suppose you have a pet insurance policy with a 90% reimbursement amount, a $250 deductible, and a $20,000 annual max benefit. If your pet were to endure an accident or illness that needed a $10,000 emergency vet surgery, your insurance company would reimburse you $9,000 minus your $250 deductible, so you would be only paying $1,250 out of pocket for the surgery instead of the full $10,000. An exception to this rule is the pet insurance provider Trupanion. They will make payments directly to vets in their network. so you will never have to pay for a vet visit entirely out of pocket.
Is a lower deductible better and where is the sweet spot?
A lower insurance deductible usually means paying a higher monthly premium, but these higher payments will guarantee that you pay less out of pocket at the vet. Many pet insurance companies offer a simple-to-use calculator when providing a quote, so it is easy for you to determine which deductible will work best for you and your budget. We've noticed that most people choose a $250 or $500 deductible.
5 Useful Strategies for Keeping Your Cat Safe & Healthy in Colorado
1. Protect your pet from the cold
Colorado winters are known to be especially cold and produce below-freezing temperatures. To protect your pet from the bitter effects of the colder months, keep them indoors as much as possible and provide protective clothing like coats, sweaters, and booties for small dogs or breeds with shorter hair.
2. Microchips
The thought of losing your pet is devastating, but having them microchipped can prevent them from being lost forever. A microchip is a tiny and painless device that is placed under your pet's skin. It can be read at a vet clinic or shelter and know that your pet belongs to you.
3. Pets and wildlife
Coyotes, mountain lions, and black bears make up some of the more prevalent predators in Colorado. Your pets, especially cats and small dogs, are in danger of becoming prey to wildlife, so it is imperative to leash your dog while recreating in Colorado and provide proper enclosures for your cat while they spend time outdoors.
4. Weight management
Pets who are given unlimited access to food and aren't encouraged to exercise often are at risk of becoming overweight. There are many health risks associated with obesity and pets, so you should always give the proper portions of food and provide your pet with plenty of opportunities to engage in physical activity.
5. Spay or neuter your pet
Animal shelters in Colorado are home to thousands of homeless pets due to overpopulation. To prevent your pet from contributing to this growing problem, as well as avoiding any health issues that can affect their reproductive organs, it is best to spay or neuter your pet.
5 Unique Cat Rescue Shelters in Colorado
If you've wanted to adopt a new furry companion, check out these five compassionate and unique animal shelters in Colorado and rescue a pet today.
---
---
---
---
---
Conclusion
Signing your pet up for insurance as soon as they reach 8 weeks old will give you access to the lowest prices on policies, and you can avoid any restrictions on coverage like those associated with pre-existing conditions. Insurance is beneficial for pets of any age because any future vet bills will be manageable no matter what happens. It will even reduce the cost of routine visits to the vet, making it easier to keep your pet healthy and happy. Our research has found that Lemonade has been rated best in overall performance while offering the lowest monthly premiums.
SwiftScore Ranking Methodology for Colorado
We ranked the best pet insurance policies in Colorado based on a variety of important factors including the following:
Average monthly price for a 2-year-old Labrador Retriever with a $500 deductible located in Colorado with a 80238 zip code
Coverage and benefits
Key policy details including accidents and illnesses, surgeries, annual check-ups, cancer treatment, lab tests, and more
AM Best rating of the underwriter
Reimbursement percentage
Annual benefit amount
Technology and user experience

Ease of sign up

Policy language clarity
User reviews