7 Best
Miniature Goldendoodle

Pet Insurance Plans Compared in 2023

Updated on by Matthew H. Nash – Licensed Insurance Agent

The Goldendoodle (sometimes called a groodle) is a cross between a Golden Retriever and a Poodle. They come in three sizes: miniature (15-30 pounds), medium (30 to 45 pounds), and standard (45 to 100 or more pounds), depending on the size of their parents since poodles come in miniature and standard sizes. Goldendoodle dogs were originally bred in the 1960s as guide dogs, are highly intelligent, athletic, and loving. Although it's a generally healthy breed, Miniature Goldendoodle dogs can sometimes be prone to ear infections and diseases that affect Miniature Poodles or Golden Retrievers, including Addison's disease, hypothyroidism, progressive retinal atrophy, and hip and elbow dysplasia. These health conditions often require diagnosis via x-ray, urinalysis, or blood test in addition to a physical exam. Treatment ranges from medication to physical therapy, hormone replacement therapy, and surgery, which can become expensive. Even the healthiest dog can experience unexpected illness or injury, and veterinary care in those cases can add up as well. To help defray some of these costs, many dog owners enroll their pets in dog insurance. In the following article, I discuss general dog insurance and give some breed-specific tips about properly caring for your Miniature Goldendoodle dog. If you're starting your search for a good dog insurance plan, I hope you find some helpful information here. Read more about our unbiased ranking methodology and advertiser disclosure.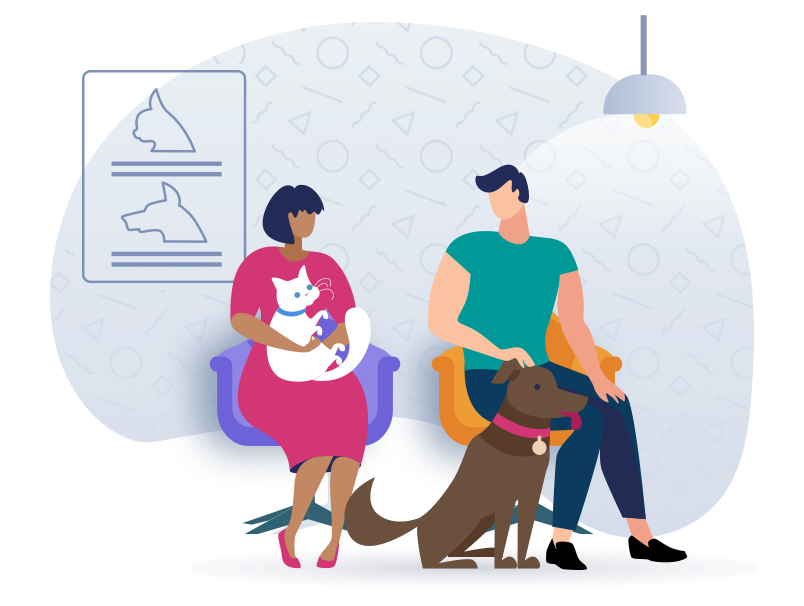 Top Miniature Goldendoodle Pet Insurance Scored, Ranked & With Cost
Use our below table to quickly compare the best Miniature Goldendoodle pet insurance providers. The average monthly specific prices shown are based on a healthy 2-year-old Miniature Goldendoodle with a $500 deductible and 90% reimbursement amount who is located in California with a 90210 zip code. Costs may vary based on age, location, and the coverage amount. Prices are accurate as of January 2023 and are subject to change. For the most up-to-date information, please visit the provider website.
---
Miniature Goldendoodle Pet Insurance FAQs
What exactly is dog insurance and can it really help me?
Dog insurance is basically health insurance for dogs. When you enroll your dog, your insurance provider will help you cover some of the veterinary care costs, which can save you thousands of dollars if you're faced with costly surgery or medications for your Miniature Goldendoodle dog. Aside from breed-specific joint issues like hip and elbow dysplasia, hormone issues like Addison's disease and hypothyroidism, and eye issues like progressive retinal atrophy, even the healthiest Miniature Goldendoodle dog can sometimes come down with an ear infection or dental disease or suffer from an unexpected injury. In any of these cases, having a good dog insurance plan can help you provide the best care for your dog, regardless of your bank account. Any dog owner can benefit from dog insurance since many policies cover medicine and surgery but also diagnostic procedures like x-rays and preventative care like dental cleaning, which is helpful for any dog.
Is there a minimum age requirement for Miniature Goldendoodle puppies?
Most breeders and veterinarians recommend waiting until your puppy is between eight and ten weeks old before you bring it into your home. Many dog insurance providers also base coverage on this practice. Checking with your chosen provider is a good idea, though, to make sure your Miniature Goldendoodle puppy meets any specific age requirements they might have.
Are there specific procedures I should ensure are covered because my Miniature Goldendoodle dog might need them?
Although Miniature Goldendoodle dogs are often very healthy, they are sometimes prone to some breed-specific issues that affect Miniature Poodles or Golden Retrievers. Addison's disease and hypothyroidism both affect a dog's hormone levels and can be detected via a blood test and are often treated with hormone replacement therapy.

Hip dysplasia occurs when the hip joint is not properly developed, which leads to looseness in the joint and wearing down of cartilage. In contrast, elbow dysplasia is an inherited joint disease. Your veterinarian will diagnose these conditions via physical exam and x-ray and will usually prescribe anti-inflammatory medication, physical therapy, and surgery.

If your Miniature Goldendoodle develops progressive retinal atrophy, you will likely need to take your dog to a veterinary ophthalmologist for regular care.

Based on these breed-specific health conditions, you might look for a dog insurance plan that covers certain diagnostic procedures like x-rays and blood tests; medication; physical therapy; and surgery.

Enrolling your Miniature Goldendoodle dog in dog insurance as soon as possible is a good idea because most dog insurance providers exclude coverage for pre-existing conditions, and elbow dysplasia can sometimes affect dogs as young as a year old.
How do I use my dog insurance once I've enrolled my dog?
Dog insurance works on a reimbursement model. Whenever your Miniature Goldendoodle dog needs to see the veterinarian for a regular check-up or for an unexpected illness or injury, take your dog to the veterinarian as normal, pay your veterinarian directly, and then send in a reimbursement request to your insurance provider. Based on the plan you choose, your insurance provider will provide you with the appropriate reimbursement amount.
What type of deductible is best for Miniature Goldendoodle dogs?
While there is no specific deductible that is best for you and your Miniature Goldendoodle dog, you will likely be able to choose from plans that have high deductibles, low deductibles, or sometimes no deductibles. The type of deductible you choose is up to you and should be based on your individual circumstances. For instance, if you have a young, healthy Miniature Goldendoodle dog, you might choose a higher deductible plan, anticipating that you will not need a great deal of veterinary care. A higher deductible plan might also be preferable for you if your finances are tight because those types of plans usually come with a lower monthly premium. On the other hand, you might be more interested in a lower deductible plan if you are worried about some of the breed-specific issues discussed above.
5 Useful Strategies for Keeping Your Miniature Goldendoodle Dog Safe & Healthy
Over the past ten to twenty years, mixed breeds have become increasingly popular, and the Miniature Goldendoodle dog is a great example of the wonderful dogs that can result from bringing two great breeds together. With an average lifespan of 10 to 15 years, your Miniature Goldendoodle will bring you years of devoted companionship. Following these tips on grooming, nutrition, and more should help you provide the best life possible for your Miniature Goldendoodle dog:
1. Grooming
Although Miniature Goldendoodles dogs do not shed excessively, they do need regular grooming. Whether your dog has a shaggy look like a Golden Retriever or the looser curls of the Poodle parent or is somewhere in between, brushing your dog at least every other day is essential to remove dead hair and prevent matting. Taking your Miniature Goldendoodle dog to a professional groomer every eight to twelve weeks will also keep his coat looking great.

With their floppy ears, Miniature Goldendoodle dogs can sometimes be prone to ear infections, so it's important to keep your dog's ears dry and clean, especially after a bath or swimming. You can use specially formulated wipes, a warm cloth, or cotton balls soaked in a gentle cleanser to clean out the ears. Always check for redness, odor, or head shaking since these are signs of an ear infection.
2. Nutrition
Your Miniature Goldendoodle dog likely only needs one to two cups of food a day, evenly distributed in two meals. Because this breed does tend to be energetic, you should choose high-quality food that has a lot of protein and not a lot of fillers. Checking with your veterinarian is a good idea for recommendations on brands and quantities to feed your Miniature Goldendoodle dog to ensure a healthy weight.

Some Miniature Goldendoodle dogs are susceptible to food allergies, so it's often helpful to minimize corn, wheat, soy, and dairy in their diets since these are common canine food allergies. The first listed ingredient of your dog food should be meat.
3. Training
Although every dog is an individual, generally speaking, Goldendoodles are obedient and athletic. They usually take well to training and love to please their owners, so agility courses are a great place to get some exercise and bond with your dog. Since both Golden Retriever dogs and Poodles are intelligent breeds, Miniature Goldendoodles tend to be as well, so your dog might enjoy obedience competitions and rally, in addition to agility courses.
4. Exercise
Miniature Goldendoodle dogs have a moderate activity level, usually less than the larger sizes of the breed. They do well with a hearty walk or energetic play every day, as long as they're active for at least 30 minutes a day. Their playful natures, combined with retriever genes, make them great partners for a game of fetch. Other possible forms of exercise include running, hiking, or swimming with your dog.
5. Love and Affection
Bred specifically as companion dogs, Miniature Goldendoodle dogs thrive in a family environment, especially in families with children. In fact, they have been known to be especially careful around infants and small children, and their loveable natures and patience have made them a popular choice as a family pet in recent years. They do not do well when left alone for long periods of time because they crave human companionship, so if you are away from home often, this might not be the breed for you.
Conclusion
Your beloved Miniature Goldendoodle dog is important to your family, and you want the best for him. As a good dog owner, you know how important it is to provide shelter, food, lots of love and attention, and regular veterinary care to your dog. If you are worried about your ability to pay for any potential medical care your dog might need in the future, whether due to breed-specific problems or unexpected illnesses or injuries, you should consider enrolling your dog in dog insurance. When you are faced with the possibility of expensive medications or surgery, you can rest easy, knowing that your insurance plan can help you cover some of those costs. If you have already started researching dog insurance, you know that many insurance providers are on the market today.
After extensive research, we conclude that Lemonade pet insurance offers the best dog insurance policy at the lowest monthly price for the Miniature Goldendoodle. All you have to do is look through their plan options, keeping in mind the type of coverage you think might be helpful as well as your current finances. Once you have picked what works best for you, enroll your dog. Simply paying your monthly premium is all it takes to keep your coverage active. Your dog insurance will be there when you need it.
SwiftScore Ranking Methodology for Miniature Goldendoodles
We ranked the best pet insurance policies for Miniature Goldendoodles based on a variety of important factors including the following:
Average monthly price for a 2-year-old Miniature Goldendoodle with a $500 deductible located in the 90210 zip code
Coverage and benefits
Key policy details including accidents and illnesses, surgeries, annual check-ups, cancer treatment, lab tests, and more
AM Best rating of the underwriter
Reimbursement percentage
Annual benefit amount
Technology and user experience

Ease of sign up

Policy language clarity
User reviews
Other state dog insurance resources
Alabama | Alaska | Arizona | Arkansas | California | Colorado | Connecticut | Delaware | Florida | Georgia | Hawaii | Idaho | Illinois | Indiana | Iowa | Kansas | Kentucky | Louisiana | Maine | Maryland |
Massachusetts | Michigan | Minnesota | Mississippi | Missouri | Montana | Nebraska | Nevada | New Hampshire | New Jersey | New Mexico | New York | North Carolina | North Dakota | Ohio | Oklahoma | Oregon | Pennsylvania | Rhode Island | South Carolina | South Dakota | Tennessee | Texas | Utah | Vermont | Virginia | Washington | West Virginia | Wisconsin | Wyoming