7 Best
Goldendoodle

Pet Insurance Plans Compared in 2022

Updated on January 13, 2022 by Matthew H. Nash – Licensed Insurance Agent

Originating in the 1990s, the Goldendoodle mixed breed (a mix of a Poodle and a Golden Retriever) has become one of the most popular "doodle" breeds for dog lovers. Not only is this breed an excellent dog for families, Goldendoodles are also hypoallergenic and tend to experience fewer health issues than their purebred parents.

Despite being a generally healthy breed, Goldendoodles can still get sick and experience injuries that require medical attention. The idea of unexpected trips to the vet can be stressful for dog owners because veterinary care tends to be quite expensive. However, having dog insurance coverage can help to ensure that your Goldendoodle can receive veterinary treatment at a more reasonable out-of-pocket cost. Read more about our unbiased ranking methodology and advertiser disclosure.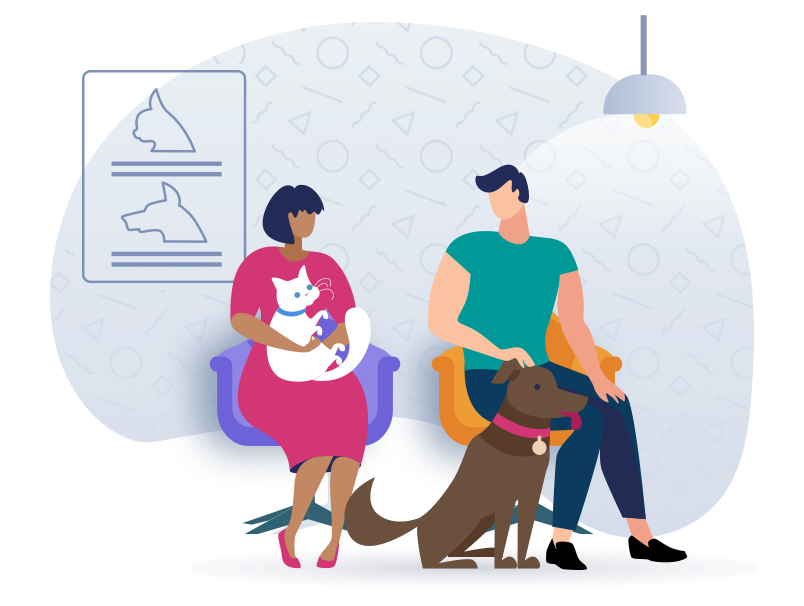 Top Goldendoodle Pet Insurance Scored, Ranked & With Cost
Use our below table to quickly compare the best Goldendoodle pet insurance providers. The average monthly specific prices shown are based on a healthy 2-year-old Goldendoodle with a $500 deductible and 90% reimbursement amount who is located in California with a 90210 zip code. Costs may vary based on age, location, and the coverage amount. Prices are accurate as of January 2022 and are subject to change. For the most up-to-date information, please visit the provider website.
---
Goldendoodle Pet Insurance FAQs
What is dog insurance and why is it beneficial for Goldendoodles?
Dog insurance is medical insurance coverage for dogs. Dog insurance is available to dogs of all breeds and in all locations of the United States and is intended to assist dog owners with the financial costs of veterinary care. All you need to do as a dog owner is find a plan that is right for your dog, make a monthly payment, and then your coverage will be active for when you need it.
Even though Goldendoodles tend to be an overall healthy breed, they can still develop chronic conditions and become ill with communicable diseases that need to be treated by a vet. Dog insurance can be helpful to minimize any financial stress that can arise from veterinary bills.
How old does my Goldendoodle puppy need to be in order to become insured?
While specific age restrictions may vary by the insurance provider, most dog insurance plans require that puppies be at least 8 weeks old in order to enroll in a plan.
What are the most common reasons for insurance claims for Goldendoodles?
Since Goldendoodles are an overall healthy breed, there is limited data regarding the most common dog insurance claims. One of the many reasons why dog lovers are drawn to the Goldendoodle breed is because of the fact that they are significantly less likely to experience health issues compared to their purebred parents.

However, some genetic conditions may still be inherited from their parents. These conditions may include Atopic Dermatitis, Hip Dysplasia, and Epilepsy, all of which may need medical attention. The presence of these conditions in Goldendoodles is less frequent, but it is important to still be aware of them.
What is covered by dog insurance? Are there any treatments that are not covered by insurance?
Most veterinary treatments are covered by dog insurance as long as they are used to treat unexpected ailments and injuries. It is important to be aware that it is rare for dog insurance plans to cover care that is needed for pre-existing conditions, which is why we suggest enrolling your pup in coverage as soon as possible.
How will I be reimbursed by my insurance provider?
After your pup is seen by a vet, you will receive a bill from your vet's office, which you are responsible for paying upfront. Once you pay the bill, you then can submit a reimbursement request to your insurance provider, along with a copy of the bill you received. Your insurance provider will calculate how much you will be reimbursed based on your reimbursement rate, your deductible (if applicable), and your annual maximum rate.
Do all dog insurance plans have deductibles? Should I enroll in a deductible plan?
No, not all dog insurance plans have deductibles. While it is true that it is most common to enroll in a deductible plan, it is possible to find plans that have no deductible at all.

The type of plan that you enroll in is entirely up to you. Many dog owners prefer plans with low deductibles because while their monthly payments tend to be higher, they need to pay less out-of-pocket before being able to submit for reimbursement. However, whichever type of plan you enroll in is based on your personal preference.
5 Useful Strategies for Keeping Your Goldendoodle Safe & Healthy
Goldendoodles are a fairly healthy breed, but there are many important strategies that their owners should implement to ensure optimal health.
1. Proper training
Not only is obedience training important in raising a respectful pup, but it is also important to ensure safety. Teaching your dog basic commands, such as "come" and "stay" can be crucial during crises or accidents. The best part is that Goldendoodles are fairly easy to train, as they love to please their humans.
2. Proper hygiene
Regular bathing and grooming for your Goldendoodle help prevent skin conditions and hot spots, but other aspects of hygiene are also important to ensure your pup's health, including clean drinking water and appropriate living conditions.
3. Routine visits to the vet
Even though Goldendoodles tend to be healthy dogs, bringing your furry friend to the vet regularly can help detect and prevent any emerging health problems.
4. Exercise and play daily
Regular exercise and play are essential for weight maintenance, building strong bones and joints, and improving immune and gut health. Whether it's walking around the neighborhood or trips to the dog park, make sure to encourage exercise each day to keep your Goldendoodle healthy.
5. Proper nutrition
Like all dogs, nutrition is key to ensuring a healthy life. Not only is it important to provide your Goldendoodle with a well-balanced diet (ie. an appropriate balance of protein and grains), but also to monitor the amount of food consumed at each meal to prevent overeating.
Conclusion
Dog insurance is a helpful tool to have if you have a Goldendoodle, especially in the case of unexpected visits to the veterinarian. Vet bills can be quite expensive, and no dog owner should have to choose between their dog's medical care and their own finances. Enrolling in a dog insurance plan is quite simple; all you need to do is select a plan, pay the monthly premium, and then you are all set! Your furry friend will be grateful that you did.
Ready to get started? After countless hours of research, we've found that Lemonade pet insurance consistently performs the best with the lowest monthly premiums.
SwiftScore Ranking Methodology for Goldendoodles
We ranked the best pet insurance policies for Goldendoodles based on a variety of important factors including the following:
Average monthly price for a 2-year-old Goldendoodle with a $500 deductible located in the 90210 zip code (Please note: prices will vary greatly based on your location)
Coverage and benefits
Key policy details including accidents and illnesses, surgeries, annual check-ups, cancer treatment, lab tests, and more
AM Best rating of the underwriter
Reimbursement percentage
Annual benefit amount
Technology and user experience

Ease of sign up

Policy language clarity
User reviews
See dog insurance prices in your state
Alabama | Alaska | Arizona | Arkansas | California | Colorado | Connecticut | Delaware | Florida | Georgia | Hawaii | Idaho | Illinois | Indiana | Iowa | Kansas | Kentucky | Louisiana | Maine | Maryland | Massachusetts | Michigan | Minnesota | Mississippi | Missouri | Montana | Nebraska | Nevada | New Hampshire | New Jersey | New Mexico | New York | North Carolina | North Dakota | Ohio | Oklahoma | Oregon | Pennsylvania | Rhode Island | South Carolina | South Dakota | Tennessee | Texas | Utah | Vermont | Virginia | Washington | West Virginia | Wisconsin | Wyoming