7 Best
Chinchilla Cat Insurance

Plans Compared in 2023

Updated on by Matthew H. Nash – Licensed Insurance Agent

Named after the South African rodent that also has incredibly soft, two-toned fur, the Chinchilla cat is a breed of Persian cat that often has thick, silvery-white fur and emerald green eyes, although other coats and eye colors are possible. Breeders developed the specific coloring in the early 1900s in an effort to create a "silver" Persian. Unfortunately, due to their purebred lineage, Chinchilla cats are sometimes prone to genetic health issues, most notably progressive retinal atrophy and polycystic kidney disease, which are both found in Persian cats. Although their noses are less extreme than the snub nose of classic Persian cats, Chinchillas still struggle with breathing issues and eye infections occasionally. Fortunately, cat insurance can help cover some of those costs, saving you thousands of dollars. There are many pet insurance providers on the market, offering a variety of coverage options for cats, including Chinchilla cats. Below, As a licensed insurance agent and cat owner, I've gathered some pet insurance information and breed-specific tips that I hope you find helpful. Read more about our unbiased ranking methodology and advertiser disclosure.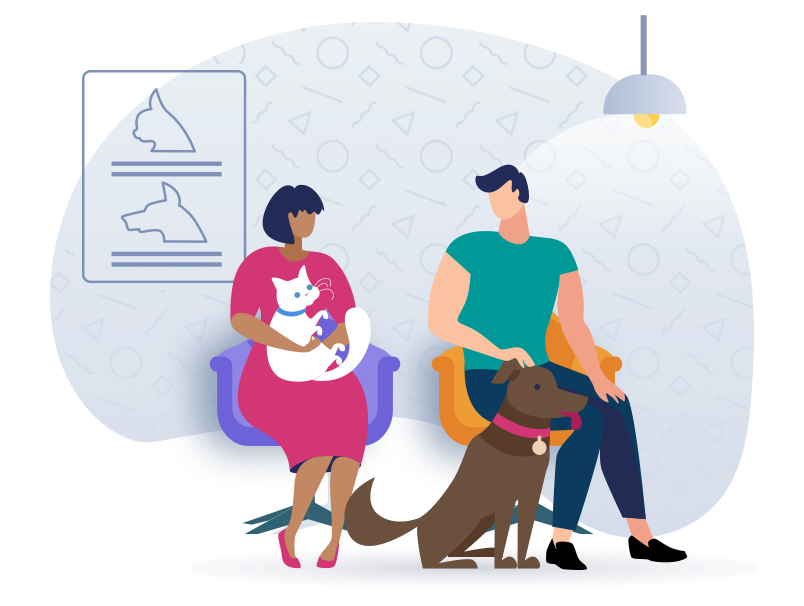 Top Chinchilla Cat Insurance Scored, Ranked & With Cost
Use our below table to quickly compare the best Chinchilla Cat insurance providers. The average monthly specific prices shown are based on a healthy 2-year-old Chinchilla Cat with a $500 deductible and 90% reimbursement amount who is located in California with a 90210 zip code. Costs may vary based on age, location, and the coverage amount. Prices are accurate as of January 2023 and are subject to change. For the most up-to-date information, please visit the provider website.
---
Chinchilla Cat Insurance FAQs
How can cat insurance help my Chinchilla cat?
As mentioned, Chinchilla cats can be prone to health issues affecting Persian cats, such as polycystic kidney disease and progressive retinal atrophy. Polycystic kidney disease is an inherited disorder in which small, closed, liquid-filled sacs, or cysts, develop in the kidneys. Progressive retinal atrophy actually refers to a group of degenerative diseases that affect photoreceptor cells of the eyes, which can eventually lead to blindness. Veterinary treatment for these and other health issues can become expensive. Cat insurance, like health insurance for people, can help defray some out-of-pocket costs for the medical care your Chinchilla cat might need. Even if your Chinchilla cat is healthy, cat insurance is a great idea because many plans cover preventative care like dental cleanings and costs incurred for treatment due to unexpected injuries. All you need to do is enroll your cat and pay a monthly premium to make sure your coverage stays active.
When can I enroll my Chinchilla cat in a cat insurance plan?
If you're buying your Chinchilla cat from a breeder, you most likely will not bring your kitten home until it is twelve weeks old. It's generally a good idea to enroll in cat insurance as soon as possible, but this is especially true with Chinchilla kittens because polycystic kidney disease is sometimes diagnosed as early as six months old. The earliest age that most insurance providers cover kittens is around eight weeks old, but it's always a good idea to check with your specific insurance provider about any age requirements they might have.
What type of care might my Chinchilla cat need?
If your Chinchilla cat is showing signs of kidney disease such as increased thirst and urination, decreased appetite, or blood in the urine, your veterinarian will likely order an ultrasound to determine if cysts are in the kidneys. Treatment options include diet control, prescription medication, and fluid therapy. Your Chinchilla would need care from a veterinary ophthalmologist for progressive retinal atrophy. Keeping these health conditions in mind, you might look for insurance plans that cover diagnostic procedures like x-rays and ultrasounds as well as medication. Although coverage options vary among insurance plans and providers, most providers have some good, basic options. As with most health insurance for people, cat insurance plans will usually exclude coverage for pre-existing conditions.
What if my veterinarian doesn't accept my insurance?
Cat insurance works on what is known as a reimbursement model, which means that your veterinarian doesn't need to accept your insurance for you to benefit from coverage. Should your Chinchilla cat need care, take your pet to the veterinarian as usual. Pay the veterinarian's office directly, either at the time of service or by mail. Once you've paid your bill, simply submit a reimbursement request to your insurance provider, who will compare the bill against the coverage and rates in your chosen plan and send you a check for the appropriate amount.
What type of deductible is best?
Generally speaking, cat insurance plans have high, low, or no deductible options. It's really up to you and your specific situation to decide which type of plan works best for you; there is no right or wrong plan. High deductible plans usually come with lower monthly premiums, which is a great option if your Chinchilla cat is young and healthy or your finances are limited. As your circumstances change, you can also change your insurance plan.
5 Useful Strategies for Keeping Your Chinchilla Cat Safe & Healthy
The lifespan for healthy Chinchilla cats is 12 to 15 years. Although each cat is an individual, the following are a few breed-specific tips that might help you keep your Chinchilla cat as happy and healthy as possible:
1. Grooming
As you might expect, Chinchilla cats require a high-maintenance grooming routine to keep that beautiful coat tangle-free. Combing the Chinchilla cat's thick, lustrous fur daily will give you the best results. Some breeders recommend Teflon-coated combs for going through the coat more easily. Any comb you use, though, should have teeth long enough to go through the coat but not sharp enough to hurt the cat's skin, otherwise, they will associate combing with discomfort. Sprinkling a little baby powder on the coat once a week will act as a dry shampoo because the powder combines with the natural oil in the hair, separating the hair and leaving it fluffy and smooth after brushing.

Potential trouble spots for grooming are the flanks, the backs of the hind legs, the stomach, and under chin and chest, especially when the undercoat is shedding. If these areas are ignored, they could become severely matted. You will need to remove the mats with scissors or take your Chinchilla cat to a groomer or your vet for help removing the matted fur.

Although it might seem like a lot of effort, once you get a grooming routine established you really only need to spend a few minutes every day caring for your Chinchilla cat's fur. The grooming can also provide a daily bonding experience with your pet.
2. Nutritious Diet
Chinchilla cats generally seem to have more sensitive digestion systems than other breeds. It is a good idea to keep your pet on whatever diet they had before you adopted them, rather than quickly switching them to something new when you bring them home. Ask your veterinarian what high-quality food they recommend and then transition your cat slowly, if needed. All cats are carnivores and require food that is high in protein without a lot of grain fillers.
3. Eyes and Ears
Although the nose of the Chinchilla cat sticks out a little further than other Persians, you need to pay extra attention to ensure the eyes stay clean. Brachycephalic cats often suffer from blocked tear ducts, which can lead to eye infections as well as staining of the fur near the eyes. In the same vein, check your Chinchilla cat's ears often to make sure they are clean, otherwise they might be subject to ear infections.
4. The Quiet Life
The Chinchilla cat breed is known to be quiet and placid, preferring a calm environment. They are people-oriented and loyal, but usually only gravitate toward one or two favorites within their family. Strangers and loud children make Chinchilla cats nervous. Given this characteristic, Chinchilla cats do well in families with no children, older children, or retirees.
5. Indoor Only
Chinchilla cats should always be kept indoors and should not be allowed to roam outside unsupervised. Their long coats can easily become tangled and matted with outdoor activity, and they will not be able to protect themselves well against other animals such as cats or dogs or wildlife. They make great apartment cats since all they need is a lap to sit in or a window hammock to sleep in.
Conclusion
Your beloved Chinchilla cat is important to you, and you want to take care of it the best way that you can. Regular veterinary care helps ensure your feline companion lives the longest, healthiest, happiest life possible. Regardless of the state of your bank account, cat insurance can help you rest easy knowing that you'll be able to pay for whatever care your cat might need in the future, even if you're faced with unexpected illnesses or injuries. If you've already begun your research into cat insurance, you may feel a little overwhelmed by the number of insurance providers and the range of coverage options.
After extensive research, we conclude that Lemonade pet insurance offers the best cat insurance policy at the lowest monthly for Chinchilla cats. Simply pick what's best for you and your pet, enroll, and set an automatic monthly payment for the premium to keep your coverage active. Knowing the coverage will be there when you need it, you can relax and enjoy your time with your feline companion.
SwiftScore Ranking Methodology for Chinchilla Cats
We ranked the best pet insurance policies for Chinchilla Cats based on a variety of important factors including the following:
Average monthly price for a 2-year-old Chinchilla Cat with a $500 deductible located in the 90210 zip code
Coverage and benefits
Key policy details including accidents and illnesses, surgeries, annual check-ups, cancer treatment, lab tests, and more
AM Best rating of the underwriter
Reimbursement percentage
Annual benefit amount
Technology and user experience

Ease of sign up

Policy language clarity
User reviews
Other state dog insurance resources
Alabama | Alaska | Arizona | Arkansas | California | Colorado | Connecticut | Delaware | Florida | Georgia | Hawaii | Idaho | Illinois | Indiana | Iowa | Kansas | Kentucky | Louisiana | Maine | Maryland |
Massachusetts | Michigan | Minnesota | Mississippi | Missouri | Montana | Nebraska | Nevada | New Hampshire | New Jersey | New Mexico | New York | North Carolina | North Dakota | Ohio | Oklahoma | Oregon | Pennsylvania | Rhode Island | South Carolina | South Dakota | Tennessee | Texas | Utah | Vermont | Virginia | Washington | West Virginia | Wisconsin | Wyoming