6 Best
Cairn Terrier

Pet Insurance Plans Compared in 2023

Updated on by Matthew H. Nash – Licensed Insurance Agent

Registered to the American Kennel Club (AKC) in the early 1900's, these dogs are considered healthy and have a 12-17 years lifespan. That's all great news, but that long life means Cairn Terriers face potential genetic issues as they age, such as luxating patella and retinal problems like cataracts. Facing these problems will require the help of an experienced vet who understands the Cairn Terrier breed, but those visits can get expensive very quickly. To keep these cute little pups walking down the Yellow Brick Road as long as possible, Glenda the Good Witch would recommend purchasing pet insurance to keep him happy and healthy to The Emerald City. I'm not the Great and Powerful Oz (which is good, because that guy didn't know what he was doing), but I am a dog (and movie) fan, and I can help you navigate the pet insurance options that are available to you and your Cairn Terrier. Read more about our unbiased ranking methodology and advertiser disclosure.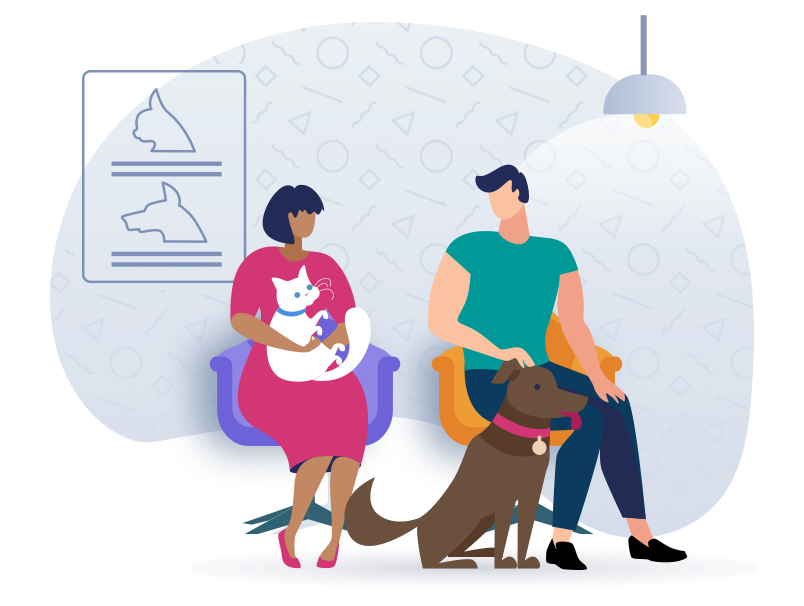 Top Cairn Terrier Pet Insurance Scored, Ranked & With Cost
Use our below table to quickly compare the best Cairn Terrier pet insurance providers. The average monthly specific prices shown are based on a healthy 2-year-old Cairn Terrier with a $500 deductible and 90% reimbursement amount who is located in California with a 90210 zip code. Costs may vary based on age, location, and the coverage amount. Prices are accurate as of January 2023 and are subject to change. For the most up-to-date information, please visit the provider website.
---
Cairn Terrier Pet Insurance FAQs
What is dog insurance and why is it useful for Cairn Terriers?
Dog insurance is an option you can take that will help protect your perfect pooch from all the scary issues that may come his way. Pet insurance will help take care of some of the medical expenses that can inevitably add up during the journey of owning a dog. It's important to include pet insurance as part of your dog's overall budget as it will help with the high cost of veterinary care that's needed in order to support your dog's long and healthy life. Purchasing and using dog insurance is easy, all you need to do is select a plan, make the required monthly payments to keep the policy active, and you're done. Then, when it is time for your pooch to see the vet, you submit the receipts for reimbursement from your insurance provider.

Dog insurance will make a difference in your journey with your Cairn Terrier as it will help prepare you for the unexpected, like maybe a tornado whooshes you off to a strange colorful land, nope… back to reality. Your Cairn Terrier is known to be a healthy dog. In fact, as his long life goes on, that's when some of the potential genetic issues may pop up, such as luxating patella or retinal problems like cataracts. Your pup will need the help of a vet, especially as he gets on later in his years. Dog insurance will help to keep him around and part of the family for as long as possible.
How old does my Cairn Terrier need to be insured?
The fastest you can make your way down the Yellow Brick Road to a pet insurance policy, the better. It's common for dog insurance providers to want puppies to be at least eight weeks old before starting a pet insurance policy coverage, but you should think about starting the process of a policy for your Cairn as soon as possible. Pet insurance premiums are based on age, so the younger you can enroll your own little Toto, the better.
What are common insurance claims for Cairn Terriers?
The good news is that there's not a lot of genetic issues that face these cute little pups. Assuming your Cairn Terrier lives the long and healthy life that's due to him, then he may face issues such as luxating patella or retinal problems, cataracts. Don't forget, your furry friend is also a dog, so there's always the risk of physical problems that have nothing to do with hereditary history, like a broken bone or torn muscle. There's a lot of scary stuff out there, and while you may not need to face off against the Wicked Witch of the west, it's always smart to be prepared for what may come your way. All of these conditions will need ongoing medical treatment and monitoring by a veterinarian, so pet insurance is key to a happy and healthy Cairn.
What services for my Cairn Terrier are covered by dog insurance? What services are excluded from coverage?
Coverage can take on many colors, it's all a matter of which policy you choose for your pet. Your policy can take care of a long list of issues such as surprise injuries or accidents. Pet insurance policies can also include surgery, medication, medical tests, emergency care, and exam fees. Some dog insurance plans also cover hospitalizations and preventative care. It might exclude injuries from flying monkeys, but nearly all other scrapers and medical issues that may arise for your Cairn Terrier can be covered.

There are also issues that may be excluded in your plan. The trick is that most dog insurance policies will not cover the cost of care for pre-existing conditions, which is why it's so important to enroll your Cairn Terrier in a policy as soon as possible.
How does reimbursement work?
The dog's "hooman" is responsible to pay the pet's medical bill upfront (unless you can train your pooch to start paying your bills, this one is on you). You'll then submit the vet bill for reimbursement to the insurance provider and they will pay you back a certain percentage of that bill. Based on your deductible and reimbursement rate, your insurance company will determine how much money you'll receive back.
Should I enroll in a high deductible or low deductible plan?
There really are a lot of options for pet insurance, something to fit any budget. You can choose from a high deductible plan, low deductible plans, or even a plan with no deductible at all. Once you determine your finances, it's just a matter of picking what works best for you and your Cairn Terrier. Let's break it down… the higher the deductible, then the lower the monthly payment, but that means you'll pay a higher cost during any unexpected emergencies. The lower deductible means less financial stress during a very stressful time, just know you'll pay a higher monthly payment as a result.
5 Tips for Keeping Your Cairn Terrier Safe & Healthy
Bringing a new pet into your home is an exciting time, especially such a cute little one that can fit in any picnic basket made for strolling along and finding new friends. Here's a few more tips to make sure your own little Toto lives a long and happy life.
1. Regular Exercise
Cairn Terriers are active breeds and need a daily walk. While playing with them is a lot of fun, it doesn't quite meet their daily exercise needs. In addition to the walk time, if you can give them some time in a safe, properly fenced off open space, that's an added bonus for activity time. As mentioned earlier, this small dog can live 12-17 years, so plan on at least 1-2 hours of activity. While we know the Cairn Terrier has made the trip to Oz, we've also talked about his origin in Scotland. This cute little pup was originally bred to hunt foxes from their dens, so taking a hike and being in nature is definitely on the list of this dog's favorite things to do, but be sure he's on a leash as small critters running around the trails will be a tough obstacle to not run off and chase.
2. Training and Socialization
The Cairn Terrier is a hunter, which means they can be very "talkative," they can and will bark. The Cairn was bred to alert you when something is up, so he's just doing his job. You'll need to spend some time if you want to retrain the genetic instinct to bark. Cairn Terriers are very smart and they will respond well to positive reinforcement training. The important thing to know when training your Cairn Terrier is that they generally have a short attention span, I mean who doesn't these days, so continuing to reinforce and be consistent with that positive discipline will be key to a happily trained pup. If you have the time and the means, obedience school isn't a bad place to start as you can work on training and building interactive play time with other pups.
3. Nutritious Diet
The Cairn Terrier doesn't require any special diet, he really just needs you, and some food too of course. He will do well with high-quality dog food, whether that's bought in a store or homemade. The food you serve your Cairn Terrier should be appropriate for your pup's age with puppy food formulated for your little one and senior food for your older dog. Be sure to work with your vet on a healthy weight range for your dog and always have clean, fresh water available.
4. Love and Affection
Cairn Terriers are very loyal, intelligent and playful little dogs who will be just as happy snuggling in your lap as they are joining you on daily walks and hikes. These cute little dogs are great with kids and seniors alike, they get along with other animals, even cats, and can adapt to almost any living situation such as apartments or tiny homes (as long as the above mentioned activity time is met). Just don't plan on leaving your Cairn Terrier home alone for extended periods of time. You'll find that he'll start getting into trouble and forgetting all of the training he's learned if you leave him for too long. Also, remember, this cutie is a hunter, so while he's a good family pet, you may not want to have a hamster or gerbil in the house as that's exactly what's in his DNA to hunt.
5. Regular Grooming
The Cairn Terrier was bred to withstand the harsh weather of Scotland, so he has a weather-resistant outer wire coat that repels water and helps keep him warm. These little pups shed very little, but their coat does need some grooming and maintenance. The Cairn Terrier should be hand-stripped, which means the old dead hair should be gently pulled out by the roots. You'll want to turn to a professional as pulling the old hair out incorrectly can cause your Cairn Terrier some discomfort. The good news is that, when done correctly, removing the hair in this way allows new hair growth to come in and protect your own Toto from water and dirt. Using clippers to cut your Cairn's fur might actually destroy the protective wire coat that is unique to the breed. A good brush every week on the coat will also help. Plus don't forget to brush those teeth too. Like many small dogs, Cairn Terriers can have dental issues. Regular brushing of those pearly whites can help counteract any issues.
Conclusion
The Cairn Terrier is truly one of the most famous canines in Hollywood. He has a lot going for him with those movie star good looks and active, happy spirit. Adding pet insurance to your dog's overall health plan is a great way to ensure your pup keeps up that celebrity appearance. There are a lot of insurance options available and the enrollment processes can be confusing. All you have to do is select the best plan for you and your dog, pay the monthly premium, and then your Cairn Terrier is covered. There's many reasons that your Cairn Terrier may need veterinary care. Having coverage means your pup can receive the necessary treatment without the stress of figuring out how you'll pay for it all.
After extensive research, we conclude that Lemonade pet insurance offers the best dog insurance policy at the lowest monthly price for the Cairn Terrier.
SwiftScore Ranking Methodology for Cairn Terriers
We ranked the best pet insurance policies for Cairn Terriers based on a variety of important factors including the following:
Average monthly price for a 2-year-old Cairn Terrier with a $500 deductible located in the 90210 zip code
Coverage and benefits
Key policy details including accidents and illnesses, surgeries, annual check-ups, cancer treatment, lab tests, and more
AM Best rating of the underwriter
Reimbursement percentage
Annual benefit amount
Technology and user experience

Ease of sign up

Policy language clarity
User reviews
Other state dog insurance resources
Alabama | Alaska | Arizona | Arkansas | California | Colorado | Connecticut | Delaware | Florida | Georgia | Hawaii | Idaho | Illinois | Indiana | Iowa | Kansas | Kentucky | Louisiana | Maine | Maryland |
Massachusetts | Michigan | Minnesota | Mississippi | Missouri | Montana | Nebraska | Nevada | New Hampshire | New Jersey | New Mexico | New York | North Carolina | North Dakota | Ohio | Oklahoma | Oregon | Pennsylvania | Rhode Island | South Carolina | South Dakota | Tennessee | Texas | Utah | Vermont | Virginia | Washington | West Virginia | Wisconsin | Wyoming