7 Best Singapore
Travel Insurance

Plans for US Citizens in 2023

Updated on September 12, 2023 by Matthew H. Nash – Licensed Insurance Agent

Singapore is a fascinating island city-state located in the southeastern corner of the Asian continent. Visitors from the US will love how clean, safe and dynamic it is. Whether you're drawn to the country for its cultural diversity, phenomenal cuisine or world-class shopping, you will have a fantastic time. With travel conditions constantly shifting and changing, having the best Singapore travel insurance plan is a smart way to protect yourself and your travel companions against trip delays, trip cancellations, medical emergencies, lost or damaged luggage and more. Below, I explain the differences between policies, optional upgrades, the level of coverage you may need and the average costs. Read more about our unbiased ranking methodology and advertiser disclosure.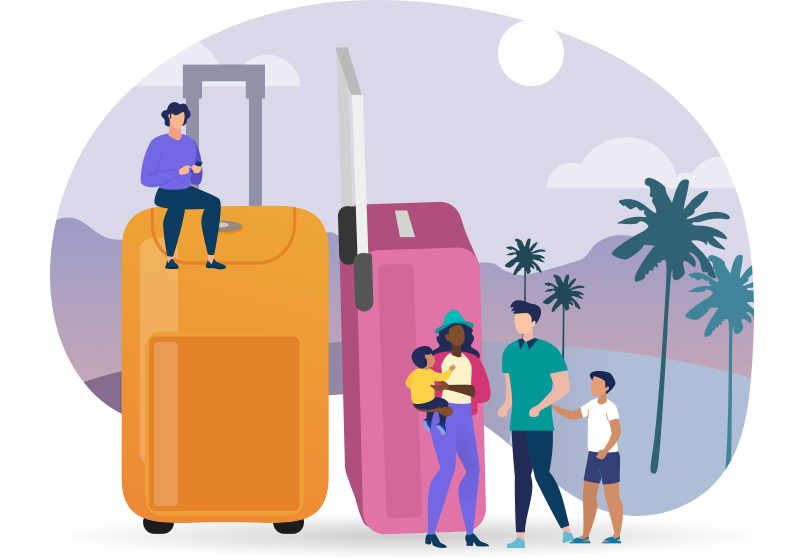 Singapore travel insurance FAQs
What are the most important things to consider when buying a Singapore travel insurance policy?
Before buying a trip insurance policy, you will need to find out whether it provides coverage for travelers to Singapore. Most policies do, but it is always worth checking. Make sure that it covers the full length of your trip, from your departure date through your return date. Also, do you plan to participate in any extreme sports or adventure activities during your time in Singapore? (Yes, they have them!) You will need to verify these details with each insurance company whose policies you're interested in to determine if they will cover your preferred sports. I have found comparison sites, like SquareMouth.com, to help filter for policies that cover specific activities.

Another aspect to take into account when buying Singapore travel insurance is whether you or any of your travel companions who will be insured on the same policy have pre-existing medical conditions. If so, purchasing a pre-existing condition upgrade package will be critical to your protection while traveling in Singapore.

And since travel requirements are in flux these days, I encourage travelers to consider purchasing a "Cancel for Any Reason" (CFAR) optional plan. CFARs give you the freedom and flexibility to change your plans at any time and for any reason and receive a 75% reimbursement of your total trip cost.
How do you get the cheapest travel insurance plan?
The cheapest travel insurance plan may not always be the best option. Before buying any policy, please read the full policy details to ensure it meets all your needs. The best plan will be competitively priced and provide all the necessary coverage. I recommend using a comparison site such as WithFaye.com since it will allow you to sort through policies by price.
How many people does one trip insurance policy cover?
Single Trip plans can cover as many as 10 people who are residents of the same state and have the same travel dates and itineraries. However, should your travel companions live in another state or have different travel itineraries, they will need their own insurance policy. If traveling with 8 or more people, you may want to purchase a Group policy as you will get a better deal. Unlike Single Trip policies, Group policies cover all your travel companions, regardless of their state, and still provide comparable coverage.
Can you purchase Singapore travel insurance when you're already on vacation?
The short answer is yes. That said, there is one major caveat: your travel insurance policy will only be active from the date of purchase and is not retroactive. Therefore, you cannot file a reimbursement claim if anything happens on your trip before buying travel insurance, such as becoming hospitalized or losing your luggage.
Does travel insurance coverage include emergency dental work?
Travel insurance plans cover limited emergency dental work. Whichever policy you choose will likely provide $100-$750 of coverage for natural teeth only. Policies tend to exclude crowns, bridges and false teeth. Providers do not accept claims for annual exams or routine cleanings and generally restrict the time window in which you can have covered dental work. Always read the full details of any policy you're considering to get a clearer picture of the dental coverage it provides.
How do travel insurance companies define trip interruption?
Trip Interruption coverage protects against any extraordinary, unforeseen or unexpected event requiring you to leave your vacation early and fly home. Examples of such occurrences include terrorist attacks, inclement weather and any insured traveler's injury, illness or death. Trip Interruption coverage kicks in the day you leave on your trip, which is why it's referred to as a post-departure benefit.
What are approved trip delay expenses?
Should your trip be delayed by the minimum number of hours stated in your policy, you will receive reimbursement for approved expenses such as ground transportation, hotels, meals, and internet access. Every policy allows a different amount, but generally, the reimbursable daily total ranges from $150 to $200 per insured traveler until you reach the policy's cap.
Will travel insurance cover a relative's death?
This differs from one policy to the next. If a relative's death results from suicide or a pre-existing condition, bereavement benefits may not be available if you bought the cheapest possible policy. However, policies with higher premiums may provide bereavement benefits, regardless of the cause of death. Another discrepancy between providers is who qualifies as a "covered relative." Grandparents? Siblings? In-laws? Pets? Remember to read any travel insurance policy's full details for specifics so you have a clear picture of what benefits you will be afforded under different circumstances.
Common problems tourists experience in Singapore and how to steer clear:
Illnesses
One of the most frequent illnesses plaguing Singapore travelers is sunstroke (heatstroke). To prevent sunstroke, stay out of the mid-afternoon sun when it's strongest, drink plenty of water, eat juicy fruits and vegetables and get plenty of rest. Symptoms may include high fever, nausea, vomiting, delirium, sweating and increased heart rate. Consult a medical professional promptly if you experience one or more of these symptoms.

Mosquitoes are a problem throughout SE Asia and transmit several illnesses, including the zika virus and dengue fever. To minimize the risk of contracting either, use strong bug spray all over, including your feet, if you plan to wear sandals or open-toed shoes.

Dengue fever can be debilitating, if not deadly. Dengue expresses itself via high fevers and vomiting, though other common symptoms are fatigue, severe body aches, muscle pain and rashes. Get to a hospital immediately if you experience any of these.

Receiving fluids intravenously and remaining under medical supervision until you are well enough to care for yourself is extremely important to your recovery. With dengue fever, the body's blood platelet count drops so low that internal hemorrhaging may occur. This can be fatal, so do not take this lightly.

It may take up to 8 weeks to fully recover from dengue fever, although many get better sooner. Therefore, ensure you purchase a travel insurance plan that has comprehensive medical coverage. The good news is that Singapore has excellent medical services.
Accidents
Since Singapore is a city-state with a predominantly urban landscape, the potential accidents you could have are far fewer than if you were in another country. The most common injuries, such as twisting an ankle, breaking a bone and scraping a knee or elbow, typically result from tripping or falling while sightseeing.
Muggings
Singapore consistently ranks as one of the safest countries in the world. Its laws are far-reaching and strictly enforced and even petty theft is rare.
Emergency resources for Singapore
Phone numbers
If you are dialing from your US phone, 911 will connect you with the police. However, if you are calling from a Singaporean phone, dial 999 for the police, 995 for fire and ambulance services and 1777 for non-emergency ambulance services.
US embassy or consulate details
The US has an embassy in Singapore. Please visit their website for hours of operation, location, and information regarding citizen services.
Additional information to help travelers have a better experience in Singapore:
Currency
The currency is the Singapore Dollar (SGD). If you need cash during your vacation, you will get the best exchange rates, even with fees, by withdrawing cash using your US debit card. Remember to notify your bank of your travel dates and destination before leaving the US so they do not block your card. Cash machines/ATMs are found throughout. While it's helpful to always have cash on hand in Singapore, many businesses accept major credit cards.
Getting Around
Between the MRT system (subway), buses, ferries, taxis, bicycles and cable car, getting around Singapore is quite easy, especially since most major attractions are within walking distance of an MRT station. The MRT runs between 5:30 am and midnight and buses from 6 am until midnight, covering similar territory to the MRT but extending further beyond downtown. Ferries shuttle passengers between the city center and the surrounding islands.

You will need an EZ-Link card to use any of Singapore's trains and buses. They are available for purchase at 7-Eleven stores, Passenger Service Centres located within many MRT stations, and any TransitLink office. Once you have an EZ-Link card, you will need to add credit, or as they say in Singapore, top it up. Cards usually come loaded with some money (S$5-7), but you will need to add more. Use the card to "tap in" (on the sensors) before getting on a bus or train and "tap out" when you get off.

Taxis are relatively cheap in Singapore, but there are numerous surcharges to be aware of. Some are based on the location from which you hail a cab or schedule a pickup and whether you're traveling during rush hour or late night hours (midnight to 6 am). An alternative to metered taxis is Grab, a top-rated ride-booking service similar to Uber that operates through their mobile app. (Uber no longer has services in Singapore.)

Buses also run to nearby Malaysia if you wish to explore another captivating country in the region. International buses are clean, affordable, and comfortable.
Language
Singapore has four official languages: English, Mandarin, Malay, and Tamil. Most locals understand and speak English, especially those working in service positions. Also, "Singlish," a commonly spoken mix of English and other languages––mainly Malay––can be heard all about.

It involves using unusual cadence, changing word order, dropping pronouns and prepositions, shortening phrases, and more. Don't be surprised if you hear people add lah to the end of a sentence or a question. While it doesn't have a direct translation, it is used for emphasis.

Here are a few words and expressions that may help you out:
ang moh – westerner
auntie – any woman you're speaking or referring to (even strangers)
can! – yes, it's OK.
hawker centres – open-air food court (usually very cheap)
Inggrish – English
kopi – coffee
kopitiam – coffee shop
looksee – take a look
makan – a meal, food or to eat (Malay)
shiok – very good, delicious
talk cock – to not say anything of meaning or that makes sense
uncle – any man you're speaking or referring to (even strangers)
wah! – an expression of unease, surprise or angst
Tipping
Many establishments, particularly restaurants with table service, will add a 10% service charge to your bill. Service charges are paid directly to the restaurant, not your server. The same is true for most hotels. There is much debate around this subject as to whether or not the staff actually receive their portion of the service charge, so if you feel better leaving your server a separate tip, 10-15% is appropriate.

I recommend tipping porters S$2 per bag for assisting you, S$5-10 for concierges/receptionists for any extra assistance they may provide, S$5-10 for valets and housekeepers S$5-10 per day for a job well done or exceeding expectations. You can round up to the next substantial amount for bartenders, salon staff, tour guides, and taxi drivers. For example, if the charge is S$47, you can round up to S$50. If you receive poor service, do not feel obliged to tip anyone.

Whatever you do, please do not attempt to tip anyone at Changi International Airport, as the law prohibits staff from receiving them. And remember, tipping is not a cultural norm in Singapore, so it is always optional.
Unusual Laws
Singapore has many unusual laws, most of which will not apply to you or your vacation. However, a few could land you in trouble, or at least with a steep fine. The first and most famous is that chewing gum has been illegal in Singapore since 1992.

Also, eating and drinking on all public transport is outlawed. This is important to remember as you're out exploring since Singapore is known for its sweltering heat and often suffocating humidity. Drink plenty of water and enjoy your snacks before getting on trains, buses or ferries.

Other illegal things in Singapore include leaving public toilets unflushed and purchasing, using or possessing e-cigarettes or imitation tobacco products. Also, be aware that having illicit drugs, including marijuana, can result in the death penalty.
Packing advice for Singapore
Apart from Travel Insurance, we recommend you bring the following items for maximum health, safety and enjoyment of your trip to Singapore.
A final note about travel insurance for Singapore
I have spent dozens of hours researching travel insurance, including getting quotes and comparing coverage from all the most popular brands. Regardless of where you're going, I am confident that you will also find that WithFaye.com offers the best way to compare policies with the ideal combo of coverage and price.
I wish you and yours an incredible journey.
SwiftScore Ranking Methodology
Average price for a 2-week vacation based on a 35-year-old California resident traveling to the Singapore with a $3,500 trip cost
Coronavirus coverage
Cancel for any reason (CFAR)
AM Best rating of the underwriter
Key policy details including cancellation, interruption, emergency medical evacuation, and baggage & personal effects
Ease of sign up
Policy language clarity
User reviews