7 Best Malaysia
Travel Insurance

Plans for US Citizens in 2023

Updated on September 12, 2023 by Matthew H. Nash – Licensed Insurance Agent

Malaysia is known for its stunning natural landscape, cultural diversity, fantastic shopping and laidback, friendly people. In addition, American travelers will appreciate how safe and clean it is. Malaysia has something for everyone between the breathtaking coastlines, dynamic restaurant scene, and first-class shopping. Since the nature of travel is constantly changing, getting the best Malaysia travel insurance plan will shield you against the excess costs that come with trip cancellations, trip delays, lost or damaged luggage, and medical emergencies. In this article, I hope to give you all the information you need about policy differences, necessary levels of coverage, optional upgrade packages, and expected costs. Read more about our unbiased ranking methodology and advertiser disclosure.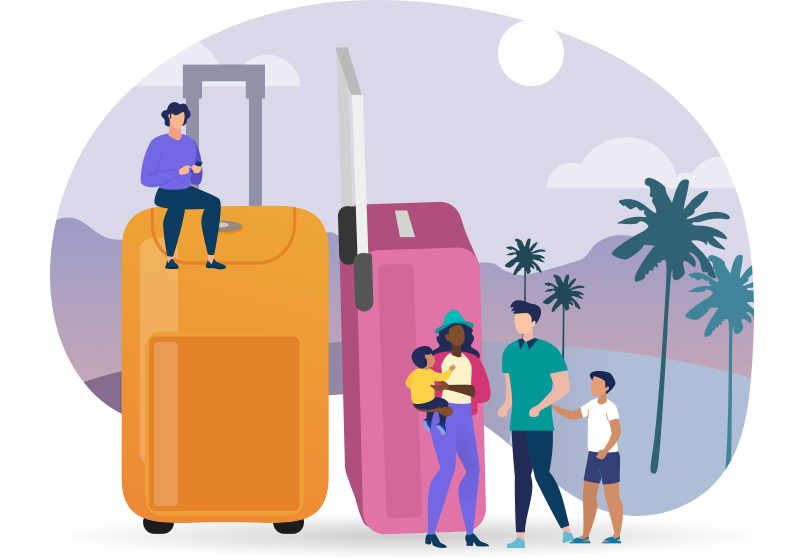 Malaysia travel insurance FAQs
Which factors should I consider when searching for a Malaysia trip insurance policy?
First, you must always ensure that the policy you want to purchase includes Malaysia in its coverage. Most do, but it is always worth checking. Second, check that your preferred policy covers your trip's entirety, including your departure and return dates. Third, do you or anyone you intend to insure on your policy have pre-existing medical conditions? If so, you will want to buy a Pre-Existing Condition upgrade.

Before purchasing a policy, you must also decide if you intend to do any extreme sports or adventure activities during your trip to Malaysia. If so, read the full policy details to check that it covers your preferred activities. To simplify this process, I like to use the comparison site Squaremouth.com to filter for whichever sports I plan on participating in.

Last but not least, I suggest getting a "Cancel for Any Reason" package so that you have the flexibility to change your plans for nearly any reason and still receive a 75% reimbursement on your trip costs.
How many people can I insure on my travel insurance policy?
The limit on personal, single-trip plans is 10 people. However, all of them must have the same travel itineraries and dates and live in the same state. If any of your travel companions are residents of different states or have different travel itineraries than you, they must purchase their own policies. That said, if 8 or more of you are traveling together, you might want to consider getting a group policy. Group policies will get you comparable coverage for a better rate and allow insured travelers to live in different states.
When is the ideal time to purchase Malaysia travel insurance?
I recommend getting Malaysia travel insurance, especially a Trip Cancellation plan, as soon as you book your vacation. Once you have a policy in place, it will financially protect you and your travel companions against unexpected events before and during your vacation. Keep in mind that you only have 14 to 21 days from paying your trip deposit to buy Pre-Existing Condition and Cancel for Any Reason (CFAR) packages. Every travel insurance company has different terms and conditions, so check with your provider for further information.
Is it possible to buy Malaysia trip insurance after my trip has begun?
While getting Malaysia trip insurance before your vacation begins is always best, you can also purchase it during your trip. The caveat is that coverage will commence on the date of purchase and will not apply retroactively to any travel emergencies, medical or otherwise, that you may have endured on your vacation.
Is Malaysia a safe country to visit?
While there is petty theft and some other rare issues to be aware of, Malaysia is generally a safe country to visit. To err on the side of caution, I encourage you to check out the US Department of State's Malaysia Travel Advisories page for current security warnings and travel information.
Which expenses do trip delay benefits cover?
You can expect covered trip delay expenses, including hotel rooms, meals, internet access and local ground transportation. Each travel insurance plan has a daily reimbursement maximum of $150 to $200, and you will be eligible for these benefits until you use your policy's stated total benefit.
Will my Malaysia travel insurance reimburse me for a 2-hour flight delay?
Many travel insurance companies have established a minimum trip delay of 3 hours, though every policy is different and may require anywhere from 6 to 12-hour delays. Be aware that trip delay benefits are only available for covered reasons, such as aircraft maintenance issues, severe weather conditions, air traffic issues, etc. Remember to read your policy's full details for further information.
If I need emergency dental work, will my travel insurance plan cover it?
Depending on your policy, you can expect it to cover anywhere from $100-$750 of emergency dental work on any natural teeth. Coverage typically excludes any work on false teeth, crowns, and bridges. Also, it will not reimburse for any oral exams or routine cleanings. Your policy may also restrict the time window that emergency dental work can be performed to be eligible for reimbursement, so check your plan's full details for further information.
Common problems tourists experience in Malaysia and how to steer clear:
Illnesses
Malaria and dengue fever, both illnesses transmitted by mosquitoes, can leave you bedridden for weeks and sometimes months. Malaria and dengue can start with similar symptoms, including headaches, severe muscle pain, lower back pain, weakness, fever, nausea, chills, diarrhea, and more.

Malaria will leave you feeling full, despite not eating, and it will also cause pain in the upper left side of your abdomen and fatigue. On the other hand, dengue will give you migraine-style headaches, swollen glands and lymph nodes, rashes, pain behind the eyes, and intense pain throughout the entire body.

Regardless of what you may have, seek medical care immediately, as both can lead to extreme dehydration and death. Strictly heed all medical guidance and accept that recovery may take a significant amount of time. Use a strong bug spray whenever you're out and about to minimize your risk of contracting either.

It is worth mentioning that Malaysia has many creatures, beyond mosquitoes, that threaten human health. For example, the country is home to several venomous snakes, including some whose bites are fatal. If you ever get bitten, seek medical treatment immediately, as you will need antivenom. Other causes for concern are tarantulas, sac, and black widow spiders. While none of these have a fatal bite, they can cause extreme discomfort and pain. When in doubt, consult a doctor.

Another unpleasant affliction many tourists find themselves with is heatstroke/sunstroke. Symptoms of these conditions include rapid breathing, fever, sweats, intense headaches, nausea, vomiting, and disorientation, to name a few. If you experience a combination of these symptoms, get medical help as soon as possible. To avoid developing heatstroke or sunstroke, consume plenty of water, freshly pressed juices, and hydrating foods like juicy fruits and vegetables. Also, be careful not to stay in the sun all day and remember to rest mid-afternoon when it is the hottest and most humid in Malaysia.
Accidents
Malaysia has such a stunning landscape that many visitors opt to participate in extreme sports and adventure activities. Since accidents inevitably happen, injuries such as open wounds, broken bones or twisted ankles may occur regardless of the precautions taken.
Muggings
Overall, Malaysia is very safe, and getting mugged is unlikely. However, muggers' most common technique is cutting an unsuspecting tourist's bag with a knife. That said, all travelers, particularly in urban and crowded areas, are at risk of being pickpocketed. Be mindful of what you carry and keep valuables close to your body. Do not fall for distractions someone may create so that you take your attention off your possessions. The other significant risk is ATM skimmers attached to ATM card readers that collect account numbers and PIN information. Stick to cash machines within banks to avoid such scams.
Emergency resources for Malaysia
Phone numbers
You can dial 112 or 999 from a mobile phone to reach the police or ambulance, but for fire and rescue services, dial 994. If you also choose to visit Brunei, dial 993 to contact the police.
US embassy or consulate details
Malaysia has an embassy in Kuala Lumpur. Visit the Embassy's website for information on citizen services, location, or hours.
Additional information to help travelers have a better experience in Malaysia:
Currency
Malaysia's currency is the Ringgit (MYR). ATMs are common nationwide and rarely charge fees (your bank might). Most banks have a daily withdrawal limit between 1500 and 5000 MYR. While credit and debit cards are widely accepted at higher-end hotels, stores, and restaurants, having plenty of cash on hand for almost everything else are essential.
Customs
Malaysia is a very conservative Muslim country, and Sharia Law informs much of what is socially acceptable. Public displays of affection beyond hand-holding are highly frowned upon.

When visiting a place of worship, look for signs near the entrance stating rules and expectations. The most common practices involve removing one's shoes before entering, wearing tops that cover your shoulders and elbows, and wearing pants or skirts that go below the knee.

If you are traveling in Malaysia during Ramadan, you are not expected to fast, but eating in public between sunrise and sunset while Muslims are fasting is considered inappropriate. As a result, most smaller restaurants will be closed for breakfast and lunch. The good news is that many tourist-centric areas and larger cities will have places non-Muslims can happily eat out during the day. Resorts and big hotels will also be great options for the first two meals of the day during Ramadan.
Getting Around
Buses in Malaysia are clean, air-conditioned, safe, and frequent. As a result, you can catch a bus almost anywhere in the country at the last minute. You will have several bus companies to choose from, so you will want to compare ticket prices once you get to the bus station. Bus travel in Malaysia is relatively cheap, and all routes generally have planned bathroom breaks and snack/meal stops.

Remember that you will not find direct buses to and from Peninsular Malaysia and Borneo. Journeys like this will require a bit more planning. Most travelers prefer flying in such instances as it saves a lot of time, and budget airlines operating in the country offer numerous flights daily.

Taxis are plentiful in Malaysia, but be aware that most will refuse to use the meter, and some have even removed them from their cars since laws around taxis are not strictly enforced. If you must take a taxi, agree on a flat rate for your trip before getting into the car. As a more affordable and reliable option, many people use Grab, an app-based service like Uber or Lyft, to book rides wherever they need. Passengers can choose to save extra money by sharing the ride (carpool) with other passengers.
Language
The national language of Malaysia is Malay, also known as Bahasa Malaysia. However, it is such a diverse country that other languages are commonly spoken, including English, Mandarin and Tamil. While getting around the country in English should be easy, having some Malay in your toolbox will always go over well with locals.
Selamat datang – welcome
helo/hi – hello/hi
selamat jalan – goodbye
selamat pagi – good morning
selamat tengahari – good afternoon
selamat petang – good evening
selamat malam – good night
apakabar? – how are you?
baik – good
not good – tak baik/buruk
terima kasih (banyak) – thank you (very much)
sama sama – you're welcome
ya – yes/yah
tak/tidak – no
berapa – how much?
Malaysian Laws
Recently, Malaysia abolished the mandatory death penalty for several crimes, such as drug trafficking, murder, terrorism, and more. That said, be aware that using or carrying even small amounts of any illegal drug, including marijuana, in Malaysia will be punished with a steep fine and a severe prison sentence.

Be aware that Sharia Law governs much of life in Malaysia. While it mainly applies to Muslims, the prohibition against public displays of affection and sexual activity between gay or lesbian couples is illegal for all. It can also spark intense religious outrage or disapproval. If caught, oral sex of any kind can land you in prison for up to 20 years. And going nude or topless (women) at beaches in Malaysia will get you fined and put in jail. In addition to imprisonment, caning is still used as a form of corporal punishment for those who break Malaysian law.

Lastly, keep in mind that blasphemy and drunken behavior are banned near courthouses and places of worship, regardless of religion, throughout the country. Overall, they are culturally frowned upon. Keep your words clean, and drink in moderation.

It is worth mentioning that different states within Malaysia have their own laws regarding alcohol. Check with your hotel front desk clerk or concierge whether there are laws or cultural expectations that you should know about that are specific to the state you're visiting.
Tipping
Tipping is not expected in Malaysia but has become quite commonplace in businesses popular among tourists. In such cafés, eateries, and high-end or western-style restaurants, a 10% service charge is almost always added to the bill. This service charge gets paid directly to the restaurant, and it is a heavily debated topic as to whether the staff ever receives it. Leaving a few extra coins for exceptional service will always be appreciated. However, if your bill does not include a service charge, 10-15% is a great tip.

In hotels, 5 MYR per day for the housekeeper is appropriate. You can also tip the porters 3 MYR per bag and the concierge 10 MYR for going above and beyond the call of duty. If you are going on a tour, consider tipping the guide 20-30 MYR for an excellent experience and the tour driver 15-20 MYR.
Packing advice for Malaysia
Apart from Travel Insurance, we recommend you bring the following items for maximum health, safety and enjoyment of your trip to Malaysia.
A final note about travel insurance for Malaysia
I have spent dozens of hours researching travel insurance, including getting quotes and comparing coverage from all the most popular brands. Regardless of where you're going I am confident that you will also find that WithFaye.com offers the best way to compare policies with the ideal combo of coverage and price.
I wish you and yours an incredible journey.
SwiftScore Ranking Methodology
Average price for a 2-week vacation based on a 35-year-old California resident traveling to the Malaysia with a $3,500 trip cost
Coronavirus coverage
Cancel for any reason (CFAR)
AM Best rating of the underwriter
Key policy details including cancellation, interruption, emergency medical evacuation, and baggage & personal effects
Ease of sign up
Policy language clarity
User reviews